After two years of on-and-off negotiation and what seems to have been non-stop dithering, Praxair (NYSE:PX) and Germany's Linde (OTCPK:OTCPK:LNAGF) have at last come to an agreement to merge. In an all-share deal, Praxair will offer 1.54 of its shares for each Linde share, a 20.5% premium over Linde's closing share price the day before the deal was announced on December 20th. If the deal closes as structured, Praxair's and Linde's shareholders will each own roughly half of the new company. After so much agonizing, it seems unlikely that the terms will be revised.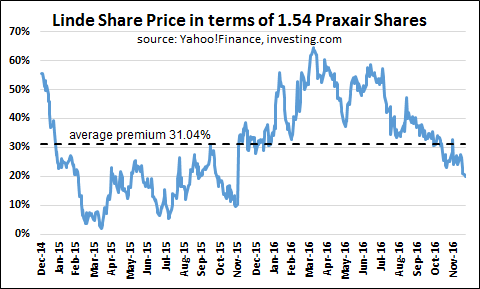 The combined group will overtake L'Air Liquide (OTCPK:OTCPK:AIQUF) as the world's largest producer of industrial gases, and will reunite the successors of companies that were separated (as were a number of U.S. subsidiaries of German chemical and pharmaceutical companies) in the aftermath of World War One
The fit between the companies is pretty good: more than half of Praxair's revenue is earned in the western hemisphere and only 12% in Europe. Linde's revenues are more evenly balanced between Europe, the Americas and the Asia/Pacific region, but Europe predominates. There are likely to be anti-trust concerns about the deal, so the final shape of the merged entity is as yet unclear. Fortunately, gas distillation plants are discrete entities and can be sold off individually as regulators require.
The companies expect to be able to achieve $1 billion in annual synergies. This seems rather ambitious, and probably assumes that forced disposals due to anti-trust considerations are minimal. This seems unlikely.
Coming in the wake of L'Air Liquide's acquisition of Airgas earlier this year, this is probably the final phase in the consolidation of the industrial gasses business. Size is important not so much for economies of manufacturing scale ─ my comment about the individual plants' separability indicates that this is not as important to gas producers as it is to other chemical manufacturers. Gases are expensive to transport, so a large plant serving a wide area is not so viable as distributed manufacturing. Rather, the scale that these companies seek is in marketing. The major take-or-pay customers ─ steel and petrochemical producers, oil refineries ─ on whose sites gas producers are likely to build their plants, prefer to partner with a single supplier. There are enormous petrochemical capacity increases coming on stream over the coming decade: size and global reach will help Linde/Praxair to win the associated contracts.
The combined entity will be headquartered in Europe, but its principle exchange listing will remain the NYSE, and it is likely that its currency of account will be dollars. I suspect that the Netherlands will probably be the company's choice of domicile.
Disclosure: I/we have no positions in any stocks mentioned, and no plans to initiate any positions within the next 72 hours.
I wrote this article myself, and it expresses my own opinions. I am not receiving compensation for it (other than from Seeking Alpha). I have no business relationship with any company whose stock is mentioned in this article.
Editor's Note: This article discusses one or more securities that do not trade on a major U.S. exchange. Please be aware of the risks associated with these stocks.