Nike (NYSE:NKE) has faced challenges in recent quarters as rivals Under Armour (NYSE:UA) and Adidas (OTCQX:ADDYY) continue to challenge the athletic-wear giant. Can the athletic-wear giant shake it off in the second half of its fiscal year? Analysts appear split in their views.
They tend to agree, however, that when Nike turns in its Q2 results Tuesday after the close, the swoosh label is not likely to produce run-away results. Instead, some analysts are expecting a drop in both earnings and revenues, and guidance that may be pulled down from previous forecasts.
What's happened? NKE recently lost its No. 2 place in the athletic-wear market share game-Under Armour is No. 1 and Adidas took second place from NKE earlier this year-and is one of only two Dow Jones Industrial Average components that is down on the year. NKE shares have shed nearly 19% year-to-date, while the blue-chip benchmark has advanced 14%, as shown in the chart below.
Analysts say they are interested in how, if possible, NKE plans to regain its iconic "just do it" prominence from rivals like UA and ADDYY. Those two, with their innovative designs and what analysts call "mix shift toward lifestyle/retro" trends seem to have caught the attention of Millennials, their biggest buying contingent.
"A consumer-preference shift to more lifestyle-oriented styles has been the primary concerns of Nike shareholders this year," S&P Capital IQ said in a report. "Consumers have opted for more fashionably athletic styles, notably Adidas, which has performed exceptionally well this year over the performance footwear that Nike has become known for. While Nike does have several notable classic styles in this category, the rise of lifestyle footwear has opened more avenues of competition." That, analysts say, appears to have led to significant margin erosion.
That erosion may have been what prompted Cowen & Co. analysts to downgrade NKE stock to market perform earlier this month on the belief that the brand has reached "peak market share and operating margin in North America," according to its report.
Other analysts, however, see that as too bearish and "shortsighted" given NKE's history. "Investor expectations for Nike's North America backlog to turn negative are off base," Susquehanna Financial Group analysts said in a report last week. "Nike has ceded some share, but athletic footwear/apparel is not a zero-sum game. A robust innovation pipeline suggests Nike will bounce back quickly."
"Nike doesn't remain complacent for very long," the report added.
But there are some on Wall Street who worry about the uncertainty associated with a new administration and the possibility of a more protectionist stance. Credit Suisse analyst Christian Buss, for one, pointed out in a recent note that NKE has 98% of its shoe inventory made overseas and some 48% of its profits generated abroad. "This suggests significant regulatory risk associated with a more protectionist U.S. government," he said.
At Thomson Reuters, analysts are forecasting, on average, earnings of $0.43 a share, down 4.4% from the year-ago profit. Sales are projected to climb to $8.10 billion.
Short-term options traders have priced in a potential share price move of 4.5% in either direction around the earnings release, according to the Market Maker Move indicator on the thinkorswim platform from TD Ameritrade.
Options buying activity has concentrated on the call side, most notably at the 52.5- and 55-strikes. On the put side, activity has been seen at the 50 strike. The implied volatility sits in the lower half at the 38th percentile. (Please remember past performance is no guarantee of future results.)
Note: Call options represent the right, but not the obligation, to buy the underlying security at a predetermined price over a set period of time. Put options represent the right, but not the obligation, to sell the underlying security at a predetermined price over a set period of time.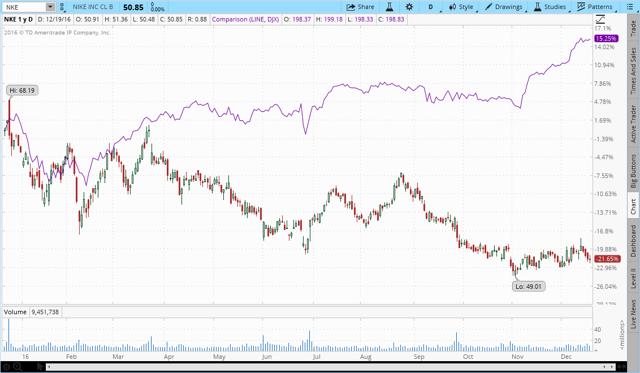 Figure 1: DOG OF THE DOW? NKE shares are among the worst-performing Dow stocks this year, as indicated in the chart above, which plots NKE vs. DJX. NKE shares are sitting just above their 52-week low ahead of Tuesday's Q2 results. Chart source: thinkorswim by TD Ameritrade. Data source: Standard & Poor's. Not a recommendation. For illustrative purposes only. Past performance does not guarantee future results.
TD Ameritrade commentary for educational purposes only. Member SIPC. Options involve risks and are not suitable for all investors. Please read Characteristics and Risks of Standardized Options.
Disclosure: I/we have no positions in any stocks mentioned, and no plans to initiate any positions within the next 72 hours.
I wrote this article myself, and it expresses my own opinions. I am not receiving compensation for it. I have no business relationship with any company whose stock is mentioned in this article.
Editor's Note: This article discusses one or more securities that do not trade on a major U.S. exchange. Please be aware of the risks associated with these stocks.