The Dow Industrial Average index is about to hit 20000. This is a significant psychological level for the markets which get nervous on these round numbers. The bears, pundits and skeptics are out again looking for the bull run to end:
"We're hitting the 20000 DOW index!, The bull run has run its course".
And let's not forget the other bear warnings in recent years:
Fall 2016: "If Trump wins, the markets will crash!"
Summer 2016: "Brexit will crash the EU and world!"
Winter 2016: RBS infamously declares: "Commodities are done! SELL EVERYTHING!" (at the lows!!!)
Fall 2015: "China's growth in an issue!", (I love the China state sourced misinformation. Who truly thinks 6%+ growth is an issue?)
Summer 2015: "Greece default will bring down Germany, the EU and the world economies in domino effect!"
Summer 2015 "China is devaluating their money! This is the end!"
Always wrong Why?
"The charts"
You need to look at the charts Charts on key indicators. Some charts indicate the Dow Jones Industrial Index ($INDU) overbought on the day period chart below.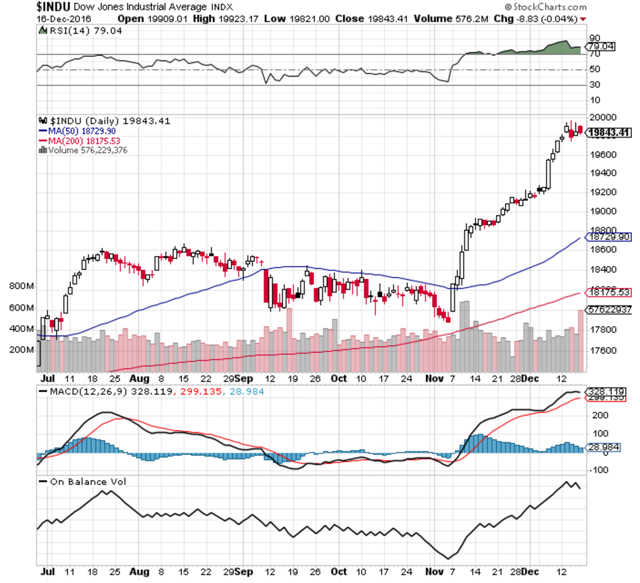 Some TA (technical analysis) traders might start to have concerns. The Dow Industrial Index has been closing just below the psychological mark of 20000. The RSI (relative signal strength) is at 79.04 where anything above 70 signals overbought. MACD and momentum OBV possibly breaking down. Now, keep in mind, there are hundreds of different indicators and time period combinations on the charts.
On the above chart, different analysts might have different views. I see are strong candlesticks just after the elections of November 8th 2016 and again a month later. That indicates to me that big money is flowing back. The markets seems to like what they hear and see from the US. Technically, we are bullishly well beyond the 50 and 200 moving day averages. To get a good read on TA, review all time period charts to get a good picture. The shorter term charts shows a lot of resilience.
Here is a shorter term view.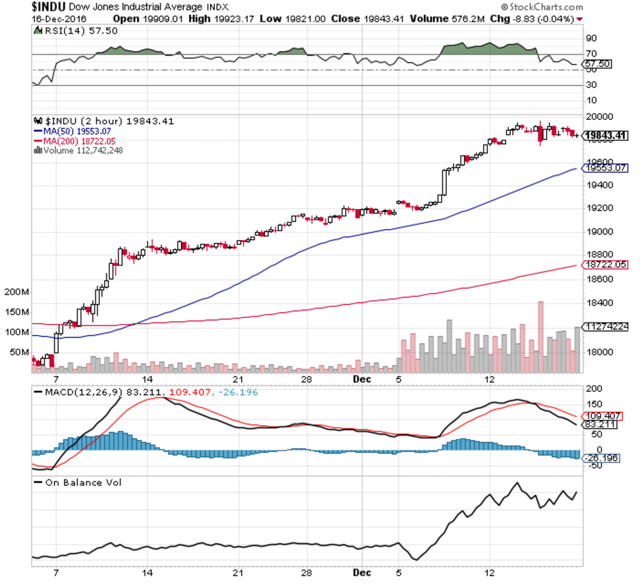 The overbought condition is getting corrected without impacting the index value much. MACD is negative and holding but some key bullish indicators remain positive (OBV holding up). To me, that's bullish.
And the most recent shorter term charts shows not only consolidation after the latest run but also strong continuing volume momentum (OBV) that is trending up positive.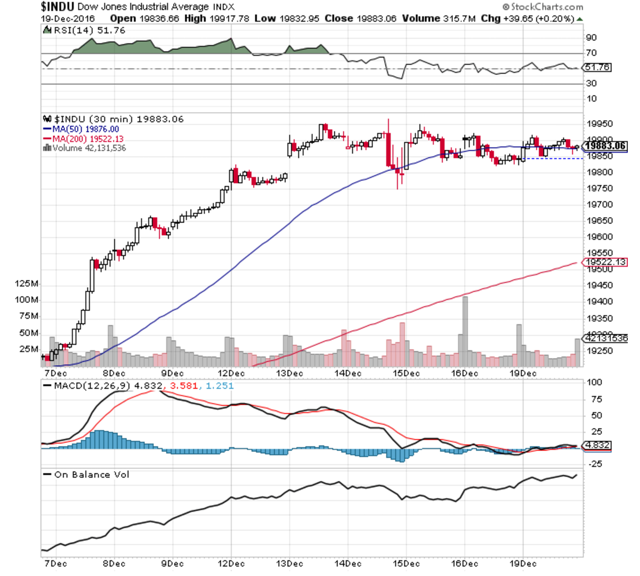 And the fundamentals please
In additional to the technical analysis, one needs to look at the core fundamentals of a bull run. Have the fundamentals changed? Some strong catalyst needs to happen for trend reversals. And we don't have any strong negatives on the fundamentals so the basic thesis remains:
If the world economies, led by the US, are doing well the markets will do well
If the economies are not doing well, the markets won't either.
Watching the key economic indicators
So, how do we fundamentally and objectively measure the health of the economy on the fundamental side? There's a number of ways but one popular and proven, yet a bit conservative, way is using the PMI ISM. There's a number of places to get it but one online with a good narative is at dshort.com which contains the following two graphics.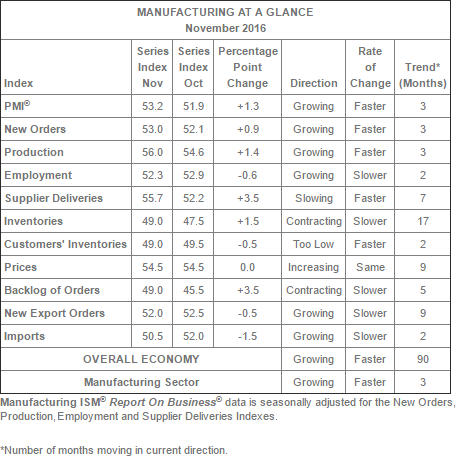 Anything above 50 is good, anything below should be watched carefully. As the chart shows, the economy is doing very well and growing faster. World economies follows the US. That's the reality today and if that ever changes, we'll know because it will be big news and a fundamental change.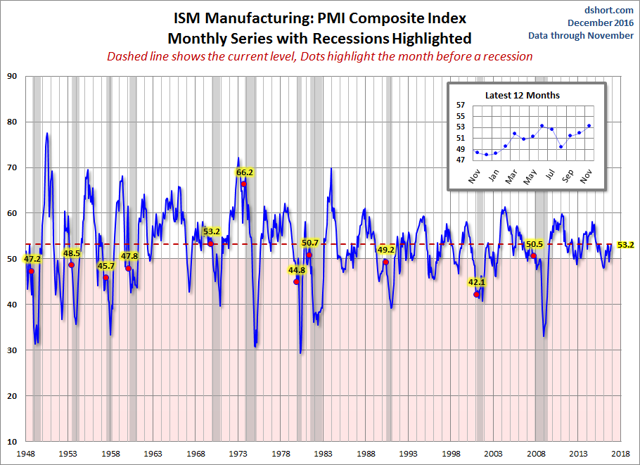 The yellow dots represent the month before a recession. The recessions are in gray. You'll notice although the correlation isn't perfect, it's a great indicator with high level of accuracy.
Ignore unsubstantiated bear fear, uncertainty and doubt: FUD. There are a lot of false speculations out that aren't supported by facts or historical patterns. Avoid those - most everyone has an opinion and some pretend to be experts with just opinions. Look for viewpoints that are clearly explained and that can be backed up with facts.
Now keep in mind, technical and fundamental indicators, and the market analysts that use them, aren't perfect. In the markets, there is rarely a single set of indicators or a "magic formulas". But if you "back test" some of these to analyze past performance and you can often get great validation on investment strategies.
Buy when the bears are emotional and/or clueless
So the next time there are dancing bears and talking heads on TV warning about the "next doom and gloom" event, pull up your set of fundamental and technical indicators for guidance. If you confirm a recession has started, sell (or sell short) for the bear run. If you aren't seasoned, just sell and stay on the sidelines safely during a recession. You'll be able to preserve your assets to scoop up bargains on the markets or in other non-market sectors like real estate. Everything is cyclical and don't fight cycles. Ride them with knowledge and facts. Not with greed and fear.
Position yourself according to your investment style
Most market professionals or seasoned investors invest both long and short. That means they buy shares when the markets go up and sell shares (and "short sell") when the markets go down. Pros also play options but that's a whole other discussion. The vast majority of options players lose money because they are betting against "the house". So you have to be extra good to play options since most options expire worthless. And for more active traders like myself, leveraged ETFs and stocks are more lucrative than playing options.
The ability to short well is what really differentiates investors from traders. Investors typically just go long only and novices make the often fatal mistake to "fall in love with their stocks" "waiting for them to rebound". And that is the vast majority of small, self directed investors unfortunately. They aim to buy low and sell high. Traders make money either direction and that's the reason the markets are so volatile these days. And frankly, if you don't know what you are doing, hire a competent financial advisor. Just use a practice self trading account to get up to speed without the expensive market lessons.
Becoming very market proficient takes time. Short selling is a style I resisted for years because fundamentally, I don't think short selling is healthy for markets. It's not investment, it's anti-investment. But it's legal and is a formidable way to play downturns. So I short on downturns. I've noticed it helps me to not "fall in love" with my long positions. It opens up a whole new world and, as a trader, you welcome the downtrends as much as the uptrends. That's how the "big boys" on Wall Street play. But to short, you need to be an active market participant because you can't ignore your position without possible unlimited loses. Certainly not for novices.
Conclusion
Ignore the current bear calls, they have been wrong on predicting downturns in recent years because they ignore key technical and fundamental indicators. Most do it on emotions or without any substance or real knowledge. The markets haven't crashed and none of these minor "blimps on the road" in recent years matter although the mainstream press overplayed them like a fiddle. They were all great buying opportunities at the dips to capitalize on the unfounded panic and fear.
If you take an objective look where we are today, this is an exciting time to be an investor in the US. The world expects big changes and stimulus. One cannot ignore the amount of money that was off-market and possibly now coming back in. After all, just before the US elections, there was $50 trillion US dollars from insecure investors waiting for the markets to falter. That never happens at market highs, just go back and check.
Don't let emotion factors influence whether you buy or sell. Find indicators that work for you and test them. Refer to them when the markets get emotional with fear or greed. Be extra vigilant when there is "blood on the streets" or "irrational exuberance" because that normally signals a possible trend change. That's when you want to be ready to switch from bull to bear and from long to short.
On the immediate term, this is a continuing bull market my friends. Stay long until that trend is broken. Once it is broken, sell to go on the sidelines with cash. If you are more seasoned, do like the pro traders do and short the market.
I hope I don't offend professionals or seasoned traders here who might think this is all obvious. This article is really geared for the less experienced investor based on my own evolution over the decades as a little self directed investor turned "professional self directed".
Investment ideas
Some investment ideas if you want to diversity long without having to do deep research into specific companies is to consider index based ETF (exchange traded funds). These are like mutual funds but with lower management fees and easily redeemable just like stocks. You can sell intraday without having to wait for the end of day. That's handy should a real world event happen that changes everything.
When the recession or market downturn happens, I'll endeavor to post the best short-based (also called "bear" or "inverse" ETFs) to make money during the downturns. I don't expect that to happen in 2017 given all we know today. But I'll be watching.
In the meantime, here are some popular long position index based ETFs
Some popular sector based ETFs tracks companies in specific sectors
Some popular commodities ETF tracks commodity prices
Merry Christmas and enjoy the continuing bull run on the short term.
Disclosure: I/we have no positions in any stocks mentioned, but may initiate a long position in UWT, BTE, ANY OTHER ENERGY STOCKS over the next 72 hours.
I wrote this article myself, and it expresses my own opinions. I am not receiving compensation for it (other than from Seeking Alpha). I have no business relationship with any company whose stock is mentioned in this article.