InterPipeline (OTCPK:IPPLF), the largest petroleum transporter to/from Canadian oil sands projects, has made a bold move into the NGL marketplace at the bottom of the current price down-cycle. While the move is risky in comparison to the company's steady-eddy pipeline and storage businesses, the risk-reward profile is attractive.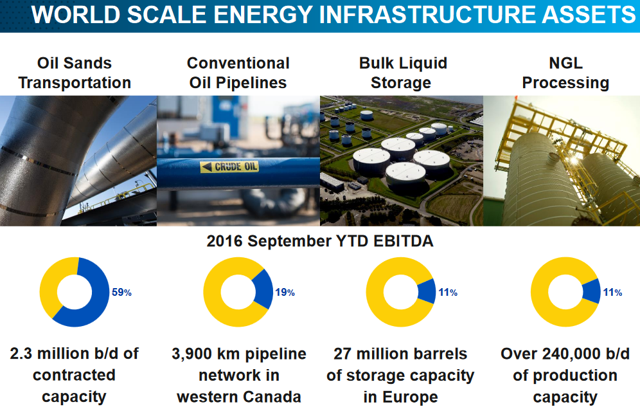 Source: December Presentation
As shown above, year-to-date EBITDA has been dominated by IPL's two pipeline segments (78%) while the Euro-storage sector accounted for 11% of EBITDA. The big laggard in IPL's business over the past couple years has been the NGL processing segment. This, of course, was due to the huge contraction in NGL margins. Total extracted volumes (ethane & propane) through Q3 averaged 102,000 bpd while revenue was $82.8 million. That compares to 108,400 bpd in Q3 2013 with associated revenue of $117.3 million.
In August, IPL announced the $1.35 billion acquisition of Williams' Canadian NGL businesses. The deal was at or near the bottom of the NGL price cycle and was generally regarded as a pretty sweet deal (see: IPL's Recent Deal Increases Risk/Reward Potential). The big kicker in that deal was the future potential for IPL to green-light a project to build Canada's first propane dehydrogenation ("PDH") facility and expand Inter Pipeline's NGL value chain. Since that deal was consummated, IPL has been busy.
First, and as expected, IPL was granted $200 million in royalty credits under Alberta's Petrochemical Diversification Program. That was the maximum amount possible under the program and will be paid out should IPL decide to go forward with the construction and operation of the PDH facility.
Next, IPL announced it had acquired an additional 15% interest in the Cold Lake pipeline system from Canadian Natural Resources (NYSE:CNQ) for $527.5 million. IPL now owns 100% of Cold Lake. The deal came with a new take-or-pay transportation agreement with CNQ as well as an expansion program for the CNQ's Kirby North project.
To pay for all these transactions, IPL issued $450 million in mid-term notes at a very attractive 3.484% interest rate. The notes are due in December of 2026. Debt issuance at such an attractive rate displays IPL's excellent access to capital which, of course, is supported by its stable long-term take-or-pay transportation contracts.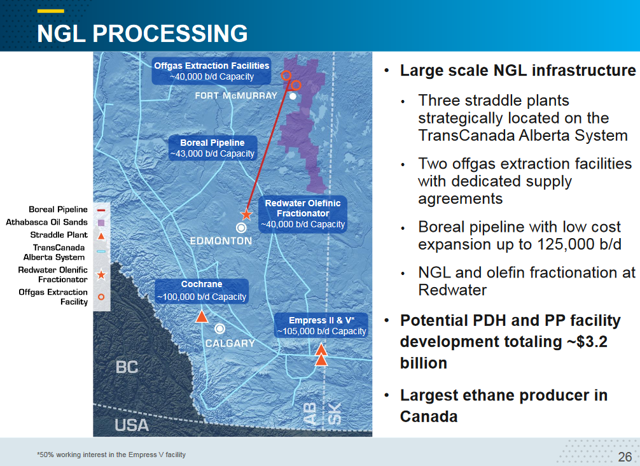 Prior to the Williams acquisition, IPL was already a big player in the Canadian NGL marketplace and is Canada's largest producer of ethane (see above). But the prospect for building the downstream chemical plants - facilities expected to have an aggregate price tag of $3.2 billion - would take it to another level. Shareholders like me were wondering if IPL would take the plunge. We found out in the 2017 Budget released yesterday: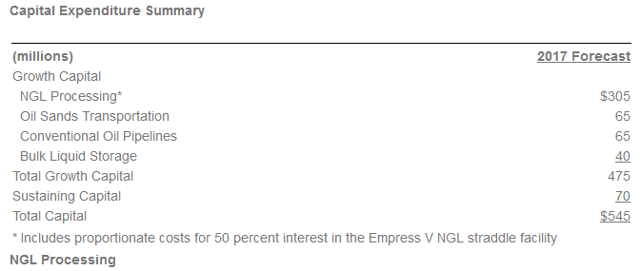 Note that of the $545 million in total cap-ex, 56% will be directed toward NGL processing. The company said:
In its NGL Processing business unit, Inter Pipeline is advancing two integrated world-scale petrochemical facilities that will convert locally sourced, low-cost propane into higher value polypropylene. Polypropylene is an important plastic used to manufacture a wide variety of consumer and industrial goods.
While this is a big departure from the past, when large-scale oil sands transportation mega-projects dominated the capital budget, note that it may not appear as risky as thought at first glance. I say this because the cap-ex budget for 2017 is only ~2x that of 2016 and was obviously favorably received by the debt market. And note that total cap-ex for 2017 is down substantially from the mega-project days ($1.3 billion in 2014 for instance). In addition, those mega projects are now completed and generating stable free-cash-flow.
In addition, and reading between the lines because IPL's management is extremely tight-lipped on such matters, the company must be making significant progress on inking purchase-sales-agreements ("PSAs") for the new PDH facility's capacity. I say this because the company mentioned in the last conference call that it needed to see significant demand prior to moving forward on the project. So the PSA de-risking effort must be having some success.
Looking at a graph of Mont Belvieu propane spot prices, the timing appears to have been near perfect - propane is trading at 2-years high and appears poised for a nice recovery (see: Mont Belvieu Propane Hitting 2-year Highs) after bottoming in January. Propane has more than doubled from that low: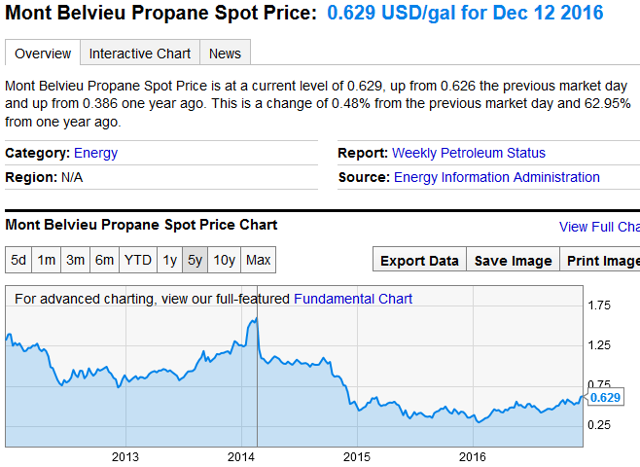 As I noted in a recent Seeking Alpha article on Phillips 66 (NYSE:PSX), that company's Freeport LNG export terminal is going to get give some much needed relief to a very well supplied NGL market along the Gulf Coast. A dose of cold winter weather has also been a nice development. And yes, Mont Belvieu sets the standard for NGL pricing in North America and reflects and impacts Canadian producers as well.
Summary & Conclusion
InterPipeline's move into NGL appears to be well-timed and well-priced. Low-cost debt shows excellent market acceptance for the company's plans. NGLs and chemical production have the potential for higher margin growth as compared to pipeline transport, and could significantly and positively affect IPL's bottom line should the NGL price recovery continue - and I am talking about IPL's existing NGL processing segment, in addition to the future growth plans. Meantime, the 2017 budget announcement said there was strong demand in the Euro-storage business where capacity utilization is excellent. IPL is a BUY for current income (5.5%), and future capital appreciation potential. The stock looks poised for a breakout after a near year-long consolidation: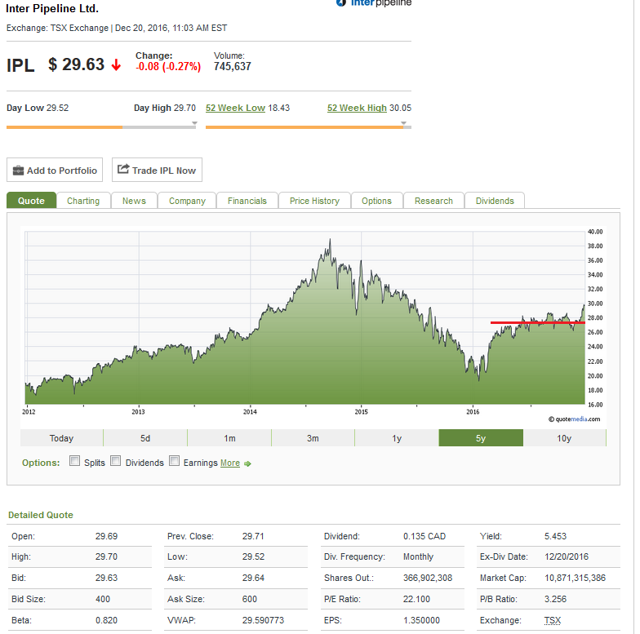 Disclosure: I am/we are long IPPLF, PSX.
I wrote this article myself, and it expresses my own opinions. I am not receiving compensation for it (other than from Seeking Alpha). I have no business relationship with any company whose stock is mentioned in this article.
Additional disclosure: I am an engineer, not a CFA. The information and data presented in this article were obtained from company documents and/or sources believed to be reliable, but have not been independently verified. Therefore, the author cannot guarantee their accuracy. Please do your own research and contact a qualified investment advisor. I am not responsible for investment decisions you make.
Editor's Note: This article discusses one or more securities that do not trade on a major U.S. exchange. Please be aware of the risks associated with these stocks.