Varian Medical Systems (NYSE:VAR) spin-off is getting closer to completion. The company has filed its separation and distribution agreement which you can find here. The filing still doesn't give details into exactly what the distribution ratio will look like. The spin-off is planned to be a tax-free distribution. I expect it to be completed in the first quarter of 2017. The new company name will be Varex Imaging.
Overview
Varex is basically a component manufacturer for X-ray equipment. It provides X-ray tubes, flat panel detectors, imaging software, high-voltage connectors and high-energy inspection accelerators.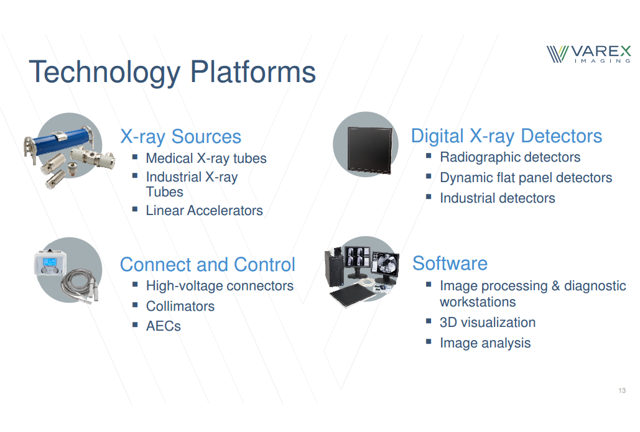 Source: Investor Presentation
The top costumers for Varex are large OEMs, and some of these parts are key components in CT scanners, radiographic or fluoroscopic imaging, special procedures, and mammographies. Varex's largest customer is Toshiba Medical Systems (OTCPK:TOSBF), and accounts for 26% of the revenue, which is a concern. There would be a material loss to company if these two companies decided to end their relationship with each other.
The healthcare components market growth is driven by clinical needs/research, growing access to healthcare and of course, the aging population. The United States alone is in a growth stage for the aging population and 65 and older age group is expected to double over the next 40 years. Some markets are quite mature though, and investors should only expect to see low-single digit growth as an overall industry.
I would also like to note that these components are used in industrial markets such as X-ray imaging for security and cargo inspections. Government demand and policies will drive the growth of this segment. Over the past three years, the industrial segment revenue only equated to 10% of total revenue, and has seen year-over-year declines. A Trump presidency could bring beneficial policies on securing borders, which could correlate into increased revenue.
Valuation

Source: Gurufocus
Many competitors don't have the total portfolio that Varex offers under one roof. Both companies above compete against Varex in key components which are X-ray tubes and X-ray detectors. PerkinElmer (NYSE:PKI) is probably the best comparable, especially since General Electric (NYSE:GE) has a plethora of other revenue segments and is consider a large-cap stock, but still, the numbers don't look too far apart from a valuation basis.
These valuation comparables will give us a general idea of the value of the company, and hopefully, the company trades within these ranges post spin-off. Below, I used the lower of the two valuation multiples to get a more conservative number.

Source: Investor Presentation & Created by Author
One thing that is concerning is the amount of free cash flow the company produces. For 2016 and 2015, these numbers came in at $44 million and $51 million, respectively. I know this is a manufacturing company, so it's not a capital-light business. Cash will keep going out the door for inventory, but it's something to be aware of.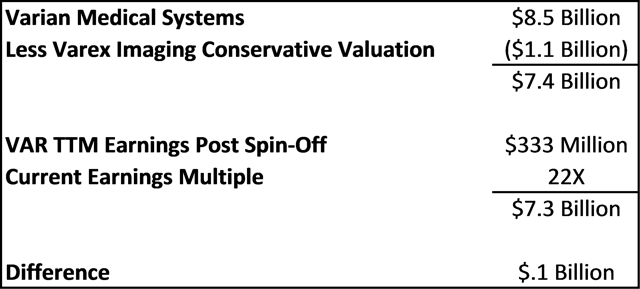 From an investment prospective pre spin-off, there doesn't appear to be any value. VAR already sells at a pretty high P/E ratio, and as Varex is spun-off, the assets don't seem attractive enough to drive the multiple higher. Varex has struggled to grow top line and bottom line numbers over the past few years. It has shown a glimmer of hope over the last two quarters posting strong numbers, but this doesn't change my valuation just yet. I am interested in the company post spin-off and seeing if there is any selling pressure from institutions or retail investors. For investors, I would wait to see what the market values these companies post spin-off, to see if it creates a buying opportunity.
To read more research on stock spin-offs, fund holdings, micro-cap companies, and special situations please consider following me (by clicking the "Follow" button at the top of this article next to my name) to receive notification when I publish research next.
Disclosure: I/we have no positions in any stocks mentioned, and no plans to initiate any positions within the next 72 hours.
I wrote this article myself, and it expresses my own opinions. I am not receiving compensation for it (other than from Seeking Alpha). I have no business relationship with any company whose stock is mentioned in this article.
Additional disclosure: This article is intended to provide information to interested parties. As I have no knowledge of individual investor circumstances, goals and/or portfolio concentration or diversification, readers are expected to complete their own due diligence before purchasing any stocks mentioned or recommended.