Enterprise Products Partners (NYSE: EPD) stock has historically outperformed the Alerian MLP Index (longer-term chart below). EPD's underperformance over the index and crude oil in the last six months, as well as the stock's technical indicators, has unsettled investors off late.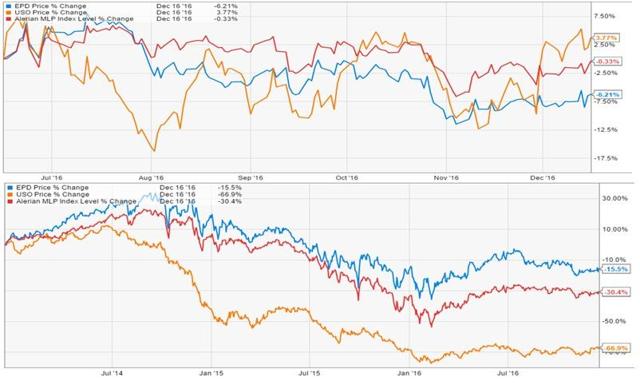 Source: ycharts.com
EPD crossing below its 200-day moving average and later its 50-day moving average crossing below the 200-day average are considered as two bearish signs for the stock by followers of technical analysis.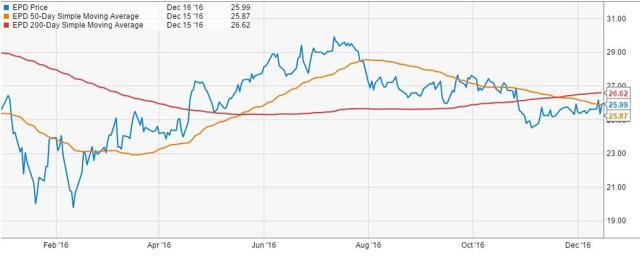 Source: ycharts.com
So, are there issues with the company? What can be expected of the stock from here on? Ignoring the technical chatter, I would believe EPD may go down if:
There are fundamental issues with the company's performance which may impact its cash flows, or
The stock is currently overvalued.
I'll analyze both the points above one by one to see if the stock's current unimpressive performance is indeed warranted.
EPD's operational performance
Enterprise Products' long-term historical operational performance is indeed impressive. A chart summarizing it is reproduced below: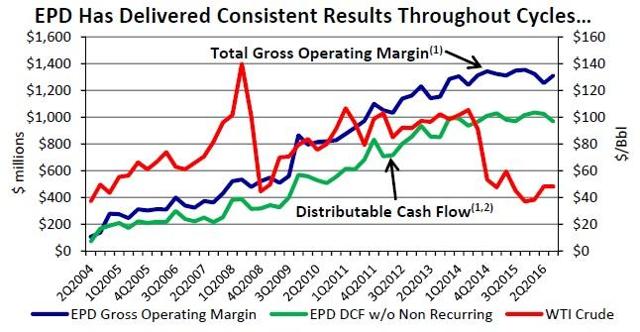 Source: EPD investor presentation
If we look at the more recent performance over the last two quarters, there is no indication of either a substantial decline or a worrying trend in EPD volumes.

Source: EPD earnings releases
The year-over-year decline in volumes in the third quarter of 2016 as seen in the table above is partly attributed to the downtime at EPD's Pascagoula natural gas processing plant. The company placed back the plant in-service on December 15.
Some of the other factors contributing to the declines in the third quarter of 2016 include lower commodity prices, lower Eagle Ford volumes, and weaker industry-wide ethane recoveries. To this end, I largely believe what Jim Teague, EPD's CEO, said in the company's latest quarterly release:
We are optimistic that the energy industry has weathered the harshest part of this cycle and very proud of how our businesses continued to perform. While the industry may still experience bouts of commodity price weakness and volatility, we believe it has a firmer foundation going into 2017 as the gap between supply and demand has narrowed and should continue to do so. We are seeing significant 'green shoots' of producer activity as a result of the opportunity to hedge future sales of crude, NGLs and natural gas at economic levels. In addition to the acceleration of investment in the Permian Basin, we are seeing activity attributable to new discoveries, deployment of new technology, including in well-established areas such as the Eagle Ford and Haynesville; and changes in ownership of acreage as some producers emerge from restructuring.
In normal conditions, I would have loved to see the volumes going up. But the current energy environment is anything but normal, and maintaining existing volumes is an achievement in itself.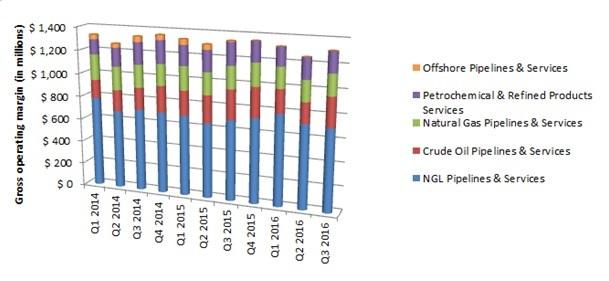 Source: EPD earnings releases
The company's stable volumes get reflected in the stable operating margins for EPD's segments as seen in the above chart. Over the longer-term as well, the company's operational performance is stable, as the slide below shows: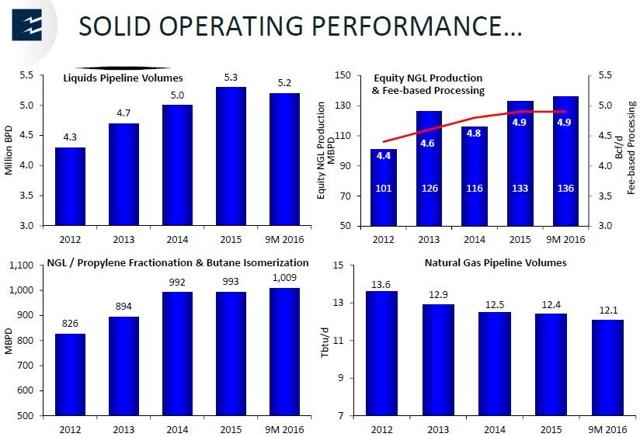 Source: EPD investor presentation
EPD's biggest achievement is that the company managed to keep its business stable, without sinking itself into debt over the last couple of years.
Looking ahead
Enterprise Products' project backlog should continue to generate cash-flows for the company. EPD has more than $5 billion of capital projects expected to come in-service by 2018.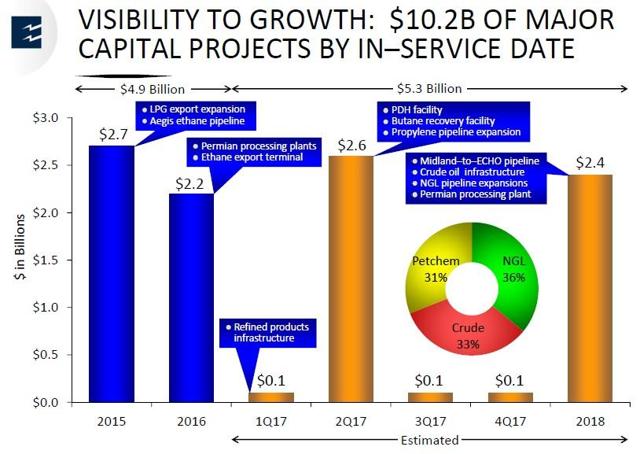 Source: EPD investor presentation
EPD has historically maintained coverage of well above 1. Its coverage in 2016, despite lower than previous years, is still a healthy 1.2.
Below is an interesting chart which shows how EPD has retained part of distributable cash flows to support future growth.The points discussed so far cumulatively tell us why the company's distributions look safe.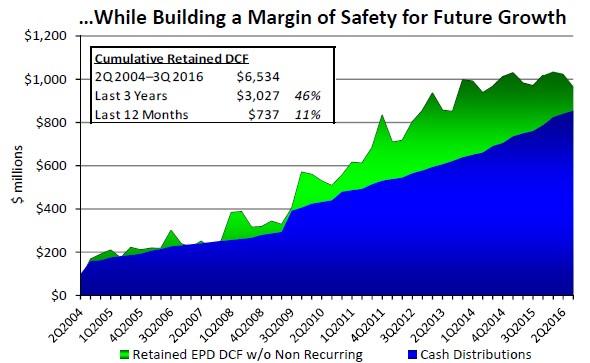 Source: EPD investor presentation
Overall, there seem to be no reason to believe that there are any fundamental issues with the company. Let's next turn our attention to the stock's valuation to see what it suggests.
Valuation
Enterprise Products is currently trading at a forward EV/EBITDA of nearly 14 compared to an average of nearly 12 for companies in oil and gas transportation services. However, the company has historically traded at an average EV/EBITDA of nearly 15. Notably, it has always commanded premium valuation compared to peer-average because of its stable cash flows, distributions, and strong balance sheet.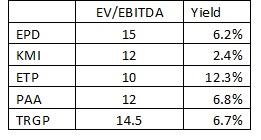 Source: ycharts.com
EPD currently yields slightly more than 6%. This is a bit higher compared to the historical average of nearly 5.8%. EPD's yield is attractive compared to 2%-3% for Kinder Morgan (NYSE: KMI) and Williams Companies (NYSE: WMB) or even 4% for Magellan Midstream Partners (NYSE: MMP).
Conclusion
Enterprise Products does not seem to have any fundamental issues that should impact its stock in the long run. The company's project backlog as well as its comfortable coverage hint towards safe future cash flows and distributions. In short, there is no need to panic with your investments in this company.
Disclosure: I/we have no positions in any stocks mentioned, and no plans to initiate any positions within the next 72 hours.
I wrote this article myself, and it expresses my own opinions. I am not receiving compensation for it (other than from Seeking Alpha). I have no business relationship with any company whose stock is mentioned in this article.