Since my last article on Seadrill (NYSE:SDRL) there have been several factors which alter - but continue to validate - my position on the stock. Initially, I anticipated a January completion of Seadrill's debt restructuring while at the same time not having a clear outlook on the price of oil. Today, however, both of those issues have changed and require me to update my position which included January '17 contracts.
The reason I bought and sold January options was due to the expectation the debt restructuring would be completed by January. Since then the company issued a statement saying it has made good progress on its terms with lenders but has moved the restructuring finalization to April 30th with the last of its debt maturities being pushed back for one of its ships.
Not more than a few weeks later did we get the news OPEC and Non-OPEC countries reached an agreement to cut production starting in January. This sent oil from $45 a barrel to nearly $50 in a day. Since then it has risen an additional $2 to hover around $52. This was an unknown when I wrote my previous article so naturally this changes the outlook a bit.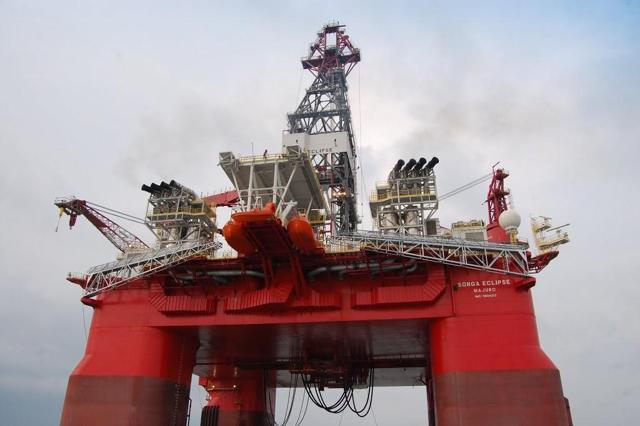 (Source: infield.com)
Higher Oil?
Production cuts should give way to higher oil prices and stabilize them in a range much tighter than it has in the last year and a half where it traded anywhere from $26 to $50. This stability will be good for Seadrill's pending restructuring regardless of if the offshore market will come back in 2017. The up cycle needs to start somewhere and better now than later. This will give lenders and creditors some visibility into Seadrill's next 2-3 years if oil prices maintain the $50s and 60s.
Seadrill's stock seems to agree as it has risen 62% since my article. Additionally my $3.50 strike put has gained 70% while my $5 calls have risen about 50%. However, my best gain on the stock since my previous article was the $4 calls I bought shortly afterward as I saw the contract trading for $0.05. After only a few weeks and the fast rise in the stock I closed that option position with a 600% profit.
Delayed Restructuring
The delay of the restructuring is the most direct impact to the timing of my trade (and my core invested position for that matter). Obviously January contracts will have little volatility if there is no catalyst to move the stock price. Ideally, I would still like to play the debt restructuring as a good outcome will send the stock skyward and a short squeeze would be in full effect.
In order to do this I plan on waiting out the next week or two to see where the $5 calls wind up and take the profit from them and the $4 calls and roll them into an April or July contract. The dilemma I have here is the debt restructuring is set to be complete by April 30th. This may fall outside the catalyst move for an April 20th option which would defeat the purpose.
I can play a July contract but my fear is the distance in time may not affect them enough to profit as substantially. However, I can scrap this plan and play the weekly calls a month ahead dated for just after the April 30th deadline.
Other Effects Of The Delay
As for the shares I do own the latest events are good news and not negative as some would have you believe. A few contributors have seen the delay of the restructuring as a negative catalyst. I can understand why; it puts doubt in the minds of investors things can be hammered out on agreeable terms for both sides.
With OPEC and Non-OPEC cutting deals to limit production, it will stabilize oil in the coming months. This means the up cycle can begin for oil and the timing of the delay gives Seadrill more leverage with negotiations due to the market cycle beginning to make the turn. If the production deal did not occur then Seadrill would continue in the dark wondering when oil would begin to make its turn. Of course, this doesn't mean offshore drilling will also come back online but, again, the cycle needs to start somewhere.
When OPEC cut production in December of 2008 oil was around $33 a barrel. By June of 2009 - that's merely six months later - oil was $70, an increase of 111%. I don't necessarily expect this kind of rise this time but let's say the rise is half that at 55%. It means oil would still be at $70 a barrel.
Playing This All The Way Through
Let's run with this thought and talk about the restructuring. Many investors, analysts, and readers have talked about dilution. In fact, that's the only thing I've heard regarding the bear side about the debt restructure; dilution, dilution, dilution.
I'll level with them for a minute; shareholders get wasted on dilution. Dilution is not static - as the price of the stock rises the effect of a dilution changes. I was hearing this line at $2 per share so allow me to start there. Let's say the agreement dilutes shareholders double the float (500M shares) to bring in a cool one billion dollars as part of the restructuring. Total shares double, coincidentally, to 1B as well. That's not great and would worry me as someone playing the bull side of the trade.
However, that's when the stock price was $2. At $4 the dilution would only be half as much, or 250M shares. Not great but hardly the double expansion of the float. But wait, if the price of oil continues upward and higher oil prices mean better things for Seadrill, I would expect the stock to continue to rise as it has. Let's say it heads higher still toward $6 or $7 a share. The dilution needed at that point would be 142M shares or a 28% increase of the float.
Hold on.
That's nearly a quarter of what bears were yelling about at $2 a share. The dilution just went from doubling the shares available to increasing it by 28%. Don't get me wrong a 28% dilution is not great by any means but, when it's put in perspective, the dilution is not drowning anyone and the company remains in business.
Allow me to go a step further and illustrate what a 28% dilution would do for Seadrill when it returns to full strength at the height of the oil cycle. In Q3 of 2013 Seadrill realized $315M in net income or $0.61 EPS. Total shares outstanding were about 515M. If we factor in dilution of my last scenario total shares would equal 657M. This would theoretically translate to $0.48 in EPS. If extrapolated it leads to full year EPS of $1.92. Seadrill traded around 15 to 16 times earnings during this time which means Seadrill would trade for $30 a share.
This is below the highs of Seadrill past but can we acknowledge Seadrill would be alive, kicking, making a profit, paying off debt easily - again - and maybe even throwing a small dividend (to start). I'm completely OK with this while I stare at a $4 share price and a catalyst capable of launching Seadrill into a tailspin for shorts.
Seadrill Still Looks Good To Me
Having more visibility into Seadrill's future with OPEC and Non-OPEC deals in play and a debt restructure delay which can provide time for a better market and share price, my stance on Seadrill stays the same. I do, however, need to roll my calls into the future as the catalyst I expected in January won't take place until April. I plan on playing calls in that time frame, whether I do so now or until weeklies are available remains to be seen. I have some time - and profits - to think about my decision.
In the meantime I will watch the price of oil along with the results of the cuts to understand if oil will take the same path it did in 2009 after the last OPEC led cut. If oil indeed rises into the next several months I am confident the debt restructuring will be much more palatable to shareholders and Seadrill will remain solvent.
If you'd like to be made aware of my opinion and analysis in the future on Seadrill, then I encourage you to follow me by clicking the "Follow" link at the top of this page next to my name.
Disclosure: I am/we are long SDRL.
I wrote this article myself, and it expresses my own opinions. I am not receiving compensation for it (other than from Seeking Alpha). I have no business relationship with any company whose stock is mentioned in this article.
Additional disclosure: Long SDRL calls and short SDRL puts.