In 1997, the philosopher Andy Clark asked: 'Where does the world stop and the mind begin?' Today, researchers no longer doubt the interconnectivity of things and we take it for granted that we outsource parts of ourselves to massive data-centres stationed throughout the world. From maps to history, much of our functionality is now built into the things we own. 2016 is the year that this interconnectivity really began to hit the mainstream with Pokemon being a prime example; although the game world and the real world were different, they exist in the same space. Our environment is becoming smarter all the time. Some years ago, the internet of things seemed to be the far-flung future. Today, it warrants a shoulder shrug, but it shouldn't. Investing now, while not quite getting in at the ground floor, gives you a chance to be a part of an industry expected to be valued at $11tn in 2025, according to McKinsey. Right now, the industry is valued at $917bn according to Statista. There's clearly a lot of growing to do between now and 2025. Here, we consider five different investment positions you could take in order to make smart things really work for you.

Eric Griffith of Fortune Magazine. Source: Fortune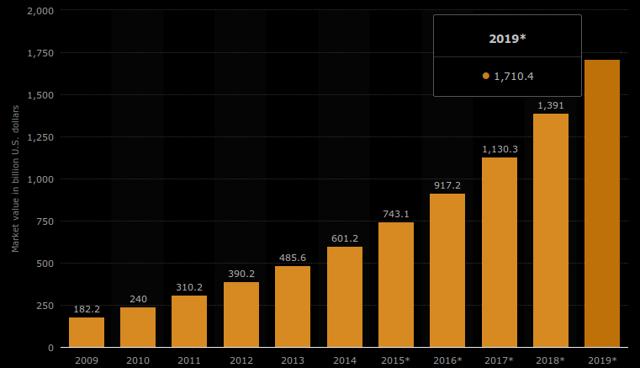 Global Internet of Things Market Size 2009-2019 (anticipated). Source: Statista
The Approach
Whatever the approach you take in an emerging market there are risks. Just like the first Dotcom boom, there will be winners and losers as the market comes to fruition. Prudence would suggest that this is not a market opportunity for anyone with an "all-in" mentality. Furthermore, investing in the IoT is a long-term game; returns may just come tomorrow or you might need to play the waiting game. This is a disruptive technology, so what it does and does not do and when it does it, remains essentially fluid for the medium term. It is also, as with any trade, important to do your own research and pick the key players you want to take a position in, spreading your exposure beyond one investment. In IoT terms, this could mean narrowing your investment down to a sub-sector of the market, for example, sensor manufacturing, or spreading it broadly amongst the big and the small to manage risk. In this article, the latter approach is taken. We run the rule over three big players, three small-cap investment opportunities and the SNSR Global X Internet of Things ETF (NASDAQ:SNSR).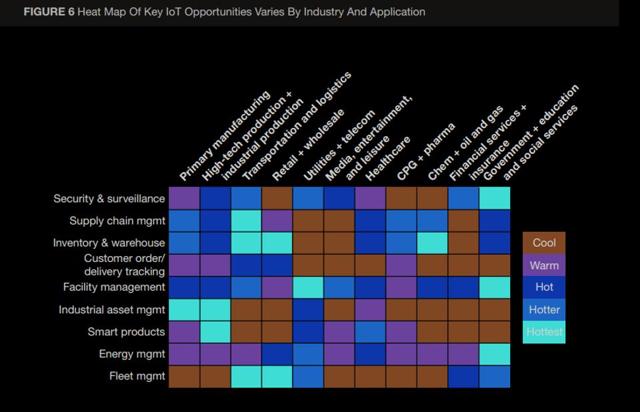 Heat Map of IoT Opportunities. Source: Forbes
The ETF
SNSR was launched in September alongside a financial technology (NASDAQ:FINX) ETF and a Robotics & AI ETF (NASDAQ:BOTZ). Of the three funds launched, it is the IoT ETF which has posted the strongest gains, seeing its value increase by just over 3% against 0.7% for the BOTZ and a greater than 2% drop for the FINX index. The fund has a wide spread of holdings throughout the sector, many of them pure-plays, and should some of the companies it holds do as well as they are expected to, the fund's valuation is likely to soar over the coming years. In the long term, it would seem a safe bet, as the Internet of Things is coming and the value of the market will rise. If you want a steady, managed investment with broad exposure to leave on the back burner, this index might be for you.

Top 10 Holdings of the SNSR. Source: Global X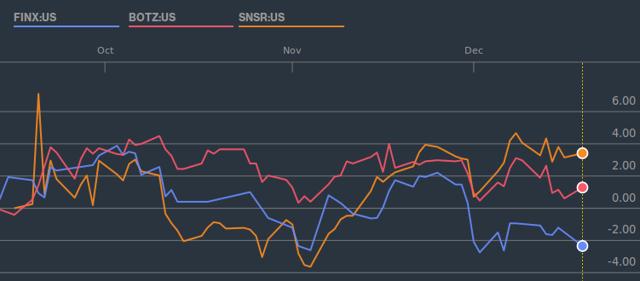 The three Global X ETFs launched in September. BOTZ, FINX, SNSR. Source: Bloomberg
The Safety of the Giants
New technologies often seem to spur the growth of new super-companies, blooming with innovation; exciting places to work, to invest in and to hear about, but this doesn't mean that traditional giants don't make gains from new markets or that they haven't been slowly repositioning in order to take advantage themselves. It just means that reporting on the turning of an oil tanker is a far less attractive proposition than discussing the next Amazon (NASDAQ:AMZN), Facebook (NASDAQ:FB) or Google (NASDAQ:GOOG) (NASDAQ:GOOGL), and all three of these latter companies have strong stakes in the IoT industry. So, if you want to adopt a very much safety-first approach to the IoT market, a position in one of the current big beasts might be the one to take. Rather than turning the focus of this article toward why an investment in the aforementioned trio (AMZN, FB, GOOGL) or towards more traditional big players who have also taken a strong IoT position, such as IBM (NYSE:IBM), General Electric (NYSE:GE), Apple (NASDAQ:AAPL) or Microsoft (NASDAQ:MSFT), the three stocks we'll consider are Cisco (NASDAQ:CSCO), Qualcomm (NASDAQ:QCOM) and Texas Instruments (NYSE:TXN).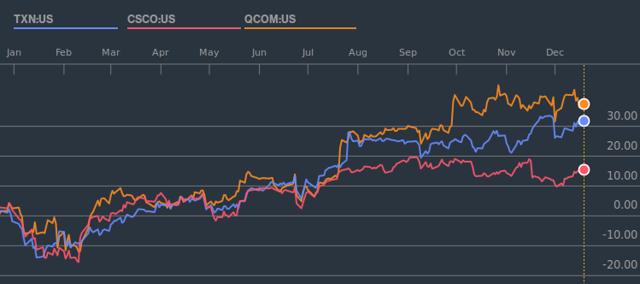 Three Large Stocks to Consider for an IoT position. Source: Bloomberg
The three companies have had strong years; returns are high, dividends are good and each has a long-term interest in the Internet of Things. TXN has a market-cap of $73.5bn, dividends of 2.7% and its shares have risen 37% in value over the past year. The corresponding figures for Cisco and Qualcomm are $154bn, 3.38%, 21%, and $98.9bn, 3.16% and 46%, respectively. 2016 has been no year for slouching.
For Cisco, in 2014, analysts mostly spoke in terms of sluggishness and failure to adapt. However, its continuing growth, recognised by Simona Jankowski of Goldman Sachs, who noted it was, 'within the networking industry, […] [w]ay out ahead of the competition', represents the argument that the tanker has turned. With the company heavily invested in the IoT in products such as wireless networks for floor systems and mining companies, it looks set to capitalise in the years ahead.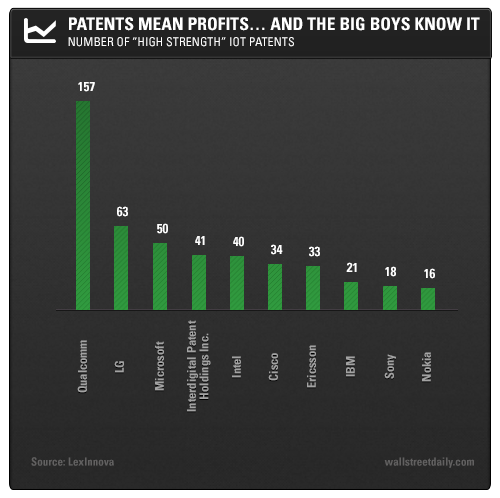 Patents in the IoT. Source: Wall Street Daily
Qualcomm, the world's largest chipmaker, with its dominance in manufacturing and its willingness to throw its weight behind the IoT, is also likely to profit. Its CEO believes up to 10% of its annual growth will come from expansion into the market for "smart things." The manufacturer also holds the largest number of patent grants in the sector: 724. This is above Intel's (NASDAQ:INTC) second placed 688 and ZTE's (OTCPK:ZTCOY) third of 351. Additionally, according to LexInnova's analysis, Qualcomm's IoT patents are also the most valuable, making it a strong company to take a position in. Indeed, as Louis Basenese of the Wall Street Daily puts it, if you're investing in technology stock, 'whether you buy big or buy small… buy patents.'
Texas Instruments has also taken a strong position in the IoT, with its advertising pushing it as the company big enough, but smart enough, to help your business come to terms with the new paradigms of smart things. The company has put significant resources in the hands of its research teams, not least in the search for smaller and more efficient energy storage systems to allow for the connectivity of small and remote devices, which could be of tremendous benefit for linked systems and analytical processes. Additionally, just like Qualcomm, TXN provides IoT solutions, but it also provides the necessary hardware from which to build interconnected things out of, which makes it a strong and stable investment in market terms.
The Smaller Fish
Whilst taking a position in a start-up can bring tremendous gains, it is also a significant risk. Taking a position in a company that has been steadily growing and may perhaps be in line to benefit as the market changes, in a long-term bet such as an IoT investment, can be equally rewarding, and may be more palatable to the more risk-averse. Here, we consider four companies, Alarm.com (NASDAQ:ALRM), Palo Alto Networks (NYSE:PANW), Check Point (NASDAQ:CHKP) and Skyworks (NASDAQ:SWKS).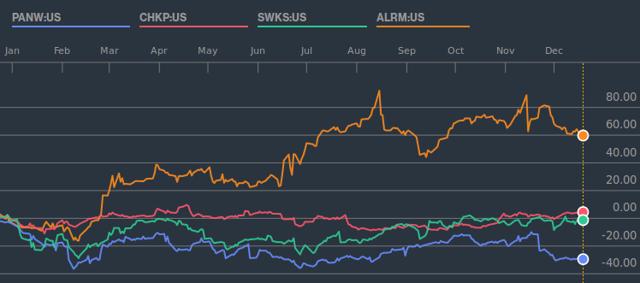 Four Smaller-Sized IoT Stocks - One Year. Source: Bloomberg
The four companies, Palo Alto Networks (-30%) aside, have had somewhat positive years in terms of share price. The share price of the other three rose by 5.9%, 63% and 3.7%. The average market cap of the companies is $10bn, with ALRM being the lowest at $1.2bn with Skyworks and Checkpoint the highest at $14bn. One of the companies, Skyworks, issued a 1.45% dividend this year.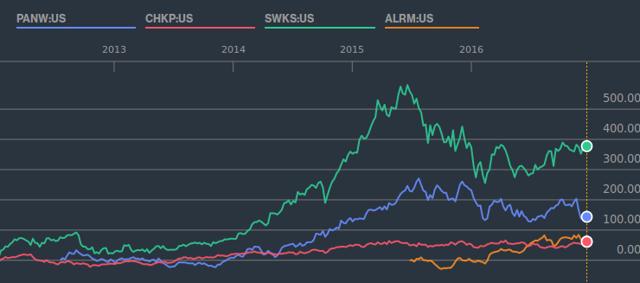 Four Smaller Stock for the IoT - Five years. Source: Bloomberg
Alarm.com Holdings is a company reworking the way in which home-owners engage with their homes. Security and online management are the hallmarks of its online security portal, which integrates the IoT into home alarm systems. In addition to security, the alarm systems can be used to manage temperatures and lighting. Subscription rates are rising and the company has been adding around 10,000 to 15,000 properties a week to its service. It's a simple enough product and one which measures high levels of customer satisfaction, as might its stock.
Palo Alto Networks has had the worst performance of the stocks listed in this article. The company is a cyber-security firm which has seen a disappointing year in share price terms. This contrasted the projected 8% growth figure thrown around at the start of 2016. The reasons for this, loosely put, are worse-than-expected performances. Quarterly earnings reports have all been positive, but not quite up to scratch for investors who had expected the company to boom. Sentiment, rather than fundamentals, has led this stock to underperform and, as CEO Mark McLaughlin noted, while figures were somewhat less 'robust', the company is gaining more and more customers and signing bigger and bigger deals. Furthermore, the company is, according to portfolio manager of ClearBridge Margaret Vitrano, in line to grow by 31% in 2017.
Check Point Software can be seen as an alternative security bet. The company has bought back its own stock for 13 years through to 2016, has a long history for a technology firm (dating back to the 1990s) and is widely considered a strong buy for 2017. Revenues are up, the company's fundamentals are strong and there is plenty of room for growth.
Skyworks is a supplier in semi-conductor manufacturing and produces chipsets vital to a variety of devices including Apple's iPhone. This company is likely to capitalise on the increase in demand for hardware to enable IoT, with a massive increase in the number of semiconductors and sensors needed. The company has grown impressively over the last few years and its RF chips are considered to be of a very high standard. However, the company knows that it needs to expand, with smartphone sales starting to stagnate, and start winning business in areas such as Smart TV, drones and driverless cars. The company has had some success selling itself in these areas, but as yet not enough to offset a decline in smartphone sales, leading to a 7% drop in revenue in one quarter. Nonetheless, if you want to take a position in an IoT manufacturer outside the real giants, Skyworks may be a good bet.
Spread it Wide
Ultimately, it will take some time for the IoT market to consolidate and for the real winners and losers to become clear. With consumers yet to fully embrace the technology and larger companies only slowly turning their ships onto the new course, it's a long game, and not a market necessarily for a fast buck. Still, with the number of devices connected to the internet expected to almost quadruple in the next four years (potentially up to 5.5 million new things being connected each day) there is gold in those hills, if you're willing to stake a claim and practice patience as well as prudence. If you are, you stand in line to benefit from a market that General Electric predicts will have levels of investment upward of $60 trillion in the next 15 years.
Disclosure: I/we have no positions in any stocks mentioned, and no plans to initiate any positions within the next 72 hours.
I wrote this article myself, and it expresses my own opinions. I am not receiving compensation for it (other than from Seeking Alpha). I have no business relationship with any company whose stock is mentioned in this article.
Additional disclosure: CFDs, spread-betting and FX can result in losses exceeding your initial deposit. They are not suitable for everyone, so please ensure you understand the risks. Seek independent financial advice if necessary. Nothing in this article should be considered a personal recommendation. It does not account for your personal circumstances or appetite for risk.