For this topic, I am going to focus on gold and gold stock related ETFs.
In particular the leveraged ETFs because I am certain these are poorly understood and basically are set up to confuse all but the most sophisticated investors.
Rule # 1 - These ETFs are not investments, they are trading vehicles and have very little or no direct holdings whatsoever in underlying gold or gold stock assets.
Rule # 2 - Do not even look at long-term charts, they are simply false data.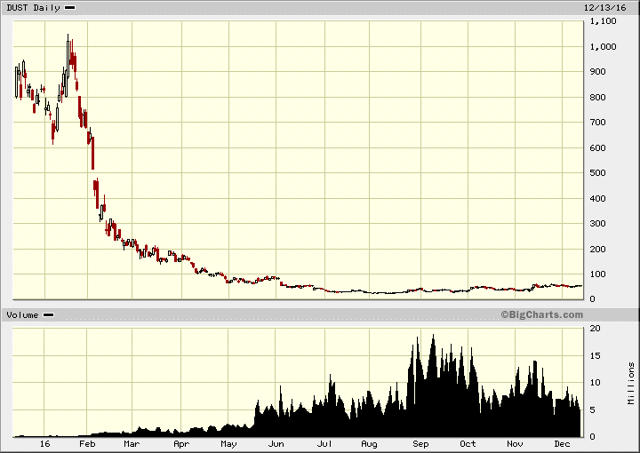 This is a one-year chart of the Direxion Daily Gold Miners Index Bear 3x Shares ETF (NYSEARCA:DUST). It never traded at $1,000 or even $200 or $300. The chart simply reflects reverse splits and not so accurately.
On April 15th, DUST did a 1 for 10 consolidation. So for every 10 shares, you got 1 share.
On July 26th, DUST did a 1 for 5 consolidation. So for every 5 shares, you got 1 share.
If you owned 100 shares in the last couple months, say at $40 or a $4,000 value, going back those shares would have been reversed split 5 to 1 leaving you 20 shares and then 10 for 1 leaving you with 2 shares. Those two shares would have to be valued at $2,000 each to equal your $4,000, but they were never near $2,000 even when the chart is adjusted for the reverse splits.
This is Rule # 3 - The erosion factor. Over time these leveraged ETFs will lose value even if the underlying asset they are supposed to represent does not.
They do not call it erosion but it is spelled out clearly in the prospectus about the one-day performance.
The Direxion Daily Gold Miners Bear 3x Shares is a 3x leveraged exchange-traded fund (ETF) that should be used for short-term trades only. In fact, Direxion points this out on its web site:
"The funds should not be expected to provide three times or negative three times the return of the benchmark's cumulative return for periods greater than a day."
Let's look at a real example of the HUI Gold Bugs Index compared to the Direxion Daily Gold Miners Bull 3x Shares ETF (NYSEARCA:NUGT). It is supposed to go up three times the HUI index in a given day, or specifically the VanEck Vectors Gold Miners ETF (NYSEARCA:GDX) that represents HUI. This chart is YTD so from January 1st.
Let's look at a number of random points. April 1st the HUI was up almost 60%. But NUGT was not up 180%, but around 125%. On July 1st, the HUI was up about 125% and NUGT was not up 325% but better at over 350%. By October 1st, the HUI was still up 100%, but NUGT was nowhere near 300%, but under 200% and by November shows no leverage at all - Erosion.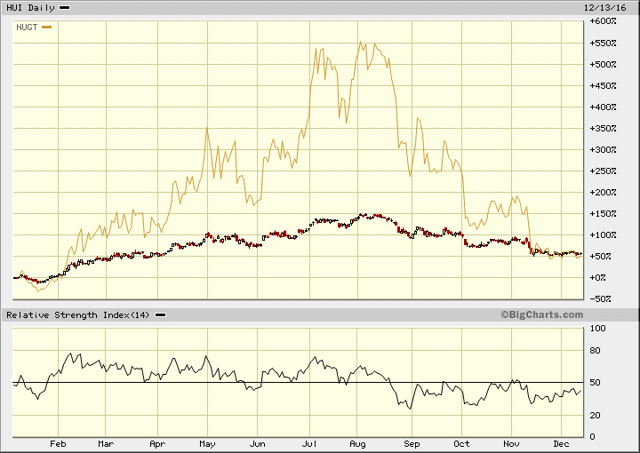 This is just an example these leveraged ETFs will act differently at any time or all times. There is not much guarantee other than one day. If you are in these longer than a day, you just don't know the result.
However, if you can time a strong uptrend or downtrend that lasts several days or even weeks, you can get some nice leverage if you are on the right side of the trade.
The best way to play a leveraged ETF is to short the opposite trade.
If you believe gold stocks will go down, do not buy DUST for three times leverage, but short NUGT for three times leverage down plus you gain the erosion factor. Keep in mind that shorting limits profits to under 100%.
Here is an example of the last two months. You can see about one month later the HUI was down -10%, but at numerous points from November 17th onward when the HUI registered -10% on the chart, NUGT was down more than three times, often down around -35%.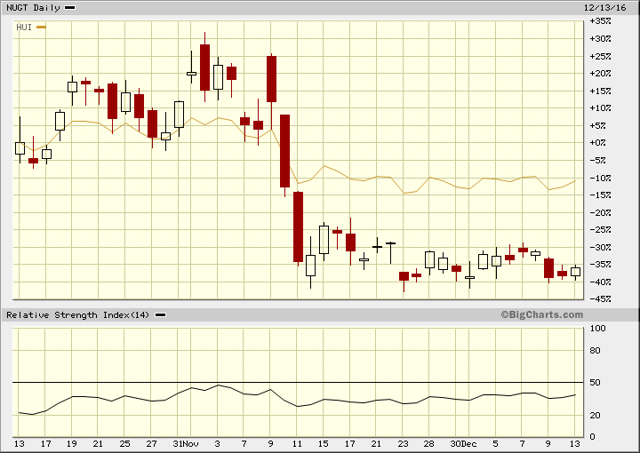 The original purpose and the best use of our capital markets or stock markets are to raise investment for business to grow the economy. This is no longer the case, capital markets are broken and ETFs take some blame.
An April 12th article at ETF.com puts the U.S. ETF market at $2.182 trillion.
In many cases, especially the leveraged ETFs, they have no investment in practically any assets.
When you invest in a leveraged ETF, you are investing with a bankster, for a bankster. They are guaranteed to make handsome returns at your expense.
They can create shares or cancel shares at will on a daily basis. They make adjustments (erosion) when every they need to and split or consolidate shares when they please. They do all of these things to attract trading to profit from.
If an ETF does not attract enough trading, they call it a failure and simply close it down. As of the start of September, 83 ETFs had closed so far in 2016, according to ETF.com, putting ETF closures on pace to beat the 99 closures the site listed for last year. When they close, you normally get your funds back based on the value at closure.
NUGT and DUST come with a very hefty 1.05% expense ratio and in addition you have erosion and have to trade against the bankster's sophisticated computer programs on a daily basis. The only one guaranteed to make $$ is the bankster. You will need to have very good timing because you cannot be quick enough to beat flash trades, keep track of spoofing and newly created or canceled shares.
These ETFs hold or invest in almost nothing. They are basically an agreement between two banksters. On a typical day NUGT or DUST will hold 5% to 10% in treasury type securities, obvious for short-term liquidity. The other 95% or so will be swap agreements with another bankster.
You can check the daily holdings of these ETFs every day. I picked some days to show shares outstanding on NUGT:
Trade Date: 11/30/2016 Shares Outstanding: 148,588,735.00

Trade Date: 12/13/2016 Shares Outstanding: 162,638,735.00

Trade Date: 12/14/2016 Shares Outstanding: 162,938,735.00

Trade Date: 12/19/2016 Shares Outstanding: 187,838,735.00
You can see the number of shares in the ETF can fluctuate on a daily basis and be quite considerable; in just over two weeks about 40 million shares were added to NUGT.
This is done to prevent the stock from rising in price above the three times value. If there is too much buying demand, it would pressure the price up, so to prevent this, the bankster simply creates more shares to fill the buy orders.
The opposite can happen, where with less demand the bankster may have to buy some back. This is why they want ETFs with high demand and close those that do not have enough interest. They obviously like to create shares and grow the ETF. This is also the main reason you see splits and reverse splits. For example, many institutions cannot buy investments priced under $5.00 so they want the price at a decent level, but if it gets too high in price, it is less attractive to retail traders. This is why DUST was reversed split twice this year to bring the price back up.
Let's look at what is in these ETFs, I will use holdings in NUGT for one day. These holdings change every day, but the majority of the holdings are swap agreements.
What is a "swap"?
A swap is a derivative contract through which two parties exchange financial instruments. These instruments can be almost anything, but most swaps involve cash flows based on a notional principal amount that both parties agree to. Usually, the principal does not change hands. Each cash flow comprises one leg of the swap. One cash flow is generally fixed while the other is variable, that is, based on a benchmark interest rate, floating currency exchange rate or index price.
The most common kind of swap is an interest rate swap. Swaps do not trade on exchanges, and retail investors do not generally engage in swaps. Rather, swaps are over-the-counter contracts between businesses or financial institutions.
I could get into details with numbers and calculation exactly how a particular swap changes value, but I want to try and keep this to the most simple explanation I can.
First here is the holdings of NUGT on December 13th
NUGT Daily Gold Miners Index Bull 3x Shares
Trade Date: 12/13/2016 Shares Outstanding: 162,638,735.00
| Stock Ticker | Security Description | Shares | Price | Market Value |
| --- | --- | --- | --- | --- |
| - | BANK OF NEW YORK CASH RESERVE | 187,038,988.17 | 1.00 | 187,038,988.17 |
| - | DREYFUS TREAS PRIME CASH MGMT/INST | 405,829,603.40 | 1.00 | 405,829,603.40 |
| - | FIDELITY INSTITUTIONAL GOVERNMENT PORTFOLIO | 125,251,367.66 | 1.00 | 125,251,367.66 |
| - | FIDELITY INSTITUTIONAL GOVERNMENT PORTFOLIO | 82,105,164.43 | 1.00 | 82,105,164.43 |
| - | GOLDMAN FINL SQ TRSRY INST 468 | 64,571,682.30 | 1.00 | 64,571,682.30 |
| - | GOLDMAN FINL SQ TRSRY INST 506 | 135,279,323.29 | 1.00 | 135,279,323.29 |
| - | GOLDMAN FINL SQ TRSRY INST 506 | 88,538,237.70 | 1.00 | 88,538,237.70 |
| GDX | VANECK VECTORS GOLD MINERS ETF | 31,896,756.00 | 20.75 | 661,857,687.00 |
| - | VANECK VECTORS GOLD MINERS ETF SWAP | 15,000,000.00 | 20.75 | 311,250,000.00 |
| - | VANECK VECTORS GOLD MINERS ETF SWAP | 17,189,071.00 | 20.75 | 356,673,223.25 |
| - | VANECK VECTORS GOLD MINERS ETF SWAP | 29,302,360.00 | 20.75 | 608,023,970.00 |
| - | VANECK VECTORS GOLD MINERS ETF SWAP | 40,343,701.00 | 20.75 | 837,131,795.75 |
| - | VANECK VECTORS GOLD MINERS ETF SWAP | 41,453,305.00 | 20.75 | 860,156,078.75 |
| - | VANECK VECTORS GOLD MINERS ETF SWAP | 7,500,000.00 | 20.75 | 155,625,000.00 |
The first securities listed priced at $1.00 are basically short-term money market instruments like cash and would be used to provide all the daily liquidity that might be needed. The seven securities add up to just over $1 billion.
Next is $661 million in GDX, the ETF it tracks.
GDX is another ETF. You cannot buy the Gold Bugs Index (HUI), but GDX mimics the Index by owning the same stocks and weightings as the index, so GDX and HUI are basically the same thing. GDX has no leverage and actually holds the precious metal stocks in the HUI. You can review its holding here.
After the GDX holding, the majority is six GDX swap agreements. They have a value around $3.8 billion. These swap agreements would be with the bankster that runs NUGT and other banksters.
We don't know the exact detail of these swaps, but because we know NUGT tries to provide three times leverage to GDX, they would be swap agreements based on GDX.
For example who runs NUGT, bankster ABC would make a swap agreement with bankster XYZ. In simple terms if GDX increased in price, bankster XYZ would pay bankster ABC three times the value increase in GDX. If GDX decreased in price, bankster ABC would pay bankster XYZ three times the value decrease in GDX.
Remember with the value of these swaps, money never exchanges hands among the banksters, but probably the change in value would go back and forth each day on a ledger. Each day new swap agreements are set and can be at different prices and values.
These would use sophisticated computer models that would use the amount of funds that flow in and out of the ETF, the closing price the previous day and the movement in GDX and take fees, expenses, spreads all into consideration.
One thing you can be certain of, the banksters will make money. The erosion that happens over time probably reflects their expenses and skimming etc. When you consider all the leverage in NUGT eroded over HUI in less than a year, it probably means a lot of profits for the banksters.
Even the value of GDX will erode and it provides no leverage, that is because it is basically a fund with expenses, fees and transaction costs. Below is a YTD chart of the Gold Bugs Index and GDX.
The HUI has a gain of about 44% on the year to Dec. 16th while GDX only has a 35% gain. Sometimes the underperformance is more extreme like YTD to August.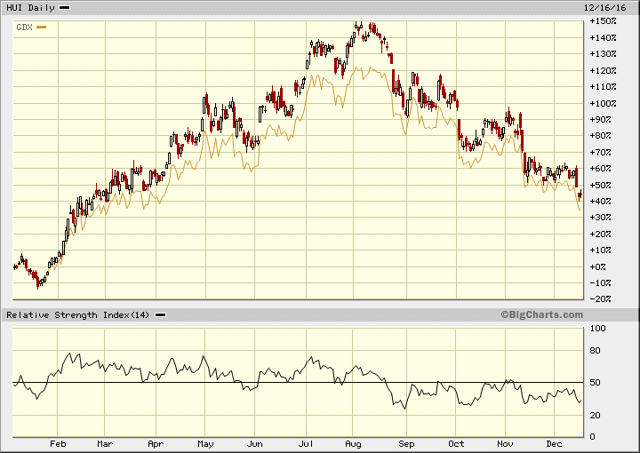 Because of all these factors I talked about, I strongly believe you are far better off to invest in the stocks directly and by picking better ones you can handily outperform indexes that I have been able to do every year.
ETFs can work if you want to make short=term trades and are very good at it, but the reality is that over 90% of traders fail, so the odds are highly stacked against you and more so when you pick an inferior investment product that does not perform to the average.
You can go on the Internet and find all kinds of stories about the 90% plus failure rate for trading and most of these will talk about all the mistakes made and why their system is the best.
Few if any are going to tell you about the pitfalls of trading ETFs as I outlined above, because most investors trade these and the story these articles are pitching is trading systems on these very ETFs.
Some investors got it right and were on the right side of a bullish move in gold this year, but as I have proven above, many and probably most picked inferior trading or investment vehicles. GDX and NUGT underperformed as measured against the Gold Bugs Index (HUI).
I picked four senior precious metal stocks in GDX to ride the up move in 2016. This next chart compares those four stocks to GDX. Three of these I wrote about here early in the year like Kinross (NYSE:KGC) for example and B2Gold (NYSEMKT:BTG) here.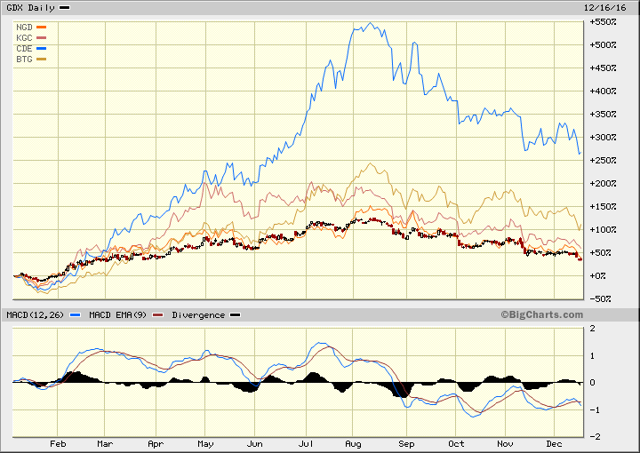 New Gold (NYSEMKT:NGD) performed the same as GDX. However, B2Gold, Kinross and Coeur Mining (NYSE:CDE) far outperformed. The average gain of the four stocks is around 120%, more than three times the GDX at 35%.
For leverage, instead of say a three times ETF like NUGT, I bought call options one year out on Kinross and New Gold. I sold the New Gold calls for 509% gain and the Kinross calls for a 1,400% gain, I wish I would have bought the Coeur call options.
The main advantage you will hear about ETFs is that they avoid the risks of owning individual stocks, and since most funds fail to outperform their benchmark indexes, you are better off with an ETF that tracks the index. And for more leverage, you can buy the 2X or 3X ETFs.
That all sounds good, but what I have proven above paints a different picture.
I have no doubt you can make far better returns picking the better stocks in an index instead of settling for below the average of the index that you get with an ETF.
It takes a lot of time for the due diligence to pick stocks, but that is why you follow a publication like mine that does a lot of that work for you. Of course I am partial to my own writings and picks, but there are many other good newsletters or publications at Seeking Alpha and elsewhere to follow. I believe it is best to pick a handful of these to get a good variety and mixture of investment ideas. Over time you can also access the performance and investment style to match your needs.
Simple math will tell you that you have better odds picking the stocks rather than the ETF
As shown, the ETFs actually perform somewhat below the index they track; with GDX, it was -10%. An index like HUI is the average performance off all the stocks in the index, skewed somewhat by weightings. If you pick what you think are the better stocks that have a good weighting in the index, your odds are 50/50 you will do better than the index, even throwing darts. Since the ETF does not perform as well, dart throwing gives you better than 50/50 to beat the ETF.
I hope this stimulates you to consider outside the ETF black box!!
Disclosure: I/we have no positions in any stocks mentioned, but may initiate a long position in BTG, KGC, CDE, NGD over the next 72 hours.
I wrote this article myself, and it expresses my own opinions. I am not receiving compensation for it. I have no business relationship with any company whose stock is mentioned in this article.