AFLAC (NYSE:AFL) is a good dividend paying company at too high a price. While it does pay a good dividend, the headwinds it faces because of conditions in the Japanese market mean that the current price is too high to be a good entry point.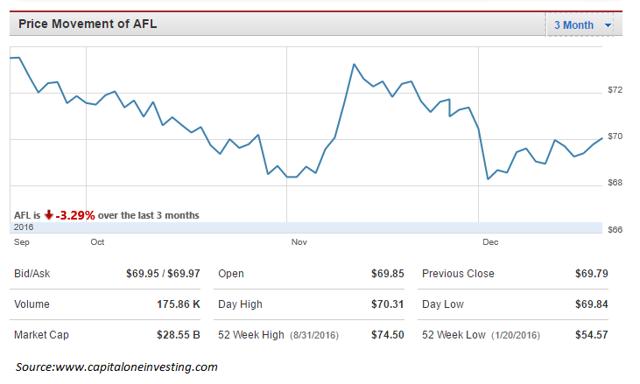 Is AFL a good investment partner?
The insurance business is one that tends to produce a lot of companies that produce steady and growing dividends. Premiums come in predictable amounts. A whole lot of mathematical research has gone into predicting payments to the insured. A portfolio of safe bonds with reasonable yields is then all that is required to produce a dividend supporting level of cash flow.
AFL is primarily in two markets, one here in the U.S and, by far the larger market, in Japan. For many years it very profitably managed its investment portfolio for the Japanese market by buying yen denominated Japanese Government bond (JGB). However, the rates on those bonds has been dropping for some time, and has now reached a level where AFL has had to switch those bonds as they mature to investment grade dollar denominated corporate bonds. It then hedges those corporate bonds to the yen. Recently it has had to go to even riskier bonds, and hedge costs have gone up. Tom Armistead goes into greater details in his article here. While Tom does make some good points, and readers should pay attention to the risks he identifies, I still think AFL will be able to grow the dividend and will surmount the current issues. The low yield issue with JGBs is a long standing one, and AFL has managed to grow anyway (even if just slowly), I think they will continue to find a way to generate profits and grow the company going forward.
Given the often lower yield and the steady nature of its business, I require insurance companies I invest in to grow their dividends yearly for at least 10 years and to have not cut them for 15 years or more. Looking at the CCC List, I see that AFL has grown its dividend for 34 years.
The next thing I look at is credit ratings and financial strength. On the AFL website, there is a page showing the financial strength ratings for AFL. All very high ratings, another test passed.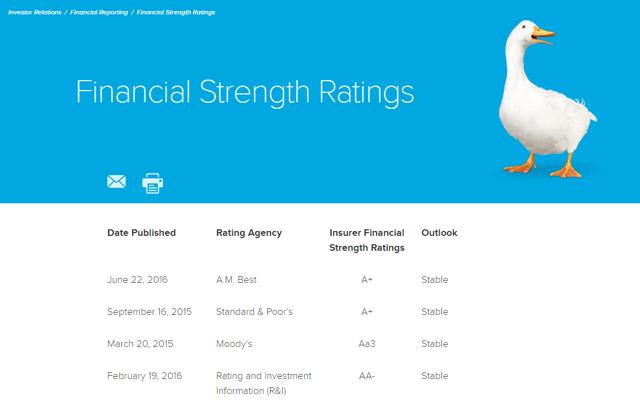 While the CCC List shows the dividend history of AFL, I like that they have a presentation (called the investor fact sheet) with a slide that also shows dividend payment performance. To me, this is a sign that management has a commitment to paying and raising the dividend. The slide show below shows both the commitment to paying and growing the dividend and the management investment plan to line investments up with product needs and liability profile. That's exactly the type of plan that I want to see an insurance company have, so that the dividends are fairly safe from a need to pay for unexpected insurance claims.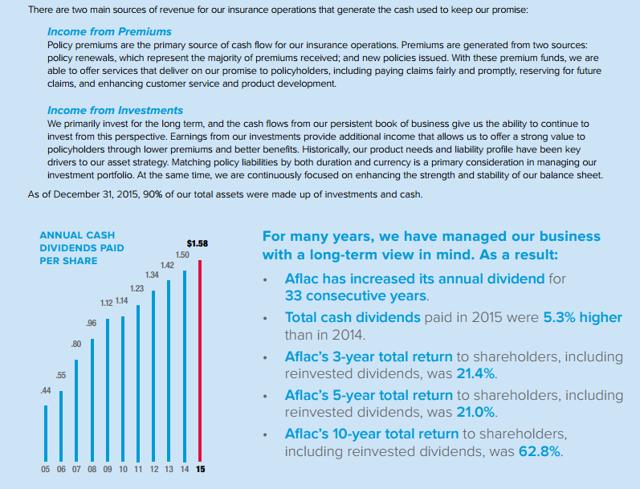 Readers can see AFL's 2017 outlook presentation, while the whole presentation is worth reading, I show the slides with the most important information below.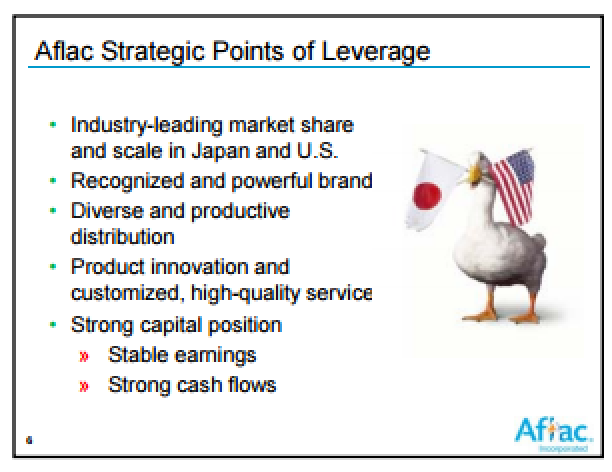 This shows to me that the management recognizes the strengths of the company and has a plan to capitalize on those strengths. Especially in times where the company has issues with its past practices, I like to see that the management has a vision for the future.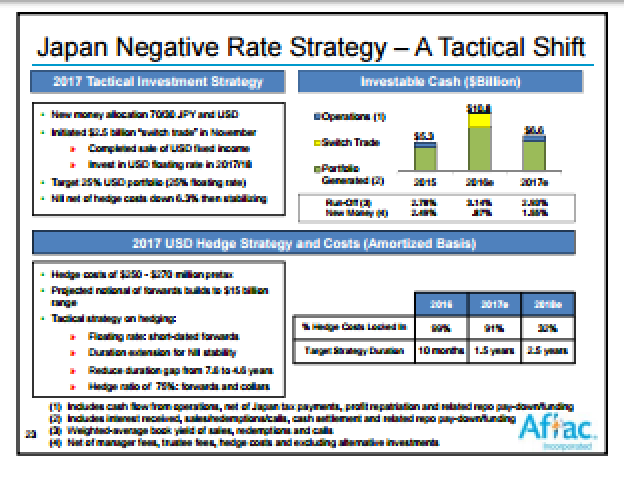 This final slide lays out managements plan for 2017 to handle the investments for Japan. This area, not being able to get good return on JGBs and the increasing cost of hedges for dollar denominated investments, was a significant drag on performance in 2016.
Given its dividend history, its financial strength and its plans to build on its strengths and address weakness, I see that AFL is a good investment partner. However, I will want a good price and will need to keep watch on how it implements its plan to address a weak yen's impact on its investment portfolio.
What's a good price?
To figure out a good price, I do a DDM calculation using my Excel® based DDM calculator (pictured below, you can see the web-based calculator I based it on here and read a discussion on how the formulas were developed here). For AFL, I will get the parameters I use from the CCC list, the current dividend and the lowest dividend growth rate.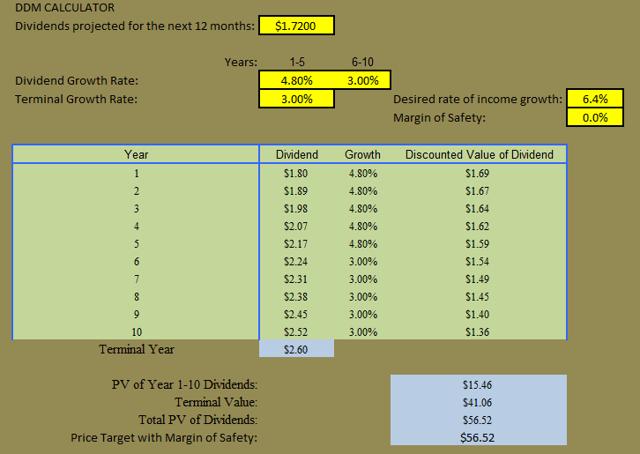 Currently AFL is trading just below $70 a share, so by this measure, and I think it's somewhat on the optimistic side, AFL is about 20% over-valued. At my price target, of about $56.50, AFL would have a yield of just over 3%, which would also give it a Chowder number of just shy of 8, which for a financial type stock I think is acceptable. So even though the current market price is more than 20% above my target, I think that $56-$57 is a good entry point.
Can options help?
Given my price target, I think the only prudent near term investment activity will have to involve options.
With my price target being so low, I see no expiration dates for puts that currently offer a reasonable premium at a strike price even close to what I am willing to pay for the stock. Perhaps future price movements in the price of AFL stock will make a put contract attractive, but I just don't see one now.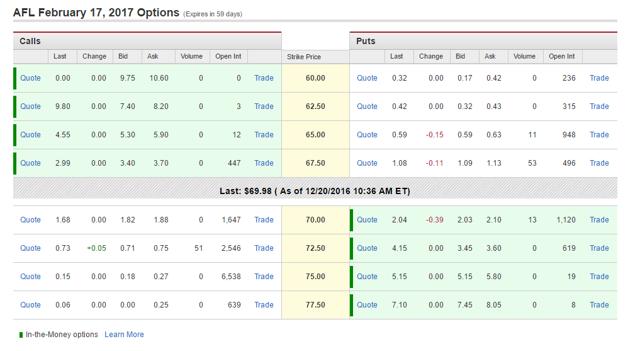 On the call side, things look better. Doing a buy write, I am somewhat tempted by the $60 or $62.50 strike prices for the February expiration date. But doing the math, the bright shiny that is the premium turns very close to break even, and I just don't see a catalyst powerful enough to drop the share price so that the contracts won't get exercised. Since the objective in using a buy-write strategy is either to get the stock at my price target or turn a profit, there needs to be a call contract that will do either of those two things, and I don't see one.
However, doing a covered call with a strike price of $70 for the February expiration date will give a nice premium with the bid currently sitting at $1.82. With the Delta at 0.57, the nearly 60% chance of the shares being called away means that you should not write this contract unless your cost basis is well below that $70. The $72.50 strike, even though its premium is less than a $1 is probably the better bet unless you definitely want to unload the shares.
Conclusion
AFL is a good company with a history of good dividend growth. It is currently facing some significant headwinds in the weak yen and low JGB yields. One would think that would push the price down, but so far the market still has it above the price I want to pay based on its dividends. Writing options is only of limited help, and no help at all in getting more shares at a good price.
Note: I hope you all got something out of this article. I do appreciate the time you took reading it. If you are one of those who follow me here, I appreciate it; if you'd like to include yourself amongst those individuals, please hit the "Follow" button next to my name as well as following other contributors whose work you enjoy. As always, please leave any feedback and questions you may have in the comments below.
Disclaimer: This article is intended to provide information to interested parties. As I have no knowledge of individual investor circumstances, goals, and/or portfolio concentration or diversification, readers are expected to complete their own due diligence before purchasing any stocks mentioned or recommended. The price I call fair value is not a prediction of future price but only the price at which I consider the stock to be of value for its dividends.
Disclosure: I/we have no positions in any stocks mentioned, and no plans to initiate any positions within the next 72 hours.
I wrote this article myself, and it expresses my own opinions. I am not receiving compensation for it (other than from Seeking Alpha). I have no business relationship with any company whose stock is mentioned in this article.