Silver prices have been highly volatile this year with year-to-date returns tipping as high as 47% in August. Since November though, the precious metal has registered a steady decline and current spot prices are ~23% below its peak this year. Such a drastic drag begs the question of whether it has now approached a floor, making it ripe for investment again. My answer is in the affirmative but it's not a screaming yes! I enumerate the reasons behind that judgment below.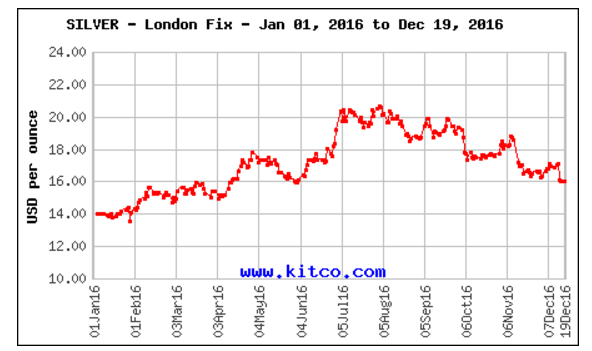 Current declines is a case of investment demand drying up
Silver demand can be broadly classified into jewelry, investment and industrial demand. Industrial demand takes the largest piece of the demand pie at around 50% whereas investment and jewelry industries each gorge roughly 25% of the silver output. While correlated to the overall state of the economy, industrial demand tend to relatively stable with high volatility seeping in mainly through disruptor's or creation of a new industry which I describe in the next section of this piece. Jewelry demand on the other hand, is highly elastic. With prices staying low in the last few years, the jewelry industry created a record demand for silver in 2015. The increasing awareness on silver investing and lower prices compared to gold has also ensured a ~6-fold increase in demand for silver coins and bars in the 2006 - 2015 period. With current prices now falling to levels that are close to the average prices in 2015, I believe we could see a renewed interest in jewelry, bar and coin demand for the white metal.
Solar is a watered down Kodak but silver still has an opportunity
Back in the good old days when you had to say "cheese" to a Kodak, the voracious appetite of those old cameras for silver allowed the precious metal to capture a demand that lasted for almost a century. This part of the demand dipped as traditional cameras met the new age disruptor that is technology. Based on the figures published by the Silver Institute, in 2015, silver used in photography was roughly a third of that used in 2006. However, the disruptor that killed the golden goose, also spawned a new source of demand - the solar industry. Silver paste is used as a conductor on most modern day solar panels. Between 2006 and 2015, demand from photovoltaic cells managed to cover roughly 80% of the decline in demand from photography. However, this is still far from the amount of silver gorged by the photography industry before the onset of digital cameras.
The gradual increase in the adoption of solar should have tipped the scales for bullish views on silver. It hasn't, and the reason is price. In their relentless pursuit of becoming more competitive against fossil fuel energy, solar cell manufacturers are looking for ways to drive down costs. Manufacturers are therefore economizing the use of silver which has partially offset demand growth for the metal in recent years. However, despite this offset, the sheer scale and emphasis on solar power off late is something I believe will make silver a good investment at their current prices. A medium term renewable energy report published by the IEA increased its own renewable energy market growth forecast by 13% in the 2015 - 2021 period. In fact, the report attributed solar energy as the second largest source of capacity additions. It also added that 500,000 solar panels were installed every day in 2015 and this number at current growth rates is only going to increase.
Conclusion
It's hard to predict a bottom for silver and yet current declines offer a substantial margin of safety for investors. I believe investors should start building small positions at the current price levels. This will ensure that their entire capital is not locked in, and a decline provides an opportunity to further lower their buying price. If the prices go northwards, they would at least have a small position that rakes in gains from the rally. I generally choose my mode of investment depending on my time horizon. For long-term investment I prefer holding physical silver over silver ETFs. However, for short-term investments, I prefer the benefits of easier liquidation and go for Silver ETFs.
Note: Demand figures are from the Silver Institute.
Disclosure: I/we have no positions in any stocks mentioned, and no plans to initiate any positions within the next 72 hours.
I wrote this article myself, and it expresses my own opinions. I am not receiving compensation for it (other than from Seeking Alpha). I have no business relationship with any company whose stock is mentioned in this article.