Metamorphosis of Monarch Larvae into Butterflies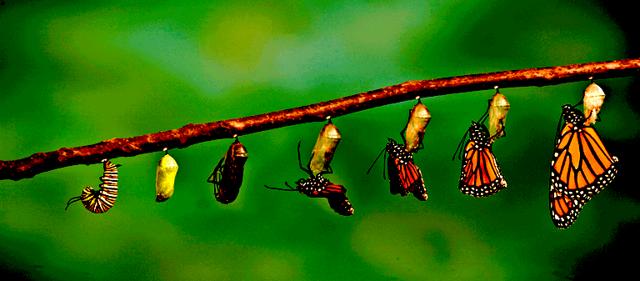 In biology, the phenomenon of metamorphosis is one of the more remarkable transformations seen in the animal kingdom. There is the famous transformation from larvae to butterfly shown above, and there are other wonderful examples like the transformation of maggots into flies, and tadpoles into frogs. In geology, the term metamorphosis refers to the transformation of sedimentary or igneous rocks into metamorphic rocks, whose chemistry, mineralogy, and texture are dramatically changed in the process. An example would be the transformation of shales into slates, phyllites, schists, and gneisses as heat and pressure increase through time (shown below).
Metamorphosis of Shale into Slates, Etc.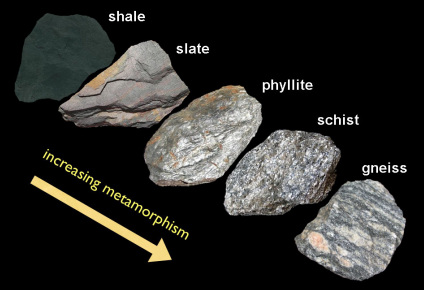 We are now seeing a financial metamorphosis of sorts as the markets have transformed from being totally driven by monetary policy to perhaps a new kind of beast that is driven more by economic hope, and, perish the thought, (in some sectors) actual fundamentals.
Naturally the cause of this appears to be the post-election surge in market optimism as a relatively anti-business administration bows out to be replaced by president-elect Trump and his team of billionaires, business moguls, generals, and other serial optimists who are now preparing to take Washington by storm. The long period of pessimism since the 2008 financial crisis seems to have ended, or at least diminished substantially, and has been replaced by renewed optimism about the economy and the government's role in advancing growth, or at least getting out of the way of it. It is early going, however, so of course it is not at all clear that events will prove the markets right in the degree of optimism they are displaying about the immediate future. Yet to many observers it just feels right, at least in the climate of euphoria now prevailing before Trump and the new Congress actually take office.
Of course, when Ronald Reagan was elected, the same kind of thing happened, but in that case the markets peaked around the end of November in 1980. As a note of caution, it is alarming to recall that the promised Reagan tax cuts did not actually happen until his second term. The market dropped for a period of almost two years after November 1980, until they bottomed with a paper loss of about 27% in August 1982 (Chart 1). But then from 1982 onwards the market roared in one of the greatest bull rallies ever. The research team at Bespoke Investment Group has noted that in the four previous cases in which a Republican challenger has taken the presidency (i.e., 1952, 1968, 1980, and 2000), the market dropped on average by 10% over the next 12 months.
Chart 1: Brief Reagan Post-Election (Arrow) Rally in 1980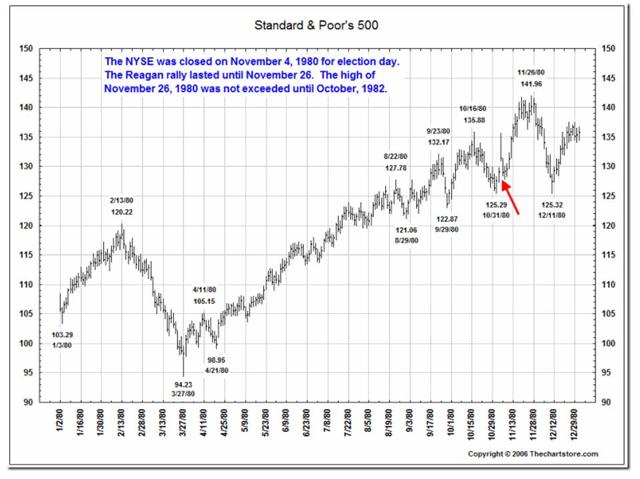 In direct contrast, market sentiment, as indicated by Bank of America-Merrill Lynch's (NYSE:BAC) long-term sell-side consensus indicator (Chart 2), had fallen so low by the time of the recent election that a 20+% rally was predicted based on a standard contrarian interpretation. This would imply a rally to around 2,600 on the S&P 500 Index over the 12 months to November 2017. This low Merrill Lynch indicator reading has been associated with positive returns 100% of the time since 1985 (Alex Rosenberg, cnbc.com blog 2016). A whole range of prognosticators, including Goldman Sachs (NYSE:GS), Citigroup (NYSE:C), Bank of Montreal (NYSE:BMO), Deutsche Bank (NYSE:DB) and JPMorgan (NYSE:JPM) have now raised their targets for the S&P 500 to 2,300 or even 2,400 or more (Akin Oyedele 2016). Which of these two scenarios will actually prevail, i.e., upside potential of 20% vs. downside risk of 10+%, is yet to be seen.
Chart 2: Bank of America-Merrill Lynch Sell-Side Consensus Indicator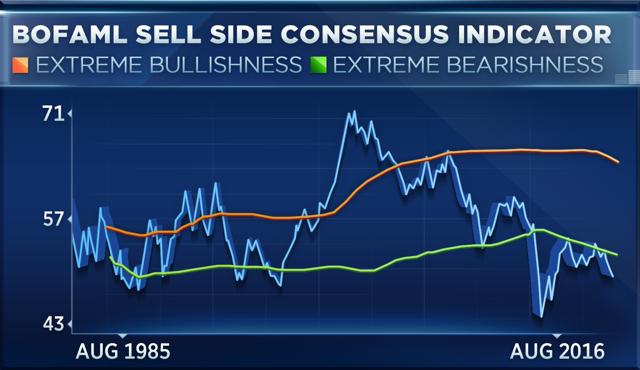 However, in the months since the June market low, and especially since the election, the upside prediction has started to play out, as some sectors and industries have soared along parabolic paths to new highs (Charts 3 and 4). This is promising on a technical basis, but the rally has moved so quickly that some people, including myself, have suggested that either a correction is imminent, or this may be the final blow-off rally of the seven-year bull market.
Are there other clues we can look at to evaluate this question of whether we might continue the rally or not? I believe it behooves us to look at some other sentiment-driven evidence, such as the consumer confidence index (Chart 5), the Citigroup Panic/Euphoria Model (Chart 6), or the degree of active manager bullishness (Chart 7). The consumer confidence index suggests continued improvement on the trend that has been observed since 2009. This index suggests that more upside is possible. The Citigroup Panic/Euphoria model is also suggestive of potential upside, as it is not at extreme readings. However, the degree of active manager bullishness would suggest, based on contrarian interpretation, that a correction is imminent.
Chart 3: Banking Index (BKX) Soars After 2016 Election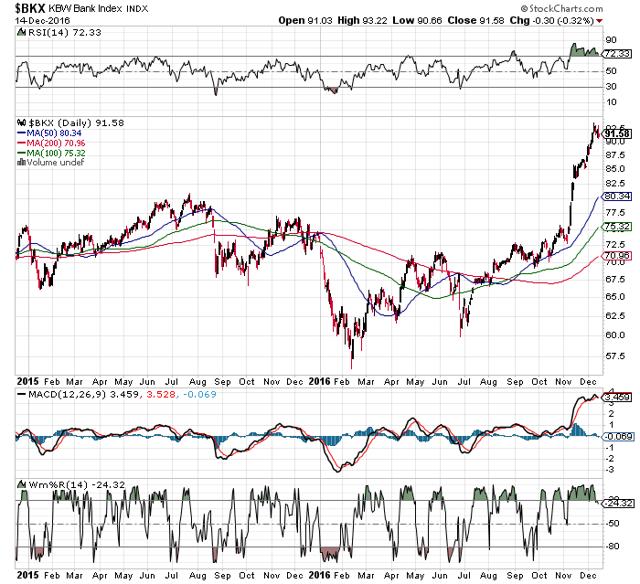 Source: StockCharts
Chart 4: Dow Transports Index (TRAN) Soars After 2016 Election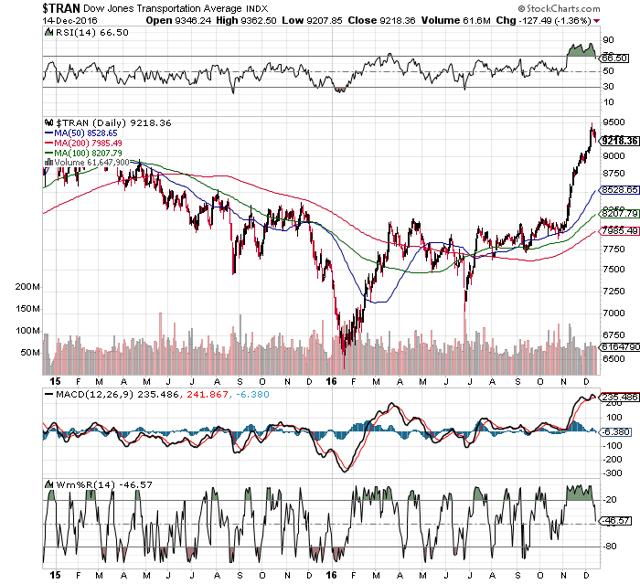 Source: StockCharts
Chart 5: Consumer Confidence Still Rising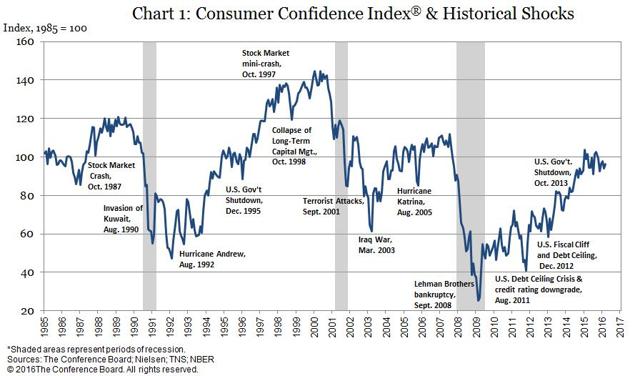 Chart 6: Citigroup Panic/Euphoria Model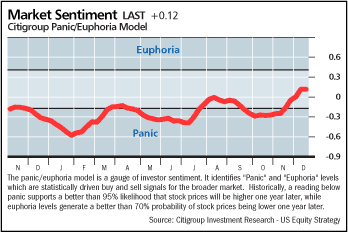 Chart 7: NAAIM Active Manager Equity Exposure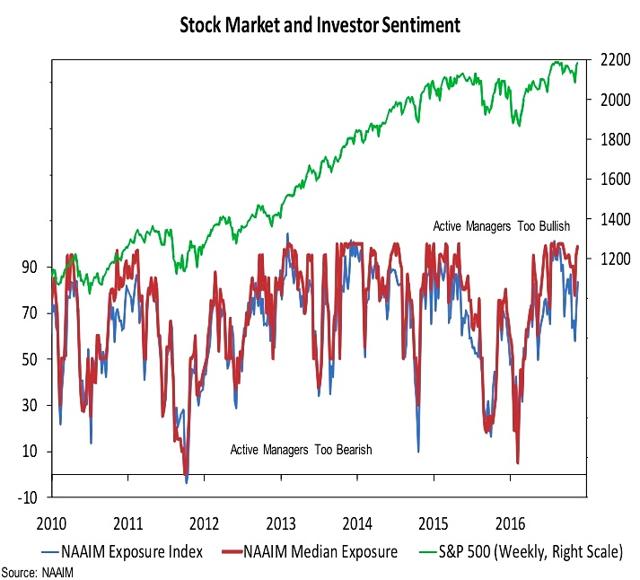 An additional line of evidence might include the volatility index ("VIX"; Chart 8), which suggests a correction is possible because of its extremely low reading (11.75 on 12/19/2016); this kind of reading was also observed just before the correction in August 2015. However, a low "VIX" reading is not in and of itself diagnostic, because sometimes readings are low for extended periods with no adverse effects. It also might make sense to technically evaluate some of the leading indexes or sectors in the rally to see where they now stand. For example, the Dow Transports ("TRAN"), when viewed over many years (Chart 9), looks like it's regained what was lost in its previous sell-off, but then subsequently failed after making new highs; this sets up a potential double-top that could portend a major sell-off in this segment of the market, perhaps at the turn of the year.
Chart 8: Volatility Index ("VIX") at a Low Point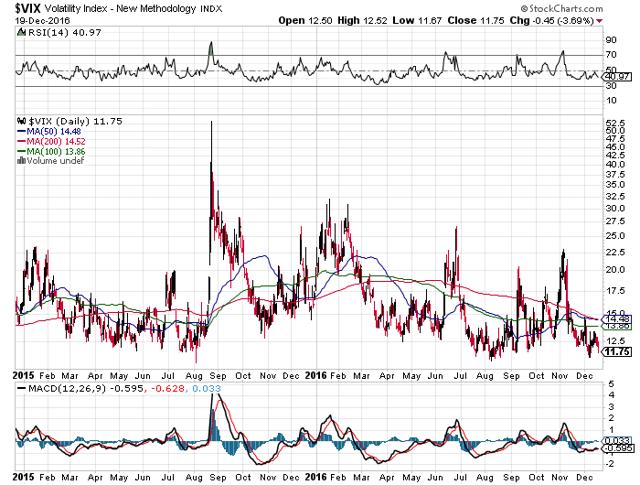 Source: StockCharts
Chart 9: Potential Double-Top (@horizontal red line) in Transports (TRAN)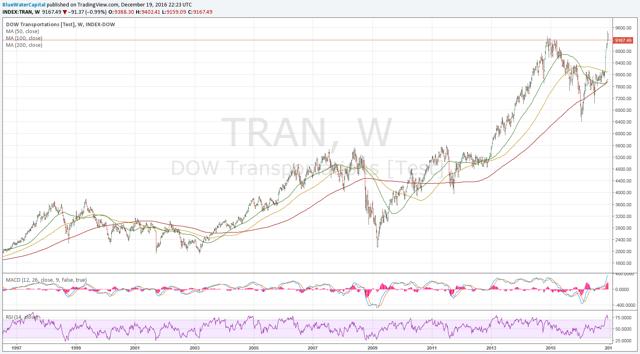 Another example might include the apparent double-top that has already formed for the healthcare sector (NYSEARCA:XLV), as shown in Chart 10. If confirmed, this would suggest another sector that could sell off substantially, once the seasonal rally ends.
Chart 10: Potential Double-Top (Peaks Above Horizontal Red Line) in Healthcare Stocks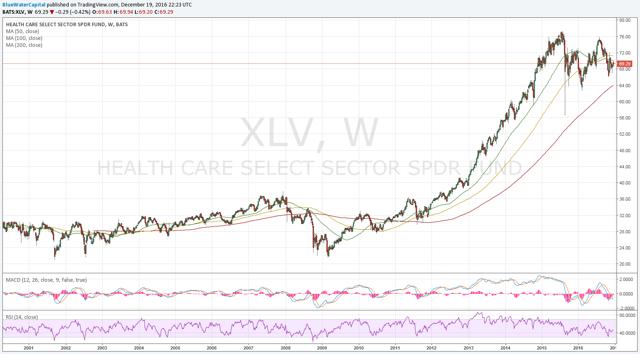 Source: TradingView
Finally, S&P 500 earnings are now expected to rise substantially in 2017 (Chart 11) after years of flat or zero growth that resulted from an earnings recession. The theory now is that tax cuts, deregulation, and healthcare reform will propel earnings growth and extend the rally. However, up until now the recent rally has been driven by multiple expansion, and earnings estimates are generally suspect given their poor predictive power historically (Chart 12).
Chart 11: S&P 500 Earnings Expected to Finally Rise in 2017…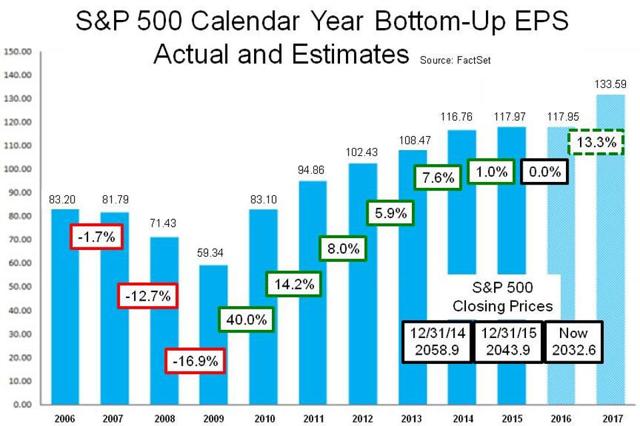 Chart 12: … however, Earnings Projections Are Always Suspect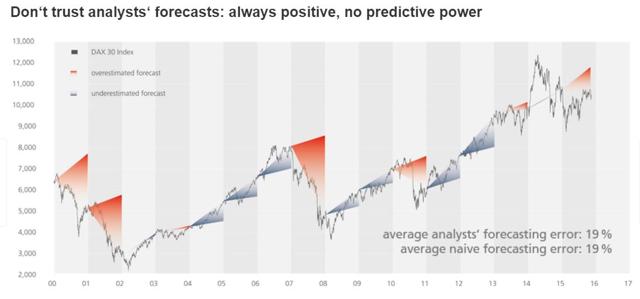 In summary, the markets will probably correct once the seasonal rally runs out the clock; this could involve continued upward momentum in early January 2017, or we could potentially see risk avoidance right out of the gate as a new tax year begins, permitting the harvesting of gains at potentially lower rates (Robert W. Wood, 2016). In addition, once earnings for 4Q/2016 come in, the bullish optimism now prevailing may be pared back a bit. Expectations for earnings are high for once, so it will be more difficult to get legitimate earnings or revenue beats. Bulls have already priced in a major portion of the positive changes Mr. Trump has promised, without the benefit of him even being sworn in yet.
And when the new Congress and president are sworn in on January 20th, 2017, we will again get to see how the political sausage gets made, and that should start to ruin the risk appetite of bulls by late January. Of course, the rally could continue into the spring if we assume that all will be sweetness and light in Congress, but my guess is that even getting Senate confirmations of cabinet officers for the new administration will be quite a chore, and nothing much will get done by the Trump administration until the major cabinet posts and other Senate-approved appointments are filled. All sorts of uncertainty will come into play as the new president takes office; without his cabinet, his policy decisions will remain unclear for a while. But geopolitical events may continue to stress the international system whether the new government is ready for them or not. So while the long-term outlook for the economy may be positive, the short-term outlook for the markets is that we are probably peaking on at least an interim basis over the next few weeks, and a 15-20% correction may ensue.
It may make sense to start moving towards more foreign stock allocations given the extreme valuations in the US markets (Chart 13). Countries with significant upside potential may include Canada, the UK, Europe, and Russia (Charts 14, 15, 16, and 17). Potential foreign country ETFs might include the iShares MSCI Canada ETF (NYSEARCA:EWC), iShares MSCI United Kingdom ETF (NYSEARCA:EWU), WisdomTree Trust Europe Hedged Equity ETF (NYSEARCA:HEDJ), and Van Eck Vectors Russia ETF (NYSEARCA:RSX). A good diversified foreign stock mutual fund like the Goldman Sachs International Equity Insights Fund (MUTF:GCIIX) might also come in handy.
Chart 13: US Market is at Second Highest Valuations Since 1950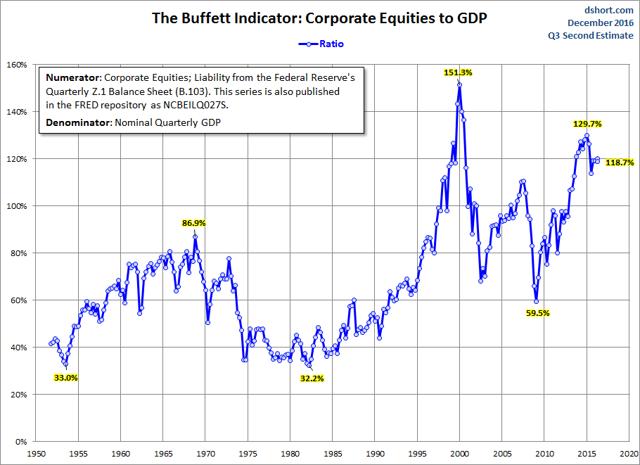 Chart 14: Canadian Stocks Have Upside Potential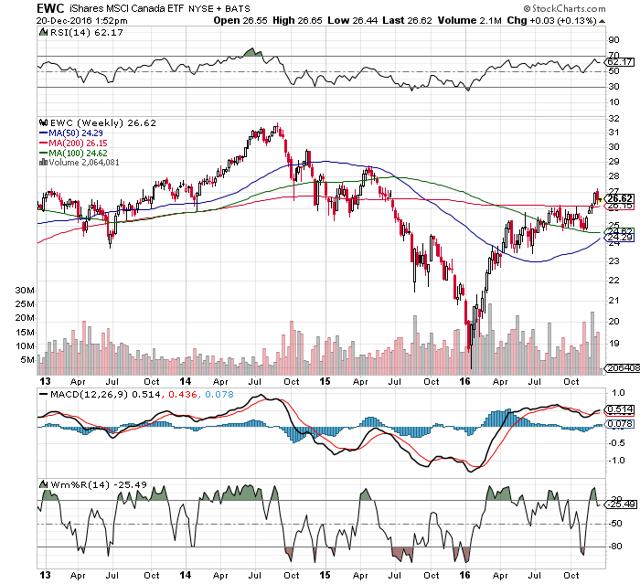 Source: StockCharts
Chart 15: UK Stocks Have Upside Potential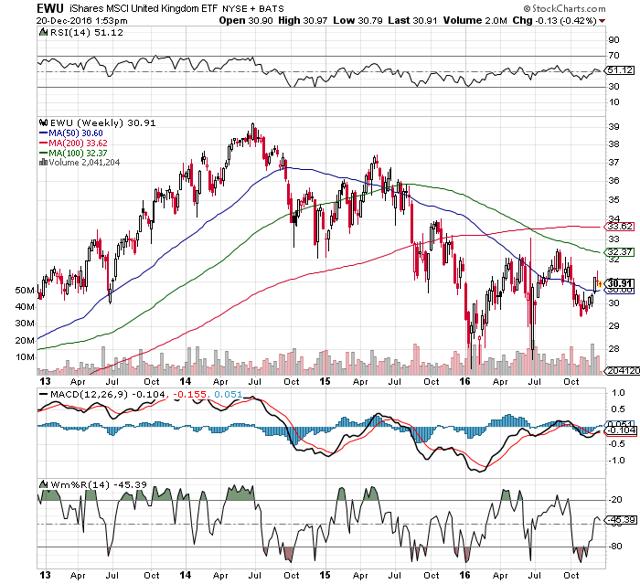 Source: StockCharts
Chart 16: European Stocks Have Upside Potential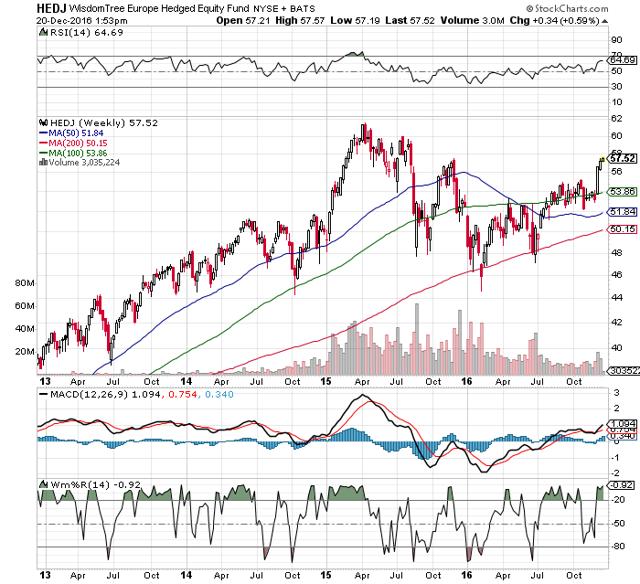 Source: StockCharts
Chart 17: Russian Stocks Have Upside Potential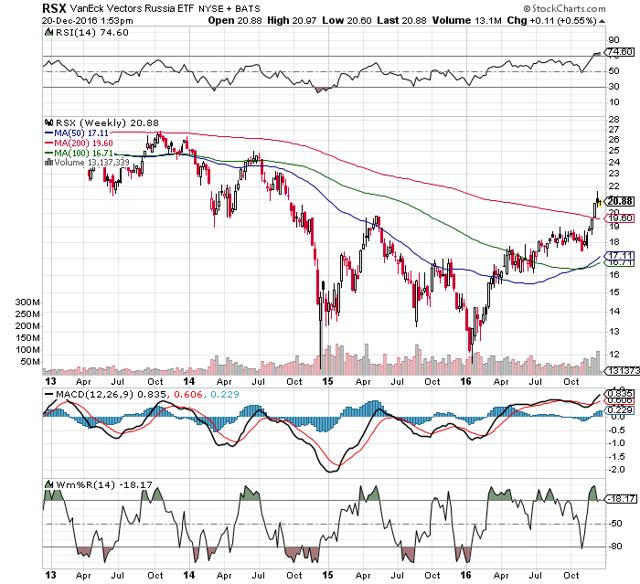 Source: StockCharts
With respect to risk in general, it may make sense to move to a bit more defensive positions over the next few weeks, perhaps holding some intermediate to long Treasuries: the iShares 20+ Yr. Treasury Bond ETF (NYSEARCA:TLT), the Vanguard Intermediate-Term Bond Fund (NYSEARCA:BIV), and the SPDR DoubleLine Total Return Tactical ETF (NYSEARCA:TOTL); also some liquid alternatives like the Otter Creek Long/Short Portfolio Opportunity Fund (MUTF:OTCRX), the AQR Long/Short Equity Fund (MUTF:QLENX), the AQR Managed Futures Fund (MUTF:AQMNX), and even some sophisticated hedge-like Closed-End Fund strategies like the Goldman Sachs U.S. Equity Dividend & Premium Fund (MUTF:GSPKX).
Disclosure: I am/we are long EWC, EWU, HEDJ, RSX, BIV, TOTL, OTCRX, QLENX, AQMNX.
I wrote this article myself, and it expresses my own opinions. I am not receiving compensation for it (other than from Seeking Alpha). I have no business relationship with any company whose stock is mentioned in this article.
Additional disclosure: Disclaimer: This article is intended to provide information to interested parties. As I have no knowledge of individual investor circumstances, goals, and/or portfolio concentration or diversification, readers are expected to complete their own due diligence before purchasing any stocks or other securities mentioned or recommended. This post is illustrative and educational and is not a specific recommendation or an offer of products or services. Past performance is not an indicator of future performance.