Best Buy (NYSE:BBY) is being lauded for staying alive in the battle against Amazon (NASDAQ:AMZN). Some have even said that it has "successfully fought off" the e-commerce giant. The sentiment is going through the roof as the stock rallied more than 50% this year, overcoming five-year highs and even nearing 10-year highs. Yes, Best Buy deserves credit for putting up a fight and for not having gone bankrupt like its peers have. But, is it out of the woods yet? Is its business model robust enough to keep it in the race? I'd say no.
Let's break down the argument into three questions:
1) Has Best Buy fixed its growth model?
Much of the recent optimism around Best Buy has been based on its comparable sales growth turning positive in the last two quarters (Q2 and Q3), averaging 1.3%. Growth was negative in the previous six-month period at -1.4% and the improvement was seen as a return to a positive growth phase. But I doubt the sustainability of this recovery because Best Buy's in-store sales are still declining and the bulk of the growth comes from online revenues. In the three quarters that have passed this year, comparable sales in the US (90% group sales) increased 0.8% on average. Included in this figure is the effect of online sales which grew 23.9% during the same period. Excluding the growth of online, however, Best Buy's comparable sales growth would have been -1.9%.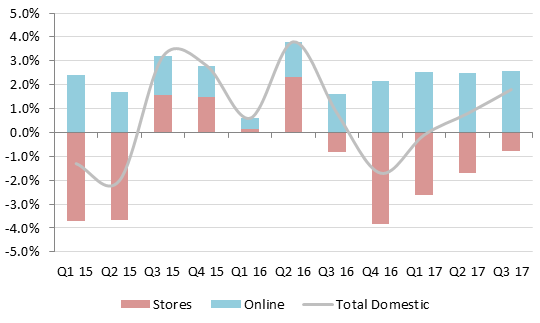 Chart: Split of US comparable sales growth - online vs. in-store
Source: Best Buy 10Q Filings (link)
Last year, online sales were $4 billion or 11 percent of US revenues, about the same as the proportion thus far in 2016. But one needs to recognize that a growth rate as high as 24% is not sustainable and it won't be long before it stabilizes to a relatively modest level of around 10%. In such a scenario, in-store sales will need to be roughly flat (which is at least a few quarters away) to translate to a 1% growth in US sales.
One could argue that in-store growth is understated as some of the online growth comes from customers that visit stores but make the purchase online. But, even if we assume that these purchases account for 50% of all online purchases (best-case scenario) and are counted as in-store sales, comparable growth ex-online would still be -0.6%. At the end of the day, Best Buy is still a brick-and-mortar retailer and declining in-store sales, which have been the weak link in its growth model, is certainly not the way to go.
Another factor to consider is the impact of product cycles on sales. Best Buy's Q3 comprises the months of August to October, during which the iPhone 7 and 7 Plus and the Google Pixel mobile phones were launched this year. These launches likely boosted Best Buy's computing and mobile phones segment which accelerated from a sales decline of -1.6% in the first half of the year to 1.6% growth in Q3. Considering that this segment accounts for 46% of the company's US revenues, its contribution at the country level was 0.7%, which is a third of Q3 US comparable sales growth.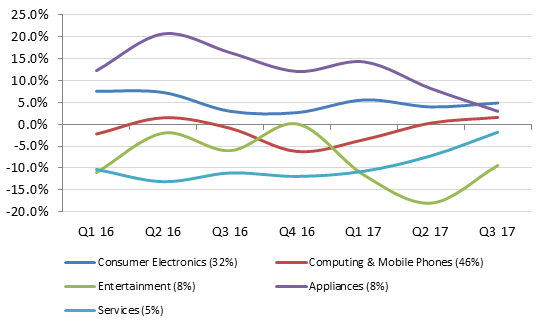 Chart: Split of US comparable sales growth by product segment (% US sales in parenthesis)
Source: Best Buy 10Q Filings (link)
Given that the top line recovery is based on the growth of e-commerce (which has little further upside) and favorable product cycles (which will normalize going forward), it would be premature to conclude that Best Buy is back on the growth path. What makes this a bigger concern than it seems to be is that Amazon is making efforts to build its own store footprint, which brings in question No. 2.
2) Is the business model robust enough to keep it in the race for the next 3-5 years?
The reason Best Buy is still in business is that customers value seeing/feeling products before making a purchase decision. Even the company's online sales wouldn't have taken off as they have (zero in 2011 to $4 billion in 2015) if not for Best Buy's omni-channel model (store visits drive website traffic and vice versa). However, this model is not hard to replicate for rivals such as Amazon, which is already making efforts to build presence in the traditional retail channel.
Earlier this month, Amazon started testing its Amazon Go store in Seattle with what it calls "Just Walk Out technology." Through the use of sensors placed in the store and machine learning, the company aims to eliminate cashiers and checkout lines. While these are a part of Amazon's efforts to enter the grocery segment, it wouldn't be hard for it to replicate this model in the electronics segment.
Neil Stern, an analyst with retail consultancy McMillan Doolittle, wrote in a blog post that Amazon Go was a "game changer for the retail industry" and that it could "drastically change not just food retailing, but every segment of retail."
If Amazon decides to use a similar store format for the consumer electronics segment, there's little reason to believe it wouldn't win the battle against Best Buy.
3) (if your answer is yes to the above questions) Is the stock worth the price?
Best Buy's P/E ratio (trailing 12m) stood at 14.24 at the end of last week. When compared to the average 13x P/E multiple of Target (NYSE:TGT) (14.1x), Bed, Bath and Beyond (NASDAQ:BBBY) (9.6x) and Wal-Mart (NYSE:WMT) (15.4x), the stock is ~10% more expensive. As these companies have very different business models and are not directly comparable, let's take a look at the historical levels of Best Buy's P/E.
As shown in the below chart, the five-year average P/E is 12.11. This puts the current P/E ~20% above the five-year average and pretty close to the two-year high of 14.85 in September 2015. But, without an improvement in fundamentals, this multiple is hard to justify and only indicates downside risk from this level. I would use this opportunity to exit any long positions in expectation of the P/E reverting to its medium-term average of 12x-13x.

Source: YCharts (link)
Conclusion:
Best Buy's management has done a commendable job in transforming the company's business model and staying in the game. But, online sales aside, evidence of a sustained recovery in revenue growth is still not visible. Moreover, its business model is vulnerable to disruption from the likes of Amazon, which is considering an entry into mainstream retail. Overall, the recent rally in the stock is not backed by an improvement in fundamentals, which indicates downside risk from current levels.
Disclosure: I/we have no positions in any stocks mentioned, and no plans to initiate any positions within the next 72 hours.
I wrote this article myself, and it expresses my own opinions. I am not receiving compensation for it (other than from Seeking Alpha). I have no business relationship with any company whose stock is mentioned in this article.