2017 could be the year of the master limited partnership roll-up. It's even got a catchy theme song.
One reason is the tax reduction likely under the Republican-led government. Wall Street tax expert Robert Willens noted in this week's Barron's, "if corporate tax rates come down to 15% or 20% from 35%, I predict that many MLPs will think seriously about converting to C-corp (corporation) status. That would make it easier for investors to own them."
One company that might convert is Williams Companies (NYSE:WMB), which owns the majority of its master limited partnership Williams Partners (NYSE:WPZ). Two analyst reports in the last week have viewed a conversion as likely.
Barclays last week reiterated an overweight rating on Williams stock, saying the pipeline company can eliminate the need for external financing in 2017 and reinvent itself as a standard C-corp over the next 12 months.
On Monday, Morgan Stanley upgraded Williams to an overweight rating with a $35 target. It said the newly strengthened board would take a fresh look at the company's structure and a consolidated WMB/WPZ would likely be able to "materially raise" its dividend in 2018-19 while financing capital expenditures internally.
Williams has added several new outside directors in recent months, causing activist investor Keith Meister of Corvex Management LLP to withdraw a proposal to replace the entire board. The two newest board members include a deal specialist, Charles "Casey" Cogut, senior merger and acquisitions counsel at Simpson Thacher & Bartlett LLP. The new board will presumably weigh a roll-up and any other merger proposals that come its way.
A year ago, as energy prices fell and the Energy Transfer Equity (NYSE:ETE) merger collapsed, WMB stock became depressed relative to its peers. The company believes it has made up some but not all of the undervaluation.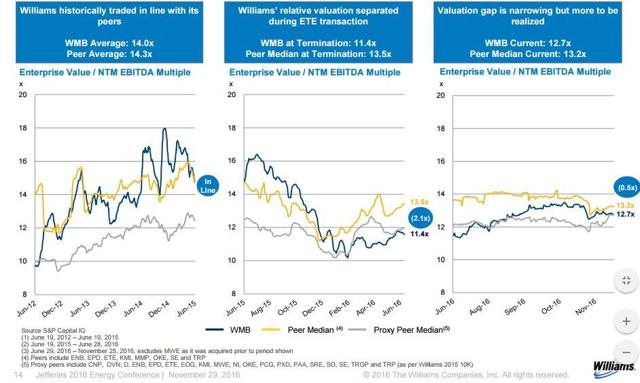 Source: 2016 Barclays Williams presentation
The valuation gap included its own limited partnership, which is somewhat sheltered by its yield (now 9.6%).
In a July article, I discussed whether it made sense for Williams to roll up the partnership as it had attempted to do in 2015 before Energy Transfer Equity's Kelsey Warren lured it away with a merger proposal that proved to be a poison apple.
At the time, it didn't. Now it's getting closer.
The ratio of WMB-to-WPZ prices, which had been 1.05 just before the 2015 roll-up was announced, fell to just 0.59 in July. If WMB paid a 10% merger premium, that might have given WPZ shareholders 37% of the combined company compared with the 27% offered in 2015.
Since July, Williams has rallied strongly, especially in August when it announced its plan to cut its dividend and reinvest $1.7 billion to buy WPZ units. The WMB-to-WPZ ratio is around 0.87, more than halfway back to where it was before the aborted roll-up.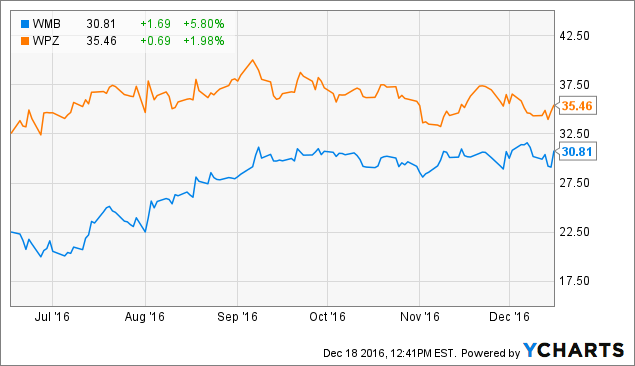 Since Williams owns more than 60% of the partnership, it can announce the consolidation whenever it wants. However, the price has to be negotiated with the board's conflicts committee, which would represent Williams Partners interests. If WPZ unitholders do not believe the price is fair, they can challenge it in Delaware court.
In 2015, Williams offered a 12% premium to WPZ's market price and WPZ's shares jumped.
If you own WPZ, you could expect a similar premium this time. But that may not be all a good thing.
Looking at the aborted 2015 roll-up, analyst Philip van Doorn noted it could have negative effects on income-oriented WPZ unitholders. Not only would their dividends go down, but the sale could result in a substantial tax bill.
In addition to showing your income from the partnership units, the K-1 also includes your portion of capital expenditures made by the partnership to expand or maintain its business. That could result in a low (or no) tax bill even if you are enjoying a high yield on your investment.

But your advantage for current income could be a long-term disadvantage when you sell your partnership units, because the "distribution" of your portion of the partnership's capital spending lowers your cost basis. This means that when you sell, you might have a very large capital gain, which will then be taxed as ordinary income."
There's no such tax issue with WMB. One advantage of a roll-up is it would give Williams substantial tax savings due to a step-up in asset basis over 15 years.
Conclusion: A roll-up in the next two years can be considered probable. For WPZ holders, this can be considered a mixed blessing, and holders might want to check their tax situation before the end of the year to see if they would benefit by spreading out forced capital gains. For WMB holders, the prospect can be regarded as another reason to be long the stock.
Disclosure: I am/we are long WMB.
I wrote this article myself, and it expresses my own opinions. I am not receiving compensation for it (other than from Seeking Alpha). I have no business relationship with any company whose stock is mentioned in this article.