After spending a few days looking at the CAR-T cell data, particularly the DLBCL (diffuse large B cell lymphoma) data from Kite Pharma (NASDAQ:KITE) and Juno (NASDAQ:JUNO), I think the Street is completely wrong about KITE being the same or superior to JUNO in both safety and efficacy in the anti-CD19 CAR-T cell arena. Both companies are racing to the market to create anti-CD19 CAR-T cells. These cells are engineered to recognize cells expressing CD19, and upon attaching to a CD19 positive target, the CAR-T cell activates and kills the target. I believe that the existing data point to JUNO having a materially better product. I detail my argument below.
Background
The biggest anti-CD19 CAR-T cell market is the NHL (non-Hodgkin's lymphoma) market. DLBCL is the largest portion of this segment, and this is the first indication for KITE. JUNO was working on adult ALL (acute lymphoblastic lymphoma) with JCAR015, which was subsequently halted due to fatal cases of cerebral edema. However, JCAR015 was always slated to be replaced. JUNO's JCAR017 is its flagship CD19 CAR-T product, and the company recently presented its initial phase I/II data at the American Society of Hematology (ASH). KITE also presented its pivotal DLBCL data for its anti-CD19 CAR-T cell (a.k.a. KTE-C19 or axicabtagene ciloleucel). In contrast to JUNO's phase I/II poster, the KITE data was presented as a late breaker, with pivotal trial called ZUMA-1.
CAR-T cell technology is very complex, however, the components that make for a "better" product have, in my opinion, not be delineated. As such, I only care about the actual clinical data. Let's look at the data as close to an apples-to-apples way. This exercise is challenging because both companies present data in different ways, but I think one can calculate important benchmarks without much interpretation. Since the data from both company are immature, I wanted to compare the complete response rate (CR rate) at the one- and three-month time points. My understanding for lymphoma is that CR is much more important that PR (partial responses), and after looking at the data in numerous presentations, the PR patients are unlikely to be durable, so it really isn't worth looking at. Based on sell-side notes and the stock reaction, it seems that the Street seems to feel that either KITE and JUNO are about the same or that KITE is better than JUNO in DLBCL. I will argue that opposite.
JUNO DLBCL Data
JUNO's lowest dose of cells, about 5x105 cells/kg, was dosed in 20 patients. I use the data from its poster Figure 3 to simply manually calculate the one- and three-month CR rates.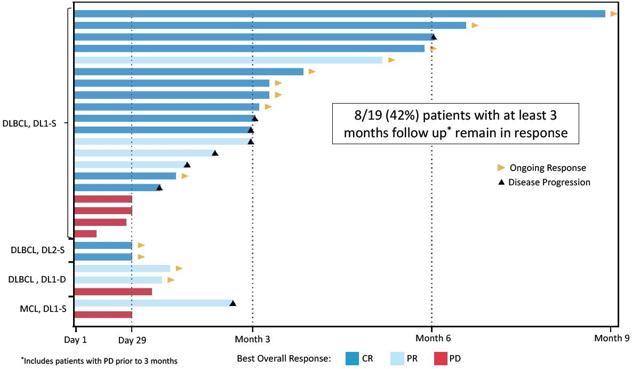 Abramson et. al.
I count patient # 10 from the top as a three-month CR despite the fact that s/he relapsed shortly thereafter. The poster details a patient who was noted to be in CR at the one-month time point but was noted to have relapsed right around the 90-day mark. This patient got a biopsy after relapse, and the biopsy confirmed the lymphoma was back. However, right after the biopsy, the CAR-T cells reactivated (evidenced by proliferation) and put the patient back into CR. In the conference call at ASH, JUNO noted that this patient is still currently in a CR. I assume that JUNO coded this patient as a progressive disease right at the 90-day mark. If I am right, this would put that patient as bar 11 - marked as progressive disease but who is actually in CR after that. Because JUNO gives the actual data on patients, we can also calculate patients in response after three months. Note that I add the patient that went back into CR in this third calculation, but also subtract out patient 3 (relapsed at six months) and 10 (relapsed right after three-month assessment). Lastly, it is worth considering patient number 5. This patient is in partial response (PR), but what is unusual about this one is that it appears to be durable, with the patient in partial response for over five months. I show the calculations including the handful of PRs as well. With this background, we see the following:
| | | | |
| --- | --- | --- | --- |
| JUNO | One month | Three month | Patients in response after three months |
| N | 20 | 19 | 19 |
| # of CR patients | 12 | 9 | 8 |
| CR Rate | 60% | 47% | 42% |
| # of PR patients | 4 | 1 | 1 |
| PR Rate | 20% | 5% | 5% |
| # patients in response | 16 | 10 | 9 |
| Total % of patients in response | 80% | 53% | 47% |
KITE DLBCL Data
KITE does not provide data that allows quite the same calculations, and in fact, it put out a blizzard of numbers which made it challenging to calculate the comparable numbers. Eric Schmidt from Cowen did an excellent job in presenting the calculation which I concur with. I tabulate his calculations below. There are two notable issues that I want to point out.
1. KITE does not give enough information to calculate patients still in response after three months.
2. KITE noted, for the first time, the occurrence of a substantial number of late responders (Seven CRs were gained between one and three months). This occurrence is not noted for JUNO.
The KITE DLBCL data can be charted as:

Source: Cowen and Company note December 7, 2016.
Cross-Trial Comparison
The next step is always the comparison. To be fair, JUNO's data is a smaller data set, though 20 patients is nothing, but KITE's data set is 51 or 73 which is much more substantial. However, it worth taking a look:

It's actually a bit startling. JUNO's first dose cohort is using about 25% the cells as KITE (per kg), but we can argue that the JUNO CAR-T cells appear to be superior. Based on Cowen's calculations, the CR rate for the first 51 patients and the full 73 patient data set is 33% at one month. JUNO, with its first 20 patients, is almost double the CR rate of KITE. At the three-month mark, there is still a substantial difference in CR rate, with JUNO having a 44% higher CR rate compared to KITE. JUNO is currently dosing higher (about 1x106/kg, which is approximately 50% of KITE's pivotal dose), so you might think the results could be potentially better, but JUNO's low dose appears to be working quite well and is superior to KITE by all response and toxicity metrics.
Looking at a snapshot of responses can be quite misleading, and what really matters to physicians and patients is the duration of response. As I noted above, what you can see with JUNO is that the patients at this dose level get their best response quickly at month 1, and some patients lose response. However, as I note above, you can see that 47% of the patients treated with JCAR017 maintain their response from the first scan at month 1 to however long they have been followed. On the other hand, you cannot calculate this number based on its presentation, and I would think that it would want to show that number for at least the first 51 who all have more than three months of follow up. That being said, KITE noted that it had seven patients, in the first 51, which converted from a PR/SD (stable disease) to a CR by month 3. However, as you can see from the Cowen note, this means that seven of the patients in CR at month 1 progressed between month 1 and 3, but since you picked up seven late CR, occurring between month 1 and 3, you wind up making up the difference. Regardless, if you look at the percentage of patients who might even continue on with a response at month 3 - KITE has 39% of patients available to go continue - but of those, 33% are in CR. In contrast, JUNO has 53% of patients in response and 47% in CR. However, the responses seen in JUNO's trial have been in CR since the first month. In contrast, 41% of KITE CRs at month 3 are the late responders. It is hard to tell if these would have the same durability as early responders. Regardless, JUNO has almost 45% more responders at the three-month time point.
I think it is fair to consider the argument that when JUNO expands into a multicenter trial, it is possible that the results become worse. However, I think it is less likely that this happens with CAR-T cells when compared to other drug trials. The main reason is that unlike drug trials where different centers can behave differently in treating side effects leading to differential rates of drug treatment/compliance, the CAR-T cells are a one-time treatment. The only role of the research institution is treat adverse events so the patient does not die. With this type of treatment, there are no opportunities for dose reductions, drug holidays, etc. because this is a one shot deal. I believe the only role that "inexperienced" centers will have in CAR-T cell trials are mistakes in treating severe adverse events leading to patient deaths.
Regarding patient numbers, the JUNO 20 patient low dose is a decent number of patients when the KITE comparator has 51 patients. Granted, you would need to see a big difference to find results convincing, but with JUNO having almost a 100% relatively higher CR rate at one month, the next 20 patients JUNO treats would all have to be non-responders to get back to KITE's neighborhood. In addition, JUNO is currently testing double the cell dose (which would be about 50% of KITE), so if you at all believe that dose has a role in efficacy, JUNO should be able to increase its CR rate by some modest level. JUNO's first two patients at the higher dose are both in CR at one month, so going 0-20 doesn't seem likely. In addition, if you look at the rate CR patients in JUNO's trial relapse, it seems that you lose 20% of the one-month CR by month 3, and if you look at a longer follow up, they have lost an additional 10% after that (so far). So perhaps we are now getting to a plateau, but this is too early to tell. In contrast, what we know about KITE's CR patients is that you lose about 41% of your CR by month 3. However, you are able to get a net gain of approximately similar number "late responders" by three months, which is how it maintain its 33% CR rate from one month to three months. So while optically you didn't lose any CRs from month 1 to 3, this group actually turned over at a high rate. I'm curious as to whether the late KITE CR patients have the same durability as patients who were in CR since the first month. The cynical side of me would argue this is doubtful since if the durable, ongoing responses were high, wouldn't KITE taken the opportunity to highlight this? This phenomenon could have a negative impact on the calculation of duration of response. We will see key six-month data from KITE on these patients in 1H17.
Side Effects
Another hint that there is a difference between JUNO and KITE occurs when you look at the side effect profile. The major side effects that are CAR-T cell associated are cytokine release syndrome (CRS) and neurological toxicity (CNS). The course of CRS can be altered by the preemptive use of tocilizumab (anti-IL-6 antibody) and steroids. CNS toxicity, on the other hand, does not have a treatment. Look at the following data:
Grade 3/4

N

CNS

CRS

Treatment with Tocilizumab

KITE

73

18 (25%)

10 (14%)

28 (38%)

JUNO

22

3 (14%)

0%

1 (4%)

* KITE late breaker

* JUNO poster
As you can see, the CNS toxicity from the JUNO treatment is about 50% less than KITE. One might argue that the serious CRS rates are similar and uncommon for both, but you can see that clinicians using the KITE product had to intervene a lot with tocilizumab to prevent mild/moderate CRS from becoming severe CRS by using tocilizumab. Despite the heavy use of tocilizumab, 14% of the KITE treated patients developed severe CRS. JCAR017 in contrast required very little intervention for CRS. CRS side effects are not to be trifled with since patients can die from either, so lower really is better. In fact, in the ZUMA-1 trial, two patients did die from CRS despite active intervention.
Conclusion
In conclusion, while the JUNO data is preliminary, I think that there appears to be strong evidence that JUNO's JCAR017 could be differentiated from KITE's KTE-C19 in both safety and efficacy. It is a bit surprising to me that JUNO's first low dose cohort shows a 80% higher CR rate at one month and a 45% higher CR rate at three months compared to KITE, and despite that, the Street believes that the products have the same efficacy performance. In addition, JUNO's toxicity profile also seems to be better, with 50% less severe CNS toxicity and no cases of severe CRS (with very little tocilizumab intervention). Of course, we need to see more patients and longer follow up, but the numerical difference is so large at this stage to get JUNO to KITE's level of performance, basically the next 20 patients that go into the trial would need to non-responders and most would have to show severe side effects to equalize the numbers. JUNO may be able to get more performance with more cells, but we need to see how the safety profile plays out with increased dose. At the end of the day, I think we are seeing important differences between the KITE and JUNO, which is getting little appreciation of the Street. At the end of the day, KITE investors may not have a good outcome since I believe that in oncology it is more important to be best in class instead of first in class.
Disclosure: I am/we are long JUNO.
I wrote this article myself, and it expresses my own opinions. I am not receiving compensation for it (other than from Seeking Alpha). I have no business relationship with any company whose stock is mentioned in this article.