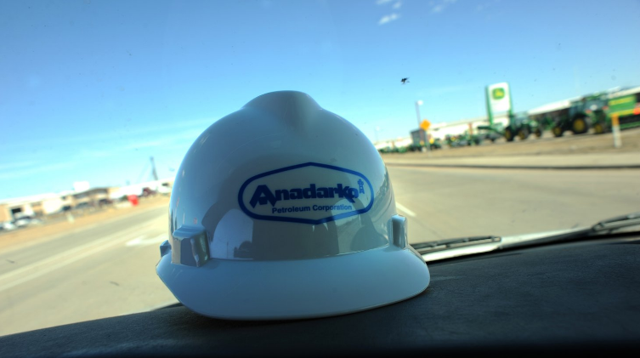 Anadarko On A Tear, But Starmine Analysts Are Bearish
Shares of Anadarko (NYSE:APC) have been on a tear this year, but StarMine's Equity Summary Score is currently bearish on the stock (data via Fidelity). You can see a video explaining how the Equity Summary Score works at the link, but here's the short version. StarMine, a division of Thomson Reuters, standardizes the ratings provided by third-party stock analysis firms, giving numerical equivalents to ratings such as "hold," "strong buy," etc. Then it looks at how accurate those firms have been in their ratings, and weights their ratings accordingly, so a "sell" rating, for example, from the most historically accurate firm, has more impact on the Equity Summary Score than a sell rating from another firm.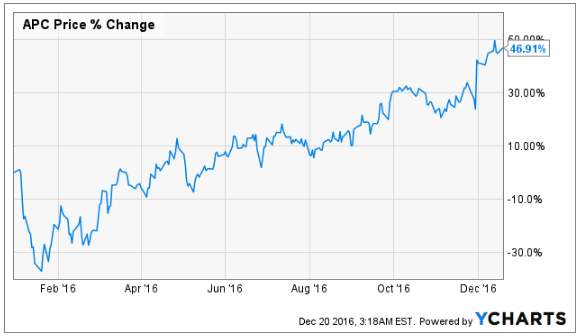 It's interesting to look at Nasdaq's analysis page for Anadarko in light of that bearish Equity Summary Score.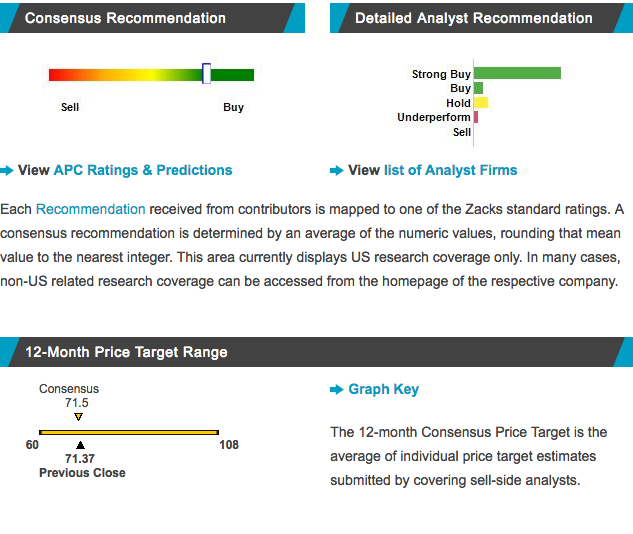 The analyst recommendations aggregated by Nasdaq are bullish on APC, but their consensus 12-month price target suggests the stock is going to be flat over the next year.
Our Portfolio Armor website is more bullish, estimating a potential return of about 13.5% for APC over the next six months (though our site gets these estimates completely wrong sometimes, as it did with the VanEck Vectors Gold Miners ETF (NYSEARCA:GDX) recently (see: GDX: Looks Like We Were Wrong). With that (and the bearish Equity Summary Score) in mind, we'll look at a couple of ways to hedge APC below.
Adding Downside Protection To Anadarko
If you'd like a refresher on hedging terms first, please see the section titled "Refresher on Hedging Terms" here). We'll present two optimal hedges for APC, both designed for investors who are unwilling to tolerate drawdowns greater than 14% over the next several months. We used the Portfolio Armor iOS app to find these hedges, but you can find optimal hedges without it using the method explained here.
Uncapped Upside, Higher Cost
These were the optimal puts, as of Monday's close, to hedge 1,000 shares of APC against a greater-than-14% drop by mid-May.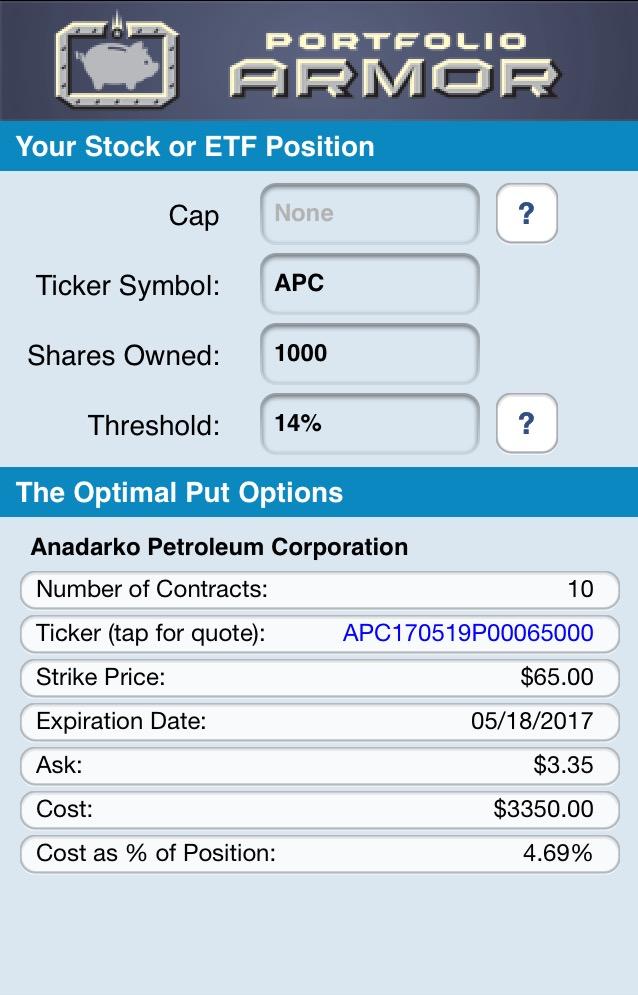 As you can see above, the cost was $3,350, or 4.69% of position value. Note that the cost here was calculated using the ask price of the puts and the bid price of the calls. In practice, you can often buy puts for less and sell calls for more (at some price between the bid and ask, in both cases).
Capped Upside, Negative Cost
This hedge caps your potential upside at 12% over the time frame of the hedge. Recall that Portfolio Armor calculated a potential return of about 13.5% for APC, but we used 12% instead because it was the highest cap at which we got a negative cost.
As of Monday's close, this was the optimal collar to hedge 1,000 shares of APC against a >14% drop while not capping an investor's upside at less than 12% by mid-May.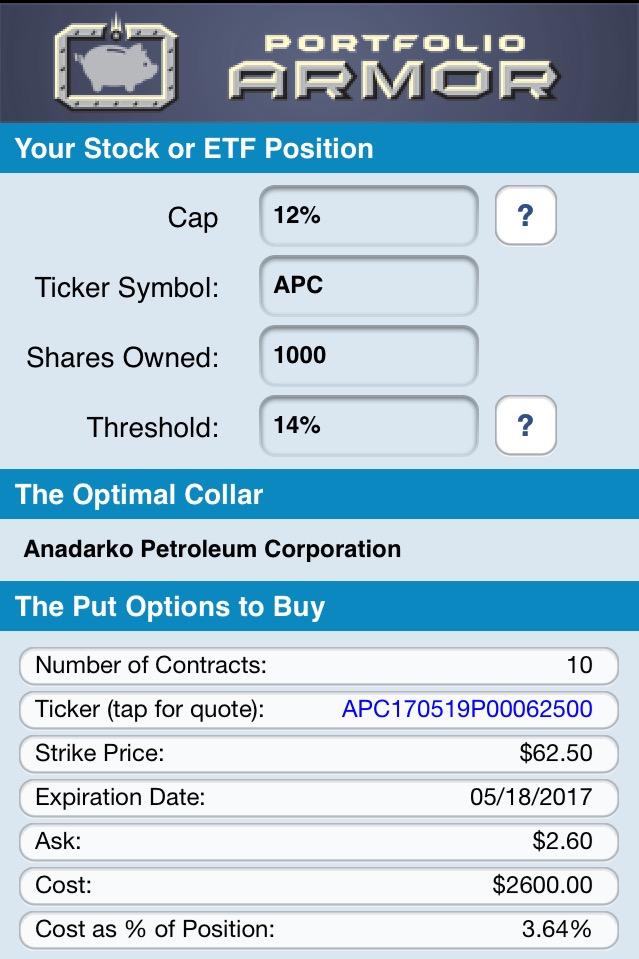 The algorithm was able to use a less expensive put strike here than in the first hedge due to the net cost of the collar. The cost of the put leg above was $2,600, or 3.64% of position value. But as you can see below, the income generated from the short call leg was slightly higher, $2,700, or 3.78% of position value.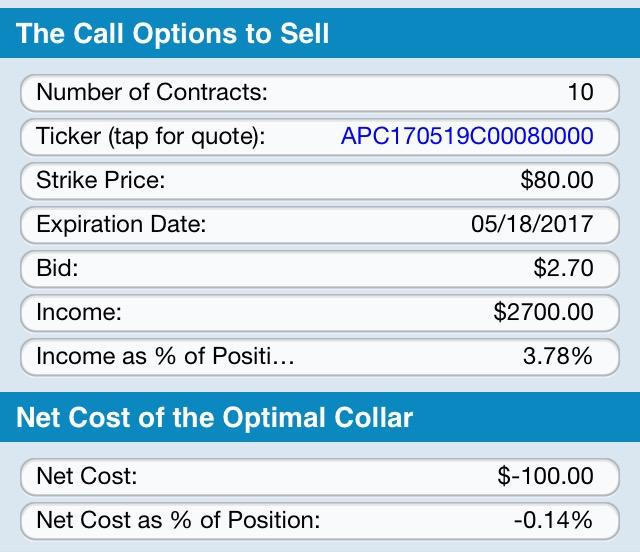 So the net cost here was negative: an investor opening this hedge would collect an amount equal to $100, or 0.14% of position value. As in the optimal put hedge, the cost here was calculated conservatively, so, in reality, an investor opening this on Friday would likely have collected more than $100.
Disclosure: I/we have no positions in any stocks mentioned, and no plans to initiate any positions within the next 72 hours.
I wrote this article myself, and it expresses my own opinions. I am not receiving compensation for it (other than from Seeking Alpha). I have no business relationship with any company whose stock is mentioned in this article.