This post was written by Bob Ciura on December 19th, 2016, for Sure Dividend
To borrow a phrase from Yogi Berra, the one constant in the technology industry is change. No company knows this better than International Business Machines (NYSE:IBM).
IBM was officially incorporated in 1911, as the Computing-Tabulating-Recording Company. Some of the first products the company built its reputation on were recorders, commercial scales, and cash registers.
The technology industry has changed a lot over the past 100 years, and so has IBM. More recently, IBM had an iron-clad grip on technology hardware over the past few decades. But it is once again evolving, to adapt to a new environment.
If there is any company with the ability to reinvent itself, it's IBM.
IBM has paid uninterrupted dividends since 1916. This year makes 100 years of consecutive payouts-an eternity in the fast-moving world of technology. It has increased its dividend for 21 years in a row, which makes it a Dividend Achiever - a select group of stocks with 10+ consecutive years of dividend increases. You can see the entire list of all 273 Dividend Achievers here.
IBM's investments in new technologies should provide the growth necessary to sustain its dividend growth for many years to come.
Business Overview
IBM has a diversified business model, both in terms of type of services and geographic markets.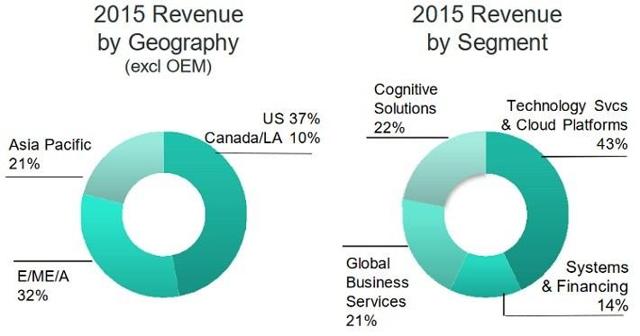 Source: Investor Discussion presentation, page 3
It's safe to say IBM has been around for a long time. This kind of stability is a rarity in the tech industry. But once again, it has had to change focus.
Personal computers, printers, and other tech hardware are fading in popularity. Until recently, IBM was holding onto some low-growth legacy businesses, such as semiconductor manufacturing, that were in decline. As a result, IBM's revenue declined 12% in 2015. In response, IBM is accelerating a shift into new growth areas of the future, the most interesting of which is the cloud.
IBM has proven time and again, the ability to switch focus when need be. It has re-positioned itself multiple times to meet the needs of a changing marketplace. IBM's turnaround is based on what the company calls its "strategic imperatives", which are big data and analytics, cloud, and engagement.
From 2010-2015, IBM has invested approximately $30 billion in advancing its strategic imperatives. This included building the IBM Cloud on a global scale, creating the Watson Group, and making 50 acquisitions.
IBM is in a fortunate position, in that it generates enough cash flow to simultaneously invest in organic R&D and capital expenditures, as well as acquisitions and new partnerships.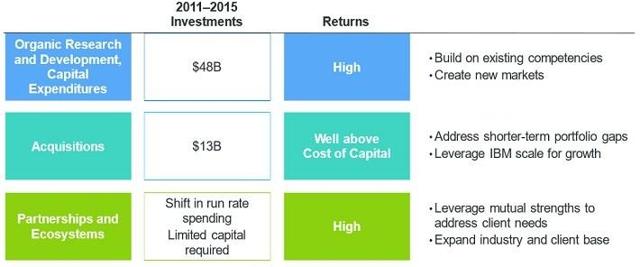 Source: Investor Discussion presentation, page 16
This investment is beginning to bear fruit. The strategic imperatives collectively generated $29 billion of revenue in 2015.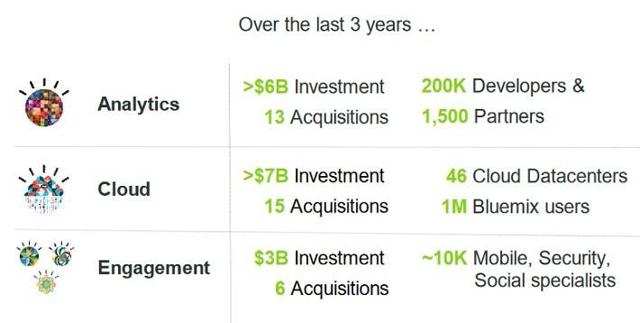 Source: Investor Discussion presentation, page 9
The strategic imperatives represented 35% of IBM's total revenue last year. Over time, the high rates of growth in the strategic imperatives will make them the majority of the business.
Growth Prospects
IBM's revenue has continued to decline into 2016. But the good news is that the declines are moderating. Total revenue declined 2.5% over the first three quarters of 2016. The strategic imperatives are growing nicely. Strategic imperatives revenue rose 16% to $8.0 billion last quarter. Growth was led by the cloud, mobile, and analytics.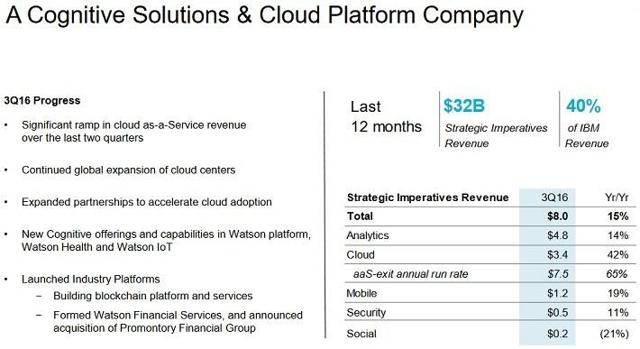 Source: 3Q Earnings presentation, page 4
Another aspect of IBM's transformation from tech hardware to the cloud is higher profit margins. Even though IBM's revenue continues to decline, its earnings and cash flow are increasing. This is because the strategic imperatives carry far higher margins than IBM's legacy hardware businesses.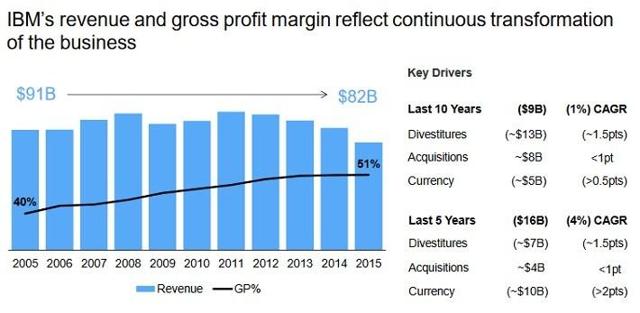 Source: Investor Discussion Presentation, page 5
This keeps free cash flow generation intact. Over the first three quarters, IBM generated $6.8 billion of free cash flow. With a modest debt load, the cash is piling up. IBM ended last quarter with approximately $15 billion in cash and investments.
IBM's strong cash flow will fuel its returns to shareholders. The company has $3 billion left on its current share repurchase authorization. Share buybacks will help IBM generate earnings per share growth.
Competitive Advantages & Recession Performance
As a technology company, IBM's most important competitive advantage is its intellectual property. The company's long successful history is because of its innovation. In 2015, IBM was awarded more U.S. patents - 7,355 in all - than any other company for the 23rd consecutive year. It maintains its innovative edge through hefty research and development expense. IBM spent $5.2 billion on R&D last year alone.
The benefit of IBM's competitive advantages is its strong free cash flow and high margins. Even though it is a tech company, IBM is remarkably resilient. The company remains solidly profitable, even during recessions. IBM's earnings per share through the Great Recession are shown below:
2007 Earnings per share of $7.18

2008 Earnings per share of $8.93 (24% increase)

2009 Earnings per share of $10.01 (12% increase)

2010 Earnings per share of $11.52 (15% increase)
IBM sailed through the recession. Not only did it manage to grow earnings each year in arguably the worst recession since the Great Depression, but it grew at double-digit rates. That is an accomplishment few companies can match.
Valuation & Expected Total Returns
IBM stock trades for a price-to-earnings ratio of 13. Meanwhile, the S&P 500 Index has an average price-to-earnings ratio of 26. It seems the stock is undervalued, relative to the broader index. Expansion of the price-to-earnings multiple could generate significant returns, if the company's turnaround succeeds. For example, a price-to-earnings ratio of 18 would represent an approximately 38% gain.
Aside from multiple expansion, future returns will be comprised of earnings per share growth. A potential breakdown of earnings growth could be:
4-6% currency-neutral revenue growth

1% margin improvements

2% share repurchases

1% acquisitions
In addition, IBM currently has a 3.4% dividend yield. IBM's combination of a long history of growth enticed Warren Buffett to invest in the stock in 2011. IBM is currently one of Buffett's 20 highest yielding dividend stocks.
The stock could generate somewhere around 11.4-13.4% annual returns including dividends.
Final Thoughts
No company can pay dividends consistently for a century, without a clear and sustainable competitive advantage. There's no doubt IBM is a high-quality blue chip stock. IBM is in a turnaround period, but the long-term picture remains bright. Investors will need to be patient. IBM is a huge company with a $158 billion market cap. A company the size of IBM cannot turn around overnight. But the early results are encouraging. The strategic imperatives are growing as expected, and are replacing IBM's older, low-growth businesses.
In the meantime, investors are paid well to wait. IBM has a secure 3.4% dividend yield, and the stock is cheap. Because of its high dividend yield and dividend growth, IBM is an attractive stock for dividend growth investors.