One of the key variant perceptions to our bullish long oil (NYSEARCA:USO) thesis is that oil field service firms should see an expansion in margins. (You can read our long-oil thesis in this Gear write-up.) As oil prices climb, the increase in oil prices will translate into higher servicing fees and eat into E&P companies' new breakeven. As a result, the consensus forecast for US shale production growth will be met with the headwind of price increases from servicing firms.
We did more due diligence on this as we made calls to industry contacts in the different shale regions and company executives. The overwhelming consensus is that servicing fees are expected to increase by 15% or so next year. As a result, we believe that oil field services is the next place to be invested in on the upcycle.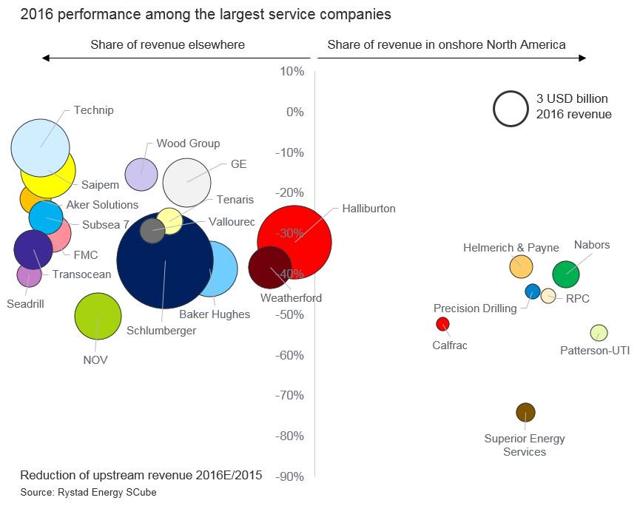 Rystad Energy compiled a list of oil field services and dissected them by share of revenue. We are currently looking into the companies on the right hand side and will let premium subscribers know our findings. We think the inflationary servicing fees will be a big tailwind for more shale-focused servicing firms as they were hit the hardest in the last down cycle. The transfer of wealth effect where overlevered producers survived on the servicing fee cuts should see that wealth effect transferred back. Schlumberger's (NYSE:SLB) CEO Paal Kibsgaard has said many times throughout this cycle that the unstainable burden on the suppliers through this down cycle will be reversed.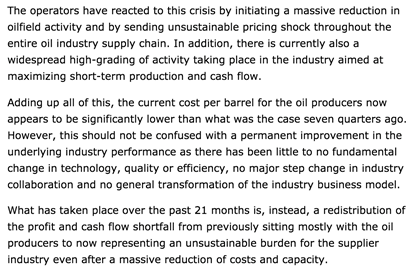 Source: Paal Kibsgaard, Chairman & CEO of Schlumberger, on Q2 2016 earnings call
We think with the OPEC and non-OPEC production cut. Oil prices should move to $60 easily in 2017 and the price increase will benefit servicing firms more than producers in certain regions. We currently estimate surplus storage to disappear by Q3 2017, and US shale to only grow production by 300k b/d in 2017. Total global oil supply should be flat year-over-year for 2017 while total global demand grows at 1.3 million b/d.
We expect oil field servicing firms to start outperforming as oil prices continue to improve.
Disclosure: I am/we are long GXE.TO.
I wrote this article myself, and it expresses my own opinions. I am not receiving compensation for it (other than from Seeking Alpha). I have no business relationship with any company whose stock is mentioned in this article.