The "historic" Vienna OPEC agreement at the end of November did not include product limits for either Libya or Nigeria because both countries' outputs had been constrained by internal issues. Several days ago, Nigeria's oil minister, Emmanuel Ibe Kachikwu, said Nigerian production had increased to 1.8 million barrels per day (mmbd). That's up from 1.69 mmbd in November, according to secondary sources reporting to OPEC, so that's about a 100,000 b/d increase.
Libya's National Oil Corporation (NOC) said on Tuesday that pipelines from its western fields have been reopened. The El Feel, or Elephant field, and the Sharara fields are expected to pump an additional 175,000 b/d next month and 270,000 b/d over the next three months.
Nigerian and Libyan oil output had risen a combined 140,000 b/d in November. The OPEC "reference" volumes in its agreement to limit production to 32.5 mmbd were based on October production levels. And so these additional volumes (140,000+270,000 +100,000) total 510,000 b/d, more than the cut (486,000) pledged by Saudi Arabia.
Furthermore, Libya is aiming to restore its production to the 1.6 million it pumped before a 2011 uprising. And Nigeria is trying to reach its peak production of 2.2 mmbd. Kachikwu is planning to sign the deal on Thursday with oil majors Exxon Mobil (NYSE:XOM), Royal Dutch Shell (RDS.A, RDS.B), Eni and Chevron (NYSE:CVX).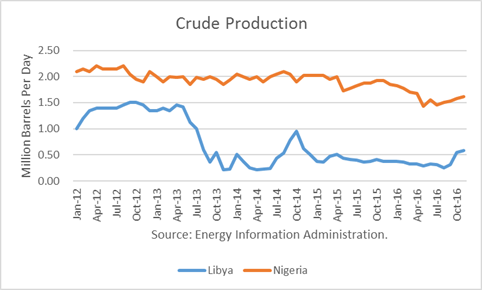 OPEC's Reference Basket of Crude (ORB) reached $52.18/b on Monday, up 16.5% from the day of the OPEC meeting, but down $1/b from the day after the non-OPEC "voluntary" deal was announced.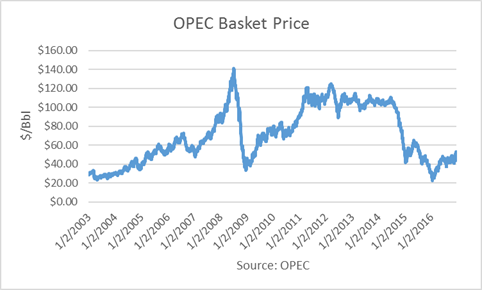 OPEC oil production actually rose in November, going into the meeting. With these announcements, I expect its production will rise again in December.
Even if OPEC adheres 100% to its announced production allocations, its production will be well above the 32.5 mmbd ceiling. Due to incorrect arithmetic, the allocations added to 32.7 mmbd. With the 510,000 b/d from Nigeria and Libya, production will be 33.2 mmbd.
The Saudis told Kuwait they can restart the Neutral Zone, so potentially another 300,000 bpd of crude could come on in late Q1 of 2017, or early Q2 2017. "Al-Khafji Joint Operations has been told to prepare a startup readiness report," said an industry source.
Conclusions
The "call on OPEC oil" is projected to be 31.8 mmbd over the first half of 2017, according to OPEC. And so, I conclude that oil inventories are likely to keep building. Adding to the existing 300 million barrel glut can only be a negative for prices.
Disclosure: I/we have no positions in any stocks mentioned, and no plans to initiate any positions within the next 72 hours. I wrote this article myself, and it expresses my own opinions. I am not receiving compensation for it (other than from Seeking Alpha). I have no business relationship with any company whose stock is mentioned in this article.