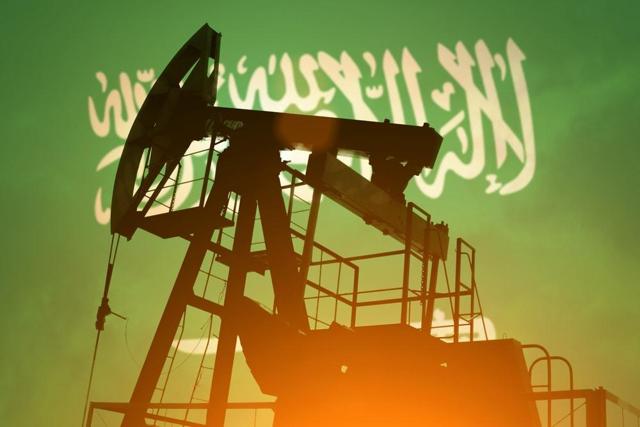 source: Stock Photo
Data recently released from the Joint Organizations Data Initiative (JODI) has given some insights into how Saudi Arabia is likely to play the cut in exports when the terms of the agreement to slash output are put in place starting in January. This assumes the quotas imposed by the agreement are adhered to.
Per the report, it stated that crude oil exports for October dropped by a modest 176,000 barrels per day sequentially, while at the same time shipments of its refined products jumped.
Production was also slightly down, but the decline was barely measurable.
Inventories for the month fell by a couple of million barrels, making little dent in the vast stockpiles the Saudi have, according to the Joint Organizations Data Initiative. Saudi inventory reached its historical peak in October 2015.
If Saudi Arabia continues on this path, it does offer some clues as to how it's going to operate in the post-deal environment.
Saudi production, exports and inventory level
In October the country pumped 10.625 million barrels per day, a slight decline of 25,000 barrels per day from the 10.65 barrels per day it pumped in September. With exports dropping 176,000, it shows there can be a significant disparity between the two which may not have much effect on the revenue generated by the Saudi. We'll get into the why of that a little later in the article.
On the inventory side, it dropped from 278.688 million barrels in September to 276.586 million barrels in October. In October 2015 it stood at its record high of 329.430 million barrels, to give an idea of the possible pace of drawing it down going forward.
The slight draw down in September to October is more modest than usual because domestic demand in the cooler months is lower. Inventory was a major contention leading to the production cut deal because Saudi Arabia has the stockpiles to last a lot longer than its competitors, which is another reason the idea of the deal being adhered to by its smaller competitors is extremely low.
That said, the approximate 51 million barrels drawn down by the Saudi from September 2015 to September 2016 isn't insignificant. That will increase on a monthly basis if the Saudi adhere to their production quota per the deal.
How it'll work is it'll use its stockpiles to offset the cut in production. While the country has said it will cut exports, the strategy from this data suggests it could be transitioning to refined products to offset the drop in crude oil exports.
Refined product strategy
Including all its refining capacity, Saudi Aramco can process over 5 million barrels per day. Domestically it increased oil processed from 2.426 million barrels per day in September to 2.564 million barrels per day in October.
On the export side, it boosted exports of refined products from 1.349 million barrels per day in September to 1.443 million barrels per day in October. The country has been increasing the amount of oil he feeds to its domestic refineries as it builds that part of its export business.
If Saudi Arabia has the markets, it could process over 150 million barrels of oil a month across its global footprint. I believe this is why it has been so aggressive in the media concerning an output deal. It's going to reduce production and crude oil exports, while drawing from its excess inventory and apply it to its processing business.
Doing this during a period of slow domestic demand adds to the reduction in risk and loss of revenue as the output cut deal is initiated.
This is why the country has been so adamant in the media about cutting exports during the period of the output deal. Cutting production is one thing, but the market knows it can simply take its oil stockpiles and export them, while technically adhering to the output deal.
In the case of build up its refining business, it can still reduce exports while processing oil into other products and export it that way. It's more sleight of hand, but it still gives the appearance of going along with other countries to support the price of oil. It's also why the other participants in the proposed deal are surely going to ignore the quotas imposed on them. They know the Saudi found a way to give the appearance of cutting exports by refining oil into various products and exporting it in a different form.
Will oil still find support?
What's interesting about all of this is oil, as far as unprocessed crude oil goes, will experience some price support with the decline in exports from Saudi Arabia. Even so, since its competitors have to know what is happening, they're almost surely going to cheat. The reason why, besides self-interest alone, is Saudi Arabia has found a way to limit the pain on their economy, while seemingly taking the high road of bearing the brunt of the proposed production cut.
As to the impact on the price of oil, it will be temporary in my view because it will be quickly discovered that the other participants in the agreement aren't going to comply. The Saudi will come out of it looking like heroes to the media, while the cartel and some of the non-OPEC countries will appear to be villains.
It's also why I don't think WTI oil will find support above the $55 per barrel mark on average. The deal, even at its most basic level, doesn't offer much in the way of long-term support. That's primarily from the rapid increase in U.S. shale production, and Libya and Nigeria increasing supply lost from internal strife.
What I'm wondering is what will happen when U.S. shale producers start increasing exports and threaten taking share away from OPEC and Saudi Arabia. Again, this assumes there's even a slight adherence to the quotas coming from the agreement.
Will Saudi Arabia willingly give up market share? With its move toward processing, is it willing to give up some crude business and offset it with processed products? That appears to be what's happening, according to the data released; understanding the deal has yet to be put into effect.
Conclusion
I've been suspicious from the moment it was asserted OPEC was going to cut oil for the first time since 2001. I knew there was no way it and non-OPEC members were going to stand by and cede market share to U.S. shale companies. If that were to happen, it would be extremely difficult to win it back, as U.S. supply, once it's put into play, would be very safe and predictable, something not always there will oil from the Middle East in particular.
When something is too good to be true, you can always be assured there's something to find hidden that has yet to come to light. To me, with the data from JODI, it appears we're getting that first glimpse into it. Saudi Arabia is going to draw down its stockpiles and apply more of it to the processing of oil products, which it'll in turn export. It can cut back on crude oil exports while exporting processed products, giving the appearance of adhering to the deal, and technically, it will be.
For now, oil should find some support from this, but the thing to watch for is how the competitors of Saudi Arabia that are part of the production cut respond when they see how the Saudi are in reality giving up very little.
My expectations are there may never be compliance from most of the countries that agreed to the deal, and with the other most important participant - Russia, saying it'll gradually reduce output, this deal could be over before it starts. I don't see it really lasting past the end of February. Partly from the reasons stated in this article, and the rapid increase in supply coming from American shale producers.
American shale producers are in a win/win situation. They're either going to benefit from a surprise compliance with the deal, where they'll increase production and enjoy the benefits of the higher oil prices (they already have with hedges), or they'll take market share away from those that cut production. They can't lose in this.
On the other hand, those saying they'll follow the quotas only have the higher price of oil as an incentive to continue on with the agreement. They can only lose market share with the cut, not gain it.
Those invested in quality U.S. shale producers like Apache (NYSE:APA), EOG Resources (NYSE:EOG), Devon (NYSE:DVN) and Continental Resources (NYSE:CLR), among others, are positioned for a nice, upward move. The caveat further out is their own increase in efficiencies and productivity could put downward pressure on the price of oil. They would still make money, but it would be more subdued if the OPEC deal falls apart, which is highly likely. They should do okay for a couple of months.
As for Saudi Arabia, I think we're more clearly seeing what its strategy will be, and that strategy will probably be as big of a negative catalyst to undermine the output deal, because transitioning more to its processing business, as will the increase in supply from shale producers.
Disclosure: I/we have no positions in any stocks mentioned, and no plans to initiate any positions within the next 72 hours.
I wrote this article myself, and it expresses my own opinions. I am not receiving compensation for it (other than from Seeking Alpha). I have no business relationship with any company whose stock is mentioned in this article.