2016 was rather a good year for most of the home furnishing companies, thanks to a positive year for the US real estate (+4.4%). As mentioned in our previous article on Ethan Allen (NYSE:ETH), the home furnishing business is strongly correlated to the housing market performance as consumers tend to renew home furniture more frequently when moving to a new house.
However, Restoration Hardware (NYSE:RH) was the exception of the industry, the largest laggard by far, as its shares tumbled by -60%. We will discuss whether we are at the bottom of the curve or is it the beginning of the end?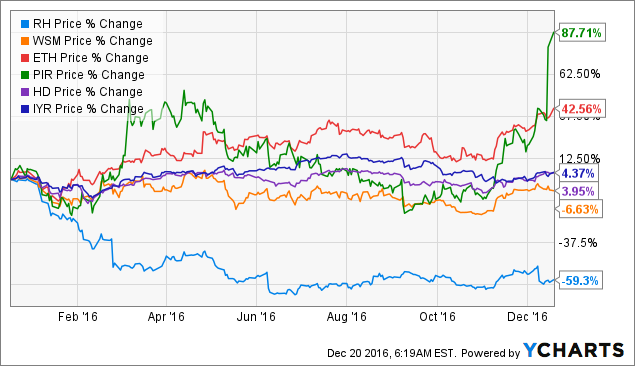 Let's quickly explain how the company was transformed from a small restoration boutique to a billion dollar business. Restoration Hardware was born in 1979 in Eureka (California) when Stephen Gordon, a graduate in psychology, decided to turn his Victorian house in a store for Californian households. The primary positioning was affordable hardware and after relevant but light promotion campaigns on the radio, Gordon opened a 500-square meter store in the same town. In 1998, the company went public for the first time with a $20 million market capitalization. In 2001, Gary Friedman was appointed as CEO with a strong track-record at major competitor Williams-Sonoma (NYSE:WSM)". In 2007, amid the housing crisis, rumors of a takeover bid by retailer Sears (NASDAQ:SHLD) emerged, RH was finally taken private by PE firm Catterton Partners. Gary Friedman remained CEO and became the chairman of the company to lead the new strategy: close small stores to open immense yet glamorous design galleries, and target the upper-end of the market with luxury home furniture.
To strengthen brand equity, advertising campaigns and catalogs were under the acronym of RH. After successfully executing its turnaround plan, by focusing on the high-end positioning, the company became public in 2012 at a valuation above $1 billion. The share price was steady at $30 during the first six months, it quickly tripled the following 18 months to reach $100 in late 2014 until late 2015 thanks to above-expectation growth rates. Management turned self-confident, overpromising double-digit top line and earnings growth but the bigger the company was getting the slower it started to grow. RH underdelivered; the market reaction was violent as shares fell by -75% to $25 in just six months - a level below its 2012 IPO.
A multi-billion dollar company acting like a startup
Restoration Hardware generated above $2 billion in revenues for FY 2015, a stunning +13% CAGR for the last decade. While company targets to grow even faster by 2020 to reach $5 billion in revenues, we have difficulties understanding how it cannot manage timeline decently. By moving the source book from spring up to fall, it's a serious sign that RH is struggling internally to manage deadlines. The fourth quarter being the busiest period of the year as more than a third of revenues and EBITDA are generated, postponing the book is basically jeopardizing the most important season of the year. A multi-billion dollar company cannot afford this mistake.
Moreover, we understand the company's philosophy to adopt "the road less traveled" by offering an RH member program in order to fight against a discounting environment and at the same time making customers loyal. Yet, this process should be done in a smoother way so as not to impact revenues at this scale; shareholders should not be used as guinea pigs to see whether the outcome is satisfactory. RH stated that if the member program is unsatisfactory, it's ready to take it back which would bring even more volatility to the company. Recently, management updated about timing issues related to the membership program. Once again, we do not believe these steps are at the image of a multi-billion dollar company but rather a startup that is testing a new product at the expense of its overall sales.
Last but not least, we believe the company is large enough to mitigate risks and headwinds. Hence, when we hear RH complaining about weaker sales due to lower demand from oil producing states or elections, one could believe the company is not diversified at all like a small company. While peers (also targeting the luxury segment) are doing better, it's a clear sign for us that these excuses are not suitable for a multi-billion company.
What the CEO should restore
Confidence. After overconfidence gained throughout the years, which was well deserved as the company achieved to turn EBIT margins in the black to reach 9%, the management has missed its outlook several times in a row by a substantial margin. As mentioned previously, reasons given by the management were not satisfactory to provide confidence to shareholders.
Production. Restoration Hardware has the lowest gross margin rate among competitors. While scale matters to optimize SG&A costs, smaller companies such as Ethan Allen outperform RH by far thanks to their local vertical production. While outsourcing is advantageous nowadays thanks to the dollar strength, we believe the company should manufacture a portion of its luxury furniture in the US with the benefit of more customization and brand awareness for a US pure-player company. In addition, production delays and shortage would be reduced. Inventories have grown a third faster than sales.
Cash. We hear from the management that cash levels will be better in 2017 but we insist on the fact that cash generation is very low at RH compared to sector peers. The company has to address this issue urgently to avoid serious potential damages.
Focus. Even though we think that organizing brunch at RH Chicago provides great brand awareness and traffic to its huge galleries, we are concerned to hear that costs related to the launch of RH Modern are impacting the company. Indeed, capex should be tightly controlled and we believe the company should focus on its product design and luxury quality. Great products will push customers to buy products, not brunches at the Courtyard or on Broadway.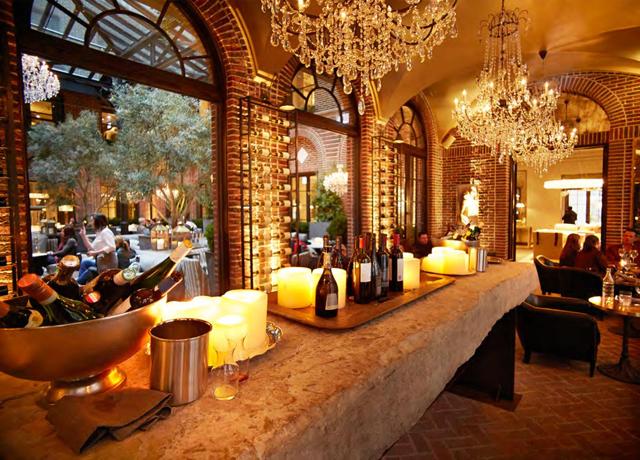 This is either the bottom or the end
To endure short-term pain, you have to believe in long-term gains. As of today, the company's leverage ratio is not alarming. However, EBIT margins must reach double-digit levels so as to proclaim itself as a "luxury" company and above all to have a higher EBIT/interest level. We do not think the company is in a critical situation yet but it can't be completely ruled out that the situation can eventually get worse in the coming months or quarters. Targeting the upper-end customers is a positioning that is always attractive to investors, consequently, we would not be impressed if a larger competitor takes a look at RH. Valuations are "value" as price to sales is close to 0.6 times, this can be viewed as a value trap for some investors. However, an industrial competitor will have a different point of view. Market capitalization is lower than current assets while half of it is composed of inventories. Price to book value per share is the lowest in the industry at 2 times. In conclusion, we believe the company is currently at a bottom and not at the beginning of its end.
If you have enjoyed this article, feel free to hit the "Follow" button for more articles with a long-term investment horizon.
Disclosure: I am/we are long RH, ETH.
I wrote this article myself, and it expresses my own opinions. I am not receiving compensation for it (other than from Seeking Alpha). I have no business relationship with any company whose stock is mentioned in this article.