Another year, another around of debt reduction as Chesapeake Energy Corporation (NYSE:CHK) continues to engineer a balance sheet capable of saving if things keep moving in its favor. Now that Henry Hub has spiked over $3/Mcf and WTI is back over $50 a barrel, the market has enough faith in embattled upstream firms like Chesapeake Energy Corporation to lend it some much needed capital.
Trading maturities
In early December, Chesapeake raised $1 billion (before closing adjustments) through an upsized (from $750 million initially) senior note placement. Those notes sport a 8% interest rate and come due on January 15, 2025, with the option for Chesapeake to retire that debt at earlier dates. What makes the debt issuance important is that 2025 is a long ways from now, making the move liquidity enhancing which is the entire goal.
Chesapeake sent out a press release coinciding with its debt offering announcing a cash tender offer to repurchase up to $1.2 billion in certain maturities. Anything maturing between now and 2019 was given top priority as with tenders offers in the past. The firm also issued a statement saying it was launching a tender offering to purchase up to $285 million of its convertible notes, which are puttable in 2017 and 2018.
By trading out 2017 - 2019 maturities for debt that won't come due until 2025 and part of its cash pile (which is being supplemented by divestitures), Chesapeake Energy is creating a more favorable debt schedule. One that is manageable and actually capable of being paid off.
Pro forma for several moves Chesapeake made in October, the firm exited Q3 2016 with nothing drawn on its ~$4 billion revolving credit line due 2019 and $900 million in cash. That liquidity is being used to keep the firm going until it can get into a position to pay off its $1.5 billion term loan due 2021, $2.425 billion in second-lien notes due 2020, and its $5.7 billion in long term maturities spread out over several years.
The purpose of its most recent tender offering is to try and take out as much of the $625 million it owes next year and the $599 million that comes due in 2018 as possible. Bankruptcy, at least for the moment, isn't on the table but the risk of a liquidity crunch has always been very real.
Chesapeake Energy put out a press release on December 20 noting the results of its early tender program for redeeming its non-convertible notes. The most important thing to keep in mind is that $89 million of its 2017 maturities, $285 million of its 2018 notes, and $125 million of its 2019 floating rate notes have been tendered so far.
Especially for its 2018 burden the tender offering was reasonably successful, but investors should expect a drain on Chesapeake's liquidity when it comes time to cover its maturities next year. Right now that would come out to be around $536 million, but there is still its other tender offering, open market repurchases, and the remaining time for the tender offering mentioned above (both tender offers end in early January) to further cut that down to preserve liquidity.
Running out of liquidity means Chesapeake would have to start making very tough decisions very quickly and it wouldn't have the capital to develop any of its extensive acreage holdings. The company issued out guidance calling for free cash flow generation in 2018, but that still implies having to deal with its outspend situation until then.
Shifting its maturity schedule back buys Chesapeake's management team time to take a big step back, look at the company, and figure out where FCF generation is going to come from and how to realistically get to that point. Reducing its midstream rates and minimum volume commitment penalties, cutting labor and G&A costs, slashing completed well costs, pushing down LOE rates, and other endeavors are Chesapeake's way of organically getting to that point.
Riding the wave of a recovering oil & gas market higher is the other side of that plan, aided by a solid hedging strategy that helps guarantee Chesapeake's cash flow streams will be higher next year.
Cutting other liabilities
Chesapeake has also targeted what could be seen as "stealth liabilities", such as its VPPs (volumetric production payments) and preferred shares. After its Denovian divestiture closes the firm will use those proceeds to repurchase the VPP tied to that asset in a move that should also add a "nominal" amount of cash to its balance sheet. That will leave Chesapeake with only one VPP left in Northern Oklahoma (down by eight after latest deal closes), bringing its VPP liability down from $675 million at the end of Q3 2016.
In regards to its preferred shares, Chesapeake recently issued out 110.3 million common shares to remove $1.2 billion in preferred stock obligations. Using Moody's valuation methods that translated into the company eliminating $586 million in liabilities. Pro forma for that move Chesapeake now has $932 million in leverage tied to its preferred shares.
The most important thing for investors to keep an eye on going forward is Chesapeake's 2017 maturities and how much liquidity will have to be deployed to pay those off once its tender offers come to a close. Having more liquidity on hand is always a plus, especially for Chesapeake.
Update on Haynesville divestitures
Selling off part of its Haynesville position is how Chesapeake is covering the part of its tender offers that the debt issuance isn't. Keep in mind Chesapeake is retaining a significant presence in the play and due to its midstream arrangements is obligated to keep developing the area. That implies these divestitures aren't quite the same as the Meramec shale sale where the company effectively sold off all of its position in the play after hyping it up as a future growth opportunity.
Just before its tender offering announcements came out Chesapeake announced the sale of 78,000 net acres in the Haynesville for $450 million. 40,000 of those net acres are located in what management considered core. This was the first of two Haynesville packages Chesapeake is planning to sell off. Along with the 78,000 net acres came 30 MMcf/d of natural gas output net to Chesapeake from 250 producing wells which was expected to produce $15 million in EBITDA next year.
The other package includes 50,000 net acres in the Northeastern part of the Haynesville in Bossier and Bienville parishes in Louisiana.
On December 20, Chesapeake Energy put out a press release stating that it had sold off its other Haynesville package for $465 million. That transaction included divesting 41,500 net acres housing 326 producing wells which were pumping out 50 MMcf/d of natural gas net to Chesapeake, which was expected to yield ~$35 million in EBITDA next year.
It isn't clear if this means Chesapeake is retaining a larger part of its acreage position in the Haynesville than previously indicated as it would appear 8,500 net acres that were up for sale didn't get sold off.
Below is a look at Chesapeake's Haynesville position going forward and what it has divested. As you can see the divested acreage wasn't in Chesapeake's two main areas of operation, which are centered around Caddo and De Soto parishes while also extending a bit into Sabine and Red River parishes as well.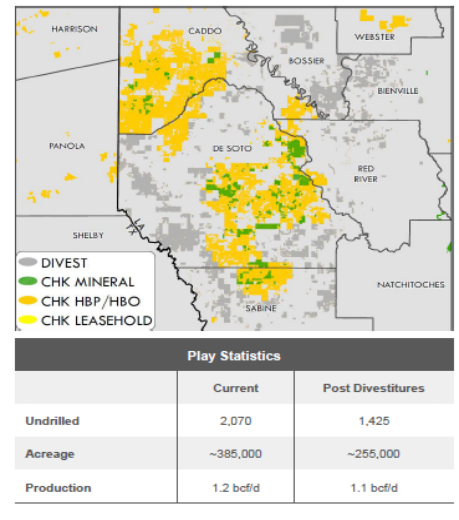 Source: Chesapeake Energy Corporation December Presentation
Below is another look at Chesapeake's core Haynesville position once the divestitures are completed.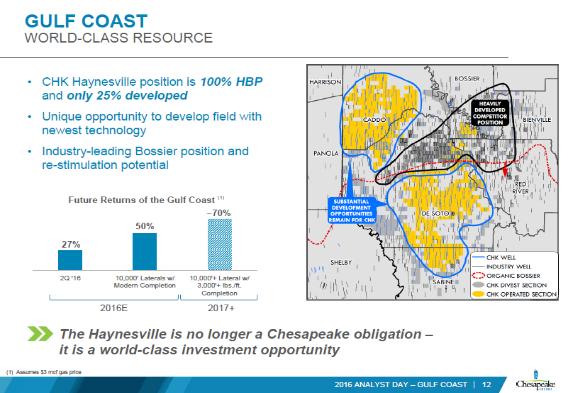 Source: Chesapeake Energy Corporation Analyst Day Presentation
When these two deals close this is what Chesapeake will be left with in the dry gas producing Haynesville play. Around 255,000 net acres with two core areas of operation, a DUC (drilled but uncompleted) inventory of 20, 610 producing wells pumping out 1.1 Bcf/d of dry gas net, 1,425 undrilled well locations equal to around ten years of drilling activity, and the obligation to turn "140 equivalent wells" online by the end of 2017 after reaching a new midstream arrangement back in September 2015.
The revised midstream agreement started up January 2016 as Williams Companies (NYSE:WMB) cut Chesapeake's gathering rate in the Haynesville, when including MVCs shortfall fees, by $0.20/Mcf. Those savings will grow to $0.30/Mcf starting in 2018.
Considering its extensive position and midstream obligations, the Haynesville will remain a significant part of Chesapeake Energy's asset base going forward. Its completion optimization push, which is centered around larger fracks yielding higher recovery rates, will be a key part of bolstering its drilling returns.
Final thoughts
Selling off two parts of its Haynesville position raised a gross $915 million before closing adjustments, while its tender offerings have so far yielded some favorable results. Both moves ostensibly added over $1 billion to Chesapeake Energy Corporation's liquidity position, putting the firm in a prime position to keep riding the oil & gas recovery higher.
There are still a lot of uncertainties surrounding the name and for good reason, but for now Chesapeake Energy Corporation has emerged from the downturn intact and financially solvent. When the company entered 2016 many investors didn't see the firm making it through, even as I shareholder I had my many doubts, but after management's prudent fiscal engineering over the past 12 months investors should have renewed faith in the firm.
If you are looking to read more about how Chesapeake Energy Corporation is making do should check out its plan to start drilling in the Powder River Basin again/or its hedging program for next year.
Disclosure: I/we have no positions in any stocks mentioned, and no plans to initiate any positions within the next 72 hours.
I wrote this article myself, and it expresses my own opinions. I am not receiving compensation for it (other than from Seeking Alpha). I have no business relationship with any company whose stock is mentioned in this article.