Apache Corporation (NYSE:APA) is an American oil company. The company has a market cap of $25 billion and has had to fight through a difficult oil crash. Despite this, Apache has been transforming its portfolio to prepare itself for the oil recovery. This combined with the company's impressive asset base means that APA, as we will see, has significant future growth and earnings potential.
Introduction
Apache Corporation is an American oil company headquartered in Houston, Texas. Roughly half of the company's production comes from the United States, however, the company also has respectable production from Canada, the North Sea, and Egypt. On top of these sources of production, Apache Corporation has significant reserves with more than 1.5 billion barrels of reserves spread throughout these locations.

Apache has had a difficult time since the oil crash first began despite the company's financial stability. Its stock price peaked in mid-2014 at more than $100 per share. From that point, the stock price fell by almost 65% to January 2016 lows of just over $35 per share.
Since then, Apache Corporation's stock has recovered to present prices of more than $65 per share. Despite this recovery, as we will see, APA still has significant respectable growth potential.
Apache Corporation Strategy
Now that we have an overview of Apache Corporation, it is now time to discuss the company's corporate strategy.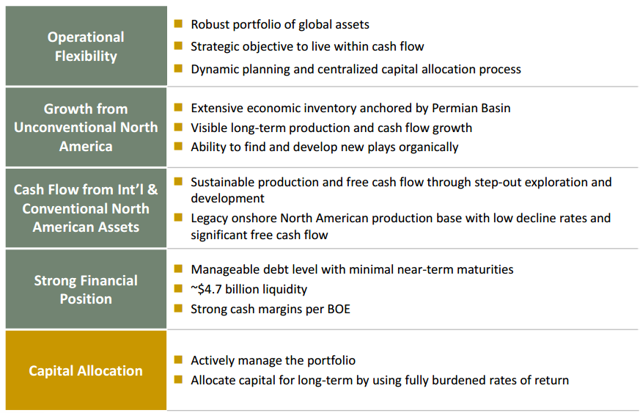 Apache Corporation Operations - Investor Presentation
Apache Corporation has a robust portfolio of global assets and is focused on taking advantage of these assets while operating within its cash flow. It has a significant asset base in the Permian Basin which it anticipates to be one of its primary sources of growth. The company hopes to develop new plays and experience long-term production and cash flow growth.
Apache anticipates that the company's North American production base will provide it with strong free cash flow. This combined with the company's high cash margins per barrel and $4.7 billion in liquidity will allow it to undertake exploration to significantly increase its future income.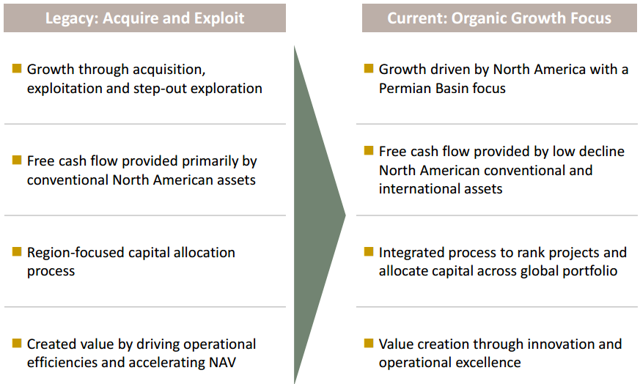 Apache Corporation Strategy - Investor Presentation
Apache Corporation plans to use its financial strength and assets to undertake exploration. The company's North American growth is focused on the Permian Basin, and its assets have a low decline rate, meaning it will continue to earn high cash flow. On top of this, like every other oil company, Apache is focused on continued innovation and earnings growth globally.
Apache Corporation Portfolio Overview
Now that we have discussed Apache Corporation's strategy, it is now time to discuss the company's portfolio.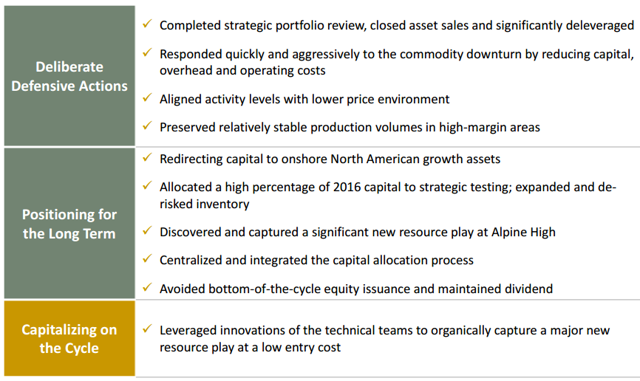 Apache Corporation Cycle Positioning - Investor Presentation
Apache has completed its portfolio review selling off assets that it views as unnecessary while significantly deleveraging itself. This will enable the company to handle a drawn out oil crash while preserving stable production and earnings. These will support Apache Corporation's earnings and allow the company to continue exploration and increase its earnings.
Apache Corporation has been redirecting capital to its North American assets which it anticipates will be a source of major growth. APA has captured a significant new resource play at Alpine High where the company estimates it has found an astounding 3 billion barrels of oil. It is important to know that at the company's current rate of production, this resource alone is enough for 40 years of continued production.
Most importantly for investors, Apache has continued to reward shareholders through this difficult time. The oil markets were widely viewed as having bottomed in January 2016, and during this difficult time, Apache Corporation managed to both avoid issuing equity and cutting its dividend. This shows APA's commitment to its shareholders.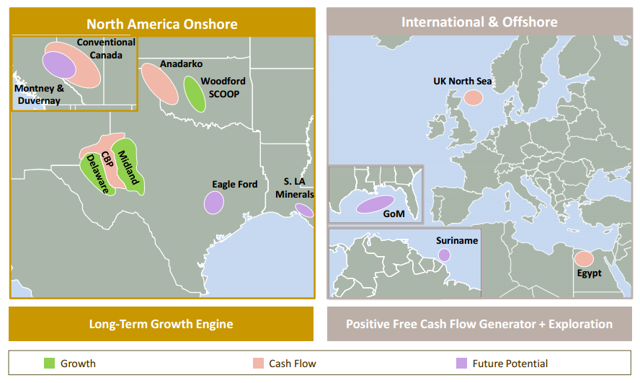 Apache Corporation Growth Portfolio - Investor Presentation
On top of this, Apache has a fairly well distributed portfolio. The company is focusing on its American portfolio with its UK North Sea assets and Egypt assets, which currently amount to roughly 35% of the production, as a source of strong cash flow. On top of this, the company anticipates future potential from the Suriname project and Canada project, however, even with these, its international presence should decrease.
However, Apache has clearly decided to focus on North American onshore oil as the source of the company's long-term growth. The company has significant assets in the Anadarko, Woodford, Delaware, and Midland shale fields. The company's Alpine High shale discovery in this region should allow its oil production to significantly grow. As we see, Apache has significant room for future growth.
Apache Corporation 2017 Preview
Now that we have an overview of Apache Corporation including the company's strategy and impressive portfolio with strong American shale opportunities, it is now time to finish up by discussing Apache Corporation's 2017 plan.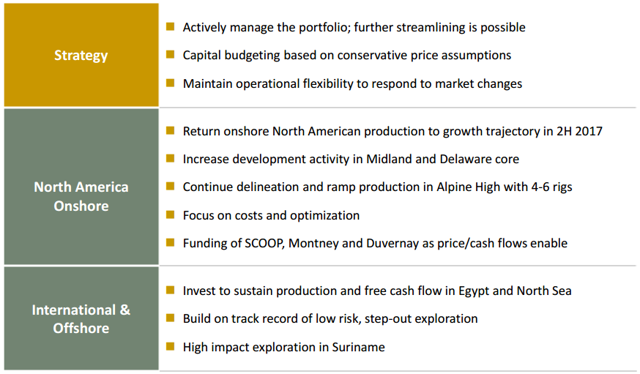 Apache Corporation 2017 Strategy - Investor Presentation
Apache Corporation's strategy involves flexibility to respond to market changes while returning North American production to a growth trajectory. The company anticipates growing activity in its Midland and Delaware cores while increasing production in its new Alpine High massive discovery. Internationally, the company plans on its international assets as being a primary source of cash flow. However, the company is also anticipating potential high impact exploration in Suriname.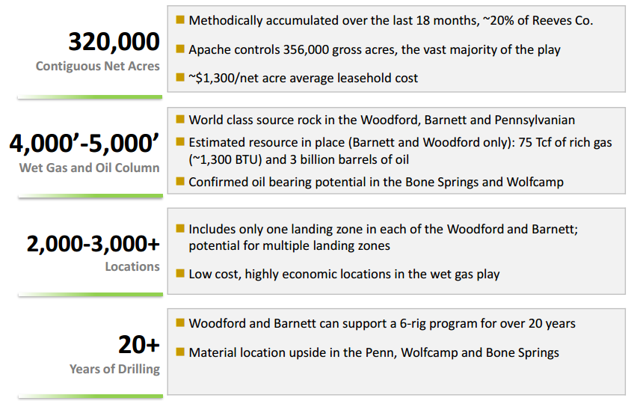 Apache Corporation Alpine High Play - Investor Presentation
On top of that, Apache is planning on taking advantage of its Alpine High play. The company has methodically accumulated 20% of Reeves Co. over the past 18 months and controls 356,000 gross acres in the region, almost the entire play. It has estimated 3 billion barrels of oil and 75 trillion cubic feet of rich gas in the region.
For exploration, the company anticipates 20+ years of drilling with a consistent six-rig program. This comes with the company's 2-3+ thousand drilling locations. Each of these locations are low cost, high economic locations. As a result, this drilling program should allow Apache to consistently produce a large amount of oil with strong cash flow.
This asset could very well define Apache Corporation's future as a major American oil company.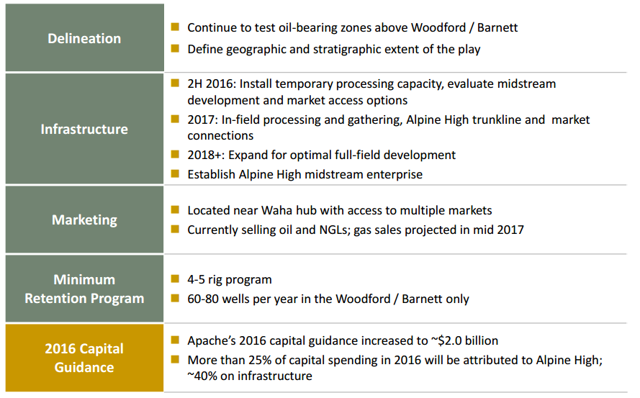 Apache Corporation Alpine High Next Steps - Investor Presentation
This slide shows Apache Corporation's next planned steps at the Alpine High. The company is continuing testing to find the extent and size of the play. The company plans to install temporary processing capacity and infrastructure to achieve full field development from 2018 onwards.
Apache Corporation's minimum retention program is fairly light here, however, the size of the play means that it has increased its 2016 capital guidance to ~$2.0 billion or almost 10% of its market cap. Out of this, the company anticipates spending roughly $0.5 billion on the Alpine High asset play.
This spending on the Alpine High play should result in significant earnings growth in a few years for Apache and shows the strength of the company's 2017 capital program.
Conclusion
Apache Corporation has had a difficult time since the start of the market crash. The company's stock price bottomed out in January 2016, however, the stock price is still 35% below its pre-crash highs. However, the company managed to get through the bottom of the crash without issuing additional equity and maintaining its dividend to shareholders.
On top of that, Apache has significant future potential. The company is using its international assets as cash cows to take advantage of its American oil assets. The company's recent Alpine High discovery, holding an estimated 3 billion barrels of oil can alone, supports APA's production for 40 years. And given Apache Corporation's investments, the company anticipates seeing earnings growth from the play in a few years.
As a result of these things, we find that Apache Corporation is a growing American oil opportunity.
Disclosure: I am/we are long APA.
I wrote this article myself, and it expresses my own opinions. I am not receiving compensation for it (other than from Seeking Alpha). I have no business relationship with any company whose stock is mentioned in this article.