It seems that each week another commodity is being taken out and shot. The second week of November it was precious metals, the third week of November it was sugar (NYSEARCA:SGG), and this week, it's been natural gas (NYSEARCA:UNG). After a monumental month long rally to new 52-week highs for natural gas, the bears have taken control the past few trading days. Despite this 12% correction over the past week and a half, I remain cautiously bullish on the commodity. Natural gas is still in bullish alignment on a technical basis, and trending above its key moving averages. As we can see from the above chart, natural gas remains above its 200-day moving average (pink line).
Those who follow me know that my line in the sand for bull and bear markets is the 200-day moving average. When price is above a rising 200-day moving average I am bullish, and if price closes below this level, I turn neutral or bearish. The 200-day moving average currently sits at $2.66, and has supported price since the May breakout.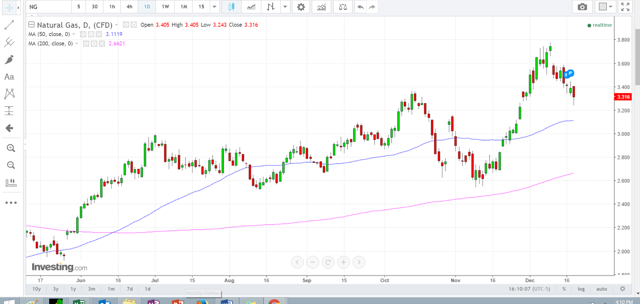 (Source: Investing.com)
Being a large proponent of Paul Tudor Jones, my strategy for trading commodities is based on sentiment and the dominant trend. When the trend and sentiment are both in my favor, I use full positions. Paul Tudor Jones often shared the backbone of his strategy, which I have posted below:

(Source: Market Wizards)
If Paul Tudor Jones were trading natural gas today, he would be long at this juncture. Tudor Jones remained a bull above the 200-day moving average, and below the 200-day moving average he played defense.
Two weeks ago I gave an update on my natural gas long position taken at $2.84, and notified readers that I was selling 1/5 of my position at $3.58. This trade netted me a 26% gain in less than three weeks, and de-risked my long position significantly. The correction over the past seven trading days has not shaken me from my position, and I still remain long against my initial stops.

The natural gas bears have been very loud this week on social media, but they won't tell you that they've been short since $3.30. While the 12% correction the past week has been frustrating for longs who chased this rally, most shorts are just now getting back to break-even. Just for the purposes of keeping score, here is a DGAZ chart from November 25th when the bears started growling.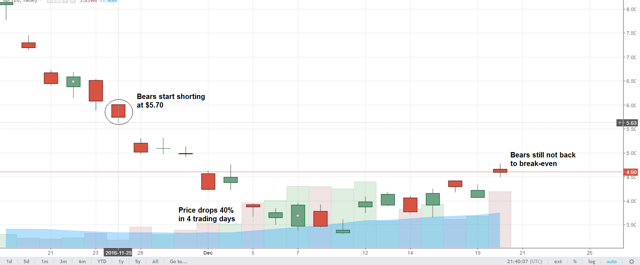 (Source: Tradingview.com)
Sentiment
Bullish sentiment on natural gas has retreated the past two weeks, and is now sitting at a reading of 57% bulls. This is a mild pullback from the 74% reading on December 5th, and price has acted accordingly. I have shown a sentiment chart from my most recent article, so that we can compare with the current sentiment picture.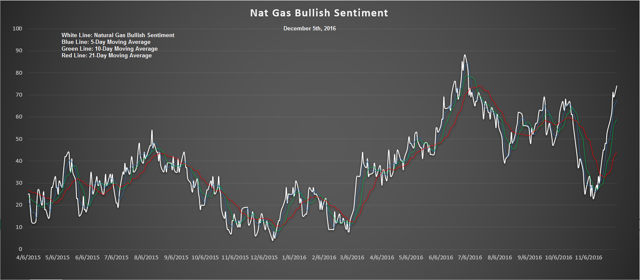 (Source: Daily Sentiment Index, Author's Chart)
As we can see from the above chart, bullish sentiment had blasted higher over the course of a month. Sentiment had not reached the 87% bullish level where it topped in July, but was within 12% of this reading. The reason I remained bullish natural gas was due to the alignment of the sentiment moving averages. The main thing I am looking for in Daily Sentiment Index data is what the sentiment moving averages are doing. In the above chart, we can see that all the moving averages were trending higher, supporting a move higher.

(Source: Daily Sentiment Index, Author's Chart)
The recent pullback in price has inflicted some damage to the bullish sentiment setup, but the bulls still have a chance to mend the harm done. Taking a look at the above chart, we can see that the 5-day and 10-day sentiment moving averages have begun to roll over. This is nothing to be concerned about for bulls, but they are going to need to make a stand near this level. As we can see from the massive rally from March to July, sentiment continued to find support at its 21-day moving average (red line). What we want to see is for bulls to dig their heels in here, and hold above 50% bullish sentiment. This would allow the 21-day moving average to continue trending higher, which is the most important moving average in my system.
Based on the current sentiment outlook, I remain bullish natural gas. I would like to see the bulls make a stand this week, and push sentiment back above the 60% level by this time next week latest. If this does not happen, the bears will see the odds begin to slide in their favor.
Technical Outlook & Summary
Taking a look at the daily chart of natural gas, things are still very positive for the bulls. The 2016 uptrend is still completely intact, and price is trending above its key moving averages. The 50-day moving average is attempting to assume a bullish slope while the 200-day moving average is trending higher at a pace of almost $0.01 a day.
So how am I positioning myself?
I am still long natural gas, but as stated I have sold 1/5 of my position at $3.58 on December 5th. I am using two different stops for the remainder of my natural gas long. My first stop is a "momentum stop" and I will be exiting half of my position on a close below the 50-day moving average. The 50-day moving average currently sits at $3.11, therefore I will lock in at least 10% on this trade from my $2.84 entry.
My second stop for this trade is at the 200-day moving average which currently sits at $2.66. As long as natural gas remains above the 200-day moving average, I see no reason to be bearish natural gas.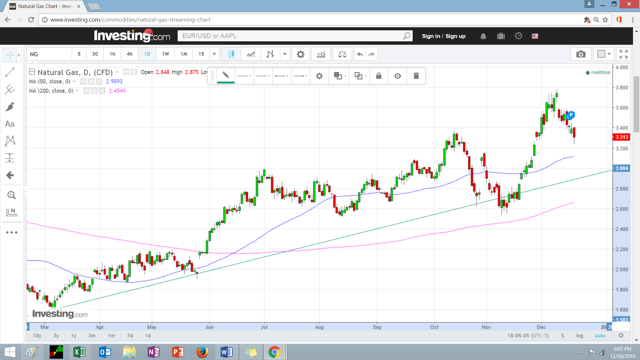 (Source: Investing.com)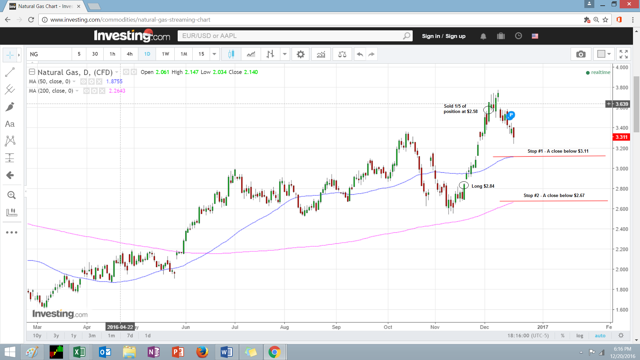 (Source: Investing.com)
For full transparency, I have shown a road-map of my natural gas trade above. I have no interest in the weather or storage, I am only interested in watching sentiment and price. Currently price remains bullish while sentiment remains at a level it should find support at. As long as natural gas remains above $3.11 on a closing basis, I believe momentum should remain to the upside for the commodity. If natural gas closes below $3.11, I will still remain a half position, but believe the trend would become more neutral going forward.
Natural gas bulls need to make a stand here, and keep sentiment above 50% bulls if they want to keep squeezing the bears. Many bears are short natural gas from this level, and are finally beginning to feel confident in their trade. A reversal to the upside from this level would keep the bears trapped, and not allow them to cover their short positions. Due to the fact that I am a trend follower, I do not care where the next 5% move is on natural gas. I am looking for the big swings, and remain cautiously bullish as long as price continues to close above the 50-day moving average. Bears are welcome to continue attempting to be meteorologists while I focus on price.
Disclosure: I am/we are long UNG.
I wrote this article myself, and it expresses my own opinions. I am not receiving compensation for it (other than from Seeking Alpha). I have no business relationship with any company whose stock is mentioned in this article.
Additional disclosure: If you liked this article and found it useful, please feel free to follow me by clicking on my name next to my avatar at the top of this article. I also invite you to follow me at www.twitter.com/TaylorDart01 where I routinely share my entries, exits, and stops on new positions, as well as updating followers on sentiment data on markets I am following.