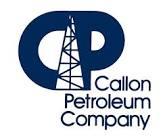 Back in February, I wrote an article on Callon Petroleum (NYSE:CPE) suggesting that after a sell-off early in the year it would likely outperform the broader E&P sector (See: CPE: Why It Deserves The "Permian Premium"). That it has. Shares have risen from $6.76 at the time of publication to a current $15.77/share as I write this article - up 133%.
Now I like the company and its management, but Callon recently announced an acquisition in the core of the Delaware Basin which was valued at around $40,000 per undeveloped acre. That's rich. The company has since up-sized its share issuance relative to the transaction and sold 40 million shares with another 6 million share on a 30-day underwriter option. I suspect those have since hit the market as well considering Wall Street's penchant for anything "Permian" these days. Callon likely now has 207,041,320 million shares outstanding, which means the dilutive effect to existing shareholders was roughly 29%.
The share issuance follows on the heels of a $400-million offering of 8-year senior notes in October at 6.125%. Callon has been hitting both the debt and equity markets. And hitting them hard.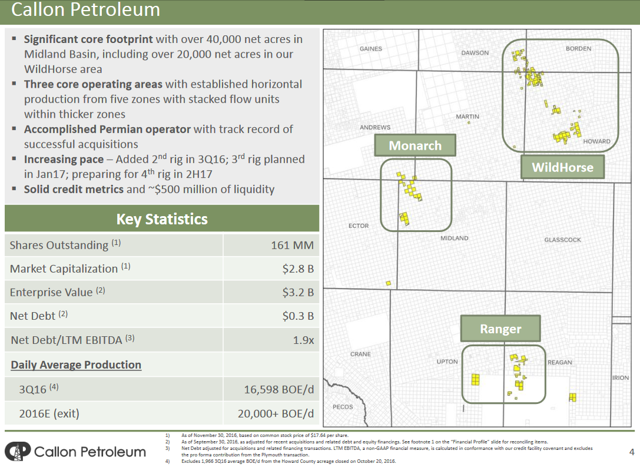 Source: December Presentation
(Note the above slide does not include the share offering described earlier in this article)
Now Callon has been performing admirably. In the latest Q3 EPS report the company reported an operating profit (a somewhat rare accomplishment in the shale oil patch these days) of $0.14/share. Production was up 23% sequentially, but was still only 16,598 boe/d on revenue of just $60 million. And note the net income per share was based on a fully diluted share count of 137.5 million shares for Q3. Those numbers sort of pale with respect to the $400 million in debt recently issued and the latest share count of an estimated 207 million. In addition, 6.125% on $400 million of notes is an additional $24.5 million in annual interest payments, more than a third of Q3's total revenue.
Certainly, oil has strengthened since Q3 and shares have soared during the "Trump Rally." I just think things are getting a bit frothy with Callon. Everything good seemed to have already been baked into the pie - but you could end up with minced meat should the market correct in early 2017. My advice would be reward yourself and open a Christmas present a little bit early this year. If you were lucky enough to get into the stock in February you likely have at least a double. That means you can book some nice profits by selling half your shares - leaving half the shares so you can play Callon with "house money" from here on out.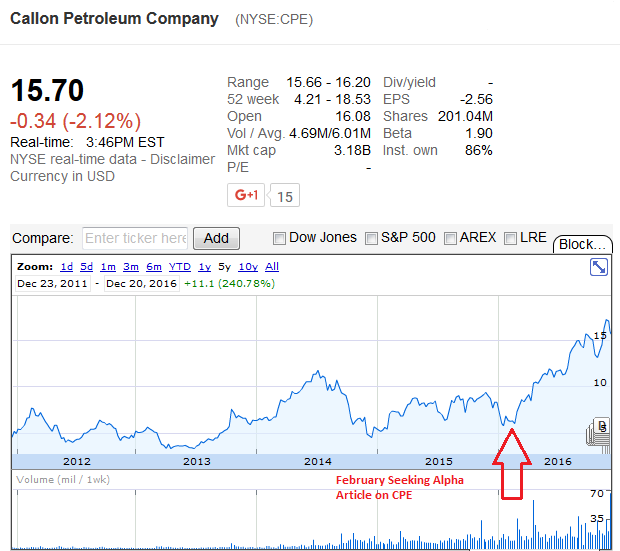 Disclosure: I/we have no positions in any stocks mentioned, and no plans to initiate any positions within the next 72 hours. I wrote this article myself, and it expresses my own opinions. I am not receiving compensation for it (other than from Seeking Alpha). I have no business relationship with any company whose stock is mentioned in this article.
Additional disclosure: I am an engineer, not a CFA. The information and data presented in this article were obtained from company documents and/or sources believed to be reliable, but have not been independently verified. Therefore, the author cannot guarantee their accuracy. Please do your own research and contact a qualified investment advisor. I am not responsible for investment decisions you make. Thanks for reading and good luck!