Sprint (NYSE:S) remains one of my more compelling ideas in the telecom space, as I'm anticipating that it can address network speeds at far greater levels of capital efficiency than what I had originally anticipated. Furthermore, the fundamental value equation still seems intact, as there's meaningful potential to improving profitability despite lower than average ARPU per postpaid subscriber in comparison to competing carriers. The lower ARPU is due to the discount carrier model, however Sprint plans to address this by moving subscribers to higher subscription tiers.
While Sprint's underlying challenges are well understood, sustained improvements in operating efficiency paired with stabilizing subscriber growth make it the most compelling deep value opportunity among the major telecoms in the United States.
Furthermore, Sprint's aggressive promotion/pricing strategy can at least be met with adequate data speeds on an unlimited data plan. The network capacity issue has an adequate bridge via 3-carrier aggregation, which boosts bandwidth via a simple overhaul of radio units at Sprint's pre-existing base station footprint. Network upgrades are expected to increase CapEx, but not at the cost of reaching profitability in the foreseeable future.
Recent takeaways from UBS management meeting
The analysts at UBS were able to interview the CFO and CTO of Sprint.
Here are the key highlights:
The overall message centered around Sprint's spectrum advantage given its 2.5GHz holdings, enabling the carrier to build more capacity for less with beamforming, carrier aggregation and recently standardized HPUE (high performance user equipment). Sprint's 2.5GHz now covers 200M POPs (~70% of its covered footprint) and carries more traffic than any other band despite only 25-30% of holdings being in use.
Sprint's 2.5 GHz band, or its 2-carrier aggregation buildout covers a population of 200 million and is rolled out to roughly 70% of its network subscriber footprint. This implies that the initial deployment of LTE Advanced or what Sprint refers to as "Network Vision" is gaining significant momentum, thus contributing to data capacity on Sprint's network.
Sprint anticipates that its transition to 3-carrier aggregation (which I explain in more detail here) will increase data throughput (network capacity) by 50% over its current 2-carrier aggregation. The footprint of 2 carrier aggregation covers 70% of subscribers with 3-carrier aggregation expected to cover 55% of Sprint's postpaid subscribers by the end of next year, according to UBS.
Sprint's overwhelming spectrum holdings at the higher-frequency spectrum bands (2.5 and 1.9 GHz), gives it a marginal competitive advantage over competing networks. The utilization of all three spectrum holdings via 3-carrier aggregation reduces Sprint's dependence on expanding its macro base station footprint to increase data speeds.
Improvement in speed = better subscriber retention
While Sprint's network lags that of its major competitors, the average data transfer rate is serviceable enough to watch HD videos, as Sprint's average data downlink hovers at around 6.56 Mbps. This is fast enough to review Snapchat/Instagram stories or watch YouTube/Facebook videos.
Sprint's per GB pricing is lower than competing telecoms as a result of unlimited data. However, as a result of these unlimited data plans, Sprint's mobile subscribers use more data, thus contributing to slower speeds in general.
However, average speeds aren't the only indicator in which to measure a network, as Sprint's data latency is better than competing networks, according to Open Signal. This suggests that Sprint's strategy to improve its network via 2-carrier aggregation is producing results.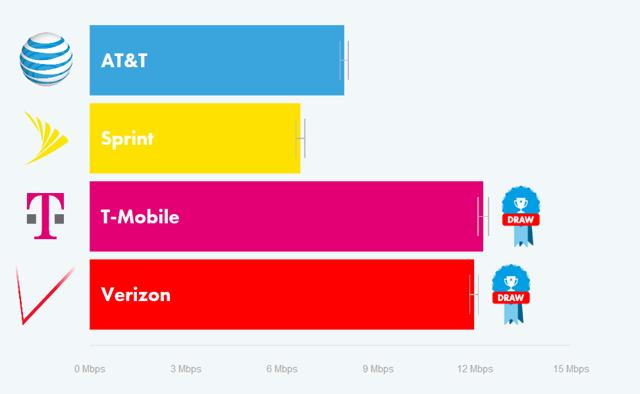 Source: Open Signal
While it's well known that Sprint lost subscribers due to network quality issues in the past, the same can't be said anymore. Given the carrier's aggressive pricing, emphasis on family plans (which tend to churn much slower), and improvements to average download speeds - Sprint has stemmed the bleeding on subscribers, which has translated into improved profitability.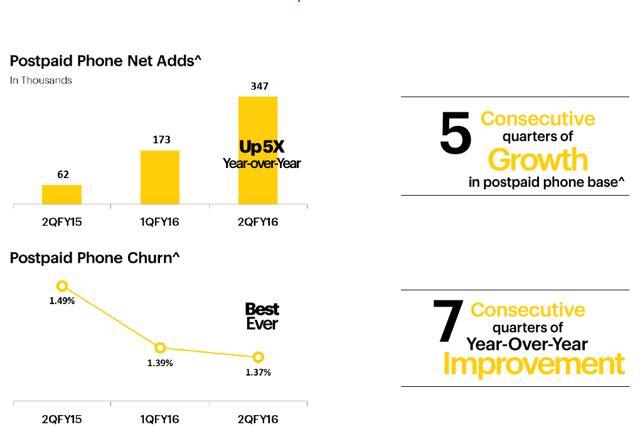 Source: Sprint
This is supportive of the sales/earnings recovery thesis I've been harping to readers over the past year in which I mentioned:
With speeds improving in many markets, I believe subscriber churn and postpaid additions will eventually level out thus driving revenue stabilization. However, expectations on sales should be tempered until Q4'16 where a lot of smartphone contracts are up for renewal. As such, the near-term focus is on cost reductions whereas back half results will depend heavily on subscriber gains.
Sprint's added emphasis on profitability
John Hodulik from UBS reveals key findings on promotional pricing in a recent management interview:
Sprint CFO Tarek Robbiati spoke at the UBS Global Media & Communications Conference. He suggested the company's Black Friday promotion for $20/mo/line was no more aggressive than in prior years, and noted that the rate goes up to $30 after a year.
Furthermore, I anticipate reduced churn to increase earnings/sales visibility, which would add a valuation premium on future sales and earnings/growth.
Sprint is now emphasizing profitability given inline pricing with prior holiday quarter, which suggests gross margins should remain stable. Furthermore, the reduced cost of interest as a result of restructuring debt via a lease-back of its network hardware translates into predictable OpEx improvement. Sprint's one-year phase in of subscription price increases from $20/line to $30/line will boost ARPU given another year.
So, while these little adjustments in isolation aren't necessarily exciting… when combined, the impact could prove material to next FY results.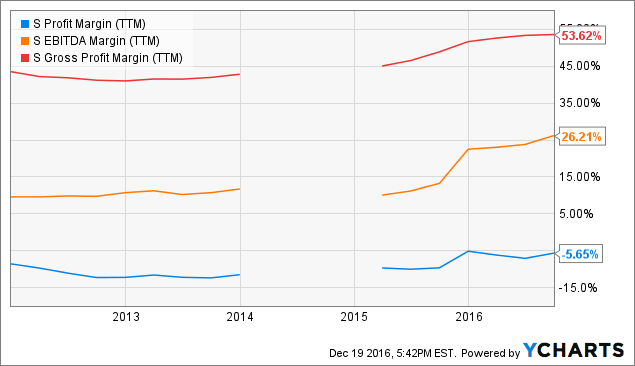 Source: YCharts
The company has improved its profitability over the past five years across gross costs and operating expenses. This is certainly supportive of Sprint's commentary that it can reach breakeven at some point down the road (I would have to develop a financial model to articulate that key inflection point). That being the case, the gap in FY'14 and FY'15 financial data is due to the post acquisition integration into Softbank, which then resulted in a separate issuance of shares with a huge chunk of debt relieved and written off (the restructuring period was not included in historical charts).
It's also worth noting that Sprint sits on top of $19 billion in net operating loss carryforwards, as indicated in its Q2'16 earnings call.
While losing a cumulative $19 billion isn't something to be proud of, it implies that upon Sprint reaching profitability, that it can use NOLs to offset its tax liabilities. So, even if Sprint lost a cumulative $19 billion, Uncle Sam will come to the rescue via a $19 billion tax credit, so future earnings will be supported with a 0% corporate tax rate up until Sprint earns $19 billion in cumulative operating profits.
Conclusion
I like Sprint at these low levels given improved capital efficiency, subscriber retention, and (finally) a return to subscriber growth.
Since underlying network technologies are supportive of baseline data speeds needed for data consumptive tasks, Sprint can sustain its recent retention trends. Furthermore, Sprint will successfully compete for more mobile subscribers due to its aggressive pricing despite a marginally inferior network.
While I have yet to develop a full financial model, and offer a valuation. I really like Sprint here as it trades at 1x sales, which compares to AT&T at 1.6x sales and the S&P 500 at 1.8x sales.
Given enough time, investors will rally around improvements in core business metrics. Therefore, I reiterate my buy recommendations.
Disclosure: I/we have no positions in any stocks mentioned, and no plans to initiate any positions within the next 72 hours.
I wrote this article myself, and it expresses my own opinions. I am not receiving compensation for it (other than from Seeking Alpha). I have no business relationship with any company whose stock is mentioned in this article.