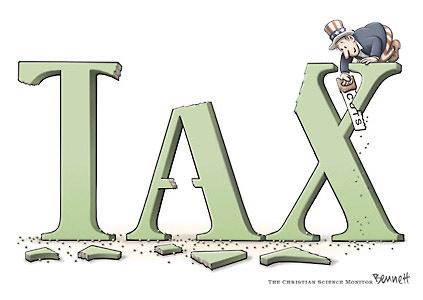 One of the many promises President-elect Donald Trump made during his presidential campaign was to cut the corporate tax rate to 15% within the first 100 days of taking office. The corporate tax rate is currently at 35%, but the effective rate can vary for businesses. Corporations take advantage of tax loopholes and use legal tax-avoidance strategies to pay less taxes on income or close to nothing. If corporate taxes are in fact lowered to 15%, how would this impact S&P 500 (NYSEARCA:SPY) earnings and valuation?
Michael Thompson, president and chairman of Standard & Poor's Investment Advisory Services, and his team ran some numbers to evaluate the potential impact of Trump's tax cut proposal on S&P 500's earnings. Keep in mind the current estimate for 2017 S&P 500 EPS is about $132 per share. His assessment shows that for every 1% decrease in the corporate tax rate, it could hypothetically contribute $1.31 per share to S&P 500's earnings in 2017. Doing the math, a 20% tax cut would add $26.20 to the 2017 S&P 500 earnings estimate of $132, an increase of 20% to $158.20 EPS.
There are doubts that corporate taxes will drop by that much, and instead it's believed a 25% tax rate seems more plausible. In that case, a 10% tax reduction would add $13.1 to earnings of $132, an increase of 10% to $145.1 EPS. You can see that a meaningful fiscal push on the tax side could be quite stimulative to corporate earnings and S&P 500 EPS. The table I created below shows you the incremental tax-related earnings per share gains and S&P 500's EPS upside potential (see Table 1).
S&P 500 2017 EPS (at various corporate tax rates)

15.0%

17.5%

20.0%

22.5%

25.0%

27.5%

30.0%

32.5%

35.0%

$158.2

$154.9

$151.7

$148.4

$145.1

$141.8

$138.6

$135.3

$132.0
Now let's look at how these tax changes can influence S&P 500's price forecast in 2017.
The S&P 500 forward PE ratio is about 17x earnings. Doing the math, that works out to a price target of $2,466 in 2017 using the $141.1 EPS calculated above for a 25% tax rate (see Table 2). There's downside risks to Mr. Thompson's tax assessment, though. A large sum of tax savings might not end up going to the company's bottom-line, he says. The money could go toward funding capital expenditures, buybacks, or even acquisitions. And if taxes do go lower, how many corporations will pay less through tax avoidance strategies?
S&P 500 Price Target Estimate

Forward P/E multiple

16.0x

16.5x

17.0x

17.5x

18.0x

2017 EPS Estimate

$132.00

$2,112.00

$2,178.00

$2,244.00

$2,310.00

$2,376.00

$135.30

$2,164.80

$2,232.45

$2,300.10

$2,367.75

$2,435.40

$138.60

$2,217.60

$2,286.90

$2,356.20

$2,425.50

$2,494.80

$141.80

$2,268.80

$2,339.70

$2,410.60

$2,481.50

$2,552.40

$145.10

$2,321.60

$2,394.15

$2,466.70

$2,539.25

$2,611.80

$148.40

$2,374.40

$2,448.60

$2,522.80

$2,597.00

$2,671.20

$151.70

$2,427.20

$2,503.05

$2,578.90

$2,654.75

$2,730.60

$154.90

$2,478.40

$2,555.85

$2,633.30

$2,710.75

$2,788.20

$158.20

$2,531.20

$2,610.30

$2,689.40

$2,768.50

$2,847.60

Source: FactSet, CNBC, author's calculations
Do these numbers mean the stock market will keep moving straight up? I really can't give you an answer. I don't know if tomorrow will be the start of a new bull run or bear market. But what we can take away from this tax analysis is that a tax cut of any size can have a significant impact on after-tax earnings and valuations of corporations. For example, if business taxes were cut to 25%, the eight largest U.S. banks would see additional median EPS growth of 9% in 2018, according to research from New York-based investment banking firm Keefe, Bruyette & Woods.
Trump's fiscal policy is a known unknown. I won't be buying companies on hopes that they will benefit from tax cuts, deregulations, repatriations, or infrastructure spending. None of us know if any of Trump's polices will come to fruition in the next four years, or possibly longer, if re-elected. I suggest investing in what you know and understand. Avoid investing blindly. Fully vet your investment ideas. Don't get sucked into the euphoria and chase today's winners that could be tomorrow's losers. Don't confuse investing with gambling. Very important. Keep your emotional biases in check and stick to your investment strategy. In 2017, like every other year, I'll be focusing on buying high quality, dividend paying businesses with wide-moats and competent management teams that can perform well in good times and bad times - no matter if a tax cut comes or not.
Reading recommendations
Disclosure: I/we have no positions in any stocks mentioned, and no plans to initiate any positions within the next 72 hours.
I wrote this article myself, and it expresses my own opinions. I am not receiving compensation for it (other than from Seeking Alpha). I have no business relationship with any company whose stock is mentioned in this article.