Insys Therapeutics (NASDAQ:INSY) has been bombarded with negative headlines over the last few months. Most of these stories focus on the past, what former employees did, etc. They have no bearing on the firm's asset value or ability to generate profits in the future. As a result, Insys stock has become undervalued, and this is a good entry point
I believe this stock is the single best way for investors to bet on the growing medical cannabis industry. Insys Therapeutics offers fantastic value, based on its robust pipeline that makes growth look inevitable.
This company is the best option for those who believe in the efficacy of medical marijuana and don't want to wait years to get returns on their investment.
Intellectual Properties
Before we look at the pipeline, let's look at Subsys - Insys's flagship asset. Subsys is a fentanyl nasal spray used to treat breakthrough pain in cancer patients tolerant to regular opioids. The drug captures a 48% market share and has the competitive advantage of faster onset and efficacy.
While Subsys sales are in decline because of controversy about fentanyl, demand should remain intact. As long as opioid painkillers are used, there will be a need for breakthrough pain treatments like Subsys to treat patients who are tolerant.
But here is the big news: Insys is holding trials for new applications of Subsys:
1. Treatment of Moderate to Severe Post-Operative Pain - This is a massive market.
2. Treatment of Emergency Department Patients with Acute Pain
3. Exercise Induced Breakthrough Pain
Subsys, so far, is only used for cancer patients. When these new applications for the drug are approved, its market potential will explode. Painkillers are pretty straightforward; I don't see how a potent analgesic like Subsys, with a proven competitive advantage, could fail to provide relief for these conditions.
Subsys sales will soon stabilize and provide a foundation for the firm's pipeline to drive growth in the future. I believe Subsys will eventually stabilize at around $500-600 million per year. If doctors ease up about the drug and the other applications get FDA approval, I see no reason why this drug wouldn't eventually top $1 billion in sales.
The Pipeline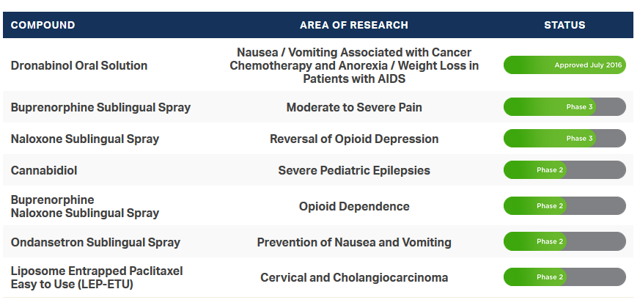 Unlike most medical cannabis drugs, Syndros, Insys's cannabis-based therapy is already approved, making the company a market leader in the industry. Peak sales are estimated to reach $200 million annually.
In addition to Syndros, Inseys has two phase 3 products in the pipeline, another pain treatment and a treatment for opiod depression, which should hit the market soon.
The reversal of opioid depression is a valuable niche market, considering the U.S opioid epidemic. The Insys's pipeline is an enormous short-term catalyst that the market is completely ignoring.
Risks
There are two primary risks associated with Insys: Headline risk and anti-opiod sentiment.
Negative news stories can affect Insys's stock price because of controversies and litigation relating to the actions of former employees. In my opinion, these news stories make the stock more undervalued because they do not have much effect on the bottom line.
Anti-opiod sentiment however, will have an effect on the bottom line because it will make doctors reluctant to prescribe Subsys. This risk should be mitigated by the expansion of uses for the drug. Investors should not buy Insys for Subsys alone; I believe the real value in this stock lies in the pipeline.
Valuation
Insys has an enterprise value of $480 million and its EV to EBITDA is 11.30x while the average in the market is 15x. For Subsys alone, an 11.30x EV/EBITDA is appropriate, but the market is not valuing the late stage pipeline whatsoever.
Insys has over $70 million in cash on its balance sheet. This can be used to pay any legal problems if they arise. The company also has 0 long-term debt.
If the stock goes much lower than this, a buyout is a real possibility. Less than $500 million would buy Insys, which is a fair deal for Subsys alone. However, it's a steal because along with Subsys, a buyer would get $70 million in cash to handle any legal problems, and the entire Insys's pipeline arguably worth billions.
Subsys is being tested for multiple new applications and will eventually stabilize and start growing again. The late-stage pipeline should start growing revenue shortly in the near term.
There is massive near-term upside in Insys stock. This company is a medical cannabis play that you don't have to wait years to profit from. The recent controversies have created a good entry point for going long. Significant capital appreciation should be seen within a year.
Disclosure: I am/we are long INSY.
I wrote this article myself, and it expresses my own opinions. I am not receiving compensation for it (other than from Seeking Alpha). I have no business relationship with any company whose stock is mentioned in this article.