Just before the start of 2016, I wrote:
United States economic growth in 2016 will look a lot like the last few years.
A year later I'm comfortable with that assessment, and will probably feel even better about it when we get fourth-quarter data in. Here are the details of my old forecast (in italics) along with an update on actual data.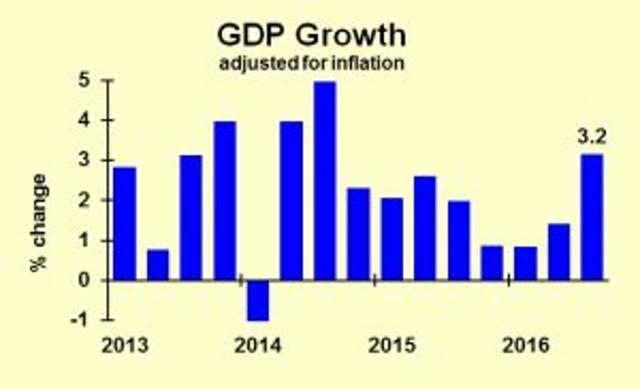 Consumer spending will follow the overall economy in 2016, not lead it.
Over the most recent 12 months, consumer spending has increased by 4.2 percent, while disposable income rose by 4.1 percent. That's pretty close.
Housing is very likely to expand in the next two years.
Housing starts so far this year are on a pace to increase by five percent, though I had expected more like ten percent. I'm surprised the single family market has not been stronger.
Non-residential construction will grow slowly… Public sector construction will be little better than flat.
Private non-residential construction year-to-date is up 6.8 percent; let's say that's better than "slowly," so I wasn't optimistic enough. The strength of office construction surprised me. Public sector construction declined by 0.3 percent, which is dang close to flat.
Business investment in equipment and software is likely to expand.
Nope, wrong here. I misjudged the effects of oil and gas drilling on total business investment, and I also erred in expecting business optimism to improve.
Government spending will be weak.
Federal spending was up 3.7 percent (based on the average of the first three quarters of this year), state and local up 2.2 percent. I had in my head a little weaker on the federal side, but I was pretty close here.
The federal deficit will continue to shrink as the growing economy drives revenue up but gridlock prevents spending increases.
Wrong. The deficit increased in 2016, with higher outlays.
Exports will be flat in 2016.
No, exports are running 2.6 percent lower this year, and that's thanks to a surprise market for soybeans due to poor harvests in South America. I mistimed the export turnaround, even though I have told myself for years that foreign trade is slow to adjust to exchange rates.
With the unemployment rate down to five percent, businesses will have a greater challenge with staff.
This was a great alert to business leaders, as more and more of them have told me in 2016 that they have trouble finding workers.
Inflation will remain muted. Wages will rise but without triggering significant impacts on consumer prices.
Now I'm feeling good. The most recent 12-month change in the core Consumer Price Index was 2.2 percent, up from 1.9 percent when I was writing. Private sector hourly earnings are up 2.5 percent, but I had expected a bit more acceleration.
Interest rates will rise over the next two years.
I wrote before the December 2015 rate hike, and now we have another Fed rate hike. The 10-year treasury bond closed last year at 2.24 percent and now is at 2.57, though most of the change has been since the election. I had expected more increase than we actually got.
Stock prices should enjoy this benign environment.
Yep, the Standard and Poor's 500 has increased more than 10 percent since the end of 2015.
I also offered a "Business To-do List for 2016" which I continue to think is good advice:
If you carry inventories, review your target levels and actual levels. Make sure that complacency has not led you to bloat your stocks of finished goods and work in process.
You took that advice to heart and held the line on inventories. Good for you.
The overall economy is less important to most businesses than a few specific sectors. Identify your sectors, then look at my forecast - and forecasts of other economists - to understand your own company's prospects.
Timeless advice.
Think about employee retention and recruitment (in that order).
Good advice and becoming more important by the day.
This is a great time to negotiate credit. Banks are hungry for loans and willing to trim credit standards and pricing to get your business.
This is still good advice, but the window is closing as I noted in Bank Loans Harder For Businesses To Get, But Knowledge Is Power.
One final thought. The easiest forecasts are when the economy is growing moderately. The hardest are when the economy goes into recession. Do some contingency planning for recession, because you can't count on me or my colleagues to give you adequate advance notice.