Back near all-time highs, the market has shaken off much of Wells Fargo's (NYSE:WFC) misgivings. The latest being a second failing of its living will test - which ensures that the bank can't create a systemic collapse elsewhere. So, there will be sanctions for WFC. But the market doesn't care. Right, now it appears WFC can do no wrong. What will be the proverbial straw to push WFC back into the $40s?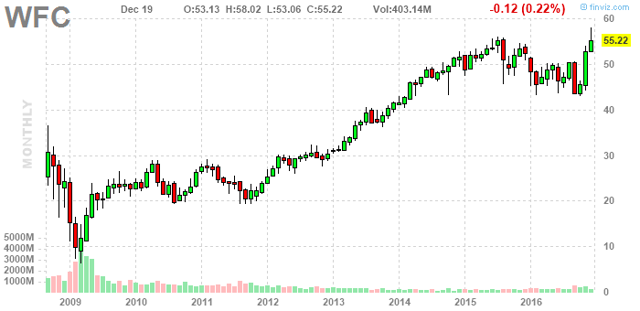 There, of course, was the fact that WFC opened false bank and credit accounts for customers. And it turns out that WFC employees were also opening fake Prudential (NYSE:PRU) insurance policies. Now, the California Department of Insurance is investigating WFC for the PRU fraud. PRU has now suspended offering low-cost life insurance policies via WFC. How deep does the fraud go?
In terms of its living will test, it's the only bank to have failed revised plans as well. It's now limited on international expansion and buying up subsidiaries. Meanwhile, pension funds are filing complaints against WFC for failing to monitor compliance. Revenue losses have already started as customers flee the bank and the rate of new account openings slow drastically.
Is WFC a short?
While we've avoided buying WFC, with the stock now still at all-time highs, it's now time to consider whether WFC is worth shorting. Eventually everything comes to a head, and for the time being shareholders are whistling past the graveyard. The bank is trading north of 160% of book value, while JPMorgan (NYSE:JPM) trades at less than 140% and Citi (NYSE:C) and Bank of America (NYSE:BAC) are still at less than book value. WFC has been touted as the 'perfect' bank, the one that can't make a mistake, the bank with the 'soundest' of management teams, the most respected bank, etc. That's all been debunked in less than six months. Former CEO John Stumpf, who was forced out given the fraud, was named Bank of the Year in 2013.
The number of customers visiting branches (which is already falling) and credit/debit applications should continue to fall. We still think WFC is a rotten onion with more layers to be peeled back. WFC has until next March to remedy the living will issue. We'll be patiently waiting for the reputational fallout.
Disclosure: I/we have no positions in any stocks mentioned, and no plans to initiate any positions within the next 72 hours. I wrote this article myself, and it expresses my own opinions. I am not receiving compensation for it (other than from Seeking Alpha). I have no business relationship with any company whose stock is mentioned in this article.