The oil price recovery after the OPEC and non-OPEC decision to cut production will have a positive impact on the financial performance of oil exploration and production companies. However, the quantum of gains that an oil company can generate due to an improving oil pricing scenario depends upon the cost-reduction and efficiency moves that were employed during the downturn.
Bellatrix Exploration (NYSE:BXE) is one such company which made substantial moves to cut down its costs and lower the debt during the oil downturn. Now that it appears that oil prices are set to exceed $60 per barrel going into 2017, Bellatrix is now in a really strong position to improve its financial performance. Let's see why.
How Bellatrix will benefit from a higher oil price
At present, Brent oil prices trade at around $55 per barrel. Due to the production cuts initiated by both the OPEC and non-OPEC producers, it is expected that 1.8 million barrels per day of production will be going offline in the first half of next year. Due to this unprecedented level of production cuts, analysts are of the opinion that Brent oil prices will be somewhere between $60 and $70 per barrel next year.
As a result of the rally in the Brent oil price, WTI oil should also average at least $60 per barrel since the price differential between the two indexes is around 5%. Assuming that WTI oil prices average $60 per barrel next year, Bellatrix Exploration will witness strong growth in its annualized fund flow from operations.
This is because for a change of $1 per barrel in the WTI oil price, Bellatrix's annualized funds flow from operations is impacted by $3.6 million. Now, in the first three quarters of 2016, Bellatrix has witnessed an average realized price of $45.90 per barrel of oil equivalent.
At this level of pricing, Bellatrix has delivered $24.6 million in funds flow from operations so far this year. Extrapolating the company's funds flow performance into the final quarter of the year, Bellatrix could end the year with around $33 million in funds flow from operations.
Now, next year, as the price of WTI oil rises to $60/barrel, Bellatrix's annualized funds flow from operations will increase by $50 million. This is because the oil price will increase by approximately $14 per barrel as compared to the current year's average, and for each $1 increase, Bellatrix's funds flow will go up by $3.6 million.
Therefore, as compared to current year levels, Bellatrix's annual funds flow from operations will increase by 150% as oil prices are expected to trade at $60 per barrel. More importantly, due to an improving oil price scenario, the company will also be able to reduce its losses.
Earnings impact of better oil pricing
Due to a drop of 18% in the average realized oil price so far this year, Bellatrix's adjusted net loss per share has increased almost 58% so far this year. Bellatrix's net loss has also increased due to the company's lower production as it has divested non-core assets, but there is no doubt that the lower oil pricing has had a negative impact on the bottom line.
But, as the oil pricing environment gets better, Bellatrix is expected to cut its losses by a significant margin next year. According to forecasts, Bellatrix will post a net loss of $0.25 per share this year, which will go down to $0.14 per share in 2017. Thus, due to a rise in the average realized price from $45.90 per barrel this year to around $60 per barrel next year (or a rise of 31%), Bellatrix will be able to reduce its losses by 44%.
This looks quite likely as Bellatrix's quarterly losses have dropped remarkably in recent quarters due to an improving oil price. This is evident from the chart given below: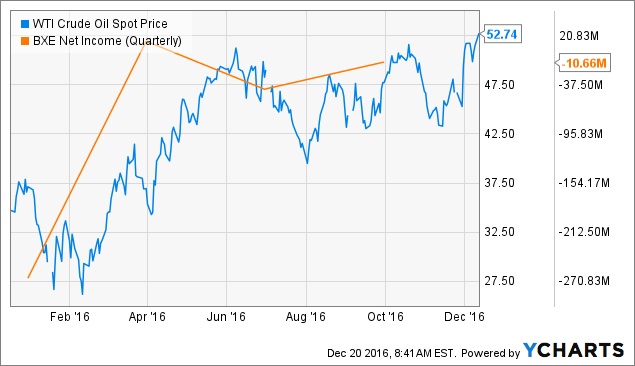 Conclusion
Bellatrix Exploration is on track to get better in 2017 due to an improvement in oil prices. The company is already reaping the benefits of a better oil pricing scenario this year and as the environment continues to improve next year, Bellatrix will deliver a stronger bottom line performance that should lead to a better stock price performance.
Disclosure: I/we have no positions in any stocks mentioned, and no plans to initiate any positions within the next 72 hours.
I wrote this article myself, and it expresses my own opinions. I am not receiving compensation for it (other than from Seeking Alpha). I have no business relationship with any company whose stock is mentioned in this article.
Editor's Note: This article covers one or more stocks trading at less than $1 per share and/or with less than a $100 million market cap. Please be aware of the risks associated with these stocks.