The mining sector has been taken out and shot the past 3 months, as many stocks have seen corrections of 50% or more from their highs. While some stocks are deserving of this correction due to mediocre fundamentals, many others have been thrown out with the bathwater. Osisko Mining (OTCPK:OBNNF) has been aggressively drilling at its Windfall Lake Gold Project, and has potentially delineated a deposit double the size of previous 2015 estimates. Despite the company's remarkable progress this year, the company's share price has not been spared. The correction has shaved 39% off of Osisko's market capitalization, and given the company zero credit for its new discoveries. The recent selloff is unjustified, and I see a buying opportunity at current levels.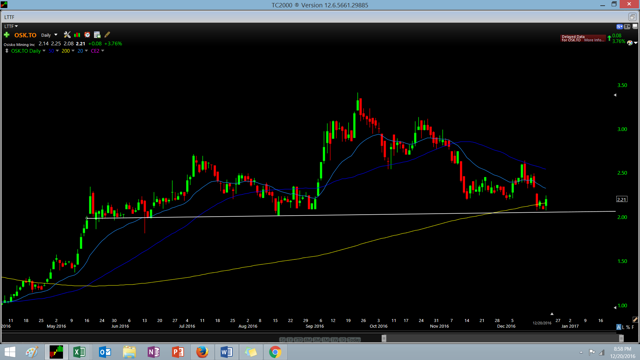 (Source: TC2000.com)
I have been watching Osisko Mining all year, but kicked myself all summer as I did not take a position. The company reported discovery after discovery at its Windfall Lake Gold property, and I watched the share price climb 60% in less than 2 months. These new step-out holes were so compelling, that Osisko managed to raise $70 million at an average price of $3.07 per share. Today, the share price sits at $2.14, and I am grateful to be getting a massive discount to what banks paid.
While most of my theses on gold companies center around grades and gold deposits, Osisko Mining has an added element of allure to it. The company currently has over $130 million in cash and marketable securities, making up over 40% of its market capitalization. This is unheard of for most gold juniors, as the norm is paltry cash balances, and a few months worth of cash in the treasury. In addition to the company being well cashed and not needing to worry about dilution, a large cash balance also makes its valuation even more attractive.
Osisko currently has 160 million shares outstanding, giving it a market capitalization of $342 million. Subtracting for the company's cash and marketable securities of $140 million, it has an enterprise value of $202 million. You may be thinking that $200 million is a rich valuation for a non-producing miner, but I would argue that you haven't dug deep enough on Osisko Mining.
Beginning with management, Osisko Mining is second to none. The company has the same management team that discovered, constructed, and eventually sold the Malartic Mine in Quebec for $3.9 billion. Not only do they have significant experience in Quebec, they're also responsible for discovering 13 million ounces of gold at Eleonore and Malartic.
Ok, ok.. enough about numbers and resumes, let's get to the fun stuff.
Windfall Lake Gold Project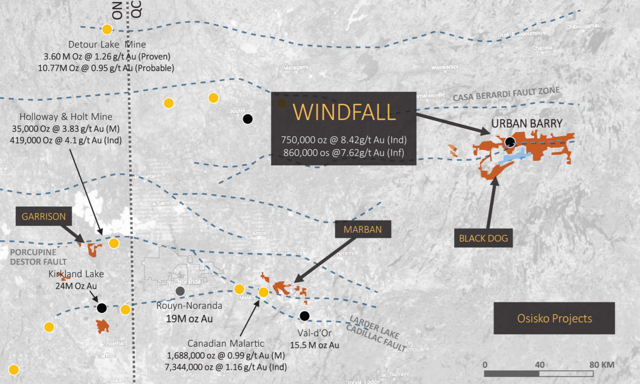 (Source: Company Presentation)
Osisko's Windfall Lake Gold project is located in Quebec, approximately 200 kilometers northeast of Val d'Or. The property is host to 12,400 hectares of claims, that are 100% owned by Osisko. As we can see from the above image, Osisko's ounces are some of the highest grade in Quebec, and sit on a relatively unexplored land package. Osisko acquired the property from Eagle Hill Exploration in 2015, and has transformed the property since. The below image is what the deposit looked like when it was acquired from Eagle Hill Resources...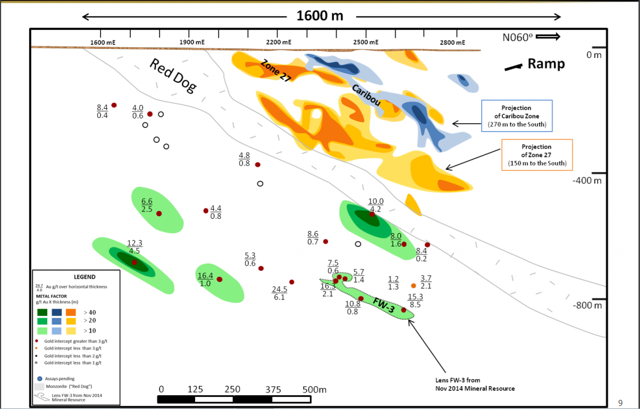 (Source: Company Presentation)
And the image just below is a look at what the deposit looks like now.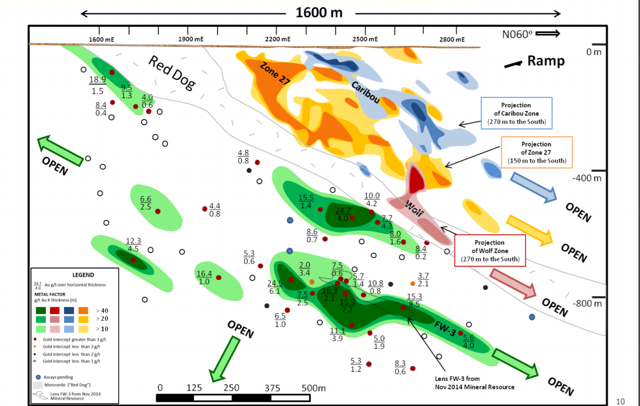 (Source: Company Presentation)
Not only has Osisko significantly expanded on zones with minimal exploration previously, it has increased grades in the main zone, and expanded them in every direction. Up until Osisko acquired the property, the deposit had a strike length of roughly 600 meters. Osisko has expanded the strike length to 1200 meters, and made several new discoveries well below the current resource estimate.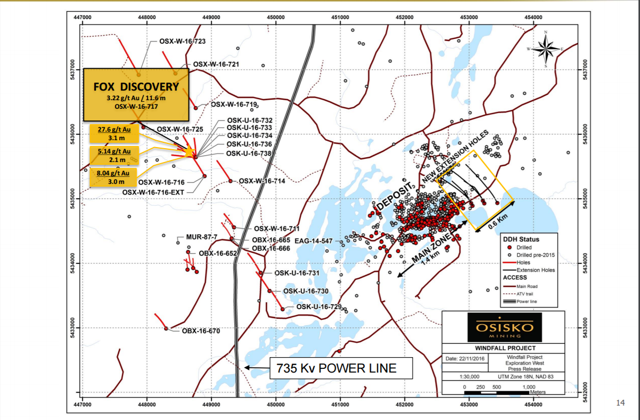 (Source: Company Presentation)
In addition to delineating a deposit twice the size in the main zone, the company has also been instrumental in discovering new deposits. Osisko stepped out nearly 4 kilometers northwest of the Main Zone earlier this year, and has made a new discovery known as the Fox Zone. The Fox Zone hosts similar grades to its Main Zone, and follow-up drill results here are showing the potential for a new gold deposit. The most recent drill results from the Fox Zone were 3 meters of 27.6 grams per tonne gold, and 3 meters of 8.04 grams per tonne gold.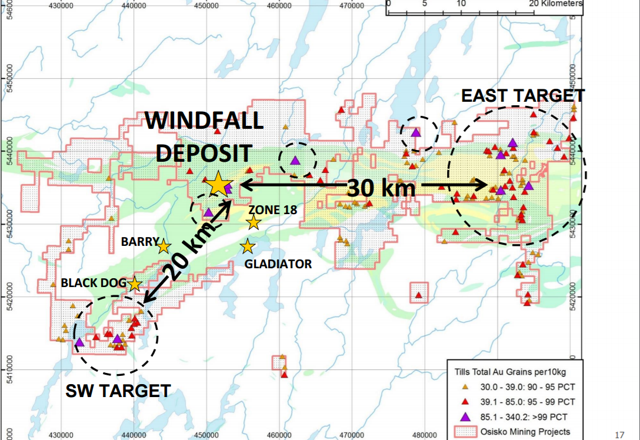 (Source: Company Presentation)
One of the most exciting parts about the Osisko investment thesis, is the most recent discovery made just last month at Black Dog. The Black Dog discovery is a 15-kilometer step-out from the Main Zone, and the first hole intersected 32 meters of 3.42 grams per tonne gold. This is an extremely impressive hole given that this was a scout hole, and they often come up blank. In addition to the above intercept, Osisko also intersected 1 meter of 5.76 grams per tonne gold 600 meters to the southwest. The fact that both holes hit strong mineralization tells us that there likely is more gold to be found at Black Dog.
For investors just stumbling upon Osisko Mining now, the two massive discoveries made this year are being given away for free. The share price of the stock is back at June levels, prior to the Fox and Black Dog discoveries even being considered a possibility. I expect both deposits could easily host 500,000 ounces or more, and believe that the Main Zone has doubled in size from the current 1.6 million ounce resource estimate. In total, I see the potential for a minimum of 4 million ounces at Windfall Lake. I have chosen to ignore the company's other 2 properties (Garrison and Marban) as all of the focus is being placed on Windfall Lake currently. The company is wasting no time getting to work, and has just announced a new 250,000 meter drill program for 2017. A drill program of this size dwarfs any other exploration program in the industry, and could unlock the potential for 8 million ounces or more at Windfall Lake.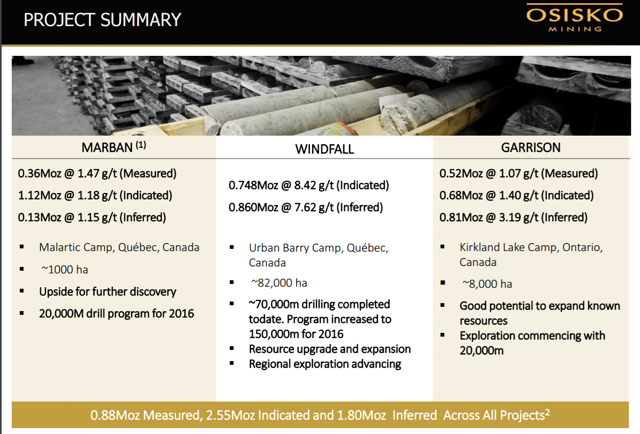 Given the success of this year's drill program, I am extremely confident that Windfall Lake will be built into a mine. The management team has done it before, but Osisko 2.0 is working with much higher grade than it were at Malartic. While grades at Malartic averaged 1 gram per tonne gold, grades at Windfall Lake are in the 5-8 gram per tonne gold range. This is a great sign for investors as the project should be much more economic. Osisko currently has a global gold resource of 5.2 million ounces across its 3 projects. I expect Windfall Lake to eventually hold 6-8 million ounces, and do not think 10 million ounces is unreasonable by 2019. Based on the company's enterprise value of $202 million, the company is extremely undervalued at this level. The company currently has an enterprise value per ounce of $40.00, but this would decrease to $20.00 if my calculations are correct. This is unheard of for a Canadian project, where enterprise value per ounce tends to average $60.00-$100.00.
Risks associated with my thesis
Junior mining companies always carry a risk for investors as they are not cash flow positive, and very few discoveries are ever built into mines. Having said that, I do not believe Osisko fits this bill. The company has already delineated a global gold resource of over 5 million ounces, and with current exploration, I expect this number is closer to 7 million ounces. Even if Osisko hits absolutely nothing in its 250,000 meter drill program, the company already has enough gold to build a mine from.
Dilution is one of the biggest fears in gold juniors, as companies must continually raise cash to fund exploration, and additional studies. Osisko has over $90 million in cash, and shareholders have nothing to worry about in terms of dilution. I believe the biggest risk to Osisko Mining is the price of gold (NYSEARCA:GLD). If the price of gold were to drop below $800/oz, it would be difficult to make a case for Osisko Mining going forward. Having said that, this is discounting the current spot price by over $300/oz. I believe this is a fair risk to take, as this is similar to saying one shouldn't invest in an oil company because the price could fall below $35/barrel. While there are always risks, I believe Osisko is a calculated one.
Summary
Osisko Mining has one of the best management teams in the industry at its helm, and is sitting on a world class deposit. The deposit is in one of the best mining jurisdictions in the world, and the company has already built a mine in Quebec and sold it for nearly $4 billion. If there was ever a management team to take Windfall Lake into production, this is the one.
The market is not giving Osisko a fair valuation given its exploration success to date, and this is giving investors a rare opportunity to acquire shares at a heavy discount. I would not be surprised if Osisko had a global gold resource of 10-12 million ounces by 2020, and was in production by 2022. A gold producer of this size in Quebec should lead to a re-rating to at least $1.5 billion, 400% higher than the current market capitalization. While this is a 5-year investment to attain this return, there are few investments I feel more comfortable within the junior mining space.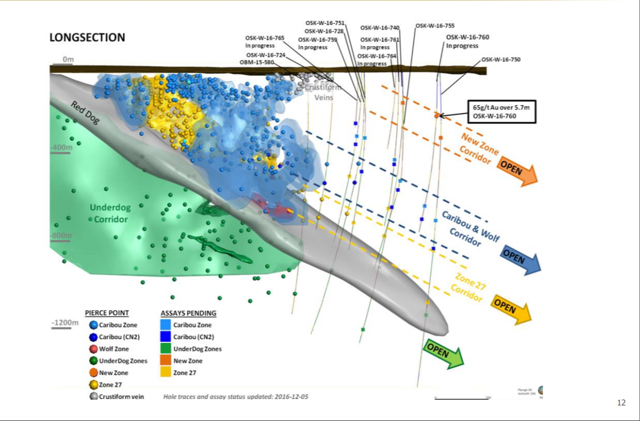 (Source: Company Presentation)
In my most recent Gold Miners Index (NYSEARCA:GDX) article, I mentioned my new long position in Osisko at $2.12. The company's new Black Dog discovery has put it at #2 on my list for my favorite gold juniors, sitting only behind Mariana Resources (OTC:MRLDF). Despite the market continuing to punish the whole gold sector, there are a few nuggets left among the rubble. Osisko Mining is one of them, and is my newest position in the sector. The fact that the company raised $70 million at a share price 30% higher speaks volumes about the company, and I will happily take a stab at these depressed levels.
Disclosure: I am/we are long OBNNF, MRLDF, GLD. I wrote this article myself, and it expresses my own opinions. I am not receiving compensation for it (other than from Seeking Alpha). I have no business relationship with any company whose stock is mentioned in this article.
Additional disclosure: If you liked this article and found it useful, please feel free to follow me by clicking on my name next to my avatar at the top of this article. I also invite you to follow me at www.twitter.com/TaylorDart01 where I routinely share my entries, exits, and stops on new positions, as well as updating followers on sentiment data on markets I am following.
Editor's Note: This article discusses one or more securities that do not trade on a major U.S. exchange. Please be aware of the risks associated with these stocks.