Visa (NYSE:V) has posted sparkling performance since its 2008 IPO. However, the stock is flat YoY. Is it just blowing off some much-needed steam and taking a breather, or is it priced to perfection with more downside in store?
As I endeavour to build a portfolio of long-term holdings, I ask myself if there are any truly buy-and-forget companies. The short answer is no in my opinion. But the beauty of Seeking Alpha is that authors can publish any view they like, provided they have some credible evidence to back it up. Upton Sinclair, one of America's most timeless authors, famously said" It is difficult to get a man to understand something, when his salary depends upon his not understanding it!" Buy and forget is a concept many people in the retail financial industry use to pound the table about the importance of investing in the market. They do not encourage people to learn and educate themselves on how to be a successful investor, but to just invest their funds and trust the market by pointing to its long-term performance (and often, it's the market minus their institution's fees). Here, all we are trying to understand is whether Visa is a good investment or not. My future livelihood depends on it to some extent, but theses can and do change. I suspect this one won't.
Investors suffering from FOMO looking at the filled-out charts of the major US indexes or red-hot financials post-Trump might want to take a look at Visa. It's not cheap, but growth stocks never are, and I'm looking to add one. Instead of surging to record highs to end the year, this company has done, well, pretty much nothing all year, sitting at the same price it fetched 1 year ago. Especially depressing is its performance over the last three months: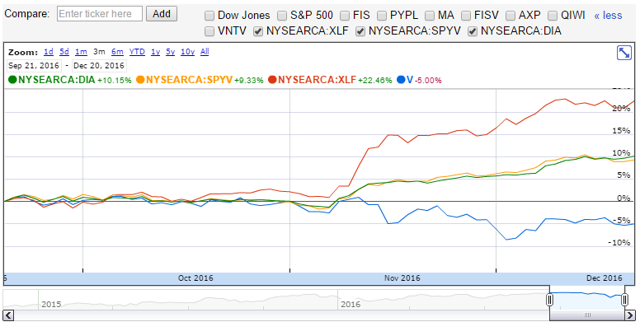 Yet the Dow constituent has delivered double-digit dividend growth, double digit revenue growth, and until this year, double digit returns for five years running. For the dividend growth, granted the bar was set pretty low when the dividend was initiated in 2012, at 6 cents per share. The stock traded at just $25 at the time. However, after November 2016's annual raise it was upped from 14 to 16.5 cents, an 18% increase. This means that an investor from five years ago is earning 2.64% on V in 2017; not great, but better than a 10 year treasury and a lot better than the 0.84% yield that someone investing in Visa today receives. And 2016 was the first year you did not get a double digit price increase:

Source: my calculations from yahoo finance
Visa has tended to punish those who sat on the sidelines waiting for the pullback. Nobody was screaming to load up on the stock in the depths of 2008. But anyone who did is rich. Sometimes the most obvious investment, like cards that everybody uses, is sitting right in front of your eyes.
What is holding me back right now is probably what has held most investors back since the beginning: valuation. Results that are simply stunning for most companies aren't good enough for Visa. That is why the stock went nowhere after the blowout October earnings report. The company could "only" issue 17% per annum revenue growth guidance over the next couple of years. Also, the double digit revenue growth has not translated into double digit net income growth this year because of the Visa Europe acquisition which closed in June.
The growth story was too much, too fast, and the valuation is rich. The numbers bear it out. Money has flooded into the stock faster than the still excellent CAGR on all important metrics could keep up.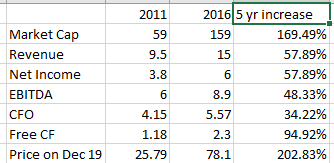 Source: my calculations from ycharts.com. All figures are in billions except "price on December 19)
This is for the last five years, however. The stock is currently in one of its biggest drawdowns (7%) of 2016, the other two being of course the first two months of the year and Brexit. Still, to be able to pick up a stock that inspired so much FOMO in the first 7 years of its life for the same price it was exactly one year ago is pretty amazing.
Why? The stock will remain expensive. The magic 20% pullback you are waiting for, if it happens, is probably going to be amid a recession and broader market bloodbath. This is why it is always good to keep some of your powder dry. But we all know the results sitting in cash waiting for a market crash has produced for the last 8 years. What you want is a stake of this growing revenue:

The company is batting 1.000 at beating EBITDA estimates in 2016 and only missed one in 2015. EBITDA is projected on average to be at $3.22 billion a year from now - a 14.5% increase over current levels.
Forward looking investing always involves assumptions which may or may not pan out. Many financials have gained 30% since the November 8 election based on the premise of a tsunami of financial deregulation, the scope of which is still totally unknown. Popular stocks like Facebook (NASDAQ:FB) and Netflix (NASDAQ:NFLX) have huge CAGRs priced into their stocks despite having grown probably about as much as they could in North America, with uncertain prospects outside. Visa is expensive, but not wildly inflated by historical standards, per the valuation below:

For me ,the highlight of this is the forward PE of 20 and the forward PS of 8, both well below the 5 year medians. The PE is high but the company had to report lower earnings this year due to the acquisition. Also noteworthy is the PEG, above where it was pre-2014 but half of what it was in 2014.
Unlike expensive stocks whose multiples hinge on optimistic growth projections, or cheap stocks for that matter like automobiles, whose record profits are dragged down by legitimate fears of how long the North American auto sales record-breaking streak can continue, Visa is the biggest and best funded company in a space that still has a huge runway for expansion worldwide. I pulled this quote from a SWOT analysis on the Marketline database.
"As per industry estimates, for the vast majority of global small-business spending, only cash and checks are used instead of credit cards. In fact, the US small businesses use credit/charge cards for only about 15% of their spending and that amount is likely to be even lower internationally. Moreover, the mid-size companies worldwide use cards for less than 10% of their major purchases such as travel and entertainment and office supplies. As a matter of fact, out of the total global consumer spending of $28 trillion each year, only 14% is carried out on charge, credit and debit cards."
Source: MarketLine Advantage
With the merging of technology and payment industries and the emergence of new payment methods like cryptocurrencies which are entirely technology-based, paper money's use will likely continue to decline. Just this week, Harvard Economist Kenneth Rogoff was quoted in Bloomberg restating his position of doing away with cash altogether. I believe in the phrase "cash is king". It is useful in many contexts and do not wish for its demise by any means but I also carry less of it than ever. The point is, as much as Visa has grown, the global payment market still has huge room for expansion. One you get used to tapping your card and earning some type of reward for doing it, you cannot return to the inconvenience of withdrawing cash from the bank. And do you worry about the interchange being charged to the merchant? Me neither.
Visa also has a moat - a big deal for value investors - through VisaNet, which is a secure, centralized, global processing platform. Unlike the processing platforms of some of its primary competitors, VisaNet is built on a centralized architecture rather than a distributed architecture, which enables the company to provide real-time, value-added information to its customers. In addition, Visa's centralized processing platform provides the company the flexibility to develop, modify and enhance its products and services efficiently. The operating efficiencies that result from the scale of VisaNet processing network provide the company with a significant cost advantage over its competitors.
Discover and American Express have these capabilities, owning so-called "closed loop" payment systems while Visa mainly operates the toll booth, which is expanding across the world with new customers and new technologies that they keep acquiring. The only comparable company is little brother MasterCard (NYSE:MA) ($114B of market cap compared to Visa's $181B), which has delivered even better long-term returns because it has been public longer. There is not a ton differentiating the two companies, except that MasterCard has been earning better return on invested capital this year. I suspect that is why it is up more than 10% while Visa is flat. If you're going to pay up for one, might as well take the brother who is in the dog house.
Shareholder friendliness can be expected to continue. Per the latest 10-k, $5.8 billion in buybacks have been approved but not executed under the latest program. 8% of the float has already been retired since the end of 2013.

Source - googlefinance
This stock also represents an opportunity to be a contrarian on the FX front. The knock on Visa pre-2015 was that it had a higher dependence (54%) on US-based revenue and MasterCard had an advantage on it through owning its European subsidiary. That has been addressed with the Visa Europe acquisition. Though that acquisition did require adding about $22B of debt to the balance sheet, the diversification of revenues couldn't have come at a better time. With the Euro arriving at parity with the US dollar and the UUP ETF at all time highs, we are likely in for a reversion to the mean of the US dollar, (despite rising interest rates) which would be a positive for Visa.
The revenue is growing, the buybacks are continuing, the dividend is just getting started, and you are banking 45% profit margins on billions of dollars in revenue. The double digit growth is expected to continue for several more years and the company has consistently topped estimates.
Too good to be true?
Maybe, but it is all true. Buying something that's gone nowhere tends to be less risky than buying something after a monster run. And sometimes you just need to pay a bit of premium for growth beside your boring, dividend-paying value stocks, especially in an industry which even a non-tech person can understand has ample room for growth worldwide.
Disclosure: I/we have no positions in any stocks mentioned, but may initiate a long position in V over the next 72 hours.
I wrote this article myself, and it expresses my own opinions. I am not receiving compensation for it (other than from Seeking Alpha). I have no business relationship with any company whose stock is mentioned in this article.