The Jingling Bells of Cash Landing in My Bank Account
December is always a good month for dividends. For my Australian portfolio it is my highest dividend paying month of the year, thanks to a number of financials, Westpac (NYSE:WBK)( WBC), Macquarie Group (OTCPK:MQBKY) (ASX:MQB) and Suncorp (OTCPK:SNMCY) (NYSE:SUN) paying their dividends.
For US investors, Westpac is traded on the NYSE while Macquarie Group and Suncorp are traded over the counter (OTC).
This year I'm looking forward to $200 (NYSEARCA:AUD) arriving in my bank account thanks to those stocks. UPDATE: Actually, $263; a recent purchase of the stock, Soul Pattinson (ASX: SOL) -- referred to as Australia's Berkshire Hathaway -- also paid a dividend this month.
For my US portfolio, where dividends are mostly paid on a quarterly cycle, my December dividends aren't the highest of the year. That honor goes to July, where I receive General Electic's (NYSE:GE) quarterly dividend, always paid in the first month of the quarter along with Disney's dividend which is paid twice a year in July and December.
The Dividend Raise "Christmas Gift"
December is a very important month for my US portfolio also -- just not for the dividend payments that are banked. In a way, it's even more important. December is when General Electric announces its dividend payment amount for the coming twelve months.
The first payment won't be received until January, but it's like seeing those gifts appear beneath the Christmas tree in the weeks leading up to Christmas. Sure, you can't open the gift until the big day, but the brightly colored packages bring a whole lot of cheer and anticipation to the season.
My Portfolio's Performance Is Tied to GE's Performance
GE has long been considered a bellwether for the US economy. With GE being such a large percentage of my portfolio, it is a bellwether for the state of my portfolio also. I may have known this intellectually, but it wasn't until the past year with GE's frozen dividend that I really put two and two together about my portfolio's dividend growth. It's not until I "felt" this that I truly understood how risky the lack of diversification in my portfolio is.
GE's Frozen Dividend for 2016 Froze My Dividend Growth
Dividend growth for 2016 was anemic for my little portfolio. GE is the reason, but it isn't GE's fault. How is that possible? A frozen dividend on the stock that provides 67% of my portfolio's income means that my portfolio's dividend growth is, well, ordinary for 2016. So GE's frozen dividend is the reason my dividend income didn't soar this year, but it is no one's fault that my portfolio is overweight GE other than my own.
For the past couple of years I have tracked the source of my dividend income increases. There are only three: new or increased positions, dividend reinvestments, and dividend growth. My portfolio is small, so income increases thanks to dividend growth is only a small percentage of the total.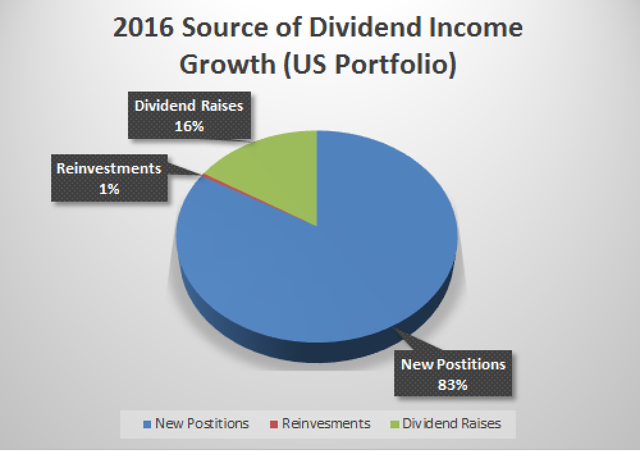 Dividend raises provided a mere $3.00 increase in quarterly income over all of 2016. Ouch. It's going to be a long hard road to financial independence with that kind of performance.
Santa Has Left Some Dividend Growth Presents Under the Christmas Tree
Fortunately, so far, 2017 is shaping up a whole lot better than 2016. In terms of dividend growth anyway.
GE announced its 2017 quarterly dividend increase in early December. A 1 penny raise, from 23 cents per share to 24 cents per share, is one that has left many GE shareholders harrumphing the board's dividend hike. Especially off the back of last year's Scrooge-like, bah-humbug, dividend freeze.
Yet even this modest hike has set my portfolio up for a good year in terms of dividend growth. Even if no other company in my portfolio raises its dividend, or more importantly doesn't decrease its dividend, thanks to my GE holding I will start 2017 with more than an $8 per quarter dividend increase in Santa's bag. But that isn't the only dividend increase that Santa has left under the tree for me for 2017.
AT&T has continued its tradition of gifting shareholders a quarterly dividend increase of 1 penny per share from 48 cents per share to 49 cents per share. New to my portfolio this year, Pfizer (NYSE:PFE) has also brought some Christmas cheer to shareholders by delivering an early Christmas present of its own, a 6.67% increase in its quarterly dividend -- to 32 cents per share from 30 cents per share. And hot off the presses is that O has joined in the spirit of the season with a small 0.25% dividend hike of its own payable in January.
Combined the raises announced for 2017 so far, will provide almost $9 a quarter in extra income. Modest, I know, but still 3 times 2016's closing number.
Conclusion: My Most Valuable Gift This Christmas
Perhaps the biggest gift this Christmas season, however, is understanding yet another reason why a portfolio lacking in diversification is so risky. It's not only a portfolio's value that can take a beating from one seriously outsized position, but the income generated also. I knew this, I really did. But it wasn't until the year over year dividend growth numbers for my portfolio slapped me in the face that I "felt" this truth. GE freezing the dividend has cost me in terms of progress. And I'm not sure I can afford that.
I've always tried to make myself feel better about my GE holding by focusing on the cash it spins off each quarter. But my 15-year history with GE now includes a significant fall in the stock's value, a huge dividend cut, and a dividend freeze.
I've made it through all those events -- more good luck than good planning. It is the ending of the most minor of those incidents -- the dividend freeze -- that has made me truly understand how risky my portfolio is. 2017 is shaping up to be a year with many changes, most of which I won't write about comprehensively, until the events become history.
Becoming more active in fixing my diversification problem, however, is one item I will place firmly on the to do list. Over the past 18 months, GE has shrunk from 73% of my portfolio to 69%. I am now, for the first time, "feeling" that progress is too slow.
I keep hearing that emotions need to be kept out of investing. Again, intellectually I can understand that argument. Yet, since what I "know" intellectually doesn't always drive me to act, I will be harnessing the emotional side of investing. Feeling the risk of my portfolio, I will act. Like all investors, I like to sleep well at night. While GE isn't preventing that right now, I don't want to give it that opportunity.
As with everything, there will be more than one way to tackle this issue, but that is an article for another day. Until then, I hope Santa has left you some early Christmas gifts for your share portfolios also.
Disclosure: I am/we are long GE, PFE, T, O AND ALL OTHER STOCKS MENTIONED IN THE ARTICLE.
I wrote this article myself, and it expresses my own opinions. I am not receiving compensation for it (other than from Seeking Alpha). I have no business relationship with any company whose stock is mentioned in this article.