In this series, we review up to 3 companies that have announced a dividend increase in the past week or two. We also look at their ability to pay and increase their dividend year after year on a continual basis. For this series, we select relatively large and stable companies with at least 7-10 years (preferably more) of dividend history and are on our watch-list.
Every week there are dozens of companies that increase the dividend, out of which we select a few for review that fit our selection criteria. For this week, we will compare the three companies below that raised their dividend recently.
| | | | |
| --- | --- | --- | --- |
| | New Annual Dividend | Previous Annual Dividend | Increase % |
| MRK | $1.88 | $1.84 | 2.17% |
| BDX | $2.92 | $2.64 | 10.6% |
| ECL | $1.48 | $1.40 | 5.71% |
Merck & Company (NYSE:MRK)
Merck & Co., Inc. is a global healthcare company. The company offers health solutions through its prescription medicines, vaccines, biologic therapies and animal health products, which it markets directly and through its joint ventures. Human health pharmaceutical products consist of therapeutic and preventive agents, generally sold by prescription, for the treatment of human disorders. The Animal Health segment discovers, develops, manufactures and markets animal health products, including vaccines.
The company has a long history of 125 years and operates in more than 140 countries. The company is headquartered in Kenilworth, New Jersey and employs about 68000 people. It has paid dividends for many years but has increased them consistently only for the six years. The dividend growth has been tepid at 2.17% over ten years and 3.4% over the last five years. Revenue growth has been negative -3.6% over five years. EPS, cash flow, and payout ratio have fluctuated widely over a five-year period, and it is hard to find a particular trend.
However, on the positive side, company's total returns were reasonable at 13.9% over the last five years compared to S&P500 return of 15.5%. Also, the year 2016 has been shaping well for the company. The company announced earlier better than expected third quarter results and raised the full-year guidance for revenue and earnings. Company's shares have gained 18% year-to-date as its product pipeline is seen to be getting stronger.
Becton, Dickinson and Co (NYSE:BDX)
Becton, Dickinson and Company was founded in 1897 and is a global medical technology and manufacturing company engaged in the development, manufacture and sale of a range of medical supplies, devices, laboratory equipment and diagnostic products. The Company operates through two segments: Medical and Life Sciences. The BD Medical segment produces an array of medical technologies and devices that are used to help improve healthcare delivery in a range of settings. The BD Life Sciences segment provides products for the safe collection and transport of diagnostics specimens and instruments.
The company has raised its dividends for the last 45 years. Due to its long history of raising dividends, the company is part of an exclusive club of Dividend Aristocrats and is included in the list of Dividend Champions (maintained by David Fish). The company's dividend growth has been decent at 10.6% over last five years and 11.8% over past ten years. The average sales growth was impressive 10.8% over the last five years. Total returns have been excellent at 20.3% over the previous five years compared to S&P500 return of 15.56%.
However, the current dividend yield is low at 1.75% and is below its 5-year and the 10-year average. The current valuation looks little pricey, as it trades 20 times the 12-month trailing earnings, however, earnings are projected to increase 10% every year for the next five years. The forward P/E for 2017 is 17.6.
Ecolab Inc. (NYSE:ECL)
Ecolab Inc. provides clean water, hygiene and energy technologies and services. The Company's segments include Global Industrial, Global Institutional, Global Energy, Other and Corporate. The Global Industrial segment consists of the Water, Food and Beverage, Paper and Textile Care operating units. The Global Institutional segment consists of the Institutional, Specialty and Healthcare operating units. The Global Energy segment provides on-site and technology-driven solutions to the global drilling, oil and gas production, refining and petrochemical industries.
The company has paid dividends for nearly 79 years and raised its dividends for the last 30 years. Due to its long history of raising dividends, the company is part of Dividend Aristocrats Index. The company's business is diversified globally and operates in 170 countries. Over 40% of its sales come from outside North America. It is also expanding its business in the emerging markets, which account for more than a quarter of its revenue.
The Dividend growth during the last five and ten year period has been at 12.4% and 12.3%. Company's Sales and EPS (earnings per share) have grown at 17% and 15% respectively during the last five years. The current dividend yield of 1.23% is on par with the past 5-year average.
Dividend Safety:
As DGI investors, our priorities are typically in the following order:
High enough (current) dividend yield.
Good prospects for dividend growth/increase.
Capital growth prospects.
However, there is another factor which is most important while looking for our next dividend yielder i.e. safety or long-term viability of the dividend and its continual growth. It means that there is no foreseeable risk of a dividend cut or freeze in short to medium term. When a company cuts the dividend, more than likely its share price will nosedive as well resulting in a significant capital loss. There have been many such examples in recent memory (2015-2016) in the oil and gas sector. Luckily for investors, most of the time there are indicators that start showing red-flags much before a company runs into a cash-flow crunch and is no longer able to support the dividends.
With these goals in mind, we want to look at the free-cash-flow [FCF] that the company generates every year. The FCF is the operating-cash-flow that the company makes from its operations minus the capital expenditure.
FCF = (Operating Cash Flow) - (Capital Expenditure)
We want to see the FCF grow most years for the company to be able to increase the dividends. We also want to see FCF exceeding the total dividend paid by a fair margin. The only other way the dividends could increase if the company can reduce the outstanding shares on a continual basis by buying back its shares, which will also require an increasing amount of FCF (without adding on to the debt).
We will consider the following factors that play a major role towards dividend safety:
Total no of years of dividend history: It is important to know how long the company has paid dividends, which shows how committed the management is towards paying a regular dividend through good times and bad.
No of years of dividends raised on a continual basis: We would also like to know if the company raises its dividend regularly year after year. Longer the history, better it is. A company needs to generate an increasing amount of cash flow year after year to be able to raise dividends.
Payout Ratio: Payout Ratio is the amount of total dividend paid divided by the total free cash flow for the company. Lower this ratio, better it is, as it would indicate that the company is left with spare cash to do other things such as investing in new products, acquisitions, buying back its shares, thus reducing the outstanding share count, or just raising the payout to shareholders in subsequent years.
Dividend growth for last five years: This factor would indicate a trend of how much dividend growth there was in the past. Though the past trend is no guarantee for future increases, it does show the company's ability to generate cash and its commitment to pay growing dividends.
FCF growth for last five years: As there cannot be sustainable dividend growth without a corresponding growth in free cash flow, we need to know how much did the FCF grow in the last few years. Since a company's cash flow can vary from year to year, depending upon the type of business and business-cycle it may be in, we like to take the average of the previous three years to derive the cash-flow for any given year and then calculate the average growth during the last five years.
By taking into account the above five factors, we can derive a Safety Rating that would indicate to us how safe (or unsafe) a company's dividend may be going forward. Note that this rating is derived using the past data, so it can only provide a general trend but no guarantees for the future. Nevertheless, it does provide an unbiased and comparative viewpoint from a high level. In the below table, we will present some key metrics and use our Dividend Safety model to derive a Dividend Safety Rating for each of the companies.
Key Metrics and Dividend Safety Rating: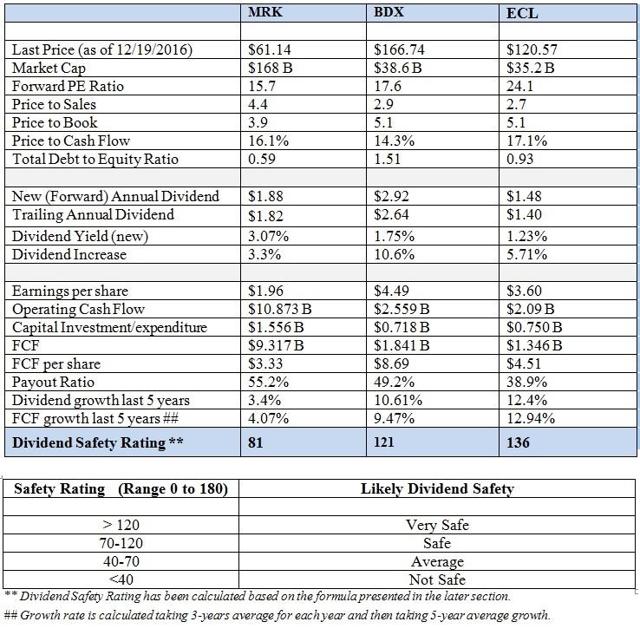 Dividend Safety Formula:
We calculate the Dividend Safety Rating as per the following formula.

Here is the LINK where you can view or download the above spreadsheet with the formula to calculate the Dividend Safety Rating. If you liked reading this article and would want to get notified of future articles, please click on "FOLLOW" on the top of the article.
Full Disclaimer: The information presented in this article is for informational purposes only and in no way should be construed as financial advice or recommendation to buy or sell any stock. Every effort has been made to present the data/information accurately; however, the author does not claim 100% accuracy. Some parts of the company descriptions may be sourced from respective company websites.
Disclosure: I/we have no positions in any stocks mentioned, and no plans to initiate any positions within the next 72 hours.
I wrote this article myself, and it expresses my own opinions. I am not receiving compensation for it (other than from Seeking Alpha). I have no business relationship with any company whose stock is mentioned in this article.