Lincoln National (NYSE:LNC) has doubled from the low of February 2016. Perhaps that's not saying much. The previous five year high, achieved in June 2015, was $61.2 and the current price is "only" 11% above that level. From here, Lincoln is a key beneficiary of healthy inflation and rising rates within the retirement and insurance space, so this stock quite recently getting cut in half in a market driven by non US factors (chiefly oil and China) feels erroneous.

Google Finance
Investors need to remember that moves like the one over June-February 15-16 might see a repeat. They reflect the greater role of passive investment products and programme trading in today's market given that the fundamentals for a business like Lincoln were barely touched during this period. For a long term holder, what matters is fundamentals have reasserted themselves. The main engine of US growth and inflation, jobs and consumption, has remained solid through 2016 while Trump has proved a catalyst since November.
Lincoln has been impressive in 2016 with strong numbers despite a number of obstacles - lower for longer rates, DOL fiduciary proposals and pressure on annuity flows. The company has been able to offset lower revenues with even lower expenses, mainly via the benefits paid line giving 15% growth in net income for the cumulative nine month period to September 2016 on a YoY basis.

Going forward, Lincoln targets 8-10% EPS growth annually, which is of great interest since the present valuation is attractive at an operating PE of around 10x for 2016 and it's here that the company is quite attuned to rates being on an upward path.
The main drivers of the target are assumed to be net annuity flows and premium growth of 4-5% with insurance margin improvement providing a further 1-2% and a flat capital markets environment in which spread compression offsets assumed equity market growth (both around 2-4%). Stabilization of spreads going forward could therefore give a 2-4% boost to the EPS outlook. Finally, with a 50-60% capital return plan, Lincoln expects buybacks to add another 2-3% to EPS. To my mind this looks quite modest and Lincoln should be able to buy back 4-5% of shares annually. If we assume an operating bottom line of $1.4bn and a 50-60% buyback facility, then at the current price Lincoln could repurchase 10-12m shares annually. Note that this should improve further because higher long term rates improve the capital and reserve adequacy of life insurers and have the effect of freeing capital for distribution.
Low interest rates have pressured spreads in the life and retirement savings units with the life spread falling from 1.71% in 2010 to 1.4% in 2015, and RS spread falling from 2.21% to 1.6% over the same period. It takes time for life insurers to benefit from higher rates because their books do not tend to re-price rapidly like those of a bank or a P&C company holding a lot of short maturity instruments. Still, Lincoln will obviously benefit should the curve continue to steepen over time and the best guide to that is the Fed's language and the underlying employment and wage situation, which indicates inflation should reach the Fed's target of 2% and can probably stay there.
In protection products Lincoln is looking for margin to more than double over time from 2% to 4.5% via pricing discipline and claims management. This is fine, although keep in mind that higher rates may serve to attract more capital into Lincoln's markets and make its volume goals difficult to achieve at its target pricing. Time will tell.
Although Lincoln's variable annuity sales have been experiencing pressure, which the company is addressing through product diversification, the business is still very profitable with ROE ~20%. WE will need to wait for late 2017 according to guidance before the benefits of product switching are seen. Given where the valuation is, we can be patient.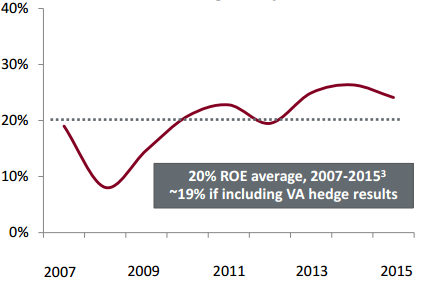 Company data
The main risks to Lincoln's outlook surround the air pockets that the equity market given its valuation levels are likely to encounter and the delays to rate hikes that these episodes are likely to impart. The Trump factor is mainly positive in that it augers for higher growth and inflation, though the precise extent is difficult to pinpoint. The potential greatest risk from Trump is his evolving stance towards China. China's financial fragility, with capital controls being reinforced to at least control the weakening of the currency, threatens deflationary pressures globally. So even rhetoric from Trump with regard to tariff barriers on China-made goods can cause market ructions and see the Fed stay its hand on rates.
Conclusion
This stock has lovely economics. My own instinct is not to try to trade Lincoln on the ebb and flow of rates outside of their core US domestic drivers. You can get in here below 10x EPS for 2017 and around 1x BV for a business with an operating ROE of >11% and targeting >8% EPS growth. If you are searching for entry points in financials after the big move up, Lincoln is offering you one.
Disclosure: I/we have no positions in any stocks mentioned, and no plans to initiate any positions within the next 72 hours.
I wrote this article myself, and it expresses my own opinions. I am not receiving compensation for it (other than from Seeking Alpha). I have no business relationship with any company whose stock is mentioned in this article.