Guyana Goldfields (OTCPK:GUYFF) is a junior gold miner whose principal asset is the Aurora Gold Mine in Guyana. Like many in the gold space, Guyana Goldfields' stock price has dropped significantly over the last several months, with the stock price now down over 50% from its highs earlier this year. As a low-cost, high-grade producer which is planning to increase production, I believe Guyana Goldfields is currently oversold, and I think Guyana Goldfields is setting up for a strong 2017.
Guyana Goldfields started off 2016 with a bang as commercial production was declared on Jan. 1, 2016 which corresponded with gold's sharp price increase at the beginning of the year. The stock price tripled from January to June of 2016 but has dived along with peers in the latter half of this year. In fact, the sell-off in Guyana Goldfields has been worse than that of the Junior Gold Miners ETF, with Guyana Goldfields now down nearly 55% from its yearly high versus 45% for the Junior Gold Miners ETF. I believe that the sell-off is overdone and expect Guyana Goldfields to outperform the Junior Gold Miners ETF during 2017.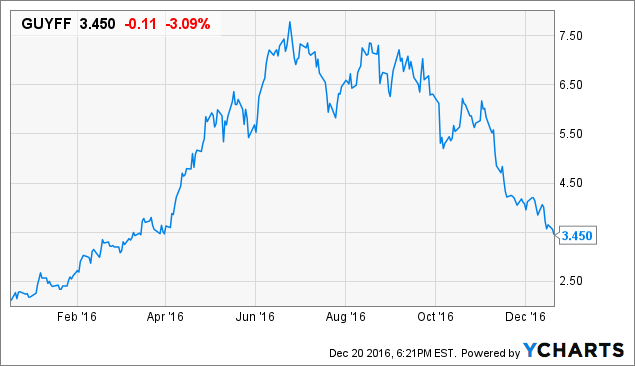 Quarterly results have been strong through the first three quarters which I believe had a lot to do with the strong run up in the first half of the year. Looking at the most recent results, revenues for the third quarter came in at $44.4 million compared to $46.4 million in the second quarter mainly due to fewer ounces being sold as a result timing of refinery shipments. Net earnings were $8.9 million in the third quarter compared to $7.6 million in the second quarter. Free cash flow for the quarter was $6.2 million which was down from $11.6 million in the second quarter but brings the total for the first nine months to an impressive $36 million. While fourth-quarter numbers will likely be weaker given the drop in the price of gold, all-in-all this is shaping up to be a very strong first year of commercial production.
The Aurora Gold Mine produced 34,400 ounces of gold during the third quarter at All-In Sustaining Costs of $796 an ounce. This compares to 32,000 ounces produced during the second quarter at AISC of $729 an ounce. Guidance for the full year is being maintained at 140,000 to 160,000 ounces. I would anticipate production will come in at the lower end of the range as production for the first three quarters totaled 108,000 ounces. AISC guidance has been increased from a range of $670 to $720 an ounce to a range of $740 to $760 an ounce due to pre-striping activities and purchasing mining equipment. Even with the increase in guidance, AISC at Aurora have been very attractive in the first year and Aurora is one of the cheaper mines to operate.
Guyana Goldfields is planning to expand the Aurora Gold Mine in 2017 to increase milling capacity from 5,000 tonnes per day to 8,000 tonnes per day. They are planning to release an updated feasibility study by the end of the year that will take into account this increase in throughput rate. The original feasibility study showed strong economics and I anticipate the updated feasibility study will be even more attractive. The original feasibility study was based on a conservative gold price of $1,000 an ounce and called for average annual production of 188,000 ounces at AISC of $661 an ounce. The average grade is very high at 2.94 g/t making the Aurora Mine one of the highest grade open pit mines being operated by a junior miner anywhere in the world.
Guyana Goldfields completed a well-timed equity raise when the stock was trading near its yearly highs, raising $103.5 million by selling shares at a price of $7.22 per share. The equity raise bolstered Guyana Goldfields' balance sheet and Guyana Goldfields ended the third quarter with a cash balance of $128.5 million which included $23.3 million in restricted cash compared to debt of $135.7 million. Guyana Goldfields has stated its intent to use the cash from the equity raise to expand the Aurora Gold Mine, possible debt repayment, exploration activities, general corporate purposes and possible investments. Given that the expansion cost of the Aurora Gold Mine was tagged at only $5.6 million in the original feasibility study, it would be nice to see Guyana Goldfields pay down a decent chunk of its debt with this money.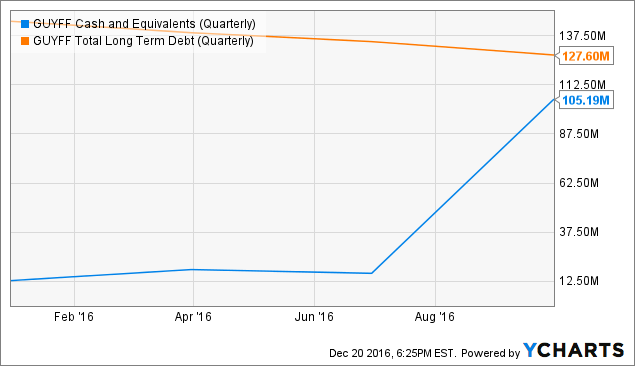 Guyana Goldfields is projecting 20% annual production growth from 2016 to 2018, with production rising to over 200,000 ounces a year by 2018. This increasing production should lead to even better numbers over the next couple years. The mine has reserves of over 3 million ounces and a 16-year reserve life which means that Guyana Goldfields' flagship asset has a long life and will be churning out cash for many years. The after-tax net cash flow is expected to be $777 million over the life of the mine using a base case scenario of $1,000 an ounce. A revised ore reserve is expected to be released shortly at a higher gold price than the initial $1,000 an ounce and should increase the reserves even more though with the price of gold having dropped so much it will be interesting to see what price Guyana Goldfields uses for its updated reserves.
I believe that given Guyana Goldfields' low production costs, it will be able to produce strong margins even with lower gold prices. The stock has been unfairly punished with the sell-off in gold even though it is one of the lower cost producers. Guyana Goldfields is also one the highest grade junior miners in operation which puts it in an enviable position. The main risk to the investing thesis here is the price of gold. I would like to see gold stop its downward trajectory here before buying in, but once I think we have a bottom in gold, this is the first stock I will be buying.
Disclaimer: This article is meant for informational purposes only. You should always consult with a financial advisor before making any investment decisions. There are risks involved with investing including loss of principal. This article is not to be considered investment advice or a recommendation to buy or sell any security.
Disclosure: I/we have no positions in any stocks mentioned, and no plans to initiate any positions within the next 72 hours.
I wrote this article myself, and it expresses my own opinions. I am not receiving compensation for it (other than from Seeking Alpha). I have no business relationship with any company whose stock is mentioned in this article.
Editor's Note: This article discusses one or more securities that do not trade on a major U.S. exchange. Please be aware of the risks associated with these stocks.