Overview
In this series of articles, I will be taking a look at various industry sectors and selecting what I believe will be outperforming stocks for 2017. For this first article, I will review the following Airline stocks:
Step 1
The first step I took to narrow down the list of possible options was to look at the earnings over the past five years of these stocks within the industry sector. I removed any stocks that had negative earnings growth during this time from further review. These stocks include:
Copa Holdings
Republic Airways Holdings
Step 2
I then took the list of remaining stocks and checked the revenue growth of each over the past two years. I removed any stocks that had flat revenue growth (less than 2%) or a decline in revenue over the past two years. These stocks include:
American Airlines Group
Delta Air Lines
SkyWest
United Continental
Step 3
My next move was to examine the trailing PEG ratio of each of the remaining stocks. I planned on removing any stock that had a PEG ratio over 1.5 to focus more specifically on fairly valued/undervalued stocks; however, none of the remaining stocks fit this criteria.
Step 4
The next set of data I reviewed was the Fundamental and Value Scores for each of the ten remaining stocks. These scores are calculated by YCharts and I have found them to be very useful when researching investment options. More details on each of the scores can be found here and here.
| | Fundamental Score | Value Score |
| --- | --- | --- |
| Alaska Air Group | 8 | 7 |
| Allegiant Travel | 8 | 9 |
| Hawaiian Airlines | 8 | 4 |
| JetBlue Airways | 7 | 5 |
| Southwest Airlines | 9 | 6 |
| Sprint Airlines | 9 | 5 |
To determine the best stocks for 2017, I'm only taking into consideration stocks that have a value of 6 or higher for its fundamental and value scores. Doing this left me with the following remaining stocks:
Alaska Air Group
Allegiant Travel
Southwest Airlines
Step 5
My next step was to look at the book value of each company and to remove any stock that has seen a decrease in its book value over the past five years. The only stock to have seen a decline in value during this time was Allegiant Travel.
Step 6
I then looked at the remaining stocks and only included stocks with earnings yields of 5% or higher in my final analysis. Each of the two remaining stocks all had earnings yields higher than 5%.
Step 7
I did a similar series of articles last year, and my Step 7 in those articles was to look closer at the remaining stocks in terms of looking at recent quarterly reports, related news items and articles to determine whether the stocks had any issues that warranted concern. This year, my Step 7 is to look back at last year's article and review the quality of my picks and use current data to determine why my picks did or did not perform well.
Last year, my top airline picks were Alaska Air Group, Hawaiian Holdings, and Southwest Airlines. Out of the three stocks, Hawaiian Holdings was the best performing stock, increasing its value by 70.25% year to date. Southwest gained just over 18% so far this year, while Alaska Air Group gained 13.77%. While each of the stocks performed well, none of them were the best performing airline stocks of the year. That honor went to SkyWest with a year to date gain of 106.9%. Copa Holdings also performed well with a gain of 93.74%.
Personally, Copa Holdings is still too risky for me, especially at its current price. The stock had a good year but still operates in a difficult market and from the table below, you can see it has not been a strong performer over the long run.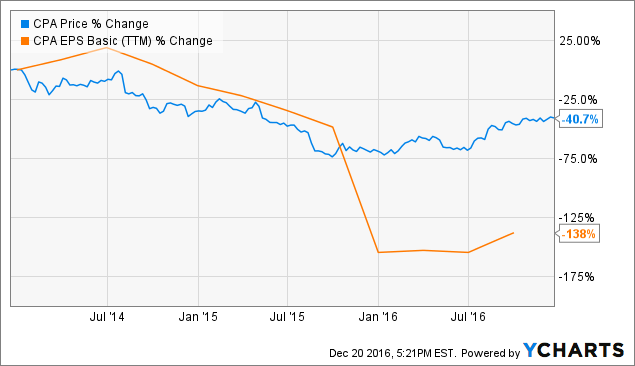 CPA data by YCharts
SkyWest is a stock I actually like a lot, but I cannot recommend purchasing it until the company shows an ability to display long term revenue growth, which it has consistently failed to do. The past few quarters have seen positive growth, but I would like to see more considering the stock has seen lots of ups and downs in terms of revenue growth since the mid 2000's.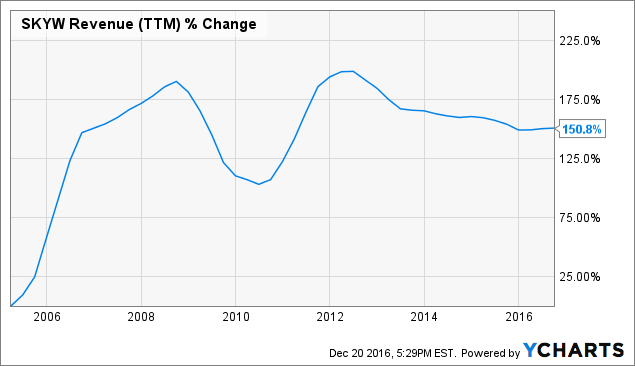 SKYW Revenue (TTM) data by YCharts
While my top 3 picks from last year were not the best performing stocks in the sector last year, they did outperform several airlines that underperformed the market in general this year.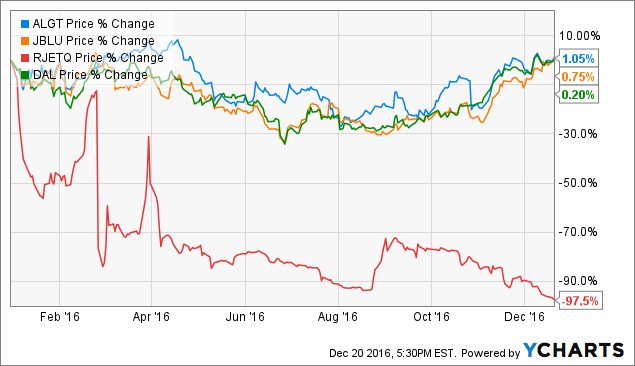 ALGT data by YCharts
Step 8
Alaska Air Group
Alaska Air beat earnings and revenue estimates significantly in its latest quarterly earnings report. Earlier in the month, the company completed its acquisition of Virgin America, making it the fifth largest airline in the country. I believe this merger will be a significant growth driver for Alaska Air Group and that sentiment seems to be shared as the stock has already jumped by 15% over the past month.
Southwest Airlines
Southwest also beat its earnings estimates on its latest quarterly report but missed on revenue, posting a .2% decline in revenue from the same period last year. The company saw impressive numbers in November with increased traffic of 7.2% and load factor +180 bps; however, expected revenue per available seat mile is expected to fall 4%-5% for the quarter.
I believe Southwest Airlines remains a solid long term investment option, but I feel that there are too many issues that will keep the stock from seeing significant gains in 2017 for me to consider it a top stock. From lowered revenue guidance and costly fuel hedges to recent reports of website outages, I think Southwest will find 2017 a more difficult year than 2016 was.
Conclusion
My top airline pick for next year is Alaska Air Group. It was one of my top three picks for 2016 and performed well, beating the S&P index and I believe it is poised to have an even stronger year in 2017. While there are other stocks such as Copa Holdings and SkyWest that had higher price appreciation this year, I believe that Alaska Air Group has the best mix of strong fundamentals, historical performance, growth potential and attractive valuation to make it a strong and fairly safe investment option. As always, I suggest individual investors perform their own research before making any investment decisions.
Disclosure: I/we have no positions in any stocks mentioned, and no plans to initiate any positions within the next 72 hours.
I wrote this article myself, and it expresses my own opinions. I am not receiving compensation for it (other than from Seeking Alpha). I have no business relationship with any company whose stock is mentioned in this article.