Stocks discussed on the in-depth session of Jim Cramer's Mad Money TV Program, Tuesday, December 20.
The election is over but the market is still roaring higher. In Cramer's opinion, investors are in their "animal spirits". "The excitement stemming from Trump's pro-growth agenda and his business-friendly cabinet picks are producing are getting us to act, to buy stocks when we would otherwise be too circumspect to do so," he said.
The term animal spirits was coined by John Maynard Keynes, and it means "a spontaneous urge to action rather than inaction, and not as the outcome of a weighted average of quantitative benefits." The market is tired with the engineered earnings beat of lower costs to boost margins.
Investors are craving real growth and they feel Trump's agenda will lead to it. The markets are moving higher on feelings and not real numbers. "Looking at the numbers, the market has actually done pretty well under Obama, but, again, this is not about the numbers, it is about the narrative we tell ourselves," added Cramer. Investors view Obama as being indifferent to business while they see Trump as pro-business.
Cramer pointed to the earnings of Darden Restaurants (NYSE:DRI) which were in-line and yet the stock managed to move higher. Their same-store sales in November were less than those of October. Usually, in such situations, a stock would be down but the investors are in a different mood and hence the stock went up anyway.
For every seller in the market, there is a buyer currently and the reason doesn't matter.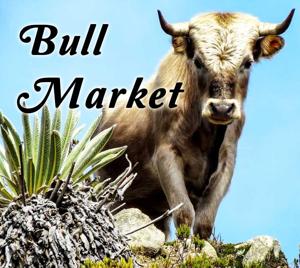 M&A
Cramer believes that the current market has M&A potential, especially referring to the companies that had previously broken up. He is referring to the market chatter about Kraft-Heinz (NASDAQ:KHC) putting up a bid for Mondelez (NASDAQ:MDLZ) and Philip Morris (NYSE:PM) acquiring Altria (NYSE:MO).
"I have no idea if either of these recombination deals is going to happen, but I do know this; these two potential blockbuster transactions would create still one more wave of M&A, simply because the combinations make so much sense," added Cramer.
Kraft broke up some time back and investors were not particularly enthusiastic about the deal. However, they made a lot of money on the split. Kraft then acquired the slow growing Heinz, and now the stock of Kraft-Heinz has jumped on rumors of combining with Mondelez. "I know that the split left Kraft without the growth it needs and I know that the Heinz people who are now running the show don't really care about whether the antecedents were together before. The breakup wasn't their idea, and I think recombining makes a ton of sense," said Cramer.
Philip Morris also broke up into slow-growing and high yield US company Altria and a fast growing entity called Philip Morris International. However, PMI yields more than Altria due to the strength of the dollar and demand for dividend stocks in the US. Altria and Philip Morris have given a combined return of 230% since their break up compared to 108% by the S&P.
The merger idea of these two companies is better than Kraft-Heinz as their potential combination could help IQOS smokeless cigarettes take off in the US. "That, plus the likelihood of Trump's corporate tax reform and a possible rise in interest rates means the deal would need to be done now if it is going to happen at all. It makes sense when you consider all of the consolidation in tobacco," said Cramer.
Trump stocks
Cramer is on the constant lookout for Trump stocks. While most of them have been covered by him already, there are two stocks with upside potential left; Automatic Data Processing (NASDAQ:ADP) and Paychex (NASDAQ:PAYX).
Both these companies are payroll processors and they also provide ancillary business services like outsourcing management and employee management. Cramer believes that the Trump administration will be good for these companies due to job growth potential. More jobs means more business for them.
These companies will benefit as the interest rates move up allowing them to make more money on the float. The lower tax rates will directly boost the bottom line and according to one analyst, they'll see their EPS go up by 21-25%.
Paychex is due to report earnings and the stock could pull back as it has run up already. That will be a good opportunity to buy the stock.
CFO interview - Analog Devices (NASDAQ:ADI)
Analog Devices had a blowout quarter recently and their deal to buy Linear Technology (NASDAQ:LLTC) hasn't closed yet. Cramer interviewed CFO David Zinsner to know what lies ahead as the company is in the sweet spot for Internet of Things growth.
Zinsner gave his take on President-elect Trump by saying, "I think that everything he talks about when it relates to the U.S. economy and trying to stimulate the U.S. economy is going to be good. Their focus is a lot into the industrial infrastructure space. If that stimulates then certainly that's going to be positive for us. As to the other initiatives he's got going, I don't know, I think we have to wait and see how that goes."
He also explained that Internet of Things has plenty of growth potential and self-driving cars is the hot trend for semiconductor stocks. Analog Devices is taking advantage of this trend with their product Lidar. It's a game-changing technology as it will take autonomous vehicles to the next level as most of these vehicles depend on radar.
The company is a strong cash generator and Linear Technology will add to its growth. Cramer thinks the stock has more room to run.
Viewer calls taken by Cramer
Groupon (NASDAQ:GRPN): It's a decent spec at $3.
Novo Nordisk (NYSE:NVO): There are better stocks out there. Don't touch it.
::::::::::::::::::::::::::::::::::::::::::::::::::::::::::::::::::::
Jim Cramer's Action Alerts PLUS: Check out Cramer's multi-million dollar charitable trust portfolio and uncover the stocks he thinks could be HUGE winners. Start your FREE 14-day trial now!
Get Cramer's Picks by email - it's free and takes only a few seconds to sign up.