With trading activity remaining largely dull because of an upcoming Christmas weekend, oil prices went up on Tuesday after the American Petroleum Institute (API) came out with its weekly oil data. The WTI (WTI) and Brent were trading at $53.52 and $55.51 respectively at the time of writing this article. According to the API, the U.S crude oil inventories went down by 4.15 million barrels per day for the week ending December 16th. It must be noted that this drawdown was far below the expectations of a 2.5 million barrel drawdown. It will be interesting to see what EIA reports in its weekly oil data on Wednesday. Investors must note that oil prices will increase even further if EIA reports a similar drawdown in the U.S crude oil inventories.
Has the OPEC deal made oil investors and speculators bullish again?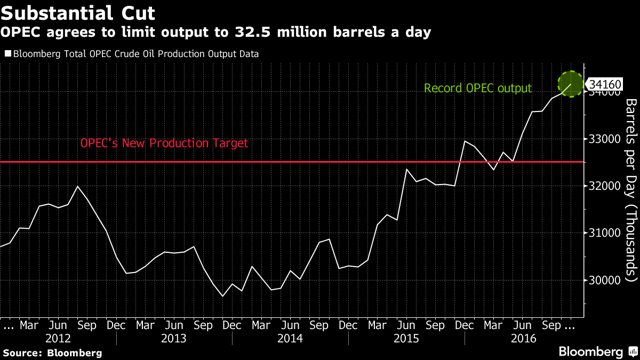 "There's been a full embrace of the OPEC, non-OPEC deal. They are being given the benefit of the doubt. The consensus is that supplies will tighten quickly and as a result investors are positioning for higher prices in the near term," said New York based Hedge Fund Manager John Kilduff. It must be noted that hedge fund managers and other oil investors have taken their most bullish position on crude oil since July 2014. Although many analysts and speculators had doubts regarding the sanctity of the recent OPEC-non OPEC oil deal, it is a fact that this oil deal has made the investors and speculators bullish again. I have already stressed in my previous articles as to why this deal is so important for OPEC, especially Saudi Arabia. OPEC faced many hurdles, but managed to seal a deal that includes other non-OPEC members like Russia. "Money managers have loaded up on the long side of the market. They are looking for higher prices and therefore their fortunes are closely linked to the rate of compliance to these production cuts. If OPEC doesn't adhere closely to the production cuts and supply exceeds demand in the first half of 2017, these money managers won't be happy", said Energy analyst Tim Evans from Citi Futures Perspective. This shows that there is a lot at stake when it comes to the upcoming OPEC-non OPEC production cuts.
Takeaway for investors
The trading has been relatively slow because of the upcoming Christmas holidays and the OPEC-non OPEC oil deal is the only major factor that will weigh in oil prices (NYSEARCA:USO) in the coming two weeks. Apart from this factor, the weekly EIA oil data (that is going to be published today by the EIA) will also affect oil prices. In my previous article, I had explained how situation in Libya and Nigeria can affect oil prices in the near short term. On Monday December 19th, an oil tanker was getting ready to load its first cargo from Libya's biggest export terminal- Es Sider (for the first time in last two years). Libya's crude oil production for the month of November stood at 575,000 barrels and the country is aiming to increase its production to 1.1 million barrels by next year. The Es Sider Port was re-opened in September this year, but it was under repair since then. With a capacity of around 375,000 barrels per day, the opening of Es Sider port can help Libya achieve its 2017 target, and this factor will in turn put pressure on OPEC ( and other non -OPEC members ) to stick to its production targets this coming January. Investors must take note of this.
Disclosure: I/we have no positions in any stocks mentioned, and no plans to initiate any positions within the next 72 hours. I wrote this article myself, and it expresses my own opinions. I am not receiving compensation for it (other than from Seeking Alpha). I have no business relationship with any company whose stock is mentioned in this article.