Summary: Target price of $0.50/share; why Aurora's stock maintains 79% downside
A stock appreciation in value usually boils down to a few reasons including but not limited to strong management, a growing industry and continued improvements to the underlying fundamental story. Aurora Cannabis, Inc.'s (OTCQX:ACBFF) (TSXV:ACB) stock has appreciated above and beyond its own wildest dreams despite significant execution risks, management histories riddled with blunders, questionable press and one poor capital allocation decision after another. The end result has been limited creation of shareholder value alongside consistent and rampant dilution. The Grumpy Bear fears for the potentially over-exaggerated suggestions made by the company. Caveat Emptor!
"High Times": An excited industry
The great Canadian green rush began in April 2014 with the passage of the Marijuana for Medical Purposes Regulations (MMPR). The MMPR authorized licensed producers to grow and sell cannabis to registered users who obtained a medical cannabis prescription and defined a clear application process to become a Licensed Producer ("LP"), and ultimately, a seller of marijuana products in Canada.
So far, Health Canada has licensed 36 companies for some combination of cultivation or sales. Another 419 applications are in progress. As of August 2016, there were 91,178 medical marijuana registered users, with the number of patients growing at a brisk 10% per month. These patients bought 2.5 million grams of marijuana in August, which equals a run rate of 30 million grams per year. Assuming a sales price of $7.00 per gram, the Grumpy Bear estimates this kush-y market was worth $210 million in August, and at this rate, will double to $400 million by the end of 2016!
This is just the beginning: The big prize is the full legalization of recreational marijuana expected in April 2017, with sales expected to begin as early as January 2018.
Some temporary schwag disguises the clouds hanging over Aurora
Aurora's stock has soared almost 600% in the last few months and has far outpaced the other publicly-traded LPs.
This put it on our radar and we started to dig. The Grumpy Bear's takeaway: concluded that Aurora is an undeserved beneficiary of the recent Canadian "green rush". The same thing happened in the US. Weed stocks temporarily skyrocketed in early 2014 on the back of the Colorado/Washington state recreational legalizations before falling back to reality (see appendix A).
Aurora's stated business is to grow, cultivate, sell and deliver marijuana to patients across the country. It claims its 55,000 square foot facility in remote Cremona, Alberta, can produce 7,000 kg of marijuana per year, enough to supply about 15,000 patients. At its top stated price of $8 per gram, this works out to about $56 million of potential revenue per year.
Fueling the excitement around Aurora is a proposed greenhouse in Alberta that would reportedly increase capacity by more than tenfold. Aurora doesn't have the cash to fund the greenhouse nor the expertise to run such a large operation. Not to mention that we are left scratching our heads as to why any company would want to build a giant greenhouse in the middle of nowhere. Aurora is more hype than substance and doesn't pass our smell test.
Aurora appears to simply be the unintended beneficiary of the retail euphoria surrounding Canadian marijuana legalization (Refer to appendix Q for more on what's feeding the hype and appendix F for a summary of the company's external investor relations help).
Roaches? Association with stock promoters, lack of relevant experience and despicable shell economics
Aurora founder and CEO Terry Booth is an unlikely marijuana tycoon.
Our first record of Booth's career as a CEO is from a 2007 lawsuit. He was the owner of a company called Alberta Permit Pro that provided outsourced construction permitting for municipalities. The business seemed legitimate, but the lawsuit details a somewhat comical situation where Booth sells the company, but the buyer ends up being someone different than he expected. The buyer purchased the company based on optimistic financial projections that Booth would later claim he had never seen or even knew existed. Booth was supposed to work as a consultant for the business after the sale, but that ended in a cloud of antagonism and turmoil, with the new owner claiming he had been cheated.
Booth's relationship with his new boss was so poor, they couldn't even agree if Booth had been fired or not. When he verified he was in fact fired, Booth then went on to found a competing firm doing essentially the same thing with former employees from Alberta Permit Pro. This of course led to a lawsuit and one very unhappy investor.
Now, you probably are wondering what this has to do with a marijuana business? Well, the Grumpy Bear wonders the same thing. Terry Booth and Steve Dobler founded Aurora Cannabis, but we couldn't find anything in Booth's background to indicate interest or competency in growing and distributing medical marijuana. No public association or advocacy for legalization. No experience in growing or selling plants. No background in medicine or healthcare. Not even a citation for possession. We bet he can't even roll a solid joint.
Perhaps Dobler was bringing the expertise? Nope. Dobler had worked with Booth in that very same construction permitting business. If Aurora's founders had any experience relevant to the marijuana business, it was on the down low.
Now the Grumpy Bear, as you, would assume that someone wanting to legitimately enter the legal marijuana business would first focus on figuring out how to grow and sell marijuana. On the contrary, Booth, Dobler and their company seemed primarily focused on another priority: going public as fast as possible. Before they had sold a single gram of marijuana, or were even licensed to drop seeds in soil, they got their stock trading publicly - not a good sign on their priorities because it signals a desire to put other people's capital at risk.
The Grumpy Bear has learned that one of the quickest ways to get an indication of any publicly traded company's legitimacy is to see how it got listed on the exchange in the first place.
Most successful companies hire a reputable investment bank and execute an IPO. This involves meeting with institutional investors who get a chance to review the company, perform due diligence and meet management before agreeing to buy the stock and become the first generation of public stockholders.
Aurora took an alternate route, going public through a reverse takeover. Reverse takeovers are often favoured by promoters, scam artists, and companies that are not ready to go public. In a reverse takeover, a publicly-traded company that usually has a failed business, but is in good standing with the stock exchange, agrees to acquire a private company while giving most of the resulting shares to the private company. This allows a private company to get listed on a public exchange without the complications and scrutiny of the IPO process. It also rarely raises any additional funding for the company. Scam companies usually take this route because they don't need money for their fictional business and mainly want access to the public market to dump worthless shares during the pump phase.
A reverse takeover (RTO) is exactly what Aurora did on the CSE in September 2014. For those who have never heard of the CSE before, it is an alternative exchange to the TSX Venture Exchange that is ignored by most investors and has less stringent disclosure requirements. That combination makes the CSE the perfect environment for pump and dump schemes to naïve investors. At its peak valuation, Aurora would have represented over 50% of the aggregate valuation of all the 200+ stocks on the CSE.
The RTO on the CSE was enacted as Aurora was acquired by Prescient Mining and the resulting entity changed its name to Aurora Cannabis, Inc. Prescient issued 60 million shares to Aurora shareholders and replaced 21.5 million warrants and 4 million options. At the end of 2014, the new publicly traded entity reported 105 million shares outstanding. Even after factoring in the warrants and options, previous Prescient Mining shareholders received an unbelievable 43% of newly formed company (see appendix P for the source).
Normally a shell company with no business is only worth several hundred thousand dollars and will receive sub-5% of the pro forma company, especially if it is listed on the lowly CSE. The economic attribution to the Prescient Mining shareholders appears suspiciously high, but perhaps it is just a reflection that the founders of Aurora had no real prior experience running publicly-traded companies. This type of economics would reflect a hefty fee just to get Aurora public. The CEO of Prescient, Marc Levy, remained as director of the new company...at least for a short period of time. Levy and his associates likely held a significant portion of the 43% of the resulting entity, which would have provided ample incentive to aggressively promote Aurora in order to drive the share price higher.
Stock promotion at its best
Marc Levy had already accumulated quite the reputation as a stock promoter before Aurora. His actions in a previous endeavor, Norsemont Mining, appear to reflect his irredeemably atrocious performance:
"Levy, however, believed aggressively selling stock was the route to driving up the share price…Kelly made no secret of his concern Mawji was teaching Menadic how to inappropriately manipulate Norsemont's stock. Indifferent to Kelly's advice that the behaviour of these two ran afoul of provincial securities law, Levy instead directed Menadic to spy on Kelly and report back his activities… Levy threatened Kelly with financial ruin if he continued with his lawsuit." (National Post - Sep 10, 2013)
This article appeared a year before the Aurora reverse takeover, which lends credence to the possibility that Booth gave Levy's group such a big part of the new company out of benign ignorance.
Jerry Springer Live!
Levy's tenure as a director of Aurora was short-lived as he resigned in Aug 2015. Aurora CEO Terry Booth expressed his warm regards for Levy by stating:
"On behalf of the entire Aurora team, I wish to express my sincere gratitude and appreciation for Mr. Levy's significant contributions and wish him all the best in his present and future endeavors. Mr. Levy has agreed to advise the Company during the transition period on matters related to investor relations, financing or structuring." (Aug 10, 2015, ACB PR).
Booth seems to have his own definition of "sincere gratitude and appreciation" as Aurora sued Levy and associates a year later. This time instead of praising his "significant contributions" the company sang a different tune:
"The lawsuit was filed in connection with a number of inappropriate actions taken by the defendants that were not in the best interests of the Company prior to completion of the RTO and during the time period that Levy remained a director of the company post-RTO."
Questionable activities like this make the Grumpy Bear even more suspicious of Aurora's fair value and capital structure. But the fun doesn't stop there. Even Levy's mother got involved in the spat:
"The Company has been named in a proceeding commenced by Levy's mother, Riva Dubrofsky, pertaining to the repayment of a loan that was made prior to the completion of the RTO. The Company is defending this claim on the basis that the loan's rate of interest is in excess of, or would result in the lender receiving interest in excess of, the criminal interest rate." (Source)
In what was starting to resemble a Jerry Springer plotline, Cannavest Capital, in which Ms. Dubrofsky was a principal, also jumped in the fray and sued Aurora:
"In December 2015, a claim was commenced against the Company regarding the 9,000,000 warrants at $0.02 per share issued to a consultant prior to the RTO….These warrants were issued conditional upon the warrantholder completing an equity financing for the Company. As of this date, the warrantholder has failed to meet this condition and, as a result, the Company is in the process of formally cancelling these unvested warrants. The warrantholder is attempting to enforce exercise rights which the Company believes do not exist." (Source)
The blind leading the blind?
The Levy family drama aside, the real shocker is that no one else at Aurora seems to be qualified to run a company of this size, let alone a publicly-traded one.
Terry Booth has no known success with publicly-traded companies, the cannabis market or even plants for that matter. Meanwhile, Booth still appears to run his old private company that provides outsourced construction permitting and vehicle inspections for municipalities (Source). This is a potential conflict of interest as Aurora has related-party transactions with some of these entities and Booth is simultaneously juggling an exciting yet difficult industry alongside his personal ventures.
The CFO position at Aurora is perhaps an even more ridiculous example than Booth. When Aurora completed the reverse takeover with Prescient, it retained John Bean to serve as CFO. Bean left for unknown reasons in Aug. 2016 and was replaced with Amy Stephenson as interim CFO. Though Stephenson has experience with other marijuana companies, she is actually employed by Branson Corporate Services and is serving at Aurora on a part-time, interim basis (see appendix O for other part-time employees at Aurora). What is most perplexing is that she is serving as interim CFO at various other companies (all at the same time), including but not limited to competitor Bedrocan (OTC:BNRDF) (Source), Nutritional High (OTCQB:SPLIF) (Source), The Tinley Beverage Co. (OTCPK:QRSRF) (Source), Goldeye Explorations (OTC:GEYEF) (Source), Branson Corporate (Source). Hardly appropriate training for a $799 million company and second largest LP in the space (see appendix B for capital structure), partially evidenced by the errors in the filings in Appendix E and I. Refer to Appendix C for additional selected issues with Stephenson's background.
But that's not all, folks: The only officer that seems to have any previous relationship to the marijuana industry is Aurora's chief brand officer, Neil Belot. Belot was the executive director of the Canadian Medical Cannabis Industry Association. While there, he handled the trade association's advocacy and lobbying work (though not responsible for growth, sales or branding). Even then he was only on the job for six months before jumping to Aurora.
Similarly, President and Founder Steve Dobler has no relevant experience. Dobler appears to have worked alongside Terry Booth at Superior Safety Codes and is currently one of the largest shareholders in Aurora. In addition, nothing in his official background shows any knowledge or experience in running a public company, marijuana, agriculture or even plant science. The Grumpy Bear has never seen a $799 million company with such limited and misaligned talent.
Unfortunately, the board of directors also lacks people with a track record of success building companies and shareholder value. Adam Szweras and Chuck Rifici form a portion of the board and two-thirds of the audit committee. As summarized in appendix D, Szweras has been involved with three entities that have dropped over 80%. Even more concerning on the governance front is that Szweras and Amy Stephenson (CFO) share involvement in the same three entities.

Chuck Rifici had a potentially questionable departure from his previous gig at Canopy (OTCPK:TWMJF). Why did he leave Canopy due to a conflict of interest but that same conflict has no impact with his participation in another Canadian LP? Additionally, Rifici has been involved with a number of failures and restructurings (see appendix D for the details).
If that was not enough, the company appears to be a revolving door when it comes to key employees.
Publicly announced:
Jan 13, 2015: Announces resignation of Isaac Moss as a director
Aug 10, 2015: Announced resignation of Marc Levy as a director
Aug 8, 2016: John Bean Departing as CFO; Amy Stephenson Appointed as Interim CFO
Other potential departures that were not announced:
On or around May 2015: Constantine Nkafu - Quality Assurance Person
On or around Aug 2015: Ken Faulkner - Manager, Corp and Institutional Development
On or around Mar 2016: Brayden Sutton - Capital Markets Advisory
On or around Apr 2016: Nancy-Anne Rose - QA Auditor
On or around Sep 2016: Donald Shaxon - Advising on Business Development
On or around Nov 2016: Daniel Petrov - EVP
"Roll another number": The curious case of CanvasRx
So far we have detailed an inexperienced management team, an ugly going public transaction, lawsuits with large shareholders, several key employee departures and a rent-a-CFO. With all that turmoil, it is hard to imagine things getting any more confusing unless they got into the acquisition game.
On June 8, 2016, Aurora acquired CanvasRx, which runs a network of medical cannabis counseling centers. CanvasRx boasts 13,000 registered patients, of which 2,500 had been referred to Aurora. Some might say that such an acquisition was done for strategic purposes, but The Grumpy Bear sees it differently.

Aurora willingly paid over $5.5k per patient in the CanvasRx acquisition. Assuming these patients consume 1 gram per day at a cost of $7/gram, that means Aurora paid the equivalent of more than two years worth of revenues. That makes little economic sense.
While dressed up as a medical facility that refers patients to LPs (see appendix G for detailed explanation of CanvasRx business model), the real purpose of the counseling centers is to get referral fees from the LPs. CanvasRx has had success in referring patients, as it claims to control 25% of all new medical marijuana patients. It does this primarily through 19 centers spread across Ontario and Alberta. Despite rapid growth in client referrals, CanvasRx was losing money. While Aurora didn't break out income by segment, it did include a note that had the acquisition been completed at the beginning of the quarter:
"The revenue of the Company would be $735,397 higher and the expenses of the Company would be higher by $2,120,605, resulting in an increase in net deficit of $1,385,208." (Source)
So Aurora bought a financially unsuccessful business. The real question is why did this happen and why did it pay so much?
CanvasRx was acquired mid-way through the Sep 2016 quarter, though the relationship between the two companies started earlier in Feb 2016 when Aurora advanced CanvasRx $0.45 million (as a result of the signed LOI with the intent of purchasing CanvasRx). Is it surprising that Aurora's self-touted strong patient growth started in Apr 2016 right after this initial advance (which was not press released despite the company issuing 50+ press releases this year).
The most concerning to the Grumpy Bear is the future of CanvasRx's business. Aurora is touting the benefit of the expected legalization of recreational marijuana during 2017 (and its stock has been the beneficiary of the rally in Canadian LPs as a result of the pending legalization). That should help Aurora's marijuana growing business, but it poses a huge risk to CanvasRx. If recreational marijuana is legalized, there won't be any need for a prescription to buy it, rendering CanvasRx's business worthless. Not surprisingly, almost no other LPs have patient aggregators.
Per CanvasRx carve out financials, the company was valued at $8.1 million at their Nov 3, 2015, financing (implying that Aurora may have overpaid by 450%; even worse if you consider CanvasRx was valued at sub $2.5 million on or around Jan 2015).
Given these financials, why would Aurora agree to pay $37.5 million over three years to CanvasRx based on performance milestones?
"This consideration may be satisfied, at the Company's sole discretion, in cash or common shares at a 15% discount to the market price at the date of issuance, unless the market price of the Company's share is $0.47 or below, at which point the consideration is convertible into a fixed number of shares." (Source)
$7.2 million in Aurora shares have already been granted (now worth over $45 million) with incremental payments up to $27 million which may still be due. It appears this deal alone has cost shareholders over $70 million.
How could a business that lost $3.5 million for the year ended Oct 31, 2015, with less than $200k in revenues (This is a multiple of over 400x revenues (Source) and a questionable future be worth over $70 million? Only Aurora knows for sure but the Grumpy Bear has two theories:
The first is that Aurora wanted to accelerate its patient base. Aurora is currently only using one-third of its growth capacity (from its first facility) - perhaps the acquisition of CanvasRx was an attempt to increase utilization of its capacity?
The more plausible theory the Grumpy Bear has is just plain simple greed. As part of the original RTO transaction that took Aurora public in 2014, 20 million shares were reserved so that they could be granted to the original shareholders of Aurora (Booth and others). These shares would be given to recipients, effectively for free, once Aurora achieved certain performance milestones. The performance milestones required the receipt of production and sales licenses and registration of at least 2,000 patients under the licenses, thus incentivizing insiders to acquire a patient aggregator (see appendix J for details of performance milestone). While Aurora announced that it had 2,000 patients registered in May 2016, some aspect of the performance milestone must not have been met because the 20 million shares were not issued until Aug. 17, 2016, the date Aurora acquired CanvasRx. Magically, once the acquisition was completed, 20 million shares were issued (it appears that Terry Booth's entity received 5.45 million of these performance shares, according to Aurora's filing statement). Those shares are currently worth over $47 million (the cost to shareholders) and the total cost to shareholders could be over $70 million with no real value added. Shareholder value appears to be going up in smoke as Aurora's management may have gone out and bought their milestones.
See appendix R for a summary of poor capital structure decisions that Aurora made.
"We Be Burnin' Da Cash Mon"
Like the last tech bubble of 1999-2000, there were real companies (Amazon (NASDAQ:AMZN)) and overvalued companies (Pets.com, broadcast.com) - but most important that even Amazon was down over 90% from highs to lows after the dot com crash. The Canadian LPs appear to have a significant opportunity in front of them (see appendix K-N), but Aurora seems to be one of the least equipped to succeed, even though it boasts the second highest market cap amongst the publicly-traded LPs.
Like the tech stocks that heavily promoted blue sky during the tech bubble, Aurora has been aggressively promoting its expansion plans, which seem to get bigger with every press release. While the company retains ~$50 million of cash from multiple equity and convertible debenture financings over the past six months, substantially more cash will need to be raised to actually build out such a new 800,000 square foot facility. Aurora's major competitors, such as Canopy Growth and Aphria (OTCQB:APHQF) have expansion plans that are far more detailed and developed. We believe Aurora's claims are more promotion than substance and are skeptical about the 800,000 square foot greenhouse planned for the middle of nowhere in Alberta.
| | | | |
| --- | --- | --- | --- |
| Date | Form | Facility Size | Grumpy Bear Commentary |
| | Initial Press Release | 600,000 square feet | See appendix Q for a play-by-play on Aurora's boastfulness. |
| | Within Financial Results | 650,000 square feet | Two months later, on the day of relatively poor financial results, the company needed a potential saving grace and an expanded facility gave Aurora the opportunity to shore up their most prized asset - their stock |
| | Follow Up Press Release | 800,000 square feet | Three months later, the plans have changed yet again. There are two ways to look at this, either (i) Aurora has decided that it wants to increase the size of an already large facility, or (ii) Aurora is attempting to excite the market regarding its stock price. Also, if all these plans were real, why has there been next to no real progress - curious! |
The Grumpy Bear wonders if the facility will ever be built, especially as Aurora has never provided an estimate for capex!
On Feb 20, 2015, Aurora noted that its 55,200 square foot facility would cost $10.5 million to build. Extrapolating this cost and combining it with other industry cost estimates lead the Grumpy Bear to estimate that it would cost at least $75 million to build the new 800,000 square foot facility ($152 million = $10.5 million / 55.2k x 800k x 50%; let's assume a 50% discount to this with economies of scale). With $50 million in approximate cash on hand, Aurora is far undercapitalized to get it done which circles back to our underlying view - the Grumpy Bear isn't certain Aurora is committed to this facility, but rather to press releases hyping it up (see appendix Q for details). We count three press releases thus far with limited incremental information in each…and counting. Why so many press releases about an unfunded option with no cost estimates?
Can't Grow the Ganja
The Grumpy Bear also recommends that investors review Aurora's latest gross margins, which imply that it may be utilizing even less of its current facility than its filings show. It is even plausible that Aurora may be buying cannabis from other LPs to meet their meager sales, which would be a major red flag because it implies that they may be having trouble with the bread and butter of their business (growth of cannabis) and may simply be a glorified distributor that can't make money.
Question for management: how much of current sales are based on Aurora's own production as contrasted with external purchases from other LPs?
In comparing gross margins amongst the publicly-traded LPs, we note that Aurora has the lowest gross margins by far. That is a stark contrast to the company's claims that it is one of the lowest cost producers in the industry. The low gross margins lead the Grumpy Bear to believe that Aurora either has higher costs than other LPs or it is having problems with its crops. The latter would explain why initial crops seemed to be overvalued in Q2 and Q3 of fiscal 2016, only to be substantially written down in Q4 F2016 and again in Q1 F2017.

It appears that the marijuana business was slow to ramp up for Aurora. It first received its license to cultivate marijuana in Feb 2015 and then license to sell in Nov 2015 (Source). The typical life cycle of a marijuana plant is three months, so that gave it time to grow three full crops prior to starting to sell. And in Dec 2015, Aurora claimed to have the ability to grow 5,400 kilograms per year which would be worth around $70 million. Yet reported cumulative lifetime sales appear to be below $5 million, of which we do not know how much was actually grown by Aurora? The reason this is so integral is because the hype surrounding the business growth is likely deflated as this pokes a hole in Aurora's suggested state of the art technology, facilities and processes.

Aurora has repeatedly claimed it is a "Low Cost Producer" but it still lost $5.6 million in the quarter. This is the worst net income figure across the publicly listed LPs with meaningful sales. As aforementioned, gross margins are the lowest amongst Aurora's public competitors. None of this fits with the narrative of a low cost producer in a high growth market!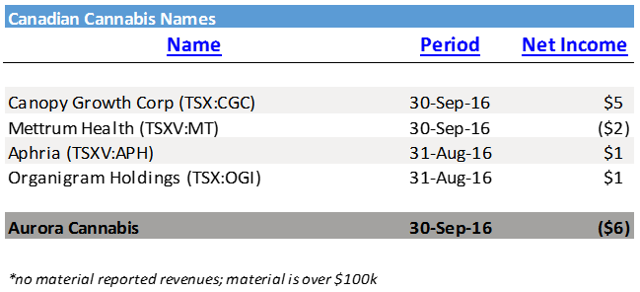 On the other hand, Aurora excels at one type of growth: share growth. At the time of Aurora's RTO, it had 105 million shares outstanding, that has ballooned to over 330 million on a fully-diluted basis - over half of this has happened since the mid-point of 2016.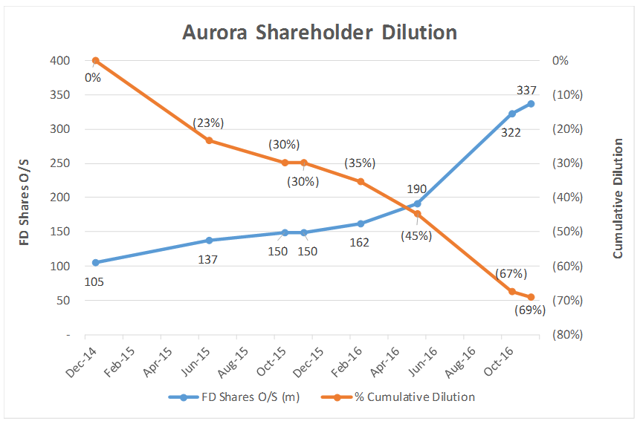 Management appears skilled at growing the share count and its own wallets, but can it actually grow in-house production and profits?
Aurora claims it is the low-cost producer because it is located in Alberta. Management claims it has low energy costs, low taxes, low labour costs and no cost for water. It implies the company carefully selected Alberta to keep costs down. But the reality is that is just where management lived before Aurora was founded. Given its level of experience and knowledge of the industry, does it really have any idea of competitive cost structures? Actual data makes its broad claims look silly - as discussed above, Aurora's gross margins in the last reported quarter were by far the lowest of the public LPs.
Aurora also claimed that the Alberta location provided it with an unlimited supply of mountain-fed water. That turned out to be nonsense and it now plans to collect rainwater from the roofs of the 800,000 square foot greenhouse for its water supply. A leading industry insider has told the Grumpy Bear that Aurora's "plans to use rainwater are nonsense due to the potential of pollution contamination".
Capital Structure Goes Up in Smoke, One Financing After Another
It's never a great sign when a growing company is issuing unsecured convertible debentures at very dilutive levels. These instruments are structured at the behest of the lead investors and holders, not the issuer or existing shareholders. As is the nature of the instrument, they provide downside protection with aspects of debt but provide upside through conversion to equity.
Recent Financings

Date Announced

Amount

Details

Up to $5m in common shares

15-25% discount to market price over 18 months plus half warrants (at a 25% premium)

$23m in unsecured convertible debentures

57.5m shares at $0.40/share (+ 29m warrants at $0.55/share)

Sep 16, 2016

$15m in unsecured convertible debentures

13m shares at $1.15/share

$25m in unsecured convertible debentures

12.5m shares at $2.00/share - this has the potential to result in more selling pressure in Mar 2, 2017
Good businesses rarely need to rely on bad financing. So is management just inexperienced or is it desperate?
Of the above three financings (Source: BCSC filings), one can see that one or more Cayman Island based entities that have subscribed to 47% of the total cumulative offerings. On first blush, this would seem bullish. However, if this entity had held all of its shares to date, there is a good chance that it may have had to file its position as it may have crossed 10% - with no filing, one can only assume that it was selling into the rising stock prices.
The Grumpy Bear has also been led to believe that the large subscriber likely was a merger arbitrage fund that likely didn't stick around for long. The reason this is important is that even large subscribers aren't staying in the name for more than a few months. It really goes to show the fast money that participates in the Canadian LP space, and most specifically in Aurora.

"How High?": That's a Pretty Rich Valuation
It is bad enough to have an inexperienced management team trying to build a business based on misunderstood cost comparisons. It is even worse when management is openly scoffing at peer valuations. But that is exactly what is happening.
In an interview on BNN, Terry Booth discussed the recently announced acquisition of Mettrum (OTC:MQTRF) by Canopy Growth:
Andrew Bell (BNN Host): "What do you mean inflated? Do you mean the stock valuations?"

Terry Booth (CEO, Aurora): "I think the prices that are being paid for the companies, the premium on the stock price - I think, it's been out of control. What was Mettrum, a 40% premium over their stock value."

Andrew Bell: "And you think that looks like a pretty rich valuation?"

Terry Booth: "That's a pretty rich valuation."
Right around the 6:25 mark he says the prices paid are "out of control." The irony is that even at the acquisition price, Mettrum was at a steep discount to Aurora. Mettrum was bought at a valuation of $430 million while Aurora trades at over $799 million - this alone would imply 46% downside to Aurora's stock price. Yet Mettrum is the bigger company, with 80,000 sq ft of production versus Aurora's 55,000 and annualized revenue of $19.2 mil versus Aurora's $12.3 million (of which we remain uncertain as to how much may have been purchased from other LPs). It also strikes the Grumpy Bear that Mr. Booth is the pot calling the kettle black.
On most metrics, both Canopy and Aphria are comparatively cheaper than Aurora.

The Grumpy Bear establishes a $0.50/share price target on Aurora based on $0.15/share of cash, $0.10/share of license value and $0.20/share of risked-adjusted blue sky (still a $150 million valuation). This implies 79% downside from current prices.
No doubt, it is "pretty rich". Especially in the context that there was significant dilution as a result of shell shares, the CanvasRx acquisition, the 20 million in performance shares and potential 15 million in replacement warrants.
For anyone looking for long Canadian LP exposure (or a pair trade), Aphria is the gold standard
With a valuation of $524, a nationally known CEO with a background boasting a billion dollar private equity take-out, along with the best two growers in the country from Leamington, Ontario, Aphria is poised to lead the space with its low-cost approach and superior disclosures…it "has a good thing growing" and has proven it one quarter after another. The Grumpy Bear has no comment on Canopy Growth for which commentary would go beyond the purpose of this blog post.
Conclusion: 79% downside with $0.50/share target price
The Canadian cannabis space that has evolved over the last few years under the MMPR through the establishment of the LPs is a real business opportunity, however, no business is easy, especially not with 30+ competitors, significant execution risk and a management team with a questionable background. Aurora was founded by businessmen reacting to the opportunity, but without much relevant experience. They seem to have blundered into a messy reverse takeover, have been slow to ramp up sales and various questionable capital allocation decisions that has resulted in significant dilution and likely destruction of shareholder value. The dilution of shareholders is reminiscent of a penny stock "pump and dump". Its entire business plans appear to be based on a naïve projection of pricing and costs. Nevertheless, euphoric retail investors have pushed the stock up to a valuation that even management thinks it is ridiculous.
It's cold outside, almost time for the Grumpy Bear to hibernate for the winter. When the Grumpy Bear awakes from its winter slumber, it expects Aurora to be trading 79% lower.
Grumpy Bear says it's as easy as ABC: Always Be Cynical
Appendices
Appendix A: US Green Rush (Early 2014)
Let's rewind the clock for a potential precedent, marijuana stocks in the US ran previously, here's how they ended. Different though the above five US stocks may be; Aurora reminds the Grumpy Bear of the US euphoria.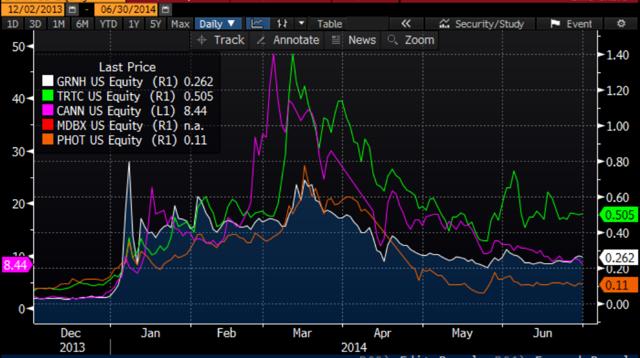 Appendix B: Capital Structure

Appendix C: Amy Stephenson Selected Questionable History
M Pharmaceutical, Inc. (OTCQB:MPHMF) - CFO (April 2007-January 2013)
Stock price plummeted from more than $200/share to less than $2/share during her tenure.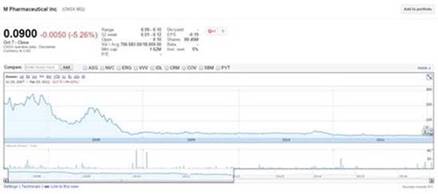 Hanfeng Evergreen, Inc. (OTC:HFGVF) - CFO and Corporate Secretary (December 2003-April 2004)
Hanfeng entered bankruptcy proceedings - the stock has been delisted (Source).
Appendix D: Additional Details on Directors (Adam Szweras, Chuck Rifici and Marc Levy)
The Aurora board of directors consists of Terry Booth, Steve Dobler, and independent directors Chuck Rifici, Adam Szweras, Jason Dyck, and Michael Singer. Of the directors, only Mr. Szweras is a director on other public company boards. He serves on three boards, but one of those is a capital pool company that has been halted since 2010 (Sagittarius Capital) and the other two are CSE-listed companies.
Adam Szweras (select experiences):
Director @ Tinley Beverage Corp. (Dec 2010-Aug 2016)
Director @ InterAmerican Gaming (OTC:IAGM) (May 2008-Jul 2009)
Director @ Strata Minerals (Jul 2015-Dec 2015)
"Adam Szweras was a director and secretary of Bassett Media Group Corp. ("Bassett"), a TSX-V listed company, until March 16, 2010. Bassett has been subject to a cease trade order since June 16, 2010." (Source)
Chuck Rificki (select experiences):
CFO @ Select Start Studios (Jun 2011-Jan 2012)
Internet service provider CFO @ Sitebrand (Mar 2007-Feb 2010)
Went bankrupt in 2011 after failing to make an acceptable proposal to creditors (Source) CFO @ Cybersurf (Jun 2003-Dec 2006)
Jun 2009 sold all assets for $5.5m (Source) President @ Cyberus Online (Sept 2001-May 2003)
Bought by Cybersurf in 2003 for $1.6m (Source)
Filed for bankruptcy protection in Jun 2001 (Source)
Marc Levy even takes credit for the ultimate sale of Norsemont Mining (NOM) to Hudbay Minerals (NYSE:HBM) - however credit is not due in this case. The Norsemont sale was announced on Jan 10, 2011, whereas Levy had left Norsemont in 2007 (Source).
Appendix E: Jun 6, 2016 deal with New York Private Equity Firm
There are various reasons the Grumpy Bear is going to pick on this press release. First, the press release makes it appear as though $5 million was invested while this is really an equity line whereby shares are bought at a discount and sold into the market. Second, Alumina is not a private equity firm, it clearly states on its site: "Our mandate includes investment in a broad range of publicly traded securities including equities, debt securities, derivatives and structured products". Third, Aurora once again had a typo in its press release as it claimed $5,000,000 0 was invested (10x the actual initially misleading amount).
Appendix F: How many investor relations firms do one company burn through?
Aug 31, 2014: Consulting Agreement with Momentum PR
Mar 18, 2015: Aurora Signs Consulting Agreement with Electrum Partners, LLC - suggested it is an advisory and consulting firm
May 30, 2016: Without any public announcement this time, it appears that Aurora once again changed investor relations firms, this time to National Equicom
Appendix G: CanvasRx Business Model Background and More
The current medical marijuana laws in Canada require a physician's or in some cases nurse practioner's prescription. Health Canada wanted medical marijuana available to anyone who needed it, but the reality is that many physicians are still reluctant to prescribe it. This was the genesis of CanvasRx. CanvasRx opened a chain of "counseling centers." These centers featured doctors who were willing to prescribe cannabis. A normal doctor who was reluctant to prescribe cannabis could instead refer their patient to a counseling center to see a marijuana friendly physician. Best of all, these counseling centers were free to the patient. Canadian health insurance would pay for the doctor visit and CanvasRx would take care of the rest.
Once the doctor filled out the prescription, the patient is invited to speak to a "counselor" to discuss how to use marijuana, how to pick out the proper variety and LP. Finally, the "counselor" would help the patient fill out the paperwork and submit to their LP to become a registered patient and begin to enjoy the benefits of medical marijuana. And CanvasRx? They get the benefit of a $25 fee paid by the LPs each month.
Oct 31, 2015, excerpt from financial statements: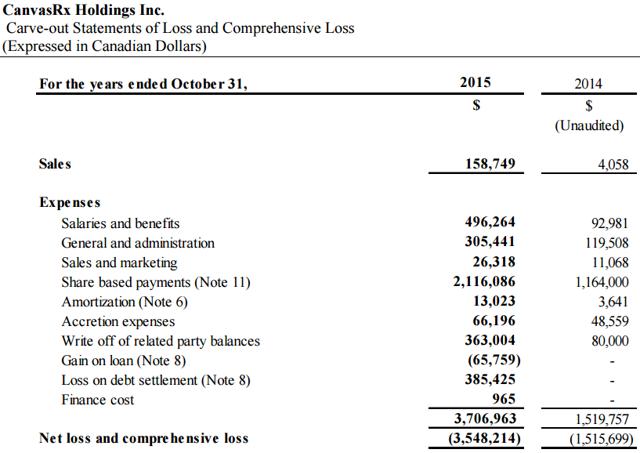 CanvasRx's registered office looks like this (Source):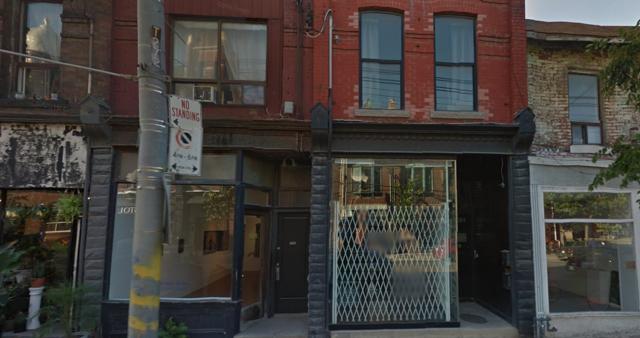 Appendix H: A current and ongoing catalyst should maintain pressure on Aurora - stock may be caught in the weeds for some time
The hold period on 57.5 million shares and 27.25 million warrants expired on December 10, 2016, and since then, the task force release has kept the market excited. These shares were purchased three months ago for $0.40 per share and included a two-year half warrant exercisable at $0.55, so purchasers are sitting on paper profit of around $200 million, but were only able to be cashed in starting Dec 10th due to the four-month hold. The shares and warrants represent a combined almost one month of trading in Aurora's stock. It is also noted that with various financings and continued escrowed shares from the reverse takeover amounting to 49 shares, the stock will face additional pressure as the float opens up.
Appendix I: Sloppy Filings
Change in auditors on May 25, 2015, and error in press releases (as follows):

Appendix J: Details on 20 million Performance Shares
Definition of Performance Shares:

Incremental warrants: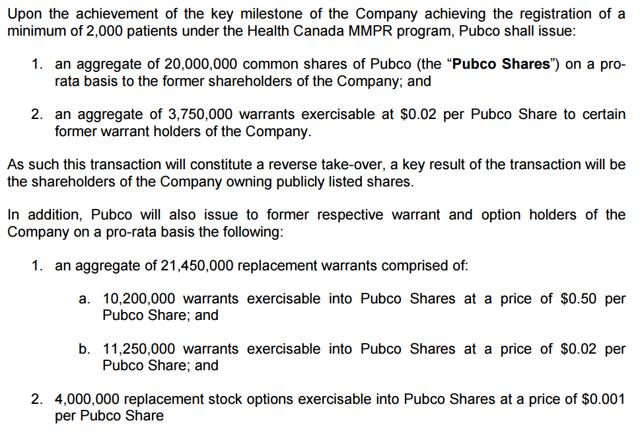 On Aug 10, 2016, Aurora stated the following in a press release:
"The total consideration is subject to the achievement of all specified performance milestones over a three-year period." (Source)
Are insiders still trying to push performance milestones?
Appendix K: Thoughts on Industry: The 2016 Canadian Gold Cannabis Rush and Its History
Medical marijuana was first legalized in Canada in 2001. For years, a small number of medical marijuana users grew their own product or were supplied by local "compassion clubs" and dispensaries. Nevertheless, producers operated in a legal gray area that risked federal prosecution and remained a fragmented cottage industry. That all changed with the passage of the Marijuana for Medical Purposes Regulations (MMPR) in April 2014. The MMPR authorized licensed producers to grow and sell cannabis to registered users who obtained a medical cannabis prescription. Further, the regulations defined a clear application process to become a Licensed Producer while forbidding users from growing their own supply.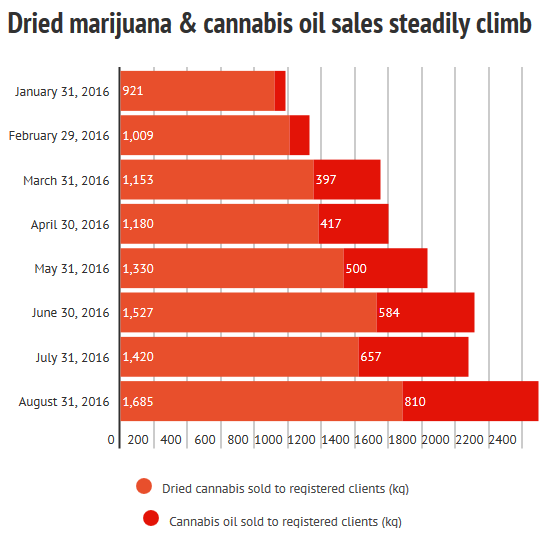 Source: Infogr.am
While the number of medical marijuana users and related sales are growing exponentially, it is just the start. The big prize is full legalization of recreational marijuana throughout Canada. Legislation is expected in April 2017 to legalize recreational marijuana, with sales expected to begin as early as January 2018. A recent report by Deloitte estimates that the recreational market could be worth $4.9 to 8.7 billion. If those estimates are correct, marijuana would be a larger market than wine and would rival the size of the Canadian beer market.

Source: Deloitte
Note: It is critical to realize that this is the size of the retail sales within the market. As we are dealing with LPs, the market size could be half or even less if you give a reasonable market to the potential retail store fronts (regardless of whether ultimate sales happen through the LCBO, a pharmacy like Shoppers Drug Mart, dedicated dispensaries, or some other form). By way of example, if the current average sales price is $7-8/gram, then the LPs are likely to sell it to the retail store front at a meaningful discount, say 30-50% ($4-5/gram). The impact is that unless LPs become the retail store front, which is unlikely, the real market size for the LPs is $2-4 billion at best. Food for thought, consider that Canopy and Aurora are currently worth well over $2 billion given their entire addressable market is worth this much (this is prior to consideration of tax frictions which would further reduce market sizes). This is before considering the other 25+ companies with licenses. Effectively, given the LPs are worth a multiple of the inevitable size of the market available to them, we expect a contraction of market valuations (at least in the near term).
Given that the Colorado recreational marijuana sales totaled $996M in 2015, comprised of recreational and medical sales, Deloitte's market size estimates seem reasonable because Canada has about six times the population of Colorado.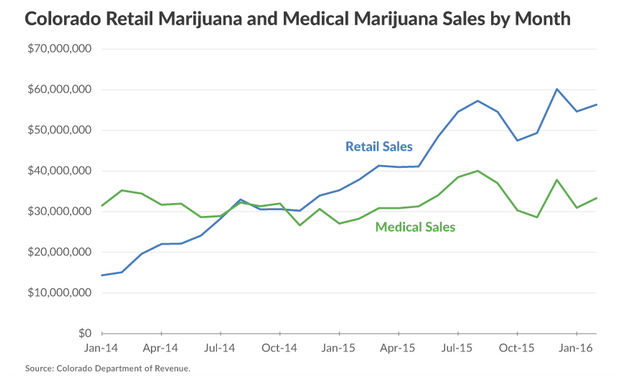 Source: Tax Foundation
And at least initially, the distribution of recreational marijuana is expected to use the same mail order system currently in place for medical marijuana. So the current roster of LPs are right in the middle of this market opportunity.
Appendix L: Thoughts on Industry: 30+ competitors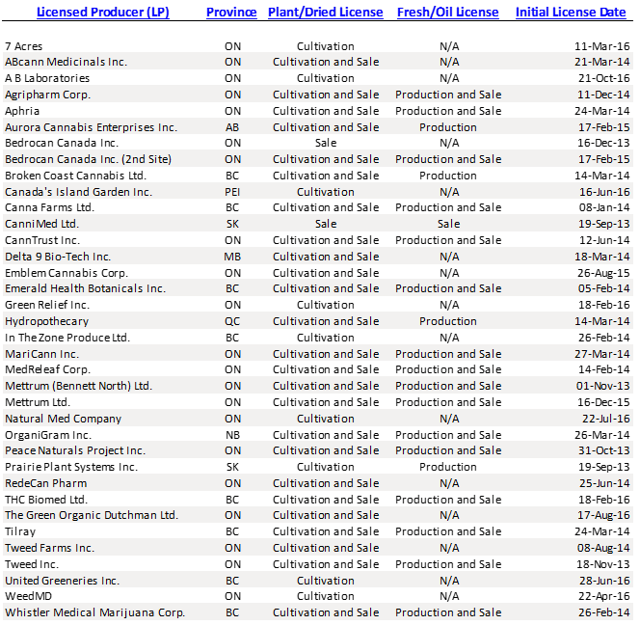 The key takeaway is that licenses granted are not slowing down, and as each year passes, the value of a license is decreasing (especially for entities with limited progress and fundamental developments).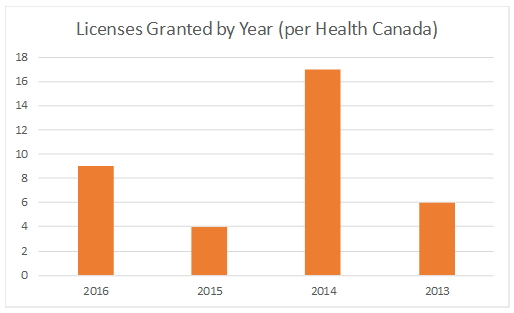 Appendix M: Thoughts on Industry: A Price War Replaces the Drug War
Cannabis investors seem to have visions of the marijuana business as all the profits of Pablo Escobar without the police raids or murders. The reality is the high margins of the illicit drug trade are due to its illegal status. Threat of jail or death is a great barrier to entry. But take away those threats and the entire industry dynamic changes. Aurora has claimed that regulation will provide barriers to entry and is expecting to continue on with its current pricing of $8 per gram when recreational marijuana is legalized. This is naïve and wishful thinking.
The Task Force's release on recommendations for legalizing of cannabis out and the last fragments of excitement related to legalization, reality is that prices appear to be falling…already! According to the National Post on Dec 1, 2016:
"To eat into the black market, the report is expected to recommend prices should be lower than the street price of $8-$10 a gram. This would reduce the amount of tax revenues available to federal and provincial governments but would be justified by the principle of guaranteeing a safe and controlled supply."
Aurora is planning on pricing at the low end of street range, but the government wants to lower prices enough to drive street suppliers completely out of business. The only way for the government to do this is approving more suppliers and more capacity. Aurora is currently one of 36 licensed marijuana producers in Canada. The Grumpy Bear expects this number to grow as Health Canada had 419 license applications in process as of Aug 1, 2016. As many licensed producers are far ahead of Aurora along with the pressure of new licensed producers, the combination of increased production capacity and increasing competition will inevitably lead to price pressure, sales incentives, and eroding margins.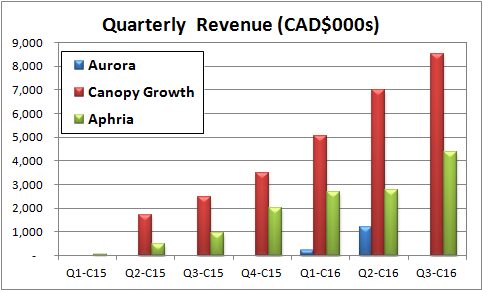 Source: Company reports
Legalization of recreational marijuana in U.S. states has demonstrated that doing so leads to sharp reductions in the market price. According to a Washington Post article, retail marijuana prices fell sharply during the first two years of legalization. It is also worth noting the big difference between the retail price and the wholesale price. Once the Canadian recreational marijuana market is opened to competition, various LPs will likely be operating as wholesalers.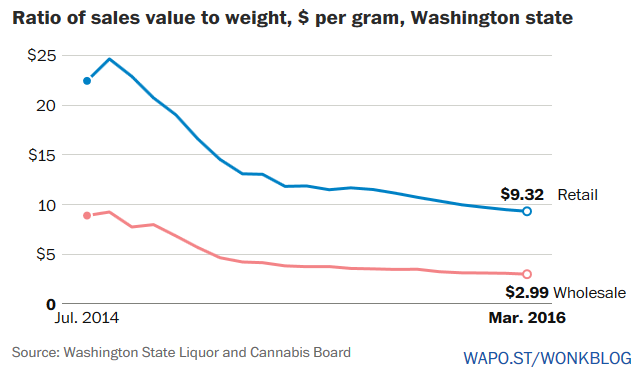 Business plans made based on $8/gram have significant risks as a realistic LP sales price is meaningfully lower in a mature recreational market.
Appendix N: Thoughts on Industry: Industry Dynamic
Despite the excitement about the space and significant long-term potential. The delay in recreational potential in Canada are significant - the Globe predicts 2019 (Source), the task force paper also adds new retailer risk (taking margins) and personal grow options for recreational users - all that are negative for the current contingent of LPs in the long term.
As noted in appendix K above, the space could inevitably be worth $2-4 billion for the LPs. Given the total valuations of the 36 LPs based off the assumptions below already being $5.4 billion (1.4-2.7x 2022-2024E revenues), the Grumpy Bear is taking the view that the Canadian LPs as a contingent are likely to fall 50% in the near-term (across the board) as valuations have gotten ahead of themselves, execution risks remain high, regulatory risk still exists and clarity around legalization could be negative for near-term LP valuations.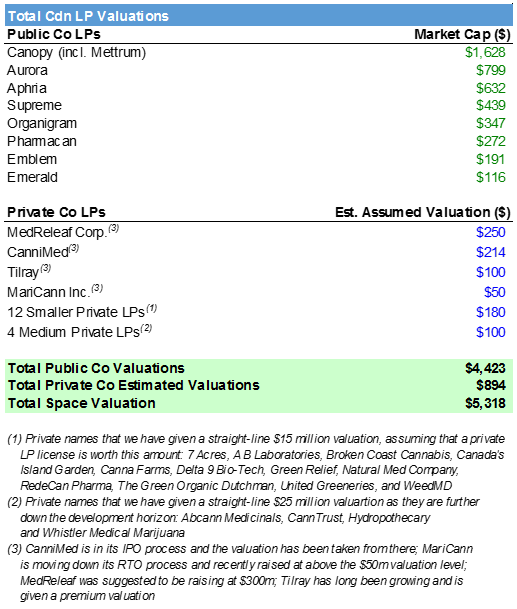 Appendix O: Lack of time commitment from employees and directors
At time of RTO, management was not very dedicated to Aurora (Source). How did these guys get paid so much and maintain such high economics with such limited time committed?
"Mr. [Marc] Levy will be devoting about 30% of his business time to the affairs of the Resulting Issuer." "Mr. [Isaac] Moss will be devoting about 30% of his business time to the affairs of the Resulting Issuer." "Mr. [John] Bean will be devoting about 10% of his business time to the affairs of the Resulting Issuer." "Mr. [William] Macdonald will be devoting about 5% of his business time to the affairs of the Resulting Issuer." "Mr. [Steve] Dobler will be devoting about 95% of his business time to the affairs of the Resulting Issuer." "Mr. [Terry] Booth will be devoting about 95% of his business time to the affairs of the Resulting Issuer."
Appendix P: Unprecedented shell math
The private placement was conducted during the "due diligence phase," which, in itself, is quite unusual in its magnitude. Levy was also aggressive in announcing that the shell Prescient Mining approved an up to 10-for-1 consolidation of its shares just weeks before it got involved in Aurora (Source). There is no better trick in the book to encourage shareholders to sell. The stock was trading at $0.03/share at the time.
Also, according to the filing statement:
"Immediately after close of the Share Exchange, the Aurora Shareholders hold approximately 57.1% of all issued and outstanding the Resulting Issuer Shares."
This implies that almost 43% of the shares went to the shell company holders.
Appendix Q: What is Feeding the Hype?
Aurora's stock has appreciated so significantly on what appears to be overly zealous expectations that it has been feeding the market - this also helps to explain how Aurora's stock got to these lofty valuations. News releases are full of innuendo.
Nov 30, 2016 PR: World's Largest, Most Advanced, Automated Cannabis Production Facility Strategically Located in Leduc County, Alberta
Grumpy Bear Comments: The above headline makes it appear as though this is already functional, which is not true. Also, it is not even the largest planned facility as Aphria has potential to build one million square feet from its Sep 16, 2016, announcement (Source)
Aug 23, 2016 PR: Aurora to Construct World's Most Advanced Cannabis Production Facility
Grumpy Bear Comments: There is no evidence that this is the world's most advanced facility or rather, even Canada's most advanced facility.
Aug 11, 2016 PR: Operational Update: Aurora Cannabis Surpasses 6,500 Registered Patients, Achieves $1 Million Gross Revenue for Month of July
Grumpy Bear Comments: Note that this is gross revenue and not net profit. Other industry participants hit this top line roughly a year before Aurora and have turned profitable.
Appendix R: Each of the following issuances of shares may have no long-term value for shareholders
The following table outlines four distinct issuances of shares that the Grumpy Bear believes created little value for Aurora's shareholders. As such, each transaction may have come at a hefty cost:

Appendix S: Additional Analysis and Findings for Another Day
Aurora has the largest number of related party transactions based on the size of its company that the Grumpy Bear has seen; with the plethora of entities, we could delve into some of these fees that have been paid (for context, in the Sep 30, 2016, MD&A, 3 of 26 pages were dedicated to related party disclosures). With the poor disclosures of Aurora (especially compared to its competitors), there is likely more to this story - especially as the company has graduated from the CSE to the TSXV. Recall that compared to all of its competitors which trade on the TSXV, it's not surprising that given the above revelations that Aurora started out on the CSE. Note that Aurora's predecessor, Prescient Mining, dropped down to the CSE from the TSXV just prior to the merger… curious timing.
Note for Article: All currencies are C$ unless otherwise noted. Market pricing as of close of business Dec 16, 2016, unless otherwise noted.
Disclosure: I am/we are short ACBFF.
I wrote this article myself, and it expresses my own opinions. I am not receiving compensation for it. I have no business relationship with any company whose stock is mentioned in this article.
Editor's Note: This article discusses one or more securities that do not trade on a major U.S. exchange. Please be aware of the risks associated with these stocks.