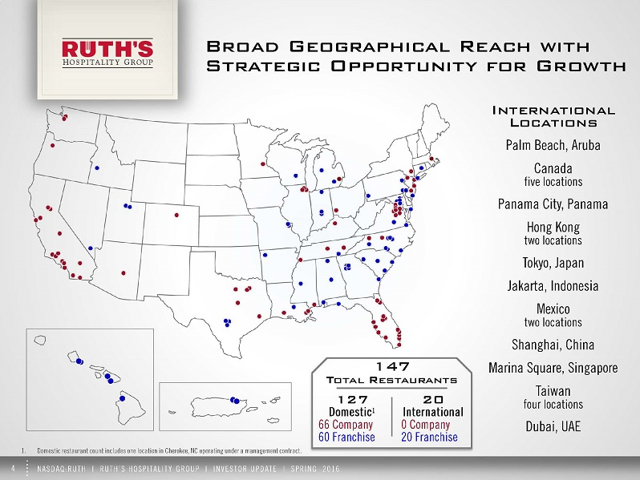 Source: Company Presentation Release in Form 8-K
Investment Thesis
Ruth's Hospitality Group, Inc. (NASDAQ:RUTH) owns 68 fine dining steakhouses, manages one steakhouse, and franchises another 82 steakhouses domestically and internationally.
While management is having some success in improving efficiencies and is managing capital well, it does not appear to be having enough success in driving traffic and growth to justify the valuation.
The Mystery of Management's Recent Investor Meeting
Management hosted an investor presentation at the Jefferies NDR Conference on December 13. Since then, the stock has traded down from a high of $19.50 to a close today at $17.85, an 8.5% sell-off.
Although the company did release the investor slides on the day of the presentation, they do not have a webcast or transcript of the meeting available. Without a transcript or webcast available, it is impossible to know whether anything was said at this conference that led to the sharp sell-off on high volume over the last week.
10-Day Chart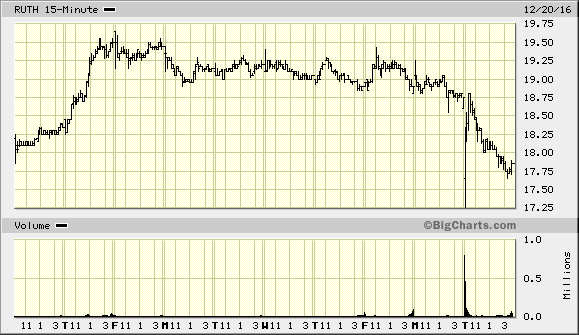 Source: BigCharts.Com
That said, the slides released focus on restructuring efforts
A key focus for the company remains improving traffic into its restaurant. While third-quarter comparable sales were positive, this was entirely due to price and mix; traffic was actually down 1.5%. Without having access to a transcript of management's discussion, indications of ongoing traffic weakness would be a major possible cause of the sell-off.
The company has a variety of initiatives in place to improve comparable sales growth, with a focus on driving traffic first. This includes national cable and digital advertising, menu evolution, and store remodeling. Collectively, management calls these initiatives "Ruth's 2.0."
The menu restructuring is a combination of adding items that are appealing to guests without adding operational complexity. It combines elements of the menu with infrastructure and design elements and is currently being implemented in all company-owned locations and the majority of US franchised locations. It appears to be designed around improving efficiency and cost as much as driving traffic.
Remodeling is a multi-year plan to align store operations with the menu- and infrastructure- related changes. The company is on track to complete 11 remodels in 2016 and another 8 in 2017.
Third-Quarter Results Good, But Traffic Negative
Sales and earnings both beat consensus. In fact, operating income and EPS both grew 35% year over year. Comparable sales for company stores increased 2.1%, entirely due to price and mix. Traffic was down 1.5%, offset by an average check increase of 3.6%. Overall, it appears that the restructuring program is more effective in driving price than traffic.
Restaurant margins were up 50 basis points. While this may have partially been due to efficiencies, the company also benefited from beef prices, a major cost component, declining by 6.3% during the quarter. Obviously, this is not a recurring cost savings.
Valuation vs. Competition
Market

Cap

Sales

Dividend Yield

Forward

P/E

Ent Val /

EBITDA

Free Cash

Flow Margin

Return

on Equity

Ruth's Hospitality

$598

$383

1.5%

17.8

10.8

7.7%

34.5%

Del Frisco's (NASDAQ:DFRG)

$426

$347

0.0%

20.7

9.6

3.4%

8.1%

Fogo de Chao (NASDAQ:FOGO)

$418

$285

0.0%

16.2

10.1

5.3%

11.4%

J. Alexander's (NASDAQ:JAX)

$151

$222

0.0%

18.1

8.3

-0.1%

7.2%

Darden (NYSE:DRI)

$9,315

$6,961

3.0%

18.3

10.4

8.8%

18.5%

Cracker Barrel (NASDAQ:CBRL)

$4,154

$2,920

5.0%

20.1

11.9

6.4%

36.4%

Bloomin' Brands (NASDAQ:BLMN)

$1,992

$4,298

1.4%

13.1

8.7

3.4%

20.0%

Peer Median

$598

$383

1.4%

18.1

10.1

5.3%

18.5%

S&P 500

2.0%

17.5
Source: Author, using data from FactSet
RUTH trades more or less in line with the restaurant industry and the S&P 500. The dividend is a little inferior to the S&P 500, but in line with the industry.
On the other hand, the free cash flows and return on equity stands out, giving the company the potential for very profitable growth if the "Ruth 2.0" plan is successful in revitalizing traffic.
Underlying the strong margins and return on equity is the basic store economics, which are quite attractive if the company achieves its targets. The company targets opening 3-5 stores a year, each one in the 8,000-10,000 square feet range. The sales target is $4-6 million, with 20+% restaurant level margins. With $2.5-3.5 million in net investment required, this implies a store-level return on capital of over 30% when implemented successfully.
Franchised stores also allow the company to benefit from high margined royalty growth, without the underlying capital investment or operational expenses.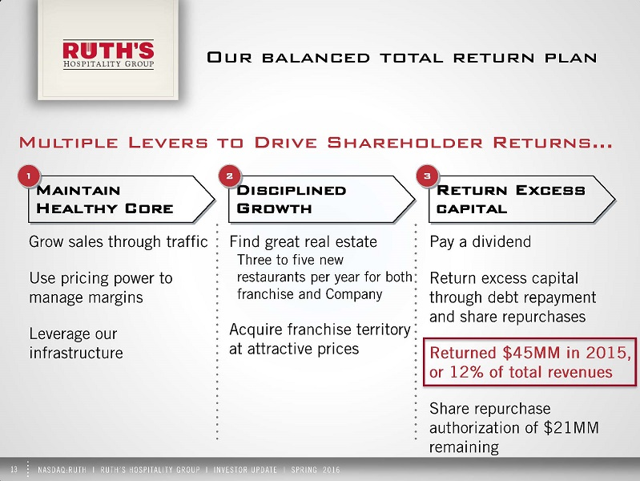 Source: Company Presentation Released in Form 8-K
Valuation vs. History
| | | | | |
| --- | --- | --- | --- | --- |
| | | 5yr | | |
| | Current | Median | Low | High |
| | | | | |
| Enterprise Value / EBITDA | 10.0 | 9.3 | 5.5 | 11.8 |
| Forward Price / Earnings | 17.0 | 16.4 | 11.6 | 20.8 |
Source: Author, using data from FactSet
RUTH trades at a premium to its median post-recession multiple range and quite a bit closer to its high multiples than its low multiples. Given that, the upside is relatively muted relative to the downside, absent strong continued growth.
This range also understates true downside. Premium, fine dining restaurants like RUTH are very sensitive to economic downturns. During the last recession, comparable sells fell -10.3% in 2008 and another -19.5% in 2009. Meanwhile, forward P/E fell to around 5X. The chart below gives a better picture of the real downside during a recession: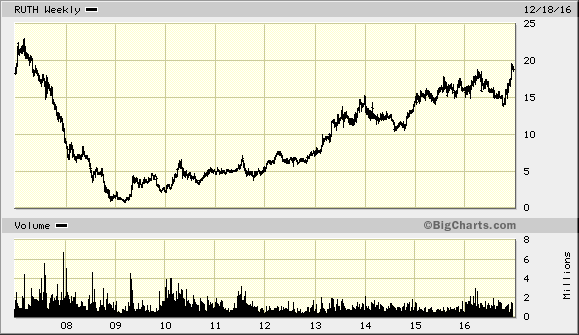 Source: BigCharts.Com
The Company Manages Capital Well
On the positive side, management has been consistently repurchasing shares over the last year, with share count decreasing 7.6% over the last year. This supplements earnings per share growth nicely. With the current share repurchase authorization, the company has enough capacity to repurchase another 2% of shares in the fourth quarter.
Although the dividend yield is only 1.5%, the company did increase quarterly dividends from $0.06 to $0.07 this year, a 17% increase.
While free cash flow has been strong in the last year, it has been mixed in the last five years due to the heavy capital investment required with new stores. Cash flow from operations growth has also been somewhat mixed over this period. Part of the "Ruth 2.0" plan is to be more selective in pursuing new store opportunities so that the company actually achieves its targeted unit economics.
Conclusion
The company manages capital well and has shown signs of realizing efficiencies from its restructuring plan, but I don't see enough of a growth opportunity or success in improving traffic to justify its still-premium valuation. Even with the recent price drop, I see no reason to hold this stock.
Disclosure: I/we have no positions in any stocks mentioned, and no plans to initiate any positions within the next 72 hours.
I wrote this article myself, and it expresses my own opinions. I am not receiving compensation for it (other than from Seeking Alpha). I have no business relationship with any company whose stock is mentioned in this article.