Introduction
After the most recent quarterly earnings, there was a lot of discussion of Nike's (NYSE:NKE) prospects here on Seeking Alpha. A few analysts appeared to be pretty bearish on the stock price, most often stating such reasons as a slight slowing of futures sales and the final emergence of Adidas (OTCQX:ADDYY) in the U.S. market with its highly successful MDX model. Slow sales are explained by the lack of innovations and that Nike 'doesn't longer create a superior product that caters to tastes of knowledgeable buyers.' In this article, I will focus on the analysis of operations, the product portfolio, and key markets. Hopefully, this article can balance out all other reports posted here that tend to compare the P/E ratios across the industry and are written with a short-term perspective in mind. This piece is purposefully not intended to provide guidance on a stock price range.
Factors to consider
I start with identifying critical factors that substantially affect the company's stock performance. Among those are: changes in management, new acquisitions made by the company or/and a company's acquisition, material changes in earnings or returns. Nike is not active on the M&A market, so we are left with the changes in earnings and returns. These variables are affected by:
Futures' volumes (that include sales to wholesale partners and through the owned channel).
Expectations on revenues and margins. Margin levels are especially important for companies that charge a hefty brand-associated premium on their products.
For fiscal 2017, Nike reported future orders of $12.3bn, 20% less than during the previous period (from June, 2016 to November, 2016). However, I have noticed that the levels of futures' sales in the past few years have a weaker correlation with revenues.
| | | | |
| --- | --- | --- | --- |
| | 2017, Q1 | 2016, Q2 | |
| Future orders | 12,300,000,000 | 14,900,000,000 | -21% |
| Revenue | 9,061,000,000 | 8,244,000,000 | 9% |
Actually, Andrew Campion, CFO, during the earnings call made a similar remark to the Goldman Sachs' analyst. He suggested to look at the sell-through rates (this is what wholesale partners actually sell to customers) and the existing inventory levels. While the first metric is not available, I compared the inventory levels year over year and looked into inventories as a portion of total assets:
| | | |
| --- | --- | --- |
| | 31-Aug-16 | 31-Aug-15 |
| Inventories, $M | 4896 | 4414 |
| YoY change | | 11% |
| Inventories as % of total Assets | 23% | 21% |
| | | |
| --- | --- | --- |
| | 31-May-16 | 31-May-15 |
| Inventories, $M | 4838 | 4337 |
| YoY change | | 12% |
| Inventories as % of total Assets | 23% | 20% |
| | | |
| --- | --- | --- |
| | 29-Feb-16 | 29-Feb-15 |
| Inventories, $M | 4590 | 4226 |
| YoY change | | 8% |
| Inventories as % of total Assets | 22% | 21% |
| | | |
| --- | --- | --- |
| | 30-Nov-15 | 30-Nov-14 |
| Inventories, $M | 4600 | 4150 |
| YoY change | | 11% |
| Inventories as % of total Assets | 20% | 22% |
Unfortunately, it didn't provide any good news- as you can see, the inventory levels as a percentage of total assets didn't really change in the last four periods. It might be helpful to know how much of unsold inventory partners carry but it is not possible to do with the existing data.
But what else can move the margins?
Product offering
May be looking at the product portfolio can help more? Let's try understand how it might affect future margin levels.
3 major categories are: Sportswear, Running and Basketball.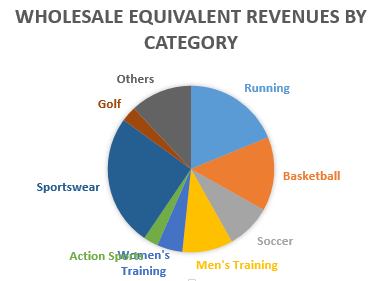 The Sportswear category deserves a closer look. This is the category where Nike competes with more traditional fashion brands, collaborates with the most iconic firms (think, Supreme) and collects the highest margins from the limited collections (Tier Zero, etc.), which you can see in, for example, NikeLab stores. The category is hugely popular in metro areas rather in suburban places. And while the United States remains a suburban-first entity with sporadic islands such as Miami, New York, Boston, Chicago, Austin, Los Angeles, San Francisco, Seattle, the majority of other countries undertook a different path for growth. One of the best examples is China. According to experts, in 2010 around 45% of the Chinese population could be considered urban, while by 2030, this number is expected to reach a whooping 60% mark. Marketing campaigns actively target people in metro areas; they, in return, have a higher disposable income and a desire to spend it. That being said, it is a positive sign for the Sportswear category and Nike overall.
By the way, it might be a reason why Adidas finally took off with the help of the NMD model. Immediately after the launch, the German manufacturer started introducing new colorways and numerous collaborations on a weekly basis. This is how you act when you want to get attention of sneakerheads and the knowledgeable audience that won't trade your product for a random pair that is 'half-priced and looks the same.' Once Adi turned its face to a more educated and sophisticated consumer and finally introduced a fresh and interesting product, their sales went through the roof. Not by accident, the consumers tend to live in metropolitan agglomerations.
It is clear that the urbanization rates in the APAC regions will continue to grow. What about the North American market?
Earnings before interest and taxes

8/31/2016

8/31/2015

North America

1004

1042

Western Europe

392

485

Central and Eastern Europe

81

98

Greater China

371

330

Japan

50

36

Emerging Markets

171

258
While millennials seems to move from downtowns back to suburbs, they tend to bring their habits with them. As a result, not only public spaces are improved and the transportation infrastructure becomes more viable. It makes me think that the purchasing behavior will remain unchanged, and instead of choosing a generic t-shirt, a renewed suburban resident will stick with a Swoosh-themed product.
As a result, I don't see any reason to say that Nike can lose the status of the most fashionable sports brand anytime soon. This title allows the selling of products with a much higher markup than what, for instance, Under Armour can afford.
The Performance category is backed up by the contracts with the most successful and recognizable athletes and leagues. The list includes the NBA, the NFL and a few dozens of colleges. The company has secured Lebron James, Kevin Durant, Maria Sharapova, Cristiano Ronaldo (athletes getting to their peak levels) and a breed of new promising personalities (Anthony Davis, Ben Simmons). The transition in the performance sector should go smoothly.
In the last year, Nike didn't present any breakthrough technologies (Flyknit is already 4 years old) but, undoubtedly, the Beaverton engineers are not sitting still.
To add to this, the management team is aggressively assessing the existing product portfolio and cuts the underperforming categories: approximately 5 months ago, Nike decided to exit the golf business.
I consciously left out of scope the topic of the Trans-Pacific Partnership. If the president-elect Donald Trump withdraws from the alliance, it will mean an end to the retail and fashion industries as we know them. In the short-term perspective, the companies will probably have to cut the dividends and reinvest everything in construction of factories in the U.S. While it was already calculated how much a U.S.-produced iPhone could cost, it will be interesting to see a similar analysis for a WindRunner or a pair of Huarache. There are some decent articles already posted that give some insight.
Summary:
I do believe that the slowdown in futures' sales the company is experiencing is temporary and just a part of a normal business life cycle. A lot of analysts overreact and/or try to act having a short-term perspective in mind. The operational fundamentals of the business remain strong: a well-balanced portfolio in the Asian region, a growing direct-to-consumer business in North America, long-term contracts with the most talented athletes, and already a couple of generation of customers devoted to the Swoosh. Possible steps of the Trump administration bother me, but, if implemented, they will change the faces of the number of industries, and numerous research posted here and on other web sites will become totally obsolete.
Update from December, 20th:
The Q2 Earnings update looks good: both Apparel and Footwear categories went up. Margins are under pressure, but futures in China, Japan and Emerging Markets went up (by 6%, 10% and 9%) respectively.
Tables created by the author using information available from Nike's 10-K forms.
Disclosure: I/we have no positions in any stocks mentioned, and no plans to initiate any positions within the next 72 hours.
I wrote this article myself, and it expresses my own opinions. I am not receiving compensation for it (other than from Seeking Alpha). I have no business relationship with any company whose stock is mentioned in this article.
Editor's Note: This article discusses one or more securities that do not trade on a major U.S. exchange. Please be aware of the risks associated with these stocks.