Imperial Brands PLC (OTCQX:IMBBY), formerly known as Imperial Tobacco, has had a rough go as of late and is attractively priced in my view. Shares of the stock are down over 16% year to date with the majority of those declines occurring within the last three months. Apparently investors weren't impressed with the large decline in earnings when the company last reported in November. Earnings dropped to £0.66/share from £1.76/share a year earlier. The result was a continuation of an ongoing exodus from the stock that began in October, perhaps driven by fears of the company being left behind amidst industry consolidation.
It seems that some of that fear was premature as Reynolds American (NYSE:RAI) ultimately gave British American (NYSEMKT:BTI) the bird just in time for Thanksgiving, rejecting the latter's bid to top off its already substantial ownership in the former. And with that, it might be "Sayonara" for anyone speculating about a possible deal between Imperial Brands and Japan Tobacco (OTCPK:JAPAF) anytime soon, especially when coupled with strong suggestions made by Imperial's chief executive that they can have an independent future.
It doesn't appear that management's expectations match investor's bearish sentiment though. The company raised its dividend 10% in the face of falling profits. The hike also marked the eighth consecutive year dividends have been increased. Cigar smoking chief executive Alison Cooper also announced plans to spend upwards of £750 million over the next three years to streamline operations. This revelation coming as part of the company's strategy for the next decade of growth was unveiled during their full year 2016 earnings presentation. So while short term minded investors might be jumping ship those controlling the reins of the company are laying out long term plans.
So how about that dividend? Is it safe? Looking at the payout ratio for the last couple of years would seem to indicate that the answer is no way. However, when looking at free cash flow things start looking much better. Recent earnings may have been crummy but Imperial Brands sure is generating healthy cash flows.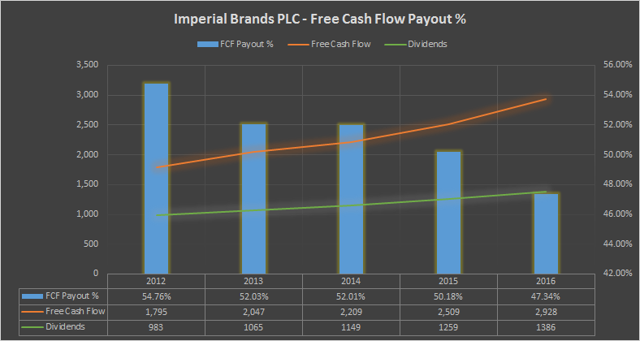 The chart above shows the total amount of dividends paid, free cash flow generated, and resulting free cash flow payout ratio over the last five years. The amounts are in millions of GBP. The numbers paint a scene of increasing free cash flow along with increasing dividends and that picture looks a lot better than payout ratios based on earnings in excess of 200%! Imperial Brands is generating plenty of cash flow.
Imperial Brands did increase revenue by 9% last year and should continue to take advantage of an ailing Pound that nosedived after the Brits voted to leave the European Union. Positive industry trends are almost non-existent for a tobacco company so it's a real gift when a macro trend gives them a tailwind.
Naturally, industry trends put the company along with every other tobacco manufacturer under constant pressure from more health conscious citizenry, governmental bodies looking to bolster tax revenues, and an increasing inability to differentiate their products from each other through increased marketing regulations. Before long the cigarette display behind the cash register might just be a row of identical plain grey cartons, creating a nightmare scenario for those working the register to find the right product.
All of the research and public education aimed at reducing tobacco use means that many tobacco companies have been faced with a reality check. They need to create a "healthy cigarette." The concept is similar to what beer companies did with their "Ultra" light products. I'm sure you've seen the commercials with the incredibly fit people working out and then getting together for some adult libations afterwards. You could have David Beckham run through a workout and then enjoy a few puffs on his ultra cool vaping machine. Of course that's just fantasy since tobacco and advertising are taboo these days.
Despite the drawback, Imperial Brands is not to be left behind on this endeavor as they focus on promoting their own vaping contraption in the UK, France, Italy, and the United States of America. Those markets comprise 70% of the global vaping market so it looks like they're focusing in the right areas.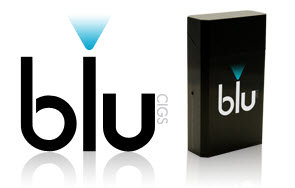 Regulations of electronic cigarettes are inevitable and actually probably a benefit to Imperial Brands, as well as the other big industry players like British American and Altria's (NYSE:MO) international offspring Philip Morris (NYSE:PM) . As regulations pile on top of one another it's only a matter of time before smaller players get regulated right out of the marketplace.
Even though regulations are always threatening to reduce brand strength, Imperial Brands still maintains a robust portfolio of strong brand names (e.g. Winston, Kool, and Montecristo) that generate the cash flow necessary to enable the company to probe new markets with new products.
One interesting opportunity presents itself in Imperial Tobacco's strong position in the Cuban cigar market. Depending on what transpires with US - Cuba relations under a President Trump, this could open up a big market. Trump's statements on the current regime in Cuba have not been struck with a particularly positive tone so far. However, the island may provide an opportunity for Trump to put into action his much touted deal making ability he so often talked about on the campaign trail. Cuba would be a great test case to see what kind of bilateral trade agreement can be reached since he'd be more or less starting from scratch. Cuban cigars combined with increasing American demand could be a match made in heaven.
Based on earnings estimates for next year of $3.49, Imperial Brands is currently trading at a big discount in my opinion. The above chart shows closing price, 200 day moving average, several Bollinger bands, and estimated premiums and discounts with a 50 day moving average, for Imperial Brands over the last 200 trading days.
The chart shows that while the absolute best times to buy may well be passed, the stock is still trading at a 24% discount. That places a fair value target at $55.60. The stock also offers a robust 4.47% dividend that pays investors to wait if the stock trades sideways for a bit.
In addition to the chart, the forward P/E multiple of 13.2x is attractive compared to the industry wide multiple of 16.9x. That indicates a 28% discount based on comparative P/E analysis and is roughly inline with my estimated discount of 24% from the chart.
Thanks for reading! If you enjoyed this article please take a few seconds and follow me, it's easy and free.
Disclosure: I am/we are long BTI. I wrote this article myself, and it expresses my own opinions. I am not receiving compensation for it (other than from Seeking Alpha). I have no business relationship with any company whose stock is mentioned in this article.
Editor's Note: This article discusses one or more securities that do not trade on a major U.S. exchange. Please be aware of the risks associated with these stocks.