Ford (NYSE:F) is one of the largest automotive players in the world. Despite adverse macroeconomic conditions, Ford showed solid performance last year contrary to its competitors. By the end of 2016, the company's results are also expected to improve. Together with new growth opportunities, including brand expansion and penetration in mobility services market, these factors might evidence that Ford is an attractive investment. Below I will elaborate why you should buy shares of Ford, despite their price has been following a downward trend since July 2014 (see Picture 1). For this purpose, I will analyze the company's financial position, and then I will estimate the target price of its shares.
Picture 1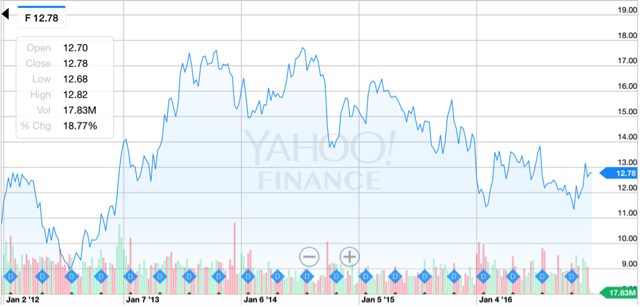 Source: Yahoo Finance
Financial Position Analysis
Based on information from Picture 2, we can observe the following:
Since 2009, Ford's revenues have been growing at a CAGR of 4.3%, slightly contracting twice in 2012 and 2014. Despite adverse macroeconomic conditions last year, Ford reported a 3.8% sales increase. It is explained by solid performance in the Ford's largest North American market, which accounts for 65% of total sales. Revenues in the domestic market grew by 11.5%, while international sales declined by 8.8%. Overall, Ford's revenue generation was outstanding in 2015, far better than of General Motors, which reported a 2.3% sales drop (see my article on GM here). Ford extended its good performance in the first 9 months of 2016, recording a 3.5% year-on-year sales increase.
Since 2008, profitability of Ford has been volatile. Last year operating margin recovered from a significant drop in 2014, but is still lower than at its peak in 2013. However, investors should be positive, as the company's operating cash flow and free cash flow have been increasing steadily over the last 4 years. We can expect the trend to continue this year, which is evidenced by the latest quarterly results.
Improved performance in 2015 resulted in higher return on equity and return on invested capital. Last year ROE amounted to 27.6%, far above 12.5% recorded in 2014. ROIC increased from 2.5% to 5.1%.
Ford has been paying dividends since 2012. Its latest annualized dividend amounts to $0.6, three times higher than it was at the inception of a dividend payout policy. The dividend yield is 4.8%, exceeding 4.2% of General Motors (NYSE:GM).
Picture 2




Sources: Ford Q3 2016 Report, Morningstar
Trading Comparables Analysis
On picture 3, you can see multiples comparison of Ford with the industry average. Valuation based on both EV/EBITDA and EV/EBIT multiples implies the undervaluation of Ford's stock.
Picture 3

Sources: Ford Financial Reports, Morningstar, Damodaran
DCF Analysis
Taking into account Ford's performance in the first 9 months of 2016, I expect the company's revenue to increase by 2.6% this year. From 2017 onwards, I assume sales of Ford to grow with a CAGR of 4% until at least 2020. It is explained by two factors:
The company will secure new revenue streams by expanding its brands. In 2016, Ford launched 12 new models, and targets to add more electrified products in the coming years. It is supported by the company's plan to invest $4.5B in electrified vehicle solutions by 2020.
By creating a Ford Smart Mobility subsidiary in March 2016, Ford is penetrating in the lucrative transportation services industry. Today, this market already accounts for $5.4T in revenue and is expected to grow in the next 15 years. This is an untapped area among automakers, thus a great opportunity for Ford. The key areas of focus within Ford Smart Mobility are SYNC Connect, allowing the owner to interact with his car using a smartphone, Autonomous Vehicles and Ford Pass, that will provide marketplace services, including parking solutions and car sharing.
The results of my DCF model are presented in Picture 4. The valuation date is the 1st of December 2016, for that reason I include a 1/12 stub of 2016 financials for the first projection year. All the assumptions that I made in my analysis are footnoted in the excel file.
My model results in Ford's Enterprise Value of $149.1B. After accounting for net debt, investments and after-tax pension provisions, I derive the equity value of $70.7B, that implies intrinsic share price of $18.1. With Ford's shares currently trading at $12.78, the stock is undervalued by 29%.
Picture 4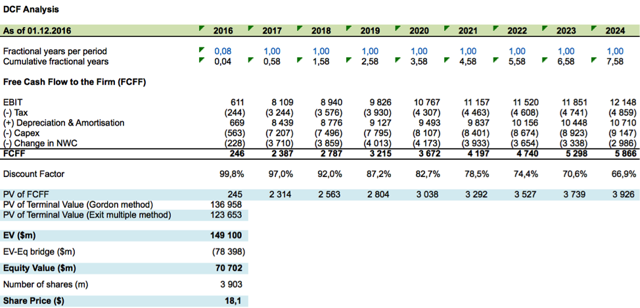 Sources: Ford Annual Report 2015, Morningstar, Model created by author
You can see the sensitivity table on Picture 5. Applying different values of the company's WACC and terminal EV/EBITDA multiple, I derive that the intrinsic share price of Ford lies in a range of $15-22. It constitutes a 17-68% return.
Picture 5

Source: Model created by author
Recommendation
Ford had an impressive performance in 2015 and remains in a solid position after the first 9 months of 2016. Its main features, that make it attractive to investors, include stable revenue and cash flow generation, anticipated growth opportunities, high return on equity and invested capital, and growing dividend payouts.
I recommend to BUY shares of Ford and expect their price to be in range of $15-22 in the next twelve months. If the price reaches this target, investors can expect to generate a 17-68% return, excluding dividends.
Disclosure: I/we have no positions in any stocks mentioned, and no plans to initiate any positions within the next 72 hours.
I wrote this article myself, and it expresses my own opinions. I am not receiving compensation for it (other than from Seeking Alpha). I have no business relationship with any company whose stock is mentioned in this article.