As 2016 comes to a close, Tesla (NASDAQ:TSLA) has one last surprise left to deliver. Is it the release of Autopilot 2.0? No, despite promises otherwise, enhanced autopilot has yet to be delivered, this despite Tesla engineers "working seven days a week and getting close." Instead, we're to bid farewell to 2016 with the departure of yet another Tesla executive, this time the VP of Tesla Energy, Mateo Jaramillo.
Monday, Electrek reported that Jaramillo was leaving after 7 years of service in various capacities in the energy segment. As the de facto public relations arm of Tesla, Electrek author Fred Lambert insinuates that Jaramillo's reason for leaving is that Jaramillo is "taking a break". I leave the reader to decide whether this sounds similar to the "personal reasons" given whenever a c-suite executive resigns after poor performance, but they sure sound alike to me. However, we must remember that Tesla is essentially "the equivalent of the Special Forces," difficult enough to make any executive leave after just a few years of hard work. Of course, the lack of success from Tesla's energy division may have had something to do with it as well: despite "off the hook" and "nutty" demand a year and a half ago, Tesla Energy still has little to show in the way of sales (and is not even broken out as its own segment in Tesla's financial statements).
Whatever the cause, Jaramillo's departure is now (by my count) the 7th Tesla executive departure this year. Here's a look at who that includes: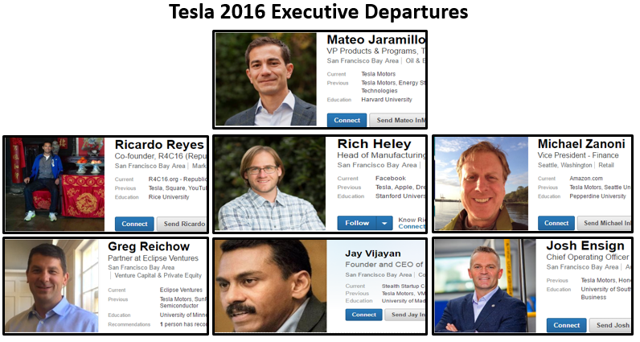 If you're interested, just during 2016, that's (from top row to bottom) the:
VP of Tesla Energy
VP of Global Communications
VP of Product Technology
VP of Finance and Worldwide Controller
VP of Production
Chief Information Officer
VP of Manufacturing
These are executives at every segment of the company: energy, manufacturing, finance, communications; just about the only thing missing is the head of the janitorial staff. Remember, these departures only happened during this calendar year, with many more having left during 2015 and 2014.
As a Tesla short, this is great to see: widespread executive loss is usually a harbinger of a plunging stock price, for the simple reason that executives are best-positioned to understand the prospects of the company as a going concern. When company leadership is leaving in droves, you can be sure that they are at a minimum concerned about the future of the company, enough so to look for greener pastures despite investing significant time and effort into the venture.
The question Tesla longs have to ask is this:
Is it more likely that Tesla executives (driven, hard-working people in the prime of their careers) are leaving because Musk pushes them too hard, or are they leaving because something is systematically flawed in the Tesla ecosystem?
Disclosure: I am/we are short TSLA.
I wrote this article myself, and it expresses my own opinions. I am not receiving compensation for it (other than from Seeking Alpha). I have no business relationship with any company whose stock is mentioned in this article.