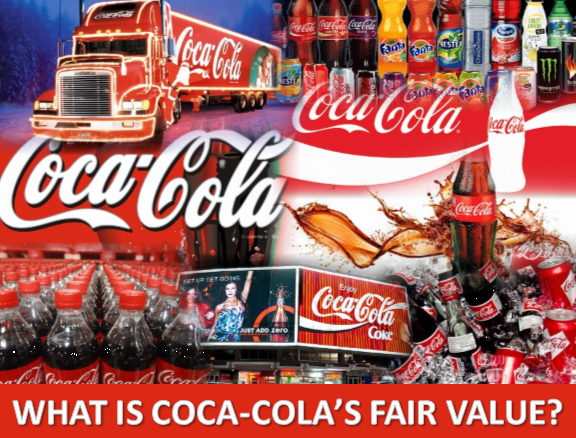 What a year it has been for Coca-Cola's (NYSE:KO) stock price. The price has gone up and down with quite the volatility. Investors are also likely disappointed that despite the stock markets run to new all-time highs, KO finds itself trading 3.0% below where it began the year. Since reaching a 52-week high of $47.13 on April 11, 2016, KO has declined 11.58% to $41.67. Earlier this month, investors could have picked up shares of KO at $40.17. Is it time to pick up shares of KO? Let's take a deeper look.
WHERE ARE WE AT?
Let's start by looking at some current valuation metrics. KO's current price to earnings ratio is 25.3. According to YCharts, KO's 5-year average PE is 22.7. Gurufocus.com finds that KO's median PE ratio of the past 13-years is 20.6. Both indicators suggest that KO is currently overvalued. However, if you are looking for value within the industry, KO'S PE is currently less than industry's average of 30.0x as demonstrated in the infographic below.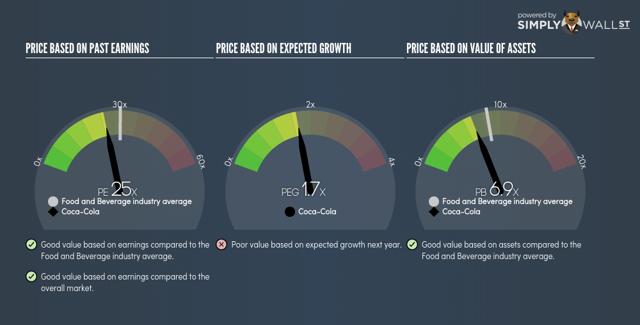 Source: SimplyWall.st
The infographic additionally shows that KO's PEG ratio is 1.7x which is considered poor value based on expected growth next year (more on that in the next section) while the company's PB ratio of 6.9x shows good value when compared to its industry. When exploring the P/FCF and EV/EBIT ratios, KO is considered overvalued. The P/FCF ratio is currently 28.39 which is nearly double what investors generally look for and the EV/EBIT ratio is currently 23.27 which is over double Warren Buffett's standard of 10x EBIT.
There are currently 10 buy ratings, 2 outperform ratings, 11 hold ratings, and 1 underperform rating. There are no sell ratings. Of these 24 investment analysts, the current consensus is to hold the stock.
WHERE ARE WE GOING?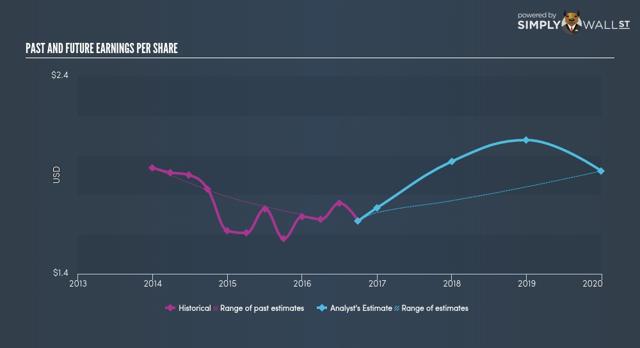 Source: SimplyWall.st
The infographic above shows what analysts are predicting as KO's earnings per share over the next few years. KO's EPS estimates are $1.91 in FY2016, $1.97 in FY2017 (range of $1.77 to $2.04), and $2.08 (range of $1.84 to $2.23) in FY2018. This represents growth of -4.50%, 3.14% and 5.58% respectively.
The 5-year long-term growth estimate is 5.90% which is double the last 5-year growth rate of 2.90%. When compared to the industry which is expected to grow at 12.50% over the next 5 years, KO is lagging behind considerably.
If the analyst's estimates are accurate then KO is trading at 21.8x FY2016 earnings, 21.2x FY2017 earnings and 20.0x FY2018 earnings. This means that KO is currently trading around its normal and 13-year average PE ratio. This does not suggest that an investor is getting value in the present for future earnings growth. If I were to use the median between the normal and 13-year average PE ratio (which is 21.0x), based on KO's estimated earnings, the stock would be trading around $40.11 in FY2016, $41.37 in FY2017 and $43.68 in FY2018. At the moment, the stock appears to be trading around FY2017 earnings which is still a year away. This does suggest that the market is a little ahead of itself.
Over the next 12 months, analysts are estimating that KO would be trading between $40.00 and $50.00 with a median price target of $47.00 which represents a 12.79% upside potential and possibly 19.99% upside potential if KO should trade at the highest estimate. Downside also appears limited based on these estimates as the stock price would need to drop only 4.01% to reach the lowest estimate. This represents a very good risk/reward argument.
IS COCA-COLA TRADING AT FAIR VALUE?
I used a Reverse DCF to determine how much the market expects KO's growth rate to be. With shares trading at $41.67, the market is pricing in earnings to grow at 14.88%. This is two and half times what analysts are estimating for and even exceeds the estimated growth rate for KO's industry. EPS growth of 14.88% would represent an EPS of $2.30 this year (if based on last year's reported EPS of $2.00). An EPS estimate of $2.30 also far exceeds what analysts are anticipating over the next 3 years. This strongly suggests that the market has gotten ahead of itself and perhaps the market has come to realize that its growth projections and the fundamentals have considerably disconnected as the stock price has been declining for several months since its peak.
Therefore, what is the fair value estimate for KO?
To answer this question, I calculated the fair value of KO using three models: Discounted Cash Flow, Graham's Formula, and EBIT multiples.
The inputs I used for a normal case DCF was a growth rate of 5.90% which is the 5-year long term growth rate. I used a discount rate of 9%, a terminal rate of 2% and a starting FCF value of $7.98B. This provided a fair value estimate of $23.49.
The inputs I used for the Graham's Formula include a growth rate of 5.90%, and EPS estimate of $1.91 and a 20-year AAA corporate bond rate of 3.77%. This provided a fair value estimate of $28.76.
The inputs I used for the EBIT model has a conservative, normal and aggressive case. Based on KO's past 5-year EV/EBIT history, I chose a multiple of 18.8x for the conservative case, 21.0x for the normal case (which also happens to be the median for the past 5 years) and 24.5x for the aggressive case. Revenue estimates were $41.73B in each case. This resulted in fair value estimates of $36.77, $41.14 and $48.18 respectively.
The table below provides a summary and calculations of the estimated fair value of JNJ.
| | | | | | |
| --- | --- | --- | --- | --- | --- |
| Current Price | DCF | Graham | EBIT | Average FV | Median FV |
| $41.67 | $23.49 | $28.76 | $41.14 | $31.13 | $28.76 |
Source: Old School Value
Based on these calculations, the average fair value estimate is $31.13 and the median fair value estimate is $28.76. Based on today's stock price, this represents an overvaluation of 25.29% and 30.98%.
Below you will find my risk/reward chart based on the long-term growth rate (5.90%) and the average and median fair value estimates. The red and green lines in the price action chart below represent the trading range of KO based on that growth rate. Obviously, when the stock is near the top line, it is not the time to buy and when it is near the bottom line, it is time to consider buying.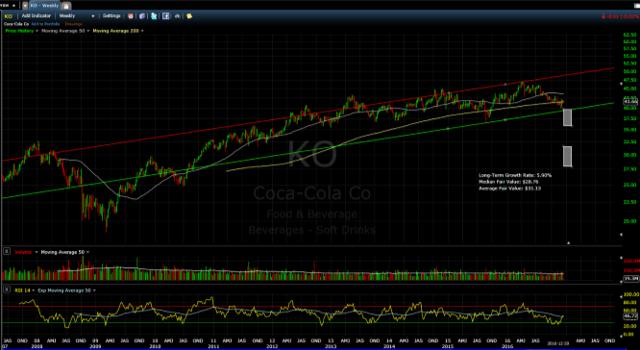 Source: Freestockcharts.com (weekly view)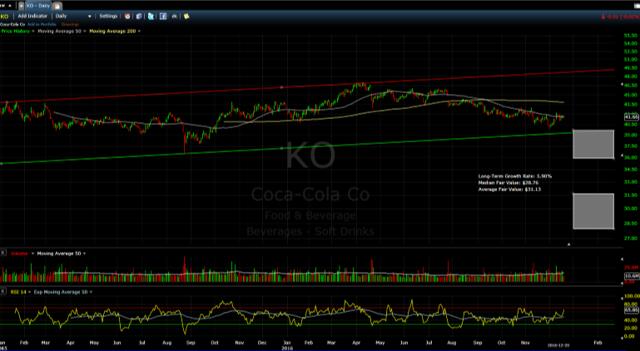 Source: Freestockcharts.com (daily view)
This is the first time in which I have had the risk/reward lines and the fair value estimates be widely different. The difference is due to the disconnect between what the market expects KO growth rate to be (14.88% for the DCF and 11.68% for the Graham formula) versus what analysts estimate. Despite this disconnect, KO doesn't seem to drop to close to where analysts estimate even though they have been fairly accurate. This demonstrates that the market continues to place a premium on KO although it may not warrant it. KO's past 5-year growth rate was 2.90% but the market continues to value it nearly 5x that amount. The channel I drew fits very well with how the stock has traded over the past 7 years. The market simply appears to be ignoring KO's actual growth rate.
In order to compensate for this, I placed two shaded boxes. Based on how the market treats KO, the box near the green line would suggest a good entry point. KO's recent decline to the risk/reward low proved to be short lived as the stock rebound off of it twice as shown in the daily view chart. The second box is based on the fair value estimates. The last time that KO traded around that price range was 2012. Based on the risk/reward chart, I would suggest that a decent price point would be between $36.00 and $40.00. KO last traded in the $36.00 range in August 2015. To reach the fair value estimates, I suspect that the market would need to collapse.
An average fair value price of $31.13 would have KO trading at 16.3x FY2016 earnings, 15.8x FY2017 earnings and 15.0x FY2018 earnings. KO's PE ratio has been that low since 2011.
CONCLUSION
KO is a well-beloved stock among many dividend growth investors. Its dividend has been steady and consistent like clockwork. This is not to say that KO is running smoothly. The company does face many headwinds including declining soft drink sales, the continued effort by governments to impose a sugar tax, new GMO labeling laws, the effects of foreign exchange, etc. KO however is making a strong push into coffee and has signed or entered in several agreements with various companies. KO has also been rumored to be an acquisition target of Anheuser-Busch InBev (NYSE:BUD).
There is a serious disconnect between the fundamental fair value estimate of KO and how the market is valuing KO. The only valuation model that places KO at a fair value currently is the EBIT valuation model which is primarily an income statement and balance sheet adjustment model. We must also consider that the lowest price estimate for KO over the next 12 months is $40.00 and using a PE of 21.0 with earnings of $1.91 would have KO trading around $40.00 as well. $40.00 is near the bottom of the risk/reward chart.
With a currently yield of 3.66%, dividend growth investors may want to take interest. As for myself, I would prefer to see the stock price decline some more before jumping in but it isn't far away from being a potential buy.
I hope you enjoyed this article. If you want to be notified when my future articles are published, please consider following me as a Seeking Alpha author by clicking the "Follow" button at the top of the article beside my name Accelerating Dividends. Thanks for reading.
You can also follow me on FACEBOOK and TWITTER!
Disclosure: I/we have no positions in any stocks mentioned, but may initiate a long position in KO over the next 72 hours.
I wrote this article myself, and it expresses my own opinions. I am not receiving compensation for it (other than from Seeking Alpha). I have no business relationship with any company whose stock is mentioned in this article.