Heading into 2017, there's a real case for investors to put behind all of the volatility in 2015 and 2016 and just focus on the long-term for Freeport-McMoRan (NYSE:FCX). There's a sizable risk/reward scenario present on a five year view and the company is the industry leader by production. That's a substantial investment opportunity, however there are some short-term headwinds related to oversupply and high inventories that could cause copper prices to retreat from their post-election highs. If you're a long-term investor, however, you're ignoring these fundamentals and looking towards the three to five year picture on the stock, which could hold high triple-digit gains.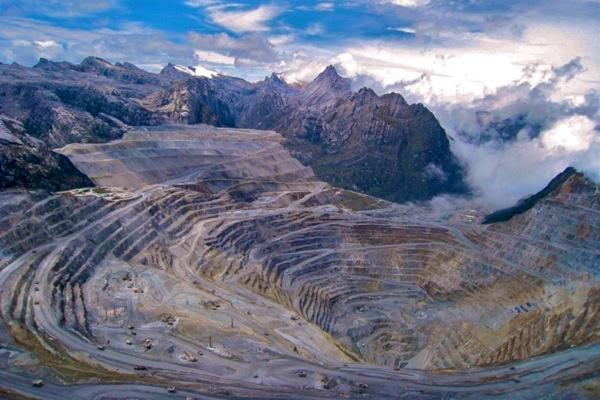 Source: Mining
Examining The Long-Term Risk/Reward
There are very few companies that are good or even great investments moving forward. Many metals & mining companies are still heavily overleveraged or have exposure to areas of the market that are still trending down or have poor short and medium term fundamentals. FCX has exposure to two markets that have just seen their respective cyclical troughs and now stands to be the positive beneficiary over the long-term. That long-term picture shows that FCX has nearly 200-300% upside remaining. Back in 2012, the stock used to trade above the 40 level, which represents a premium of nearly 300% from the current level.
It's not every day you find such a cyclical low present and now that 2016 has proven to be the inflection year in the multi-year downtrend, FCX's next four to five years should be filled with efficacy. A three year price target of $30/share isn't unreasonable, neither is a $50/share five year price target. I say this in light of the stock already putting up 106% in YTD gains, showing just how heavily the stock can perform when there are fundamental tailwinds.
Source: Bloomberg
However, I want to reiterate that I am still struggling to come to terms in saying that copper has positive short-term fundamentals. Perhaps this is "picking up nickels in front of a steamroller," but timing is everything and foregoing gains causes unnecessary portfolio drawdowns. I've detailed the supply and demand fundamentals in previous articles this quarter and have showed that even with Trump's emphasis on infrastructure spending, that supply will still exceed demand materially. These headwinds may not last forever, so perhaps buying on dips now is a smart long-term strategy. Perhaps the proposed spending plan will allow for a larger portion of the differential to close, but for now we have little basis to provide accurate future expectations.
A core headwind still present is that LME inventories are still incredibly high and are nearly at their highest level all year. While these inventories are nothing compared to the mid-2013 levels of nearly 400 kt, they are rising as producers take advantage of the highest price of copper in nearly two years. Until inventories retract, there will be short-term pricing pressure.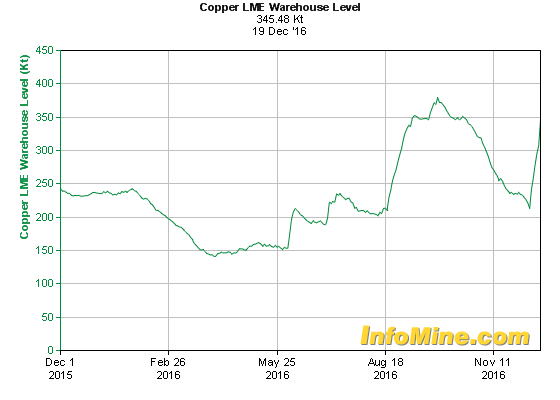 Source: InfoMine
I also want to reiterate just how risky this stock is. While I'll talk about debt in the next section of this article, observe that this stock has a beta of 2.38, which is over twice the broader equity market average. That's high, even for a company in the metals & mining space. The high beta nature of this equity is naturally what allows it to outperform, but as we clearly saw in 2H 2015 and Q1 2016, this stock's losses can quickly accumulate should fundamental headwinds persist.
Leverage Still High, But No Immediate Threats
If you've read any of my articles on companies in the energy sector or in metals & mining, you'll know that my core focus is debt sustainability. Debt can sneak up and cause of a world of problems for shareholders, like dividend cuts, capex reductions, or negative earnings. Freeport, historically, has been horrible at timing its debt issuance. For example, when FCX acquired Phelps Dodge back in 2007, the company had to raise billions in debt to complete the $26 billion acquisition. This, naturally, was just prior to the credit crisis. In 2011, FCX issued a slew of convertible bonds just as copper prices, via the LME, were peaking. So, it's safe to say this company has had some bad luck in managing its capital structure. Being highly overlevered throughout the downturn in copper prices has caused the stock to be extremely volatile and has caused it to face a debt wall, seen below.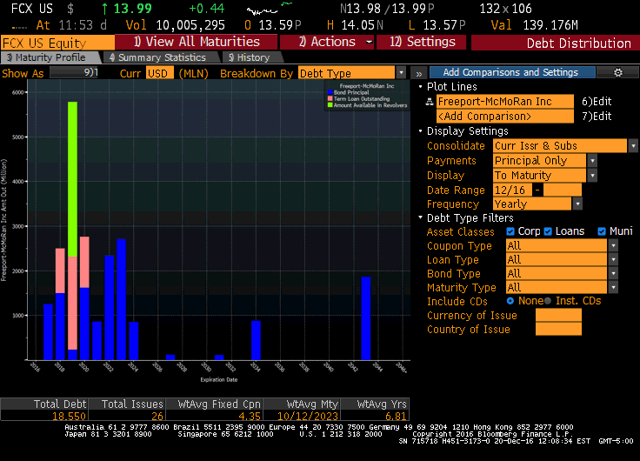 Source: Bloomberg
However, a debt plan earlier this year, enacted by management, called for an aggressive pay down in debt, such that if low copper prices were to persist, the company would not have its liquidity continually called into question. This was quite refreshing to hear, even if it does come at the expense of a dividend, future buybacks, or a robust capital expenditure plan. Fixing internal issues like excess leverage will be a critically important development for the long-term. While Freeport's cash flow is still recovering from such low copper prices over the LTM, the debt is largely serviceable as the wall of maturities has been substantially reduced thanks to divestments.
Conclusion
At the end of the day, FCX is a textbook long-term trade. Pulling out of its cyclical lows, the company does have a ton of room to run over the next five years and shareholders who buy in now will be handsomely rewarded. However, in the short-term there are likely to be further retractions in copper pricing as high inventories are persisting and there is still an oversupply present in the global market. With that being said, it's advisable, from just the long-term perspective, that investors buy on dips.
Disclosure: I/we have no positions in any stocks mentioned, but may initiate a long position in FCX over the next 72 hours.
I wrote this article myself, and it expresses my own opinions. I am not receiving compensation for it (other than from Seeking Alpha). I have no business relationship with any company whose stock is mentioned in this article.