Welcome. In this article, we're going to cover a few strong points of EOG Resources' (NYSE:EOG) operations and come to a forecast for the per-share price valuation. The figures we put together will show this company is at least 40% undervalued compared to its likely trading price if oil climbs to $70 or more per barrel.

Marshalling Resources For Next Oil Boom
EOG is the largest land-based oil producer in the USA. As an oil producer, its net profit margin is very unstable because it depends on the price of oil. A big problem for many oil producers is when they take on large debts while they're scrambling to expand production.
EOG did well during the last boom period for oil. The company managed to grow production 15%+ year over year from 2011 to 2014 and it didn't take on large debts to do so.
What's Different at the Company Compared to the Times of Roaring Oil Prices?
EOG stopped growing its production, switching tactics to drilling new wells more selectively to maintain production and incomes after oil's price began taking its nosedive.
Graphic details the halt in growth: Third-quarter 2014 production was 56.5 MMBoe versus 51.1 MMBoe during the third quarter of 2016.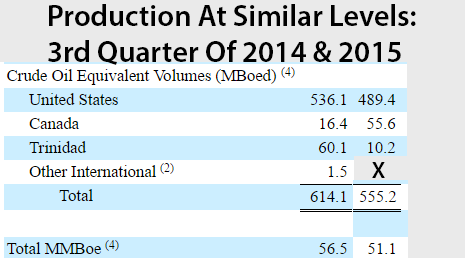 (Source: Faloh Investment, EOG 10-Q Filings)
The major challenge investors faced with EOG during 2015 was the fact its business's sales dollar volume collapsed with oil's price. As a result, the 12- month trailing net cash earned through the oil lifting, sales and marketing processes cratered from $8.5B to $2.2B as this chart depicts:
(click to enlarge)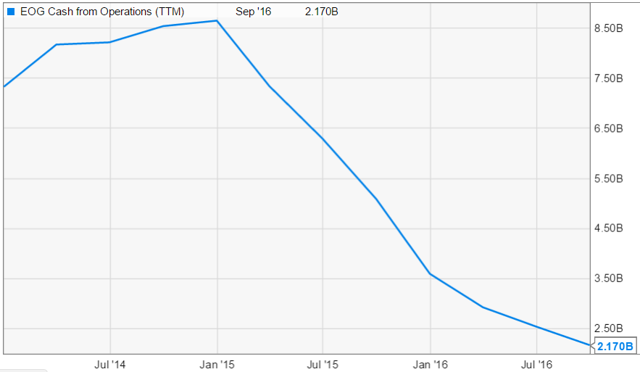 (Source: Faloh Investment, YCharts)
Now, with oil climbing beyond $50, we're going to see this most recent cash from operations figure begin sloping upward again.
The company is producing the same amount of oil for sale today as it was in 2014, but today it produces more inexpensively because it has acquired the Permian Basin properties during this downturn. The Permian is well known to be a less expensive place to drill than Eagle Ford because of higher-quality reserves. A more fully fleshed out infrastructure at the Permian Basin reduces middleman and service costs for EOG.
Compared to 2014, we're looking at a producer that has more effective opportunities to deploy capital. It's held long-term debt levels below $7B while growing its productivity, and its debt ratios show the company to be less leveraged than peers.
Everything Looks Good For Launch
I put the business figures into the discounted cash flow model (DCF Model technical information at this link). The model uses my projections for the company's future cash incomes to formulate its likely trading range during the coming five years.
The DCF Model gave us a Fair Value Per Share of $67.83 and a Market Values Range of $86.68-180.58 which we will use to value EOG stock's potential shareholder returns.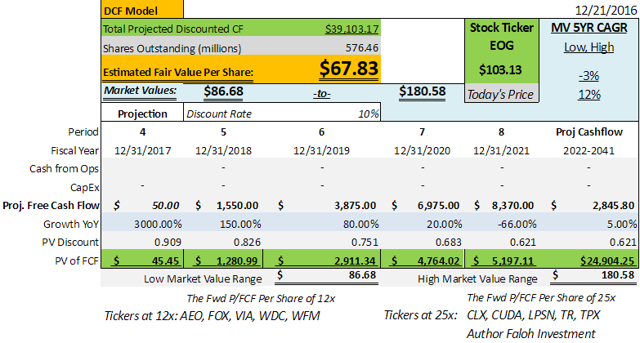 (Source: Faloh Investment, YCharts)
I evolved the design of this model to ensure we can reflect the shocking change which often affects incoming cash flows figures.
In the next four paragraphs, we're going to look at the model's projected cash flow figures in detail. You can follow along with this discussion by referring to the numbers on the DCF Model's presentation graphic, line label "Proj. Free Cash Flow". If you aren't interested in technicals on why I tuned the model just how I did, skip to the Summary For Investors.
Following the "Proj. Free Cash Flow" line now. In the case of EOG, at these oil prices, the company is generating an approximately break-even free cash flow on operations vs. production expenses, so we start with a flat $50 million projected income for 2017. From there, I begin projecting a four-year period of higher oil prices.
In the projection, we imagine the price of oil reaches approximately $65 by the beginning of the year 2019, and remaining elevated above $65 per barrel for three to four years. From 2022 on, we set the model to project the company's likely long-term average annual income producing capabilities to grow at 5% per annum from a beginning value of $2.85B.
$2.85B is my best estimate for the average earnings power for this company over time and across multiple up/down cycles in the price of oil.
This average annual free cash flow is tuned to reflect the earnings picture for the last 10 years of operations at the company.
Summary For Investors
EOG is a large company, and it's stable, thanks to management's policy of keeping debt levels low in relation to its productivity. Additionally, EOG has successfully kept its production and operating costs low enough such that management claims the company is generating new production and every well it's drilling right now has a projected after tax return of 30%.
The company's low cost profile has enabled it to continue drilling profitably at sub-$50 per barrel oil prices where many competing producers don't see profits until $65+ per barrel. Because it was a strong company going into this collapsing oil market, it's going to come out even stronger, as the business operators have been able to focus on improving productivity and acquiring oil assets at good prices.
I don't expect this one to be a three or four bagger in the next oil boom. That time has passed and the strongest oil producers today are not trading at the incredible discounts Mr. Market had them on offer for at the end of 2015.
This does look like an opportunity to park money relatively safety and realize capital appreciation to the tune of 50-80% over the next five years.
Five-Year Price Target: $180.58, a CAGR of 12% from Today's Price of $103.13
If oil prices don't have an up-cycle in the next five years, I expect EOG to trade in a sideways moving price range and offer minimal investor returns from this price. When oil is above $60 a barrel, EOG will show great operating results and earnings will be fantastic if prices climb above $65 per barrel.
Disclaimer: This article represents the opinion of the author as of the date of this article. This article is based upon information reasonably available to the author and obtained from public sources that the author believes are reliable. The author does not guarantee the accuracy or completeness of this article. This presentation is the author's interpretation of the information contained in the article. The author may close his investment position at any point in time without providing notice. The author encourages all readers to do their own due diligence. This is not a recommendation to buy or sell a security.
Please click the + icon next to my user name and follow me, Faloh Investment, as I work to keep you informed on further developments as the market continues to present major value opportunities.
Disclosure: I/we have no positions in any stocks mentioned, and no plans to initiate any positions within the next 72 hours.
I wrote this article myself, and it expresses my own opinions. I am not receiving compensation for it (other than from Seeking Alpha). I have no business relationship with any company whose stock is mentioned in this article.