It is beginning to look like 2017 will be a year in which the US dollar index (NYSEARCA:UUP) trades at some of the highest levels in over a decade. We expect that this could pose a challenge for companies which earn a significant portion of their revenue internationally. In light of this we feel there's a good chance that companies which generate all, or at least a majority, of their revenue from the US market will outperform those which rely on international revenue. One such company we expect to have a strong year is Ulta Salon, Cosmetics & Fragrance (NASDAQ:ULTA). The beauty retailer may have had a sensational year that has provided a stunning 41% return year to date, but we still feel it has more in the tank for 2017.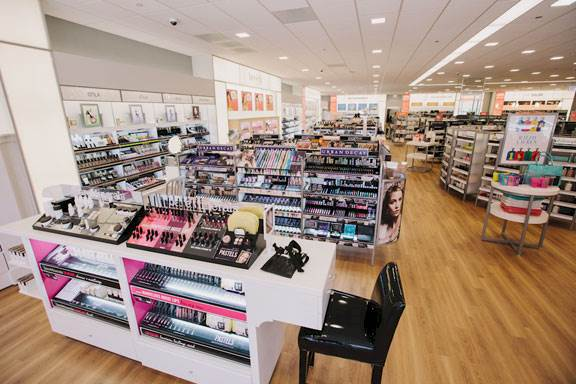 We have been very impressed with the way in which Ulta has grown its loyalty program. In the last 12 months the company has increased its active loyalty program memberships by 28% to 21.7 million. We see the growth of its loyalty program as vital part of its ability to deliver on the market's high expectations. Which is hugely important as these expectations are what justifies the premium its shares trade at today in our opinion.
The lucrative millennial market is clearly the key target for its loyalty program. Millennials are well-known for their love of loyalty programs and of course beauty products. A study conducted late last year revealed that millennial women in the United States alone spend an estimated $13 billion on beauty products each year. We expect that this will have increased in the last 12 months as the collective spending power of the demographic increases. By winning the millennial market and holding it through targeted promotions and on-trend product offerings, we believe Ulta has many years of market share growth ahead of it.
In fact, Ulta estimates that at present it only reaches 16% of its target market. In a recent presentation management estimated the total consumer opportunity to be around 127 million American females aged over 18 years. Of this group the company classifies approximately 72 million to be "beauty enthusiasts", of which its share is around 20%. Still enormous growth potential ahead for the company in our opinion, which makes it a great buy and hold option.
Especially with the company operating exclusively within the United States. Rather than the dollar being a headwind, it could in fact become a tailwind for the company. A large portion of the vendors it uses to source products manufacture or import from overseas. As the purchasing power of the dollar increases, we expect to see Ulta's gross margin improve as the cost of goods sold reduces. This should then fall to the bottom line, resulting in improved profitability. There is of course one key point to consider here, though. Donald Trump has previously threatened to place a 45% tariff on Chinese imports. While we don't expect this to threat to be realized, as the idea makes little sense to us and would likely hurt U.S. consumers, if it did it could not only undo the gains the company makes from the strong dollar, but also dent both margins and sales. Investors would be prudent to keep watch on what Donald Trump does, but we wouldn't let it hold you back from making an investment in the meantime.
Sell side analysts have forecast for earnings growth of 21% per annum for the next five years. We believe this is easily achievable due to the company not facing currency headwinds, through further market share gains, an increased store network, and margin expansion. In light of this we have no qualms paying a premium to own its shares.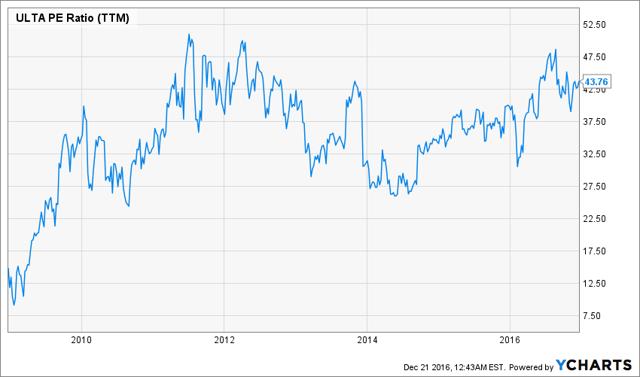 At the current growth rate we feel that 37 times earnings is more than fair and a level its shares are used to trading in or around. Based on this multiple and our earnings forecast of $8.05 per share next year we have a price target of $297.85 on Ulta's shares. At the last close price this works out to be a solid potential return in excess of 14%. Not a bad return in our view and one we expect its shares to deliver on.
Disclosure: I am/we are long ULTA.
I wrote this article myself, and it expresses my own opinions. I am not receiving compensation for it (other than from Seeking Alpha). I have no business relationship with any company whose stock is mentioned in this article.